New York Mets:

Willie Mays
May, 23, 2013
5/23/13
5:55
AM ET
FIRST PITCH:
Forget
Ike Davis
' struggles for a second. Forget even the payroll constraints, which is asking a lot to look past.
Here's one question that rarely gets asked: Where are the Moneyball players with the Mets?
And by that I mean: Why have there not been more productive free agents signed to those $2 million to $4 million contracts? Or how about some low-cost acquisitions via other routes that provide placeholders until a prospect is ready to assume the role?
Yes, departed
Scott Hairston
,
Chris Capuano
and
Chris Young
-- plus
Scott Rice
-- are a few examples of getting production beyond salary in their tenures with the Mets.
But there have been far more misses:
Chin-lung Hu
,
Brad Emaus
and
Blaine Boyer
in Year 1 of the current administration, all the way through to
Collin Cowgill
,
Shaun Marcum
and
Scott Atchison
(at least so far) this year.
It sure would be nice to have a few more
Lyle Overbay
types.
Finding those hidden gems was supposed to be a Mets front-office strength because of the executives' small-market pedigrees.
So if you're looking for reasons why the Mets today sit at 10 games under .500 this early in a season for the first time since 2001, blame the lack of spending. Blame the deliberate pace of building from within. But also blame the lack of identification of placeholders who can contribute at reasonable costs in the interim.
Anyway, the Mets are off today. Then there's the
Atlanta Braves
looming this weekend, with
Jeremy Hefner
(0-5, 5.00 ERA) opposing right-hander
Kris Medlen
(1-5, 3.02) in Friday's 7:10 p.m. opener.
It's still five days until
Matt Harvey
next pitches -- Tuesday against
Hiroki Kuroda
and the Yankees in Flushing in Game 2 of the Subway Series. The Mets are expected to miss
CC Sabathia
during the four-game set, which is split between Citi Field and the Bronx.
Thursday's news reports: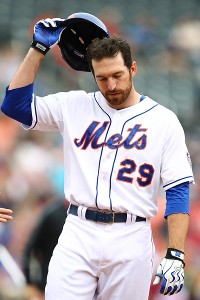 Al Bello/Getty Images
Ike Davis is expected to remain with the Mets on Friday.

• Davis is expected to remain with the Mets on Friday, but his days in the majors may be few beyond that without a serious uptick in performance. A scout breaks down Davis' flaws for ESPNNewYork.com
here
.
Anthony McCarron
in the Daily News
asserts Triple-A Las Vegas is the only sensible option. Writes McCarron:
Save Ike Davis, Mets brass. Send him down to Triple-A already.
Not because he's batting .147 and not because he's 1-for-his-last-38. Not because a guy who is supposed to be driving in runs has all of nine RBI this season. Not because he screwed up in the field Wednesday and appears to be taking his slump out to first base along with his mitt.
No, demote Davis to get him away from the microscope that is now following every hitch in his swing, every step of his latest disappointed shuffle back to the dugout following another lost at-bat. Take the pressure off him for a few weeks and give him some time to recharge in the heat of Las Vegas.
Writes Tyler Kepner
in the Times
:
It is little consolation to most Mets fans that Davis is well liked and accountable. Jason Bay was the same way. Production always matters most, but for now, character may be all that is sparing Davis from a demotion.
"It's not like my teammates are going to tell Sandy not to send me down," Davis said, referring to general manager Sandy Alderson. "It's just, if I was a bad teammate, a cancer in the clubhouse, it would be a lot easier. If I was selfish, and every time I got out I brought people down with a bad attitude and stuff like that, then I'm really affecting the team. I try not to let my struggles affect anyone else and, in fact, show more support than if I was going good."
Read more from columnist Ken Davidoff
in the Post
.
• Harvey was
charged with four runs on a career-high nine hits
in 6 1/3 innings but was spared his first 2013 loss when
Rick Ankiel
drove in the tying run with his third extra base hit of the game. Still, the Mets were swept Wednesday
with a 7-4 loss to Cincinnati
. The loss dropped them 10 games under .500 for the first time this season. Davis
had a critical misplay at first base
in the ninth, allowing
Brandon Phillips
' grounder down the line to go by him for a tiebreaking double.
Read game recaps in the
Post
,
Daily News
,
Newsday
,
Star-Ledger
,
Record
,
Journal
,
Times
and
MLB.com
.
• Read more on Harvey's outing in
Newsday
, the
Daily News
,
Star-Ledger
and
MLB.com
.
• After receiving a cortisone injection in his right shoulder and missing one start, Zack Wheeler returned to action Wednesday. He allowed a pair of solo homers and was charged with three runs in five innings, but earned the win in Las Vegas' 9-4 victory at Iowa. Noah Syndergaard, facing his former organization, was tagged with the loss as Dunedin beat St. Lucie, 5-3. Read the full minor league recap
here
.
• Read a profile of Double-A outfielder Cory Vaughn, son of former major leaguer
Greg Vaughn
and the reigning Eastern League Player of the Week,
here
.
• The Mets' attempt to have a run surrendered in Chicago by Harvey changed from earned to unearned was
rejected by MLB
.
• Cody Derespina
in Newsday
compares the Mets and Yankees lineups.
• One holdup to the construction of a stadium at Flushing Meadows Corona Park to house Major League Soccer's New York expansion team (which will be partly owned by the Yankees) is how much parking revenue the Mets would get at nearby Citi Field,
the Times reports
.
• After producing two doubles, a triple and two RBIs Wednesday, Ankiel is hitting .323 since joining the Mets, note Anthony DiComo and Chris Iseman at
MLB.com
.
• Harlem plans to rename a street in Willie Mays' honor. The question: Which one? Read more in the
Daily News
.
•
From the bloggers …
Faith and Fear in Flushing
wonders if Ike has gone numb, and remembers a spectacular run of pitching by Dwight Gooden. … John Delcos at
Mets Report
writes that Harvey only reveals what little else the Mets have.
BIRTHDAYS:
Infielder
Ricky Gutierrez
, who was acquired from the
Cleveland Indians
late in spring training in 2004 and released two months later, turns 43.
TWEET OF THE DAY:
#mets could learn something from John Maynard Keynes #spendmoney

— Andrew DeVivio (@andrewdevivio) May 23, 2013
YOU'RE UP: Has the front office done a good enough job identifying low-priced talent for the major league team as placeholders for developing prospects?
July, 14, 2011
7/14/11
11:00
AM ET
By
Wally Ramsey, as told to Mark Simon
| ESPNNewYork.com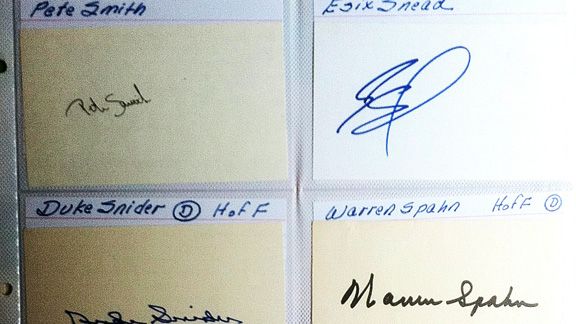 Wally Ramsey's memorable collection includes the most famous of Mets, like Duke Snider and Warren Spahn, and the one-minute Mets, like Esix Snead.
Each week, Mark Simon reminisces about Mets history. This week, he shares the space with Wally Ramsey, the father of a colleague, who has compiled and is now putting up for sale a collection that features the autograph of everyone who played for the Mets.
Here is Wally's story, as told to Mark:
In 1940, when I was 8, my father took me to my first major league game, to see the Dodgers at Ebbets Field in Brooklyn. I was hooked. To complete the day, my father took my "History of the Brooklyn Dodgers" book to the dugout, where a few of the players graciously signed it.
When I was a kid, I was blessed with unusually nice handwriting and I studied graphology. I became fascinated by the Declaration of Independence signers and their autographs.
Then I started to look at the autographs of Hall of Famers like
Babe Ruth
and
Charlie Gehringer
. They had beautiful signatures. They took a lot of time to make sure their signatures would be appreciated by fans.
As an adult, I married my college sweetheart and had the good fortune of being offered a position at the Greenwich (Conn.) Country Day School, where I began a 46-year teaching career and became friends with the head of the mathematics department whose father was
Fred Trask
, part-owner of the fledgling Mets of the early 1960s.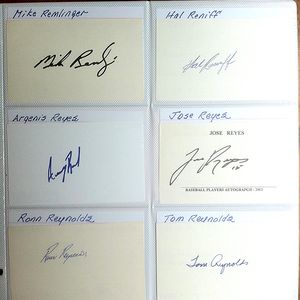 Argenis Reyes and Jose Reyes get equal billing in this amazin' autograph collection.
I became a big fan of the team. We used to go to spring training and I probably went to over 1,000 games with him. I was there in 1969 when they won the NL pennant and World Series.
I can't remember exactly when I decided to collect the autograph of everyone who had played for the New York Mets and to collect them on 3x5 index cards, but the year was probably 1966, the team's fifth year in existence.
I realized that the only way to have an attainable goal in autograph collecting was to have a limited focus with the distinct possibility of completion. I decided that every Met was within my grasp and the challenge was worth the goal.
Forty-five years later, I have a collection that features an autograph from everyone to play for the Mets. They include stories both happy and sad, every player from the Asian Rim, and all the Hall of Famers, most of whom -- like
Duke Snider
and
Warren Spahn
-- were merely passing through the Polo Grounds or Shea Stadium on their way to Cooperstown.
And I have guys from the 1962 team like
Harry Chiti
, who ended up being traded for a player to be named later. That player to be named later was ...
Harry Chiti
!
I got about half of the autographs in-person and half through purchases. We used to go to spring training every year and it was easy to get players to sign for you there. When I talk to players, I try not to talk about baseball with them. I think they hear enough about that from everybody else.
I store the autographs in sheets, in alphabetical order by last name. That's how Snider and Spahn are on the same page as a brief recent Met,
Esix Snead
, as you can see in the photo at the top of this blog.
My favorite autograph in the collection is the Mets' former manager,
Gil Hodges
. His penmanship was gorgeous and his autograph is a work of art. Another favorite is Hall of Famer
Tom Seaver
, who was my next-door neighbor and business associate.
In around 1970 or 1971, he moved to Greenwich and was looking for somewhere to work out in the offseason. I suggested the Greenwich Country Day School gym. I was athletic director, so I had the key to the gym.
Dave Kingman
was another player who lived in Greenwich for a little while. I've heard some people say bad things, but he was always very accommodating to me. That's also a favorite.
The last player in my search was
Dick Stuart
, who played first base for the Mets in 1966. What's amazing is that I knew him. He lived in Greenwich, used to come to the local pool and play catch with my son.
Dick hit the longest home run I ever saw, in our Sunday softball league. It landed on I-95. The next day, we instituted a rule in our softball league-- no former major leaguers could play.
I just got his autograph. The dealer charged me extra for it because there was another player's autograph on the same index card --
Willie Mays
. I didn't mind.
As for the toughest one to read: Snead's signature is scribbled, but I have worse than that. Remember the pitcher,
Bartolome Fortunato
? His autograph is chicken-scratch. The players with the long last names -- like
Jason Isringhausen
, you can read the "I" and that's it.
The players today do these card shows and they barely move the pen. They move the item under the pen because they have so many items to sign.
If the Mets get a new player to replace one of the ones they're trading, like
Francisco Rodriguez
, I can add them easily. I have my sources.
Speaking of which, I would be remiss not to mention those without whom my quest would never have succeeded:
Jack Smalling
of Iowa, the granddaddy of 3x5 collectors and the publisher of a baseball players address book which is the Bible of collectors; highly respected autograph dealer
Bill Corcoran
of Florida; and
Lanny Freeman
of California, who has been a great source of finding the obscure and remote players who many collectors have forsaken as unfindable. Lanny had the foresight to buy a card catalog cabinet to store his autographs.
I think what's impressive about my collection is its totality. I don't know if there is another one like it. To me, at least, this one is one of a kind.
January, 23, 2011
1/23/11
4:01
PM ET
By
Greg W. Prince
| ESPNNewYork.com
According to
Ultimate Mets Database
, early-'90s outfielder
Ryan Thompson
crafted the 131st-highest batting average among all Mets who collected at least 400 at-bats as Mets. If I bumped into Ryan Thompson tonight, I bet I'd retain my composure.
But the Met with the team's 132nd-highest batting average? That's deep-breath territory.
No .238 batter in the history of the Mets ever meant as much to me as
Willie Mays
. So what if he couldn't outhit
Ryan Thompson
in two seasons at the tail end of his career? So what if his 14 home runs as a Met were one fewer than the Met totals compiled by respective 15-homer studs
Jerry Buchek, Del Unser, Mackey Sasser, Victor Diaz
and
Super Joe McEwing
? "So What?" is my default response to anybody who expresses doubt about the glorious nature of Willie Mays's Met tenure.
DOUBTER: "Y'know, Willie Mays was done by the time the Mets got him."
ME: "So what? He was Willie Mays, and he was on the Mets."
I've never gotten over that. Willie Mays ... of the New York Mets. Willie Mays, one of the greatest baseball players who ever lived (.302 BA, 660 HR) ... traded to the New York Mets for pitcher
Charlie Williams
and a clump of
Joan Payson
's cash on May 11, 1972. Willie Mays, the honest-to-goodness Say Hey Kid ... he put on a New York Mets uniform and, in his first game as a New York Mets -- against the San Francisco Giants, no less -- hit a home run to beat his old team.
Willie Mays grew up a New York Giant and came home to retire a New York Met. Any shortcomings born of crankiness or creakiness I consign to the "so what?" bin. He was Willie Mays.
I am privileged to report he still is.
I saw it in Harlem on Friday
when he thrilled an auditorium of schoolchildren and I got an even better look at it on Saturday when former schoolchildren -- primarily in their 60s and 70s -- stared at him in awe and wonder.
Those senior Giants fans, many of whom are members of the New York Baseball Giants Nostalgia Society, were invited to a midtown hotel to share a private audience with Mays and that ubiquitous San Francisco World Series trophy. (It was all arranged by Giants owner
Bill Neukom
, the early favorite for Sportsman of the Decade.) The old-timers caught on to Willie in his Polo Grounds years. They caught The Catch when it happened, not as a grainy film clip. They were saying "Hey!' not to be cute about it, but because it's unimaginable that you could watch young Willie Mays as a New York Giant and not feel the urge to exclaim your excitement.
These vintage New York Giants rooters were lucky to have Willie Mays at the outset of his prime. Me, I had the Willie Mays of Shea Stadium: 41, 42 years old; not able to play every day; inclined to play primarily on the days that best suited his sense of self (fine for conserving his energy, not altogether useful for manager
Yogi Berra
); as smart and strategic a player as ever but not nearly as swift and only a fraction as strong.
My elders in that room Saturday got the Willie Mays who took Manhattan. I got the Willie Mays who said goodbye to America.
Yet -- Hey! -- I believe I was as lucky as those older guys were. I had Willie Mays for the bulk of two seasons: wearing my team's uniform, teaching the other players on my team a thing or six about winning and being a living legend every time he appeared on Channel 9. I know of the Willie Mays who broke in with an unprecedented flourish. I know, too, of the Willie Mays who endured as an icon in California. But the Willie Mays who came to the Mets in 1972 and stayed through the 1973 postseason ... that was the Willie Mays of my impressionable childhood, and nobody will ever convince me there was anything less than spectacular about him.
Willie's appearance Saturday morning before that roomful of loyal New York Giants fans was an incredible gift from Neukom. As if that and the trophy (and an almost "oh, by the way" visit from
Buster Posey
) weren't enough, the Giants announced one more treat. Every member of our group would receive a copy of
James Hirsch
's terrific biography, Willie Mays: The Life, The Legend, and if we'd line up single file, Willie would autograph it for us.
Whatever it is one puts atop the cherry atop the sundae ... this was it. As if it wasn't enough to have Willie take questions a few minutes earlier, though technically the fans who stepped up to the microphone didn't so much ask questions as make impassioned declarations to the effect that Willie Mays was the greatest player of all time. That will happen when you're in the presence of an icon. Besides, question marks aren't Willie Mays's kind of punctuation. The man is one big exclamation point.
I'm pretty sure Willie has heard it all before. He knows he's the greatest player of all time and didn't seem too worried about receiving repeated reassurances. Still, what do you say to the Say Hey Kid? You've got to say something. And you don't want to tell him the same old story of how you were in the Polo Grounds that one time when he made that incredible play. I couldn't say that anyway.
So when I reached the front of the line, and my book was handed to Willie for his silent signature, I spoke the truth as succinctly as I could:
"Thank you, Willie. And thank you for those years playing with the Mets. They meant so much to me when I was a kid. Thank you."
Willie Mays looked up from his signing table, fixed his gaze in my direction, nodded slightly and offered me as genuine a smile as I'd seen from him across these two days I'd been chasing him around town.
Nothing more needed to be said.
Greg W. Prince is co-author of Faith and Fear in Flushing, the blog for Mets fans who like to read.
January, 21, 2011
1/21/11
10:58
PM ET
By
Greg W. Prince
| ESPNNewYork.com
I relished an opportunity to drop in on the San Francisco Giants Friday morning, seeing as how I maintain a historical fondness for their predecessors, the New York Giants. As a lifelong Mets fan born the same year as my team, I see the Giants as my historical predecessors.
Before New York (N.L.) signified Mets, it meant Giants. My Mets featured an orange NY that I learned as a kid had once belonged to those Giants. Somewhere along the way, I decided to take the whole thing happily personally. New York Mets fan in my heart, I like to say, New York Giants fan in my soul.
Dropping in on the San Francisco Giants didn't require a road trip of any great length. For this weekend, they're sort of trying on the old address again. Just for fun, just for a couple of days, they're dabbling in being New York (N.L.) once more. There's this big baseball dinner in Manhattan, and the Giants are due some recognition, seeing as how in the fall of 2010 they won their first World Series since a previous Giants owner abandoned New York in the fall of 1957.
To make an event of it, the current owner and his staff brought their hard-earned Commissioner's Trophy with them on this trip. They're showing it off to anyone who's interested in seeing it. Plenty of New Yorkers are. The Giants are gone from the city well over 50 years, but New York Giants fans remain. Some stayed loyal to the San Francisco iteration from 3,000 miles away. Others just like the idea that baseball Giants once strode this earth.
Either way, the Giants who are rediscovering their roots at the moment look and feel surprisingly at home.
When I saw them Friday
, they were all but rolling up the tarp and preparing to play ball at the Polo Grounds. There is no more Polo Grounds, of course, but there is an elementary school, P.S. 46, right next to where there used to be a ballpark. The Giants decided to head uptown, to Eighth Avenue and 155th Street, to teach those kids a history lesson. They brought their trophy as a visual aid and they brought
Willie Mays
for
show and tell
.
If that big baseball dinner gives out an award for best show and tell, the Giants will win that, too.
Willie Mays made his name -- and his nickname -- no more than a fly ball from where that Harlem school stands. The Polo Grounds is where the Say Hey Kid earned his masters in baseball. St. Nicholas Place, literally around the corner, is where he minored in stickball. Willie delighted in being "home," he told the students Friday. This, he insisted, was and still is his neighborhood. For a few minutes in the P.S. 46 auditorium, you listened to Willie say hey and so much more, and you began to believe it was still the Giants' home.
Unless you count spiritually, it isn't. These Giants will fly west Sunday as the San Francisco Giants. They have been since 1958. That's their business. The Mets' business is to figure out a way to win their first Commissioner's Trophy in a quarter-century, conduct their own goodwill tour -- they were the Polo Grounds' last occupants during the first two years of their existence -- and maybe secure the hearts and minds of schoolchildren throughout the Metropolitan area. You might say, too, that the Mets' business is to decisively fill the role of (New York N.L.) in the here and now.
While the Giants were extending their 2010 victory lap east, the Mets were nailing down a series of signings designed to fit their budget-conscious 2011 plans:
Willie Harris, Scott Hairston, Chris Young, Tim Byrdak, Blaine Boyer
. Also, several Mets, including one of their owners,
participated in rigorous fire safety drills at the FDNY training academy
on Thursday. The Mets were a good choice to take part in learning how best to prevent fires.
Nobody's accusing them lately of showing any kind of spark.
Greg W. Prince is co-author of Faith and Fear in Flushing, the blog for Mets fans who like to read.
April, 23, 2010
4/23/10
1:04
PM ET
By
Mark Simon
| ESPNNewYork.com
In his first game against the Mets, on May 9, 1995, Atlanta Braves rookie
Chipper Jones
did what you'd expect him to do: he hit a ninth-inning game-winning home run, setting the stage for that which tormented Mets fans for years to come.
Jones is passing the torch along to impressive rookie outfielder
Jason Heyward
, whose first scheduled appearance against the Mets comes on Friday at Citi Field. The 20-year-old phenom has been compared favorably to the likes of
Hank Aaron
, who had plenty of good things to say about Heyward as well.
If Heyward were to homer on Friday, he'd join 137 others who have hit a home run in their first game against the Mets (so says the Elias Sports Bureau). While it's not an ultra-exclusive club, there are some fun names on the list, such as ...
Willie Mays, who didn't just hit one home run in his first game against the expansion Mets, on May 26, 1962. He hit two, the second being a walk-off two-run shot to give the Giants a 7-6 win in 10 innings. Mays, unlike Heyward, was well established as a mega-star by that point, but this was his first shot against the new NL squad. Another Hall of Famer would join Mays that July 8 when Cardinals pitcher Bob Gibson homered in a 15-1 rout at the Polo Grounds.
Mike Piazza, who made his first Shea Stadium appearance as part of a Dwight Gooden-Orel Hershiser duel on April 27, 1993. Hitting seventh, Piazza homered off Gooden in the third inning. The only other Dodger to get a hit in the game was Hershiser, but it was enough, as his three-hitter and some bumbling Mets defense earned him a 4-1 victory.
Pat Burrell, and that makes sense, since every list of prolific homer-hitters against the Mets includes him. Burrell's first game against them came on June 20, 2000. He went the Jones route, making the first home run a significant one: a game-tying shot in the ninth inning against Armando Benitez in an eventual 3-2 Phillies win. The Mets would get the last laugh that season, going to the World Series. Burrell would get the last laugh on many other occasions, hitting 41 more home runs against the Mets.
Heyward could have a heck of a game on Friday, but it probably won't qualify as the best opening-act performance against the Mets. For that, the likely answer is then-Rockies starter
Jason Jennings
, who not only homered in a 10-0 rout of the Mets on August 23, 2001, he pitched a shutout as well in his big-league debut.
If Heyward does anything like that, it would seem like
Hank Aaron
wouldn't be a worthy comparison anymore. We'd have to start thinking of him more like
Babe Ruth
.