New York Mets:

Wrigley Field
May, 16, 2013
5/16/13
7:26
PM ET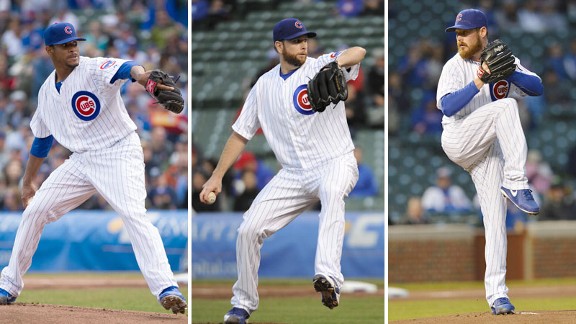 Getty Images
The Mets face (l to r) Edwin Jackson, Scott Feldman and Travis Wood this weekend at Wrigley Field.
METS (15-23, fourth place/NL East) vs. CHICAGO CUBS (17-23, fourth place/NL Central)
Friday:
RHP
Matt Harvey
(4-0, 1.44) vs. RHP
Edwin Jackson
(1-5, 6.02), 2:20 p.m. ET
Saturday:
RHP
Jeremy Hefner
(0-4, 4.61) vs. RHP
Scott Feldman
(3-3, 2.53), 1:05 p.m. ET
Sunday:
RHP
Dillon Gee
(2-5, 6.13) vs. LHP
Travis Wood
(4-2, 2.03), 2:20 p.m. ET
Cubs short hops
•
Scott Hairston
(.125, 3 HR in 48 ABs), whom the Mets failed to sign because they suggested he was interested in guaranteed playing time, is off to a slow start as a Cub. Hairston signed a two-year, $5 million deal with Chicago.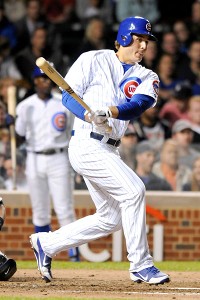 Reid Comptom/USA TODAY Sports
First baseman Anthony Rizzo signed a seven-year, $41 million contract this week.

• First baseman
Anthony Rizzo
, 23, signed a seven-year, $41 million deal this week that includes team options for 2020 and 2021. The guaranteed portion covers one year Rizzo otherwise would have been eligible for free agency.
•
Darwin Barney
(.191, 2 HR in 89 at-bats) has started off miserably at the plate, but GM Jed Hoyer recently said publicly that the second baseman is not in danger of a demotion. Barney, who won the 2012 NL Gold Glove, did have a three-hit game Tuesday. He opened the season on the DL after cutting a kneecap in the Cubs' final spring-training game.
•
Starlin Castro
was installed as the leadoff hitter against lefties a week ago. Center fielder
Dave Sappelt
(.178) had handled that responsibility until a demotion.
David DeJesus
leads off against righties. Castro signed a seven-year, $60 million deal last August.
• Dale Sveum indicated he might entertain a six-man rotation when
Matt Garza
is activated from the DL, likely next week. More likely,
Carlos Villanueva
or
Scott Feldman
-- probably Villanueva -- will lose his rotation spot. Garza has been out since Feb. 17 with a lat strain and was expected to make his final rehab start Thursday, with Triple-A Iowa. Villanueva, who originally was signed as a longer reliever, allowed seven runs in five innings Tuesday against the
Colorado Rockies
.
• Third baseman
Luis Valbuena
returned to the lineup Wednesday after missing three games with a sprained right pinkie, which he injured sliding into third base. Valbuena was not the intended third baseman this season, but
Ian Stewart
has been injury-prone after re-signing for one year at $1.5 million.
• Left-hander
Travis Wood
is coming off an outing in which he tossed seven scoreless innings against the Rockies, which shaved his ERA to 2.03. Wood has an MLB-leading eight quality starts to open the season, matching a Cubs record set in 1919 by Hippo Vaughn in the process.
•
Carlos Marmol
, whose three-year, $20 millon contract expires after the season, has been deposed as closer for a second straight year.
Kevin Gregg
, who was signed last month after being released by the
Los Angeles Dodgers
, began handling the role full time last Wednesday.
Marmol recently denied an internet report that he was overheard talking about wanting to get traded. "That is just not true," he said, according to ESPNChicago.com. "I am very happy here. I always talk about how I love Chicago and I love being here. I love my teammates and everyone here. I feel bad because those words never came out of my mouth."
Chicago reportedly could have traded Marmol to the
Los Angeles Angels
in November for
Dan Haren
, but declined the swap after getting spooked by Haren's medical report.
Marmol actually is now third on the late-game depth chart, also behind
Kyuji Fujikawa
. Fujikawa, who spent the previous eight seasons as a reliever with Hanshin in Japan, was activated from the DL last week after missing nearly a month with a forearm strain.
•
Alfonso Soriano
had a dreadful April with only two RBIs, but has been much better this month (12 RBIs in 12 games). Soriano's $136 million contract runs through 2014. He is a trade candidate this summer. "I would like to be a part of this group, but I am a little old," the 37-year-old Soriano told ESPNChicago.com. "I will try to have a good time playing with them now. I hope after I retire that they continue to work hard and get better."
• The Cubs have won six of their past nine games to move out of last place. They are coming off of their first home series win since Aug. 24-26, 2012.
• Owner Tom Ricketts earlier this month threatened to move the Cubs from Wrigley Field if city does not approve changes, including outfield signs at the landmark. Rooftop clubs that look into the historic ballpark object to the potential obstruction to their views from advertising and a planned video board. A $500 million renovation of the stadium and surrounding area is planned.
June, 26, 2012
6/26/12
8:47
AM ET
CHICAGO -- The Mets sleepwalked through their series opener at Wrigley Field despite a solid outing from
Johan Santana
and
lost to the Cubs, 6-1
, Monday night.
Terry Collins
generously
called the Mets "flat."
The skipper had
expressed concern before the game
about a post-Subway Series letdown, especially since the Mets arrived in the Windy City at 5:10 a.m. ET.
Tuesday's news reports:
• Assistant GM
John Ricco
tells columnist
Ken Davidoff
in the Post
that the Mets will explore the trade market for relievers. "Our numbers are what they are," Ricco told Davidoff. "... It's not too early to do the research. It's probably too early to make a move, although each year there is several preemptive ones. For the seller more than the buyer."
Davidoff goes on to list Houston's
Brett Myers
, San Diego's
Huston Street
, Oakland's
Grant Balfour
and Minnesota's
Matt Capps
(who just landed on the DL) as some of the best pieces potentially available. Davidoff notes that with a player traded midseason no longer yielding a draft pick for the acquiring team when he leaves after the season, teams may not be willing to offer as much. Then again, with two wild-card teams in each league now, there should be fewer sellers, potentially raising the asking price. With the Mets averse to giving up prospects, how much money the Amazin's would be willing to kick in to a deal might be the determinative factor. Writes Davidoff:
Myers is making $11 million this season and has a $3 million buyout on his $10 million vesting option, which he's on track to hit (reportedly with 45 games finished). Balfour earns $4 million this year, with a $350,000 buyout on a $4.5 million team option for next year. Street has a $7.5 million salary and a $9 million mutual option for 2013 with a $500,000 buyout. General manager Sandy Alderson hasn't ruled out the possibility of taking on payroll. He also told The Post two weeks ago, when discussing the Mets' immediate needs, "We have to sort of take everything into account," which means that the Mets won't be dealing top-shelf prospects for volatile relievers. Hence the need to spend money so they won't spend prospects.
For sure, the Mets will look beyond just the big names, try to find arms that wouldn't cost much of anything. "Sometimes," Ricco said, "you try to catch lightning in a bottle," and he referenced the Mets' acquisition of Guillermo Mota from the Indians in 2006. "That was a deal when they were just giving him away."
• Read game recaps in the
Star-Ledger
,
Post
,
Record
,
Times
,
Newsday
and
Daily News
.
•
Bobby Parnell
will
serve as the closer
during
Frank Francisco's
stint on the disabled list for a strained left oblique. Read more in the
Star-Ledger
,
Post
and
Record
.
•
Jason Bay
was
cleared to begin physical activity
Monday. The first step was to ride a stationary bicycle. If concussion symptoms do not recur, he will run midweek and begin baseball activities during the weekend.
• How big is the disparity between the performance between the Mets' starting pitchers and relievers? Nearly historic. Writes
Michael Salfino
in the Journal
:
Mets starters, entering Monday's action, have effectively shut down hitters, compiling a 3.55 earned run average that's fourth-best in the league. But when the relievers are on the mound, that ERA rises to a major league-worst 5.22. The differential of 1.67 runs is second most since 1961, exceeded only by the 1980 A's (1.81). League-wide in 2012, relievers have an ERA about a half-run better than starters (3.63 to 4.14).
• The Mets had a modest bullpen tweak before the series opener in Chicago,
adding a second left-hander
,
Justin Hampson
. He made his Mets debut with a scoreless eighth despite allowing a triple. Read more in
Newsday
.
•
Josh Satin
went 4-for-5 with two homers but Buffalo lost, while
Zack Wheeler
benefited from gaudy run support from his Binghamton teammates and received a win despite allowing five runs, the most in a game since he was acquired by the organization. Read Monday's full minor league recap
here
.
•
R.A. Dickey
discusses former Penn State coach
Jerry Sandusky's
conviction in the
Daily News
.
• The phrase, "Welcome to the Friendly Confines of Wrigley Field" does not exactly extend to visiting players, who deal with cramped quarters in the historic ballpark. Writes
Brian Costa
in the Journal
:
The clubhouse, which was last renovated in 1990, is more notable for what it lacks than what it offers. There is no cafeteria, no TV lounge, no video room and no couches. The only indoor batting cage is under the bleachers in right field. And while players are free to use the Cubs' weight room, the visiting clubhouse offers only a stationary bike.
TRIVIA:
Highly regarded first-base prospect
Anthony Rizzo
is due to make his Cubs debut Tuesday. He originially was drafted by Boston, before being sent to San Diego and then Chicago. Which player went to the Red Sox when the Padres acquired Rizzo?
Monday's answer:
Craig Brazell
and
Victor Diaz
homered for the Mets in the Sept. 25, 2004 game at Shea Stadium that dealt a critical blow to the Cubs' playoff chances.