September, 8, 2013
9/08/13
4:49
PM ET
Frank Francisco
is a winner!
Eric Young Jr.
delivered a tiebreaking double that plated
Matt den Dekker
against
Chris Perez
in the ninth and the Mets avoided getting swept with a 2-1 win against the
Cleveland Indians
on Sunday afternoon.
Francisco's season debut came with only 22 days remaining in the season. And it came in a high-pressure situation.
Francisco, who underwent seemingly harmless surgery last Dec. 18 to remove a bone spur from his pitching elbow, inherited two baserunners with one out in the bottom of the eighth with the score tied.
He walked
Yan Gomes
to load the bases, but then coaxed an inning-ending double play from
Asdrubal Cabrera
to keep the game 1-all.
Super Joe:
Ex-Met
Joe Smith
inherited the bases loaded and one out in the eighth with the score tied at 1 and escaped the jam.
Smith capped a 10-pitch at-bat by striking out
Justin Turner
. Smith then got
Juan Lagares
to ground out on a diving stop by first baseman
Nick Swisher
.
The Mets had started the inning with two in scoring position and none out.
Smith and Turner jawed after their matchup.
Dice-OK:
Daisuke Matsuzaka
had a 10.95 ERA through three starts with the Mets. He finally came up with a big performance Sunday.
Facing the team that declined to promote him to the majors this season as he pitched for Triple-A Columbus, Matsuzaka carried a one-hit shutout into the sixth inning.
The Indians then loaded the bases with two outs as
Jason Kipnis
singled,
Carlos Santana
walked and
Jason Kubel
sent a liner that struck Matsuzaka's in the chest for infield single.
Terry Collins summoned
Vic Black
, who hit Cabrera in the right calf with his second pitch to force in the game-tying run.
Jason Giambi
then grounded out.
Matsuzaka's final line in a no-decision: 5.2 IP, 3 H, 1 R, 1 ER, 3 BB, 6 K. He threw 103 pitches and sliced his ERA to 8.00.
Turner classics:
Turner produced his second homer of the series -- and season -- with a fourth-inning solo shot against rookie starter
Danny Salazar
to open the game's scoring.
Two innings later, Turner had a painful moment. He was tagged hard in the jaw by Cabrera, Cleveland's shortstop, on a caught stealing that ended the top of the sixth. Turner remained in the game.
End of the line:
Lagares' 12-game hitting streak came to an end. It was the longest streak by a Mets rookie since
Jose Reyes
had a 17-game streak in 2003.
What's next:
The Mets return to Citi Field for an 11-game homestand, beginning with the
Washington Nationals
.
Carlos Torres
(3-3, 2.89 ERA) opposes left-hander
Gio Gonzalez
(9-6, 3.49) in Monday's 7:10 p.m. series opener.
May, 18, 2012
5/18/12
10:01
PM ET
WHAT IT MEANS: Jon Niese surrendered a career-high four homers and matched a career high by surrendering eight runs while lasting only three innings as the Mets were drubbed in their first game in Toronto in six years.

The Blue Jays blasted five homers overall and routed the Mets 14-5 on Friday night at Rogers Centre.

Catcher Rob Johnson pitched the eighth inning and was among the more effective pitchers. He retired the Jays in order that frame. It was Johnson's first professional experience as a pitcher in the majors or minors. Todd Zeile was the last position player to be used on the mound by the Mets -- on July 26, 2004, at Montreal, in a 19-10 loss.

J.P. Arencibia and Rajai Davis had two homers apiece Friday. Arencibia became the third player this season to have a six-RBI game against the Mets, joining Colorado's Carlos Gonzalez and Houston's Chris Johnson.

Chris Capuano was the last Met to serve up four long balls in a game, on May 21 of last season against the Yankees. The franchise record is five homers allowed, by Roger Craig in 1963.

Three innings matched the fourth-shortest start of Niese's career. He also allowed eight runs last Aug. 23 against the Phillies, as well as in 2010 against the Braves.

Niese consecutively struck out Jose Bautista and Edwin Encarnacion, who have a combined 23 homers, with two runners aboard in the first in a scoreless game. However, the southpaw then served up a three-run homer to Arencibia. Before that long ball, batters had been 1-for-36 against Niese with two outs this season.

Arencibia had two of the four homers against Niese. Brazilian-born Yan Gomes also went deep -- his first major league homer. The first of Davis' two homers came against Niese. The other came against Manny Acosta during a four-run sixth by the Jays that opened a 14-1 lead.

After three runners inherited by Ramon Ramirez all scored, Acosta ultimately was charged with five runs in two innings as his ERA swelled to 10.53.

Scott Hairston's three-run homer capped an inconsequential four-run eighth for the Mets.

WRIGHT STUFF: David Wright's first-inning double gave him 1,300 career hits, tying him with Jose Reyes for second on the franchise's all-time list. Ed Kranepool ranks first with 1,418 hits, although it took Kranepool 18 seasons as a Met to amass that total. Wright went 1-for-3 and is now hitting .409.

Wright, fighting a severe head cold, was pulled in the bottom of the sixth with the Mets trailing by nine runs. Jordany Valdespin entered at shortstop and Ronny Cedeno moved to third base. Wright is due to get the day off Saturday.

DEBUTANT: Robert Carson made his major league debut in the seventh with the Mets trailing by 13 runs. The southpaw worked around a two-out walk to Colby Rasmus to put up a scoreless frame.

WHAT'S NEXT: Miguel Batista (1-1, 4.26 ERA), fresh off tossing seven scoreless innings against the Milwaukee Brewers, opposes right-hander Brandon Morrow (4-2, 2.22) on Saturday at 1:07 p.m. Mike Baxter should be the extra bat in the lineup.
May, 18, 2012
5/18/12
10:00
AM ET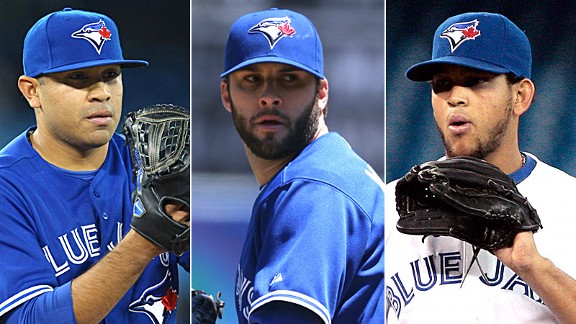 US Presswire/Getty Images
The Mets face (l to r) Ricky Romero, Brandon Morrow and Henderson Alvarez this weekend in interleague play.
METS (21-17, third place/NL East) vs. TORONTO BLUE JAYS (21-18, third place/AL East)
Friday:
LHP Jon Niese (2-1, 3.40) vs. LHP Ricky Romero (4-1, 3.88), 7:07 p.m. ET
Saturday:
RHP Miguel Batista (1-1, 4.26) vs. RHP Brandon Morrow (4-2, 2.22), 1:07 p.m. ET
Sunday:
RHP Dillon Gee (2-3, 5.65) vs. RHP Henderson Alvarez (3-3, 2.62), 1:07 p.m. ET
Blue Jays short hops
• Third baseman
Brett Lawrie
withdrew his appeal and began serving a four-game suspension Thursday stemming from throwing a helmet near
Bill Miller
, which bounced and then hit the plate umpire. With Lawrie out for the weekend series against the Mets, Toronto promoted
Yan Gomes
, who went 2-for-3 in his major league debut Thursday against the Yankees while starting at third base. The 24-year-old Gomes, the first Brazilian-born player to appear in the majors, was hitting .359 with five homers and 22 RBIs at Triple-A Las Vegas. He played high school baseball in Miami, then at the University of Tennessee and Barry University. In the minors, Gomes played 149 games at catcher, 29 at first base and 10 at third base.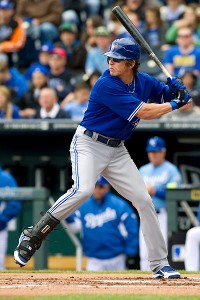 John Williamson/MLB Photos via Getty ImagesFormer Cardinal Colby Rasmus is in an 0-for-18 rut.
The Blue Jays demoted
Adam Lind
to clear the roster spot for Gomes, despite Lind being in the third season of a four-year, $18 million contract. Lind hit .305 with 35 homers and 114 RBIs with Toronto in 2009, but had only a .186 average and three homers in 118 at-bats this season.
• Right fielder
Jose Bautista
-- who led the majors in homers each of the past two seasons, with 54 and then 43 -- launched his 10
th
homer of 2012 on Thursday, against the Yankees'
Phil Hughes
. Bautista, despite an uncharacteristic .207 average, has five homers in his past seven games. Bautista was part of the three-team trade in July 2004 between the Mets, Pirates and Royals that landed
Kris Benson
in New York.
• DH/first baseman
Edwin Encarnacion
worked with
Luis Mercedes
in the Dominican Republic during the offseason to retool his swing, including keeping both hands on the bat, rather than removing the top hand on the follow-through. Mercedes previously had worked with the Yankees'
Robinson Cano
. The result: Encarnacion leads the Jays in homers with 13. He also ranks second in the AL in RBIs with 34, trailing only Texas'
Josh Hamilton
.
• Shortstop
Yunel Escobar
, who had been hitless in eight at-bats, returned to the lineup Thursday after sitting a day and produced singles in his first two at-bats. Eleven-time Gold Glove winner
Omar Vizquel
, 45, started at shortstop for the second time this season on Wednesday. Escobar was acquired from the Atlanta Braves on July 14, 2010, with
Jo-Jo Reyes
for
Alex Gonzalez
,
Tyler Pastornicky
and
Tim Collins
.
•
Ricky Romero
and
Justin Turner
were college teammates for three seasons and roommates at Cal State Fullerton.
• Center fielder
Colby Rasmus
is mired in an 0-for-18 skid that has dropped his average to .203. He was acquired from the St. Louis Cardinals at last season's trading deadline with
Trever Miller
,
Brian Tallet
and
P.J. Walters
for
Octavio Dotel
,
Edwin Jackson
,
Corey Patterson
and
Marc Rzepczynski
.
• Right-hander
Henderson Alvarez
, who made his major league debut last August, has produced a quality start in seven of eight outings this season. He tossed his first career shutout May 4 against the Angels in Anaheim.
• Toronto signed previously unemployed
Vladimir Guerrero
to a minor league deal. He arrived at the Jays' complex in Dunedin, Fla., Tuesday.
• Right-hander
Brandon Morrow
has walked a combined eight batters in his past two outings, albeit while striking out 17 in 11 innings during that span. Morrow's fastball has averaged 92.8 mph this season, down from 93.9 mph a season ago and a career-high 95.5 mph in 2008 with the Seattle Mariners while primarily working in relief.
• Closer
Sergio Santos
, who had 30 saves with the Chicago White Sox last season, is on the disabled list with shoulder inflammation.
Casey Janssen
is 3-for-3 in save chances this month since assuming the role.
Francisco Cordero
struggled in the role for the Blue Jays, who lead the AL in blown saves, so the team turned to Janssen. The Mets'
Frank Francisco
and
Jon Rauch
comprised the back end of Toronto's bullpen last season.
• The Blue Jays are among the most radical defensive shifters in the majors under second-year manager
John Farrell
. Toronto leads the American League in errors, too.
• Second baseman
Kelly Johnson
was acquired from the Arizona Diamondbacks last Aug. 23 for
John McDonald
and
Aaron Hill
.
• Catcher
J.P. Arencibia
homered in consecutive games against the Yankees to increase his season total to five.
• Ex-Mets left-hander
Darren Oliver
has limited opponents to a .182 average. He has struck out 11 and walked one in 13 innings spanning 15 relief appearances.
Matchups
Niese vs. Jays (career: never faced)

Kelly Johnson .400, 1 BB, 3 K, 11 PA
Ben Francisco .250, 4 BB, 3 K, 17 PA
Yunel Escobar .000, 4 BB, 6 PA
Jeff Mathis .000, 1 K, 2 PA
Batista vs. Jays (career: 3-2, 1.70 ERA)

Adam Lind .667, 1 RBI, 6 PA
Rajai Davis .500, 1 BB, 3 PA
Omar Vizquel .417, 1 RBI, 6 BB, 2 K, 30 PA
Ben Francisco .250, 1 HR, 2 RBI, 3 K, 8 PA
Jose Bautista .222, 1 BB, 3 K, 10 PA
Jeff Mathis .200, 1 RBI, 1 K, 8 PA
Edwin Encarnacion .000, 2 K, 4 PA
Kelly Johnson .000, 1 BB, 2 PA
Yunel Escobar .000, 1 K, 1 PA
Gee vs. Jays (career: never faced)

Kelly Johnson .000, 1 K, 3 PA
Ben Francisco .000, 1 PA
Romero vs. Mets (career: never faced)
Rob Johnson 1.000, 1 RBI, 3 BB, 6 PA
Justin Turner 1.000, 2 RBI, 1 PA
Scott Hairston .333, 6 PA
Ronny Cedeno .000, 1 K, 3 PA
Morrow vs. Mets (career: 0-0, 0.00 ERA)
Ronny Cedeno .667, 1 RBI, 3 PA
Andres Torres .333, 3 PA
Scott Hairston .000, 3 PA
Alvarez vs. Mets (career: never faced)
Last series results
Mets won, 2-1, at Rogers Centre, June 23-25, 2006 (AP game recaps)
Mets 6, Jays 1:
Tom Glavine became baseball's first 11-game winner, David Wright hit a three-run homer and New York set a club record with its ninth straight road victory. Lastings Milledge also homered for the Mets, and Glavine (11-2) pitched seven strong innings to win his ninth consecutive decision. But it might have been a costly victory because setup man Duaner Sanchez, a key member of New York's stellar bullpen, left after only two pitches with a pinched nerve in his neck. Carlos Delgado went 0-for-3 with a walk in his first game against his former team. Delgado, Toronto's career leader in home runs and RBIs, left as a free agent two years ago after the club didn't offer him a multiyear contract. Xavier Nady hit an RBI triple with two outs in the first. Wright gave New York 4-0 lead in the third with his 18th homer, a shot to left off starter Casey Janssen (5-6).
Jays 7, Mets 4:
Vernon Wells homered twice and the Blue Jays ended the Mets' franchise-record nine-game road winning streak. Wells hit a three-run homer in the second off Orlando Hernandez (4-7) and a solo shot off Heath Bell in the seventh for his fifth multi-homer game of the season. Toronto's center fielder went 2-for-4, raising his average to .321. Staked to a 6-0 lead in the second, Toronto ace Roy Halladay (9-2) allowed four runs and 10 hits, while striking out four and walking none in 7 1/3 innings. The Mets loaded the bases in the eighth, but reliever Justin Speier got Jose Valentin to pop out and Xavier Nady to strike out swinging to end the threat. B.J. Ryan pitched the ninth for his 21st save in 22 chances. Jose Reyes tripled and went 4-for-5 for the Mets. He has a 12-game hitting streak and is 28-for-52 (.538). Hernandez (4-7) was forced to leave his start early in the second inning after the Mets were charged with two trips to the mound. Pitching coach Rick Peterson went out to the mound in the inning and manager Willie Randolph made a trip after Hernandez almost ignited a bench-clearing brawl by throwing a pitch high and tight to Troy Glaus after Wells hit his three-run homer a pitch before.
Mets 7, Jays 4:
Jose Reyes had four hits again, including a leadoff homer, and Carlos Beltran hit a three-run shot off Josh Towers (1-9). The streaking Reyes went 4-for-5 for the second consecutive game and the third time in five days. He extended his hitting streak to 13 games and is on a 32-for-57 (.561) tear that's raised his batting average from .246 to .302. It was his fifth game this season with at least four hits, tying Seattle's Ichiro Suzuki for tops in the major leagues. Reyes also got his big league-leading 34th stolen base and scored twice. Steve Trachsel (6-4) won his fourth straight start, allowing four runs and six hits in five innings. He struck out two and walked three. Billy Wagner pitched a scoreless ninth for his 15th save in 19 chances.