New York Mets:

Yu Darvish
March, 9, 2015
Mar 9
7:04
AM ET
PORT ST. LUCIE, Fla.
FIRST PITCH:
Zack Wheeler
makes his 2015 Grapefruit League debut Monday as the Mets host the
Miami Marlins
at 1:10 p.m. (SNY).
Wheeler opposes right-hander
David Phelps
, who was acquired from the
New York Yankees
with
Martin Prado
on Dec. 19 for a package that included
Nathan Eovaldi
.
In last Tuesday's intrasquad game, Wheeler allowed two hits and two walks in 1 2/3 innings. His first inning of work was called after two outs because he had reached a pitch limit. Wheeler was throwing across his body and described his mechanics as "herky-jerky," but he labeled it an easy fix.
On the injury front, Terry Collins expects
Daniel Murphy
will return to the Grapefruit League lineup against the Marlins. Murphy was hit by a pitch atop the right hand on Friday. X-rays were negative. He
took batting practice
Sunday.
Lucas Duda
, who did not swing for three weeks because of an intercostal muscle strain on his left side, is
due to take batting practice
for the first time on Monday. He should be in a game Friday.
Commissioner Rob Manfred also is expected at Mets camp Monday to meet with players.
Meanwhile, beginning at 10 a.m., fans can
register for free tickets
for an Opening Day viewing party on the upgraded scoreboard at Citi Field. The Mets face the
Washington Nationals
in D.C. on April 6 at 4:05 p.m. Go to
Mets.com/WatchParty
to sign up. Parking at Citi Field will cost $10. (Read more at
MLB.com
.)
Monday's news reports:
•
Jonathon Niese
retired the first eight batters he faced before hitting a wall and
Kirk Nieuwenhuis
went 3-for-4, but the
Mets lost to the Red Sox, 6-3
, Sunday.
Hansel Robles
walked a pair of batters and served up a three-run homer to
Xander Bogaerts
as Boston took a 5-2 lead in the fifth.
Rick Porcello
, who grew up a Mets fan in New Jersey, limited the Amazin's to one unearned run in three innings in his Red Sox debut. The Mets walked 10 batters. Read game recaps in the
Post
and at
MLB.com
, more on Niese in
Newsday
and at
NJ.com
, and more on Nieuwenhuis in the
Daily News
.
•
Travis d'Arnaud
was spiked and cut his left ring finger on Sunday while sliding into second base. He departed the game, but did not require stitches.
• Union chief
Tony Clark
made his annual visit to Mets camp Sunday and
indicated he had no problem
with the Mets' voluntary offseason workout camps. Clark, an ex-Met, also declined to express any frustration with the Mets' payroll level. The Mets' payroll should rise to $100 million this season, barring a trade involving
Dillon Gee
. Read more in the
Record
,
Newsday
and at
MLB.com
.
• Columnist Joel Sherman
in the Post
suggests Gee is more valuable as a Met than what the club would get in return in a trade -- unless the Mets were to get an upgrade at shortstop or lefty relief help, which is not happening. The injury to
Yu Darvish
with the
Texas Rangers
should illustrate how nice it is to have a security blanket, according to Sherman, who writes:
Darvish's injury should not have been a reason to think further about dealing Gee. It should motivate the Mets to keep him.
After all, the Mets' rotation currently consists of the majors' oldest starter, the anti-Adonis, Bartolo Colon, 41; the dubious shoulder of Jonathon Niese; two Tommy John surgery survivors, Matt Harvey and Jacob deGrom; and the power stylings of Zack Wheeler. The subset that believes that quintet is going DL-free this season also would swear they saw Bigfoot kissing the Loch Ness Monster last night.
• Texas has not placed a call to the Mets since Darvish's injury, a source told ESPNNewYork.com on Sunday morning. Read more in the
Record
.
• Tim Rohan
in the Times
profiles
Michael Cuddyer
, who acted as a substitute teacher at his old high school even after playing in the postseason with the
Minnesota Twins
.
• Columnist Bill Madden
in the Daily News
suggests Niese's health is encouraging.
• Matt Ehalt
in the Record
examines
Juan Lagares
, who is the manager's preference to lead off. Writes Ehalt:
Last season, Lagares swung at 33.7 percent of pitches outside the strike zone, according to Pitchf/x data on fangraphs.com. By comparison, Lucas Duda, who led Mets starters in on-base percentage at .349 last year, chased only 25.9 percent of pitches. Mets hitting coach Kevin Long sees potential in Lagares' tools, and said he can stress the same principles with him that he used to help Robinson Cano become more selective.
• Mike Puma
in the Post
discusses
Wilmer Flores
' positive start to Grapefruit League play in the field and at the plate. Infield coach Tim Teufel said Flores is receptive to data that helps his defensive positioning. "He's studying it, he's buying into everything we're talking about and he's applying it," Teufel told columnist David Lennon
in Newsday
. "He wants to be good. He doesn't just want to be average. He wants to be better than that, so he's working hard." Mike Vorkunov
at NJ.com
notes the importance of data in positioning Flores and Murphy. Read more on Flores in the
Daily News
.
• Vorkunov
at NJ.com
profiles
Scott Rice
, who re-signed with the Mets on a minor-league deal after undergoing elbow surgery.
•
Bobby Parnell
expects to pitch on Wednesday in his first game since undergoing Tommy John surgery last April.
• Ken Rosenthal
at Foxsports.com
speaks with Sandy Alderson about being cautious with Matt Harvey this season.
•
Curtis Granderson
, who is active in the MLBPA, suggests minor leaguers -- who are not unionized -- get a raw deal with their compensation to Ted Berg
in USA Today
. "We're still performing a job, and with every job in the United States, you should at least get the minimum wage. That's my side of it," Granderson told the newspaper. "Even though clocked hours are considered game-time hours, there are still a lot more things that go into work. If you are only working between the start of the game and the end of the game, you're probably going to end up without a job."
• A planned status conference in U.S. District Court in Brooklyn regarding fired executive Leigh Castergine's lawsuit against the team that had been scheduled for Monday has been reset for May 5 because of an "unanticipated change in the court's calendar." She alleges she was mistreated because she was pregnant and unmarried.
•
From the bloggers …
Faith and Fear
recalls a relatively recent precedent for the past week's Murphy controversy. …
Mets Report
suggests Darvish's injury shows the fragility of pitching and importance of Gee. …
Blogging Mets
thinks the Mets' confidence might be misplaced.
BIRTHDAYS:
C.J. Nitkowski
turns 42. ... 19th-round pick Bryce Beeler is 22.
TWEET OF THE DAY:
"@AdamRubinESPN: Rick Porcello said he "cried his eyes out" when the Mets lost the Subway Series to the Yankees in 2000." That makes 2 of us

— Pat (@patrickeckhart) March 8, 2015
YOU'RE UP: What do you predict for Zack Wheeler's record and ERA this season?
March, 8, 2015
Mar 8
7:20
AM ET
PORT ST. LUCIE, Fla.
FIRST PITCH:
It should be another packed house at Tradition Field on Sunday, like with the Harvey Day home opener.
The
Boston Red Sox
visit Port St. Lucie, with
Jonathon Niese
set to oppose right-hander
Rick Porcello
at 1:10 p.m. (PIX/WOR).
Catcher
Christian Vazquez
and shortstop
Xander Bogaerts
are the highest-profile position players making the trip from Fort Myers with the Sox. Porcello was acquired from the
Detroit Tigers
on Dec. 11 for
Yoenis Cespedes
,
Alex Wilson
and Gabe Speier.
Prospects Tyler Pill,
Hansel Robles
and Cody Satterwhite also are scheduled to pitch for the Mets.
Union officials make their annual visit to Mets camp to speak with players on Sunday, too.
Sunday's news reports:
•
Texas Rangers
ace
Yu Darvish
has partially torn ligaments in his right elbow and may require
season-ending Tommy John surgery
. Still, Evan Grant
in The Dallas Morning News
reports that Texas will try to fill the rotation void internally rather than attempt a trade, with
Dillon Gee
not seen as a likely option. Writes Grant:
Associated PressTexas may have lost ace Yu Darvish for the season.
The Rangers didn't feel the fly-ball-inducing Chris Young was a good fit in Arlington, even before he signed with Kansas City on Saturday. The New York Mets are dangling Dillon Gee, but he did nothing for the Rangers this winter. The thought is the Rangers have that level of talent already in the organization.
Sure, the Rangers will check with Philadelphia on Cole Hamels and Cliff Lee again, but Lee has a no-trade clause and isn't likely to accept a deal to the Rangers; the heat, you know. The Rangers have discussed Hamels at various times this winter and once came close to agreeing on prospects but came nowhere near agreeing on how to account for the $96 million remaining on Hamels' contract.
It probably means Ross Detwiler, who entered camp as the leading contender for the No. 5 spot, earned a promotion to No. 4 with his two scoreless innings Saturday. Anthony Ranaudo, Nick Martinez, Nick Tepesch, Alex "Chi-Chi" Gonzalez and Lisalverto Bonilla suddenly are really fighting for a spot.
Jon Heyman
at CBSSports.com
echoes that reporting, writing:
Dillon Gee is someone they considered in mid-winter but don't plan on pursuing.
"We're going to evaluate guys in camp first," general manager Jon Daniels said when asked whether they may look outside for help.
Read more in
Newsday
.
• Gee entered mid-inning for
Rafael Montero
during
Saturday's 8-7 split-squad loss
to the
Miami Marlins
in Jupiter, stranded two runners and ultimately tossed 2 2/3 scoreless innings. Gee said he was not entirely comfortable in the relief role, even if it was successful.
Steven Matz
, despite hitting the leadoff batter, opened the game with two no-hit innings.
Brandon Allen
smashed a three-run homer. The Mets squandered a 3-2 lead in the seventh when
Jack Leathersich
walked three batters and surrendered two hits while recording only one out. All five runs scored in what became a six-run frame against Leathersich and Jon Velasquez.
In Port St. Lucie, the
Mets beat the Braves, 3-1
, behind a 3-for-4, three-RBI game from 2014 first-round pick Michael Conforto, who was borrowed from the minor-league side.
Jacob deGrom
retired the first seven batters he faced. Terry Collins allowed the reigning NL Rookie of the Year to pitch a third frame because deGrom was so efficient with his pitch count through the prescribed two innings. Overall, deGrom threw 22 of 27 pitches for strikes. Matt Bowman,
Sean Gilmartin
, Zack Thornton,
Buddy Carlyle
and
Erik Goeddel
combined for six scoreless relief innings.
Read more about deGrom in the
Post
,
Daily News
and
Record
.
Read more about Conforto in
Newsday
, the
Daily News
and at
MLB.com
.
Read more on Matz in
Newsday
.
•
Daniel Murphy
and
Alex Castellanos
escaped getting hit in their right hands Friday
without suffering fractures
, X-rays revealed. …
Anthony Recker
originally was in Saturday's home lineup at catcher, but had mild right wrist soreness. He ultimately entered the game anyway at first base and went 0-for-2 with a strikeout. … Outfield prospect Brandon Nimmo did not play for a second straight day because of a mild left-hand injury. Read more at
NJ.com
and
MLB.com
.
• Mike Puma
in the Post
discusses shortstop Matt Reynolds, who is 4-for-9 with a walk-off homer, two RBIs and a walk early in Grapefruit League play. Reynolds, a former second-round pick, split time between shortstop and second base on Saturday in Jupiter.
Wilmer Flores
will open the season as the regular shortstop, but Sandy Alderson told Puma about Reynolds: "He's probably not that far away from playing in the major leagues. He looks solid, confident in the infield, so he's done a nice job." Reynolds has appeared in 256 minor league games at shortstop and 21 at second base. He played third base at the University of Arkansas.
•
Matt Harvey
told the Post
he felt "all good" the day after tossing two perfect innings in his return to game action. Harvey next is scheduled to pitch three innings against the Marlins on Wednesday in Jupiter.
•
David Wright
and a handful of teammates took the families of slain police officers Wenjian Liu and Rafael Ramos to dinner on Friday night. The families then returned to the ballpark Saturday and
expressed appreciation
for Wright and the Mets welcoming them. Read more in the
Daily News
and
Newsday
.
• Mike Vorkunov
at NJ.com
reveals a recent charitable endeavor by
Noah Syndergaard
. Writes Vorkunov:
Earlier this winter Syndergaard raffled off his glove on Twitter to raise money for a worthy cause. His mother, Heidi, suffers from Sjögren's syndrome -- a chronic autoimmune disease where the body's white blood cells attack some of its glands. Syndergaard was able to raise money by letting go of "Drago," the glove he wore at the Futures Game.
• Here's something about Murphy, his soon-to-be 1-year-old son, and an Irish-themed book
in the Post
.
• Columnist Michael Powell
in the Times
addresses the vibe at Mets camp.
• Columnist David Lennon
in Newsday
notes that with
Derek Jeter
's retirement, there is only one active captain in MLB: Wright. "It's tough to define," Wright told Lennon about his role. "It's not like you become a captain and all of a sudden you have all these responsibilities now. More than anything, it's an honor. I'd like to think I have a fairly strong voice in the clubhouse. I like to think people view me in that type of role."
• Columnist Bob Klapisch
in the Record
addresses Collins' job security in the last guaranteed year of his deal.
• Columnist John Harper
in the Daily News
asserts that
Travis d'Arnaud
must improve his defense. D'Arnaud has short-hopped both throws to second base on steal attempts so far in Grapefruit League play. The Mets have encouraged d'Arnaud to reduce his passed balls by placing somewhat less emphasis on pitch framing (trying to steal strikes on borderline pitches).
•
From the bloggers …
Mets Report
suggests the Mets have not yet earned the right to have a swagger.
BIRTHDAYS:
Anthony DiComo turns 30.
TWEET OF THE DAY:
@AdamRubinESPN: Mets should keep Gee. Stockpile as much Pitching as possible. It's a long season and things happen.

— John J Criscione (@criscione6_j) March 7, 2015
YOU'RE UP: Should the Mets hold onto Dillon Gee for rotation security?
March, 7, 2015
Mar 7
7:37
PM ET
PORT ST. LUCIE, Fla. -- Despite losing
Yu Darvish
to a potentially season-ending elbow injury,
Gee
Darvish
the Rangers are "not especially interested" in excess Mets starter
Dillon Gee
right now, Jon Heyman
tweeted
.
The Mets and Rangers did talk early in the winter about Gee.
After tossing 2 2/3 scoreless relief innings on Saturday against the Marlins, Gee said about Darvish's injury: "I did see that. In my mind all I'm really thinking about is, 'That sucks for Darvish.' I mean, he's a phenomenal pitcher. And I feel sorry for him. It sucks if he's going to be gone for a year."
Sources have told ESPNNewYork.com that the Mets are willing to trade Gee or
Bartolo Colon
during spring training. Earlier this week, GM Sandy Alderson said there were no active trade conversations, at least of any magnitude.
March, 7, 2015
Mar 7
5:11
PM ET
PORT ST. LUCIE, Fla. -- Long Island native
Steven Matz
tossed two no-hit innings,
Dillon Gee
had a successful relief cameo and
Brandon Allen
delivered a three-run homer, but a Mets split squad lost to the Marlins, 8-7, in Jupiter on Saturday.
Lefty reliever
Jack Leathersich
ultimately was charged with five runs in a six-run seventh, as the Marlins grabbed an 8-3 lead.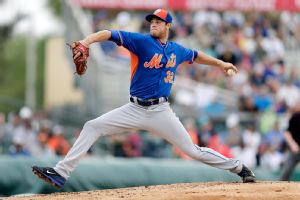 Jeff Roberson/Associated PressSteven Matz tossed two no-hit innings against the Marlins.
The Mets answered with four runs a half-inning later, highlighted by a two-run single by Xorge Carrillo, but fell a run short.
Start of something?
Gee entered mid-inning for
Rafael Montero
and ultimately tossed 2 2/3 innings out of the bullpen as the Mets try to prep him for a long-relief role. Gee had expected to work only one inning -- the fifth -- but Montero's trouble forced him into the unaccustomed role an inning earlier. He was caught off-guard by working in parts of three innings.
"I don't know the reasoning behind it, but I'm glad I was able to stretch it out a little bit, and at least keep stretching that pitch count, even though it came in relief," Gee said. "It seems like I'm just going with the flow right now. If they ask me to come out of the pen, I'm going to come out of the pen. And if I get a start, great."
Gee, a veteran, noted with a laugh that he was picking the brain of Leathersich -- who has yet to reach the majors -- about how to get ready for a relief appearance.
After Montero was pulled with one out in his second inning of work, Gee entered with two Marlins aboard. He retired
Miguel Rojas
and
Derek Dietrich
to strand both inherited runners. Gee added another two scoreless frames, allowing one hit with one strikeout.
"I wouldn't say it's hard. It's just different," Gee said. "Preparation-wise, a starter to the bullpen is night and day. That's going to take some getting used to. It was a little weird to come in that quick today, because I was supposed to get the fifth. ... It seemed like that last inning I was finally starting to warm up. So that's going to take some getting used to."
Still, there is no 100 percent guarantee Gee makes it to the Mets' Opening Day roster in any role.
Rangers ace
Yu Darvish
learned he
may need Tommy John surgery
, which could necessitate Texas acquiring a starting pitcher. The Mets and Rangers had trade dialogue involving Gee early in the winter.
Gee said in an ideal world he would remain a starting pitcher. He had heard about Darvish's injury before taking the mound in Jupiter.
"What it boils down to is I don't make those decisions. I can't strike a trade with myself," Gee said. "I did see that [about Darvish]. In my mind all I'm really thinking about is, 'That sucks for Darvish.' I mean, he's a phenomenal pitcher. And I feel sorry for him. It sucks if he's going to be gone for a year. I was trying to worry about pitching out of the bullpen today."
Island pride:
Matz allowed only one baserunner, when he hit leadoff batter
Dee Gordon
with his opening pitch.
"Definitely a little jittery. I was excited to be out there," Matz said. "I think it got the best of me. I was able to settle down after that."
Matz was particularly excited to retire
Ichiro Suzuki
on a flyout to cap a six-pitch confrontation that included three curveballs.
"My first thought was, 'Wow, Ichiro is in there. That's pretty cool.' I was watching him when I was 10 years old," Matz said. "Looking at that lineup at the beginning of the game, going over the hitters, it was interesting. You've got Ichiro in there. He's one of the greatest hitters. And seeing [Giancarlo] Stanton in there, it was a little nerve-wracking in the beginning. I just settled down and that was pretty much it."
Said Ichiro through an interpreter about facing people who revered him during their childhood: "It feels strange because I'm still playing the game. It's a lot of fun to play with that generation of guys that watched me when they were kids and be able to be on the same field. I think they'll allow me to up my game, too, and help me get better."
Matz had 20 family members and friends in attendance. He retired Stanton on a flyout to center, although the wind knocked down the shot.
Odds & ends:
The Mets led 3-2 when Leathersich, who is ticketed for Triple-A Las Vegas, was charged with five runs in the seventh. Leathersich, who has walked nearly a batter an inning over his Triple-A career, walked three and allowed two hits while retiring only one Marlins batter. Leathersich already has issued five walks in 1 1/3 Grapefruit League innings. ...
Michael Cuddyer
started in left field. He has started only three regular-season games in that position in his career, but Terry Collins prefers to use him there and keep
Curtis Granderson
in right field.
July, 12, 2014
7/12/14
5:38
AM ET
NEW YORK
FIRST PITCH:
The Mets have been giant slayers during their current 6-2 homestand, roughing up
Yu Darvish
,
Julio Teheran
and now
Henderson Alvarez
during that stretch.
That trio of pitchers continues to be ranked in the top 10 in ERA in their respective leagues despite allowing a combined 15 runs in 13 1/3 innings against the Mets.
"We go out every night and try to compete," Terry Collins said. "No matter who is on the mound, we try to make sure that [the batters] do what we want, and that's get a good ball to hit and try not to chase."
The Mets look to keep rolling when they send
Daisuke Matsuzaka
(3-3, 3.32 ERA) to the mound opposite
Miami Marlins
right-hander
Tom Koehler
(6-7, 3.98) on Saturday at 4:10 p.m.
Huey Lewis and The News perform a postgame concert at Citi Field.
Saturday's news reports:
•
Zack Wheeler
allowed one run in 6 2/3 innings,
David Wright
finished 4-for-4 with a two-run homer and
Lucas Duda
also had a two-run shot as the
Mets won Friday's series opener, 7-1
, against the Marlins. Wheeler improved to 2-0 with a 1.04 ERA in five career starts against Miami. He has allowed one run and pitched into the seventh inning in each of his past three starts to head
into the All-Star break on a high note
.
Anthony Gruppuso/USA TODAY SportsZack Wheeler limited the Marlins to one run in 6 2/3 innings on Friday.
Alvarez, who had a 1.04 ERA over his previous nine starts and had dominated the Mets this season, allowed six runs in five innings.
"We've seen him really, really sharp," Collins said. "He wasn't quite as sharp tonight. That's what you've got to do when you get a guy who is not on his best game -- hopefully take advantage of it."
Read game recaps in the
Miami Herald
,
Post
,
Daily News
,
Newsday
,
Star-Ledger
,
Record
and at
MLB.com
.
• Read more on Wheeler in the
Post
.
• Read more on Wright in the
Star-Ledger
.
• Scott Boras appears to
favor a more conservative rehab plan
for
Matt Harvey
than even Sandy Alderson and the Mets. The agent said the optimal rehab time following Tommy John surgery before entering a game is 14 to 16 months. Read more in the
Star-Ledger
and
Daily News
.
• First-round pick Michael Conforto officially was
introduced at Citi Field on Friday
. He is due to begin his pro career with the Brooklyn Cyclones, although he will be eased into games and actually will travel to Los Angeles next week because he is one of three finalists for the Golden Spikes Award. Read more in the
Times
,
Newsday
and at
MLB.com
.
•
Jeremy Hefner
is
due to pitch an inning
in the Gulf Coast League on Saturday, less than 11 months after undergoing Tommy John surgery on Aug. 28, 2013.
• Left-hander
Scott Rice
has a bone spur in his left elbow that
may require surgery to remove
, a source told ESPNNewYork.com.
• Matt Bowman earned his first Triple-A win and Allan Dykstra had a three-run triple as Las Vegas beat Albuquerque, 8-1, in Game 1 of a doubleheader Friday. Kingsport routed Elizabethton, 12-0, behind a combined shutout from Yoryi Nuez and Martires Arias. Read the full minor-league recap
here
.
• Michael Salfino
in the Journal
writes that the Mets have the worst winning percentage in the National League in games in which they score first.
• John DeMarzo
in the Post
profiles former second-round pick Matt Reynolds, who has been on a tear this season with Binghamton and now Las Vegas as a middle infielder.
•
From the bloggers ...
Faith and Fear
soaks up some Polo Grounds memories on a very nice Citi Field night.
BIRTHDAYS:
Former Mets left-hander Dick Rusteck was born on this date in 1941.
TWEET OF THE DAY:
Popped my UCL, then popped THE question!! #SheSaidYes #ExtraLongOffseason pic.twitter.com/44aQRcE8IH

— Jeff Walters (@jawalters11) July 11, 2014
YOU'RE UP: What is your favorite Huey Lewis song?
July, 4, 2014
7/04/14
11:18
PM ET
NEW YORK -- And now, some fireworks!
Travis d'Arnaud
delivered a tiebreaking, two-run double in the eighth against
Jason Frasor
and the Mets snapped a four-game losing streak with a 6-5 win against the
Texas Rangers
on Friday night at Citi Field.
Eric Campbell
had greeted Frasor with a one-out single after the right-hander inherited
Bobby Abreu
on first base from left-hander
Aaron Poreda
. Both scored on d'Arnaud's double. Campbell finished 3-for-3 with a walk and RBI.
The Rangers, who scored a run in the ninth against
Jenrry Mejia
, have lost 14 of their past 16.
The game was the 11th in the majors this season to take at least four hours without extra innings, according to the Elias Sports Bureau. It lasted 4 hours, 8 minutes -- falling one minute shy of the longest nine-inning game in Mets history.
The Mets are now 11-20 in one-run games this season.
Texas had plated an unearned run in the seventh against
Jeurys Familia
to even the score at 4.
Elvis Andrus
hit a sharp grounder that
Daniel Murphy
fielded on the backhand. However, Murphy bounced the throw to
Lucas Duda
, who could not scoop it. Murphy was charged with an error. Andrus eventually scored when
Chris Gimenez
sent a grounder to Campbell at third base. He could not field the ball cleanly and had to settle for the out at first base rather than pursue Andrus at the plate.
Yu who?
Originally scheduled to pitch Thursday at Camden Yards,
Yu Darvish
was held back until Friday because of the threat that the series finale against at Baltimore would be interrupted by rain. What looked like bad news for the Mets turned out to be OK.
Darvish surrendered three first-inning runs, including a two-run, opposite-field homer by Duda. In his previous 15 starts this season, Darvish had allowed only three first-inning runs (two earned).
Darvish entered the night with the third-ranked ERA in the American League. He allowed four runs on five hits and two walks in five innings and had his ERA rise from 2.42 to 2.63. The four earned runs matched his season high.
Ouch!
Jonathon Niese
departed with one out in the first inning after throwing only 12 pitches. Niese was struck in the lower back by a line drive from
Alex Rios
. X-rays were negative, and Niese was diagnosed with a bruise.
What a relief:
Carlos Torres
entered for Niese and managed to pitch through the fifth inning. Torres threw a season-high 81 pitches in his 4 2/3 innings of work and departed with the Mets leading 4-3.
Torres' workload marked the most pitches thrown by a Met in relief since
Shaun Marcum
handled the final eight innings of a 20-inning game against the
Miami Marlins
on June 8, 2013. Marcum tossed 105 pitches in that game.
Odds and ends:
Adrian Beltre
had a solo homer against Torres in the fifth to pull the Rangers within 4-3. Beltre has now homered in 40 major league ballparks, the most of any active player, according to the Elias Sports Bureau. ... Former All-Star closer
Neftali Feliz
made his season debut with the Rangers. He walked the first two batters he faced. However, d'Arnaud bunted, the lead runner was forced out and Feliz ultimately tossed a scoreless sixth. Feliz then also logged a scoreless seventh.
What's next:
Bartolo Colon
(8-6, 3.88 ERA) opposes right-hander
Colby Lewis
(5-5, 5.71) on Saturday at 7:15 p.m.
July, 4, 2014
7/04/14
5:56
AM ET
Brad Penner/USA TODAY SportsCiti Field will host a fireworks spectacular postgame, as it did last season.
NEW YORK
FIRST PITCH:
How's this for unlucky?
Because there had been a threat of rain interrupting Thursday's
Texas Rangers
game in Baltimore, the club decided to scratch
Yu Darvish
and instead have the ace face the Mets in their Fourth of July series opener at Citi Field.
Darvish (8-4, 2.42 ERA) now will oppose
Jonathon Niese
(5-4, 2.88) in the 7:10 p.m. game Friday.
Ray Stubblebine/Associated PressThe Mets will have a pregame moment of silence for former GM Frank Cashen.
The Mets will have a pregame moment of silence to honor former general manager Frank Cashen, who died Monday at age 88. The team also will debut a patch, which will contain Cashen's initials, on their right sleeves. The patch will be placed below a patch honoring the late broadcaster Ralph Kiner.
Also pregame, the Mets -- like other home teams -- will play a video recreating Lou Gehrig's "Luckiest Man" speech. This Fourth of July is the 75th anniversary of it originally being delivered.
Lucas Duda
and 29 other first basemen around baseball will share in reading the lines.
David Wright
, who has not appeared in a game since his left rotator cuff became painful during last Thursday's game at Pittsburgh, is expected back in the lineup. At least, that's what Terry Collins intended to be the case less than 48 hours ago.
The Rangers, like the Mets, are reeling. Both teams are 37-48 and in fourth place in their divisions. The Mets have lost four straight. Texas has lost five straight and 14 of 17. The Rangers also have a nine-game road losing streak.
The Mets will have a fireworks show postgame Friday.
Read the Mets-Rangers series preview
here
.
Friday's news reports:
• The magazine at Loyola University in Maryland, the alma mater of Cashen, posted an
obituary
as well as a
2011 Q&A
with the former Mets GM. "I've just had an incredible amount of luck," Cashen, who graduated in 1945, told the magazine three years ago. "I was a writer by choice, a lawyer by education, a horseman by heritage, a brewery worker by necessity, and a baseball executive by good fortune."
• After spending 10 days on leave because of a serious family matter, first-base coach
Tom Goodwin
is
due to rejoin the team
Friday.
• The Mets will listen to trade offers for
Bartolo Colon
and "may actively shop the veteran right-hander," Mike Puma writes
in the Post
. Colon, 41, is signed for next season at $11 million.
• Columnist Ken Davidoff
in the Post
asserts that Collins and Sandy Alderson merit continuing in their roles. Writes Davidoff:
Collins is in no imminent danger of being dismissed as the team's manager, and it's a safe bet general manager Sandy Alderson will have his team option picked up for 2015. The Mets are pleased with their macro development, no matter how brutal the micro has looked.
Alderson probably displeased some of the fiercer Romans in the Colosseum when he boasted of the team's encouraging run differential to CBSsports.com. After all, the fact the Mets have scored 328 runs and allowed 334 doesn't make their 37-48 record any less terrible.
So try looking at it this way: How many of these Mets are outright busts? I count just one -- Chris Young.
• All-Star voting officially has concluded. ESPN will televise the rosters at 7 p.m. ET Sunday. The All-Star Game will be played on July 15 at Minnesota.
• Columnist John Harper
in the Daily News
suggests the Mets and Yankees have at least one thing in common -- they're duds. Writes Harper:
On the Fourth of July, a holiday associated with baseball as much as fireworks, there's no avoiding the harsh reality that the Yankees and Mets aren't even as interesting as the hot dog eating contest on Coney Island. That's what makes this season particularly painful for fans: their teams aren't just bad, they're boring, even unwatchable at times.
• Roger Rubin
in the Daily News
chats with Niese about his evolution as a pitcher.
•
Rafael Montero
, dealing with a strained left oblique, has resumed throwing off a mound in Port St. Lucie, Fla., the Post
reports
.
• Marc Carig
in Newsday
writes about the Mets' hitting woes:
Even though general manager Sandy Alderson thinks the Mets are better than their 37-48 record, they maintain just a 0.8 chance of making the playoffs, according to the playoff odds tracker at Baseball Prospectus.
Much of the difference lies with the Mets' maddening inability to pull out close games. Of their 85 games this season, 61 have been decided by three or fewer runs, tied for the second-highest total in baseball. Their winning percentage in those games is .377 (23-38) -- the lowest mark in the game.
• Kyle Johnson homered twice, including a tiebreaking solo shot in extra innings, as Binghamton beat New Britain 6-4 in Game 1 of a doubleheader. The nightcap, which was supposed to feature Gabriel Ynoa's Double-A debut, was rained out. Gavin Cecchini had a tiebreaking grand slam as St. Lucie beat Charlotte, 7-4. Alex Panteliodis allowed one run in seven innings in Savannah's 10-5 win against Charleston. Read the full minor-league recap
here
.
• Matt Clark, who was crowded out of playing time at Binghamton despite hitting .297 with 10 homers and 46 RBIs in 219 at-bats, has signed with the
Milwaukee Brewers
organization, he
tweeted
. Clark, 27, had asked for his release from the Mets. He will report to Triple-A Nashville. He slugged 25 homers in Japan in 2013.
•
Vic Black
believes long-tossing between relief appearances helps his performance, Mike Vorkunov writes
in the Star-Ledger
.
• Tim Healey
at MLB.com
catches up with 2011 first-round pick Brandon Nimmo at Double-A Binghamton.
BIRTHDAYS:
Longtime
St. Louis Cardinals
coach and former Mets shortstop Jose Oquendo was born on the Fourth of July. He turns 51.
TWEET OF THE DAY:
@AdamRubinESPN your tweets are actually my favorite haha

— Ryan Labriola (@Rlabs19) July 4, 2014
YOU'RE UP: Do you believe David Wright returning will make a difference for the Mets?
July, 3, 2014
7/03/14
11:49
PM ET
Lisa Blumenfeld/Getty ImagesRain in Baltimore on Thursday means Yu Darvish now faces the Mets in Friday's series opener at Citi Field.
METS (37-48, fourth place/NL East) vs. TEXAS RANGERS (37-48, fourth place/AL West)
Friday:
LHP
Jonathon Niese
(5-4, 2.88) vs. RHP
Yu Darvish
(8-4, 2.42), 7:10 p.m. ET
Saturday:
RHP
Bartolo Colon
(8-6, 3.88) vs. RHP
Colby Lewis
(5-5, 5.71), 7:15 p.m. ET
Sunday:
RHP
Zack Wheeler
(3-8, 4.25) vs. RHP
Nick Tepesch
* (3-3, 3.65), 1:10 p.m. ET
* officially TBA
Rangers short hops
• With rain delaying the start by 56 minutes and threatening to interrupt Thursday's Rangers series finale in Baltimore, manager Ron Washington decided to delay
Yu Darvish
's scheduled start until Friday, pushing him into the Mets series. There never was a stoppage once the game began at Camden Yards.
Darvish, 27, has an MLB-best 11.04 strikeouts per nine innings. He ranks third in the American League in ERA at 2.42, trailing only the Mariners'
Felix Hernandez
(2.10) and Yankees'
Masahiro Tanaka
(2.27). Darvish snapped a two-start losing streak by tossing eight scoreless innings against the
Minnesota Twins
on Saturday.
• Texas leads the majors in uses of the DL (20) and current players on the DL (14). The absences include
Prince Fielder
(herniated disk),
Mitch Moreland
(ankle),
Derek Holland
(knee surgery),
Jurickson Profar
(shoulder),
Geovany Soto
(knee),
Alexi Ogando
(elbow),
Tanner Scheppers
(elbow) and
Engel Beltre
(fractured tibia).
Fielder, who had season-ending surgery for the neck issue on May 27, had been acquired during the offseason from the
Detroit Tigers
with $30 million for
Ian Kinsler
. Texas reportedly will recoup 50 percent of Fielder's salary via an insurance policy that carried over from the Tigers, after a 90-day deductible period.
Soto, who underwent surgery, is due to begin a rehab assignment shortly. Beltre, an outfielder, has started a rehab assignment with Triple-A Round Rock.
• With Fielder and Moreland out,
Carlos Pena
has taken over at first base. He is hitless in his last 18 at-bats and 3-for-33 since joining the club. Pena, 36, originally signed a minor-league contract on June 17. He had been idle since being released by the
Los Angeles Angels
from spring training on March 23.
• The Rangers have lost five straight and 14 of 17. They have lost nine straight road games, their longest skid away from Arlington since 2005, when Buck Showalter managed the club during a nine-game road skid. They are 11 games under .500 for the first time since finishing the 2007 season at 75-87.
Cooper Neill/Getty ImagesAdrian Beltre is the one lethal weapon in Texas' decimated lineup.
•
Adrian Beltre
hit .392 in June, the highest figure in any month of his career. The average trailed only Houston's
Jose Altuve
(.411) in the American League for the month. Overall, he is hitting .335 this season, second to Altuve in the league.
•
Shin-Soo Choo
signed a seven-year, $130 million deal with Texas on Dec. 13. He is hitting .254 with eight homers and 30 RBIs and has a .374 on-base percentage. Choo returned to the leadoff spot last Friday after two weeks in the No. 3 hole.
• The Rangers designated left-hander
Joe Saunders
(0-5, 6.13 ERA) for assignment on Tuesday.
Miles Mikolas
, who had been acquired from the
Pittsburgh Pirates
in December, stepped into the rotation.
• Mikolas' promotion and insertion into the rotation pushed scheduled Wednesday starter
Nick Tepesch
into the Mets series … at least originally. Tepesch was due to start Friday, but has been dropped in place of Darvish. He now is the most likely candidate to start Sunday, in what is currently listed as TBA, unless he is needed in long relief before then. Tepesch has a 1.93 ERA over his past three starts. The Rangers will keep
Colby Lewis
on Saturday, as originally planned.
• The Rangers' 4.62 ERA is the highest in the American League. They nonetheless have an AL-best 14 shutouts. They became the first AL team to reach that shutout total within 80 games since the 1968
Cleveland Indians
, five years before the designated hitter came into effect.
• Closer
Joakim Soria
has allowed runs in consecutive appearances for the first time this season. He still has 17 strikeouts and one walk in his past 10 appearances. Former All-Star closer
Neftali Feliz
is currently pitching in Triple-A as he enters the final stages of a return from Tommy John surgery.
• Before a 3-for-4 performance Thursday at Baltimore, shortstop
Elvis Andrus
has been hitless in his last 10 at-bats and 5-for-his-last-30.
• Left fielder
Michael Choice
is hitless in his last 14 at-bats and 5-for-his-last-66.
• Catcher
Robinson Chirinos
has caught an MLB-high 19 would-be base stealers.
• Rangers assistant GM A.J. Preller is due interview with the
San Diego Padres
regarding their vacant GM position.
April, 3, 2013
4/03/13
12:42
PM ET
By
Mark Simon
| ESPNNewYork.com
Listen to the hype on New York sports-talk radio or talk to a rabid Mets fan, and you'll hear about the high expectations for
Matt Harvey
in 2013.
Those are based on the results Harvey got in his 10-start, 59 1/3 inning debut in 2012, in which he went 3-5 with a 2.73 ERA.
But the statistical projections for Harvey don't quite have him matching that in 2013.
The four math-based projection systems on
Fangraphs.com
have Harvey's ERA ranging from 3.57 to 3.91 this season.
Baseball Prospectus
has him about in the middle at 3.71. The Ron Shandler Baseball Forecaster pegs him for a 3.94.
What is keeping those numbers in check, in comparison to fans' lofty expectations?
There are a couple of factors.
Each of these projection systems is based on historical precedent and precedent is such that two things will drop for Harvey in 2013.
One is that his strikeout rate, 10.6 per nine innings last season, will come down to something closer to his rate in Triple-A (9.2).
The other is that Harvey's Batting Average on Balls in Play (BABIP), which was a remarkably low .262 last season, will rise to something resembling the .295 he finished with at Buffalo.
These systems also assess that Harvey will run into the same types of control issues he's dealt with both in the minors and majors, that his walk rate will be close to the four per nine innings that he hit last season.
Smush all that together into the various mathematical formulas these systems use and you'll get an ERA in the mid-to-high 3s.
The biggest thing that Harvey could do to exceed those expectations would be to improve his control.
Consider this:
The
Steamer
projection system, gauged to be the most accurate in studies done the last few seasons, has Harvey with this line in 2013.
9.03 strikeouts per 9 (201 in a 200-inning season)
3.99 walks per 9 (89 in a 200-inning season)
0.88 HR per 9 (20 in a 200-inning season)
.286 Batting Average on Balls in Play.
That system has another second-year pitcher, albeit an American Leaguer, with a similar line.
9.46 strikeouts per 9
3.15 walks per 9
0.79 HR per 9
.287 Batting Average on Balls in Play
Harvey's projection nearly matches that one but for the walk rate, which is about 20 percent higher.
What's that worth in terms of actual numbers?
Steamer has Harvey with a 3.91 ERA in 2013.
The other guy,
Yu Darvish
, pitched a heck of a game last night, a near-perfecto against the
Houston Astros
.
His projected ERA from Steamer would look pretty good for Harvey in 2013: 3.36.