New York Mets:

Yunel Escobar
April, 4, 2013
4/04/13
9:49
PM ET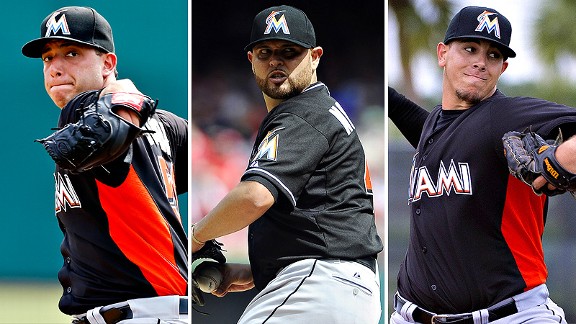 USA TODAY Sports
The Mets face (l to r) right-handers Alex Sanabia, Ricky Nolasco and Jose Fernandez this weekend.
METS (2-1, second place/NL East) vs. MIAMI MARLINS (0-3, fifth place/NL East)
Friday:
RHP
Jeremy Hefner
(0-0, -.--) vs. RHP
Alex Sanabia
(0-0, -.--), 7:10 p.m. ET
Saturday:
LHP
Jonathon Niese
(3-5, 2.70) vs. RHP
Ricky Nolasco
(0-1, 3.00), 1:10 p.m. ET
Sunday:
LHP
Aaron Laffey
(0-0, -.--) vs. RHP
Jose Fernandez
(0-0, -.--), 1:10 p.m. ET
Marlins short hops
•
Jose Fernandez
, the 14
th
overall pick in the 2011 draft out of high school in Tampa, will make his major league debut Sunday. The 20-year-old right-hander went a combined 14-1 with a 1.75 ERA in 25 Class A starts last season between Greensboro and Jupiter.
The Marlins opted to use the rookie with Nathan Eovaldi and
Henderson Alvarez
on the disabled list, both with shoulder inflammation.
Fernandez arrived in the U.S. from Cuba by boat as a refugee in 2008. In preparation for Sunday's start, Fernandez threw a simulated game Tuesday in D.C., with first-year manager
Mike Redmond
and hitting coach
Tino Martinez
acting as batters. Both are not that far removed from major league careers.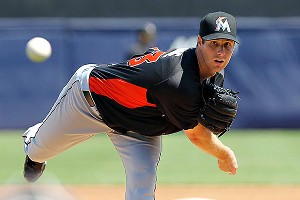 Kim Klement/USA TODAY Sports
John Maine made the Marlins' Opening Day roster. He last pitched in the majors in 2010 with the Mets.

• Ex-Met
John Maine
made Miami's Opening Day roster as a reliever. He did not appear during the season-opening series at D.C., so his first major league action since his Mets days may come this weekend at Citi Field. Maine last threw a big league pitch on May 20, 2010 in Washington. It was after that abbreviated outing that pitching coach Dan Warthen called Maine a "habitual liar" with respect his truthfulness about injuries. Maine went 2-0 with a 2.63 ERA in six games during spring training. He struck out nine and walked nine in 13 2/3 innings.
• Fellow ex-Met
Jon Rauch
signed a one-year, $1 million free-agent contract with the Marlins on Feb. 5.
• Miami, which completed its latest fire sale during the offseason, mustered only one run while getting swept in a season-opening three-game series at Nationals Park. The Marlins became the first team to total no more than one run in the team's first three games since the 1988 Orioles (also one run), according to ESPN Stats & Information. The '88 Orioles opened that season 0-21.
• Third baseman
Placido Polanco
batted cleanup the first two games of the season. He had never started a game in that slot previously in his 16-year career.
• First baseman
Casey Kotchman
will land on the disabled list Friday, two days after straining his left hamstring. He becomes the third first baseman the Marlins have lost this season.
Logan Morrison
(knee surgery) is on the 60-day DL, while
Joe Mahoney
is on the 15-day DL with an intercostal strain. Among the flurry of moves last season, the Marlins traded first baseman
Gaby Sanchez
to the
Pittsburgh Pirates
last July 31.
Greg Dobbs
should handle the bulk of the first-base duty for now, while
Austin Kearns
and rookie
Chris Valaika
may see action at the position, too.
•
Giancarlo Stanton
, the lone remaining threat in Miami's lineup, led the NL in slugging percentage (.608) and finished second to
Ryan Braun
in homers last season, with 37. Stanton now has 93 career homers, matching Frank Robinson for fifth-most in MLB history before turning 23. The only players with more: Mel Ott (115), Eddie Mathews (112), Tony Conigliaro (104) and
Alex Rodriguez
(95).
• Catcher
Miguel Olivo
signed with Miami on March 29 after playing in 21 games for the
Cincinnati Reds
during spring training.
Jeff Mathis
suffered a broken right clavicle early in spring training.
• In the Nov. 19 trade that sent
Jose Reyes
,
John Buck
,
Emilio Bonifacio
,
Mark Buehrle
and
Josh Johnson
to Toronto, the Marlins received minor leaguers Anthony DeScalfani, Jake Marisnick and Justin Nicolino as well as Alvarez,
Yunel Escobar
,
Adeiny Hechavarria
and Mathis. Reyes bristled during spring training at Marlins owner Jeffrey Loria, after Loria denied advising Reyes days before the trade to buy a house in Miami.
•
Alex Sanabia
, 24, will make his first major league appearance since Sept. 24, 2011 in the series opener. He went 6-7 with a 4.06 ERA in 17 starts last season at Triple-A New Orleans, where he also had three DL stints.
May, 21, 2012
5/21/12
4:40
AM ET
The Mets salvaged the finale of their interleague series in Toronto,
holding on for a 6-5 win
when former Blue Jays closer
Frank Francisco
struck out three straight batters
in the ninth after allowing a leadoff walk to
Yunel Escobar
, then single by
Jose Bautista
through the barren right side of the infield.
Monday's news reports:
•
Miguel Batista
landed on the DL on Sunday morning
with a strained oblique or lower-back muscle.
Jeremy Hefner
is likely to start Thursday's game against the San Diego Padres at Citi Field in that rotation slot.
Chris Schwinden
was promoted for Sunday's game as a hedge against
Dillon Gee
having a short outing, but was not needed. The Mets plan to make another roster move before Monday's series opener in Pittsburgh to add a position player.
Vinny Rottino
-- who had a three-homer game for Triple-A Buffalo on Saturday -- would appear a logical choice to return to the major league roster. Schwinden is the easiest to return to Buffalo.
Manny Acosta
would be an alternative, but seemingly less likely choice to get dismissed to free the roster spot.
•
Terry Collins
for the first time Sunday morning allowed for the possibility of
Ike Davis
getting
sent to the minors
if his performance does not show improvement on this trip. Despite a seeming roster crunch looming with
Ruben Tejada
slated to begin rehab games as soon as today and
Jason Bay
due to take batting practice in Pittsburgh for the first time this afternoon, there are demotion candidates. Davis is one. And
Kirk Nieuwenhuis'
production considerably has slowed since the rookie's torrid start.
The added benefit of Nieuwenhuis returning to the minors is it could delay his free agency a year. If Nieuwenhuis were to stay at the major league level continuously, he would be eligible for free agency after his sixth season, during the 2017-18 offseason. If he logs a total of 20 days in the minors this year, he would not get credit for a full major league season in 2012 and would be delayed in free agency at least until the following winter -- 2018-19. Read more in the
Daily News
,
Post
and
Newsday
.
•
Andy McCullough
in the Star-Ledger
writes about Davis' issues:
- He's hitting too many grounders (50 percent of his balls in play before Sunday, according to FanGraphs.com). In the first inning, Davis hacked at a low, 91-mph sinker and tapped the ball back to Alvarez. With the bases loaded in the fifth, he rolled a fastball into what should have been a double play, except second baseman Kelly Johnson fumbled the exchange.
- His luck has been poor. In the fourth inning, Davis smashed a fastball toward the opposite field -- right into the glove of third baseman Yan Gomes. Entering Sunday's game, Davis was hitting line drives 17.4 percent of the time, or slightly better than 2011's 17 percent mark. Except his batting average on balls in play was a miniscule .184, nearly 200 points below his career average. "He just needs those [line drives] to fall," hitting coach Dave Hudgens said.
- He's not drawing walks. Davis saw exactly three pitches in his first three at-bats Sunday.
• Regarding Nieuwenhuis,
Barbara Barker
writes
in Newsday
:
A week ago, he led all major-league rookies with a .302 batting average and was second with 35 hits. He went 1-for-3 with an RBI double and two walks in the Mets' 6-5 win Sunday and is now batting .277 with 38 hits, seven doubles, two home runs, 13 RBIs and 16 walks. "This kid doesn't deserve to go back to Triple-A with the way he's swung the bat so far," Buffalo manager Wally Backman said. "But he needs to play. I think for his development, he needs to play every day." Nieuwenhuis says he can't worry about what the future holds, other than to try to perform his best each day he plays. "It's been pretty cool playing up here with the guys," he said, "but whatever happens, happens. I don't make those decisions. I just have to take one day at a time and focus."
•
David Wright
returned from a day off Saturday and delivered a two-run double in the first inning as part of a 2-for-4 series finale that raised his average to .412. Wright, still sick, passed
Jose Reyes
for second on the franchise's all-time hit list with 1,302. He needs 116 more hits to match Mets record-holder
Ed Kranepool
.
•
Mike Baxter
had a career-high three hits Sunday while starting for the second straight game with the Mets using an extra position player in their lineup in the AL ballpark. Collins
pledged to find Baxter playing time
in Pittsburgh, although the manager said not at first base yet, and not on Monday against Pirates left-hander
Erik Bedard
. Read more in the
Star-Ledger
.
• Gee had a
new look and better results
. Read more
in the Post
.
• Read game recaps in the
Record
,
Times
,
Daily News
,
Journal
,
Newsday
and
Post
.
• Collins reiterated
Jenrry Mejia
is far more likely to
help the Mets as a reliever
at the major league level in 2012. Read more in
Newsday
.
•
Tim Kurkjian
catches up with hot-hitting ex-Met
Carlos Beltran
at ESPN.com
. Kurkjian notes Beltran is two steals shy of 300 swipes and 300 homers in his career, a club that is currently limited to
Barry Bonds
,
Willie Mays
,
Alex Rodriguez
,
Andre Dawson
,
Bobby Bonds
,
Reggie Sanders
and
Steve Finley
. Writes Kurkjian:
If it weren't for Matt Kemp, Beltran, 35, would be the most valuable player in the National League six weeks into the season. If it weren't for the remarkable Josh Hamilton, May would have been all about Beltran. Not only has he replaced the 2011 production of Albert Pujols in the Cardinals' lineup, he has greatly exceeded it while helping take St. Louis to the front of the National League Central, all while dazzling his new teammates. "When I ran out on the field with him the first time in spring training,'' said Cardinals third baseman David Freese, "I knew he was the most complete player I'd ever played with.''
Lance Berkman
, who also was Beltran's teammate during that prolific 2004 postseason with Houston that set up Beltran's seven-year, $119 million contract with the Mets told Kurkjian: "It's funny. An elite player has some things happen to him for three or four years, like injuries, then he becomes an elite player again, and people ask, 'What's going on here?' Just look at the back of his baseball card. He is as complete a player as I've ever played with. He does everything well, and he looks good doing it. When you look at what a player is supposed to do, he's about as good as it gets.''
•
Corey Wimberly
stole home for Buffalo's lone run in a 4-1 loss to Indianapolis on Sunday. It was the second time a Mets farmhand has swiped home this season. Wimberly had a pure steal of the plate, while Binghamton's
Josh Rodriguez
stole home on April 21 as part of a double-steal. Read Sunday's full minor league recap
here
.
• Forty-thousand Orthodox Jews packed Citi Field on Sunday to decry the internet. Read more
in the Daily News
.
•
Michael Howard Saul
in the Journal
revealed that Citi Field, now in its fourth season, still does not have all its full permits from the city in order. Mayor
Michael Bloomberg
at last week's All-Star Game press conference dismissed the issue as procedural and insignificant and insisted the stadium was safe. Wrote Saul, alluding to the City Hall announcement about next season's Mid-Summer Classic:
Unmentioned was the embarrassing fact that the three-year-old stadium in Queens still hasn't received a certificate of occupancy from the city. The stadium has a temporary certificate, which means it is "safe and legal to occupy," said Tony Sclafani, a spokesman for the Department of Buildings, in an email.
TRIVIA:
For which former Pirate Pirate is the yellow bridge spanning the Allegheny River adjacent to PNC Park named?
Sunday's answer:
Jason Bay
was the last Pirate to have a multi-homer game against the Mets. At Shea Stadium on July 24, 2007, Bay went deep off
John Maine
and
Guillermo Mota
.
May, 20, 2012
5/20/12
4:22
PM ET
WHAT IT MEANS: The weekend wasn't a total loss, at least. In their first visit to Toronto in six years, the Mets salvaged the series finale, beating the Blue Jays, 6-5, Sunday afternoon at Rogers Centre.

Barely.

Bobby Parnell surrendered a pair of eighth-inning runs, including an RBI single to Colby Rasmus that snapped the ex-Cardinal's 0-for-20 skid, as Toronto rallied to within a run. But Tim Byrdak made his 24th appearance in 41 games to retire lefty-hitting Kelly Johnson on a flyout to right field and end that frame.

In the ninth, ex-Blue Jays closer Frank Francisco, who was loudly jeered upon entering, closed things out despite a leadoff walk to Yunel Escobar and ensuing single by Jose Bautista that placed the winning run on base with none out. Francisco struck out the next three batters.

WELCOME BACK: After scheduled day off, and with his illness having somewhat improved, David Wright delivered a two-run double in the first inning against Jays right-hander Henderson Alvarez. It was hit No. 1,301 of Wright's career, which passed ex-teammate Jose Reyes for sole possession of second on franchise's all-time list. Ed Kranepool has the highest hit total as a Met for now: 1,418. Wright now stands at 1,302. He finished Sunday's game 2-for-4 with a walk, albeit with an eighth-inning strikeout that stranded the bases loaded and kept the score 6-3. His average now stands at .412.

(Wright wasn't solely at fault for a scoreless eighth. Ike Davis doubled and advanced to third on a passed ball, but was thrown out at the plate on a pitch that similarly eluded catcher J.P. Arencibia.)

BAXTER BURNING: Mike Baxter, starting for a second straight game with the pitcher not batting in the American League ballpark, went 3-for-4 with a walk. He fell a homer shy of producing the second cycle by a Met this season (Scott Hairston at Colorado on April 27, in an 18-9 loss). Baxter's hit total achieved a career high, and lifted his average to .390, in 41 at-bats. Baxter even was the subject of taunts from fans in the left-field stands.

After being deprived of a would-be ninth-inning double Saturday with an incorrect out call at second base, Baxter doubled and tripled in the first two inings Sunday while starting in left field. The latter extra-base hit scored Ronny Cedeno and staked the Mets to a 4-0 lead.

GEE MINOR: Clean-shaven Dillon Gee completed 6 2/3 innings and notched his first win since April 28 at Colorado. He departed after an RBI single by Jose Bautista pulled the Jays within 6-3. Parnell entered and stranded Bautista by coaxing a fielder's choice groundout by Edwin Encarnacion.

Gee's final line: 6.2 IP, 5 H, 3 R, 3 ER, 4 BB, 6 K, 1 HBP. He threw 113 pitches (67 strikes). He surrendered a third-inning solo homer to Bautista that pulled the Jays within 4-2 at the time.

WHAT'S NEXT: The Mets, in businesslike attire, head through customs and travel to Pittsburgh. Johan Santana (1-2, 2.89 ERA) opposes left-hander Erik Bedard (2-5, 3.07) in Monday's 7:05 p.m. opener.
May, 19, 2012
5/19/12
5:11
PM ET
TORONTO --
Terry Collins
said he would not have left the dugout to argue with second base ump
Brian Knight
if the manager could not clearly see from his vantage point that
Yunel Escobar
had missed a tag on
Mike Baxter
at second base in the ninth inning.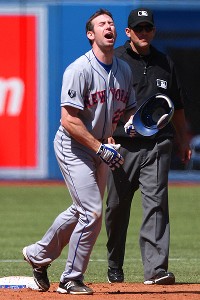 Tom Szczerbowski/Getty Images
Mike Baxter reacts with disgust at ump Brian Knight's out call in the ninth inning at second base.

Baxter was ruled out, taking the tying run off second base and leaving the Mets one out from a loss.
Daniel Murphy
then lined out to strand
Scott Hairston
at third base and end Toronto's 2-0 victory.
"He said he thought he tagged him on the back," Collins said, referring to Knight. "I just thought if he didn't have a good view of it to ask. And he said he couldn't. That was it.
"I could see it. That's why I went out there. I wouldn't have gone out there if I thought he was out. I think sometimes we go out there when we really don't have any basis for it. But I knew he missed the tag, so I went out there. He said that's a play they can't ask. I pretty much had no argument after that."
Baxter went into politically correct mode after the game, beyond saying he did not feel a tag.
"We got to a good spot there, kind of like we've been doing for the past couple of weeks, coming back late in the game," Baxter said. "Those umpires, they're great. They're very, very skilled at what they do. Tonight it didn't work out in our favor."
At the time of the call, Baxter pounded his helmet into the ground a couple of times, then flipped it aside at second base before Collins picked up the argument.
"I hate doing that," Baxter said. "I'm not trying to show anybody up. I definitely got caught in the moment there. It's not what you want to do on the field."
May, 19, 2012
5/19/12
3:19
PM ET
Recap
|
Box score
|
Photos
TORONTO -- A quick take on the Mets' 2-0 loss to the Toronto Blue Jays on Saturday afternoon at Rogers Centre.
WHAT IT MEANS:
The Mets remain over .500, with a 21-19 record. But the rest of the NL East also is above breakeven. So Saturday's 2-0 loss at Toronto has dropped the Mets into a last-place tie with Philadelphia pending the outcome of the Phillies' Saturday night game against the Boston Red Sox.
The
David Wright
-less Mets lineup mustered only three hits in a complete game by Blue Jays right-hander
Brandon Morrow
. The Amazin's also lost the latest occupant of
Mike Pelfrey's
rotation slot.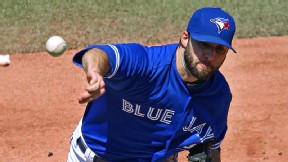 Tom Szczerbowski/Getty Images
Brandon Morrow tossed his second shutout this month on Saturday.

Miguel Batista
departed the game without throwing a pitch in the bottom of the third inning with what the team announced as lower-back discomfort. Batista also has been dealing with a groin injury of late.
Newly promoted
Jeremy Hefner
entered the scoreless game in the bottom of the third for Batista and immediately posted a pair of zeroes. The Blue Jays then touched him for two runs in the fifth, on consecutive run-scoring hits by ex-Atlanta Braves
Kelly Johnson
and
Yunel Escobar
. Yet Hefner held the deficit at 2-0 before turning the ball over to
Tim Byrdak
for the eighth.
Hefner's final relief line: 5 IP, 4 H, 2 R, 2 ER, 0 BB, 5 K. He had thrown 92 pitches Tuesday in a start for Triple-A Buffalo.
Hefner's relief outing was the longest by a Met since the May 20, 2010 game at D.C. in which
John Maine
was contentiously pulled in the first inning with shoulder issues and
Raul Valdes
tossed five relief innings (and
Dan Warthen
called Maine a "habitual liar" with respect to his injury).
Incidentally, the last time the NL East had every team at .500 or better on May 19 or later? That was May 26, 2010, according to ESPN Stats & Information. That day, the Phillies (26-19) led the Braves (24-22) by 2-1/2 games. The Nationals, Marlins and Mets all were 24-23.
The last pitcher to toss a complete-game shutout against the Mets: Philadelphia's
Roy Oswalt
on Sept. 12, 2010.
UGGH:
The Mets rallied in the ninth against Morrow on a walk by
Scott Hairston
and then a seeming one-out double by
Mike Baxter
. However, second base ump
Brian Knight
ruled Baxter had been tagged out -- an apparent missed call. Rather than have the tying run in scoring position, the Mets had out No. 2.
WHAT'S NEXT:
The Mets conclude their north-of-the-border excursion Sunday at 1:07 p.m., with clean-shaven
Dillon Gee
(2-3, 5.65 ERA) opposing right-hander
Henderson Alvarez
(3-3, 2.62).
May, 18, 2012
5/18/12
10:00
AM ET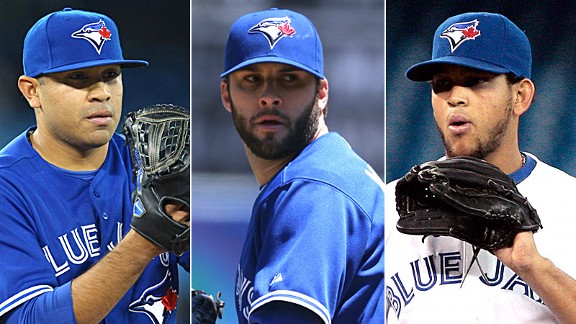 US Presswire/Getty Images
The Mets face (l to r) Ricky Romero, Brandon Morrow and Henderson Alvarez this weekend in interleague play.
METS (21-17, third place/NL East) vs. TORONTO BLUE JAYS (21-18, third place/AL East)
Friday:
LHP Jon Niese (2-1, 3.40) vs. LHP Ricky Romero (4-1, 3.88), 7:07 p.m. ET
Saturday:
RHP Miguel Batista (1-1, 4.26) vs. RHP Brandon Morrow (4-2, 2.22), 1:07 p.m. ET
Sunday:
RHP Dillon Gee (2-3, 5.65) vs. RHP Henderson Alvarez (3-3, 2.62), 1:07 p.m. ET
Blue Jays short hops
• Third baseman
Brett Lawrie
withdrew his appeal and began serving a four-game suspension Thursday stemming from throwing a helmet near
Bill Miller
, which bounced and then hit the plate umpire. With Lawrie out for the weekend series against the Mets, Toronto promoted
Yan Gomes
, who went 2-for-3 in his major league debut Thursday against the Yankees while starting at third base. The 24-year-old Gomes, the first Brazilian-born player to appear in the majors, was hitting .359 with five homers and 22 RBIs at Triple-A Las Vegas. He played high school baseball in Miami, then at the University of Tennessee and Barry University. In the minors, Gomes played 149 games at catcher, 29 at first base and 10 at third base.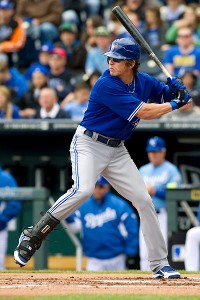 John Williamson/MLB Photos via Getty ImagesFormer Cardinal Colby Rasmus is in an 0-for-18 rut.
The Blue Jays demoted
Adam Lind
to clear the roster spot for Gomes, despite Lind being in the third season of a four-year, $18 million contract. Lind hit .305 with 35 homers and 114 RBIs with Toronto in 2009, but had only a .186 average and three homers in 118 at-bats this season.
• Right fielder
Jose Bautista
-- who led the majors in homers each of the past two seasons, with 54 and then 43 -- launched his 10
th
homer of 2012 on Thursday, against the Yankees'
Phil Hughes
. Bautista, despite an uncharacteristic .207 average, has five homers in his past seven games. Bautista was part of the three-team trade in July 2004 between the Mets, Pirates and Royals that landed
Kris Benson
in New York.
• DH/first baseman
Edwin Encarnacion
worked with
Luis Mercedes
in the Dominican Republic during the offseason to retool his swing, including keeping both hands on the bat, rather than removing the top hand on the follow-through. Mercedes previously had worked with the Yankees'
Robinson Cano
. The result: Encarnacion leads the Jays in homers with 13. He also ranks second in the AL in RBIs with 34, trailing only Texas'
Josh Hamilton
.
• Shortstop
Yunel Escobar
, who had been hitless in eight at-bats, returned to the lineup Thursday after sitting a day and produced singles in his first two at-bats. Eleven-time Gold Glove winner
Omar Vizquel
, 45, started at shortstop for the second time this season on Wednesday. Escobar was acquired from the Atlanta Braves on July 14, 2010, with
Jo-Jo Reyes
for
Alex Gonzalez
,
Tyler Pastornicky
and
Tim Collins
.
•
Ricky Romero
and
Justin Turner
were college teammates for three seasons and roommates at Cal State Fullerton.
• Center fielder
Colby Rasmus
is mired in an 0-for-18 skid that has dropped his average to .203. He was acquired from the St. Louis Cardinals at last season's trading deadline with
Trever Miller
,
Brian Tallet
and
P.J. Walters
for
Octavio Dotel
,
Edwin Jackson
,
Corey Patterson
and
Marc Rzepczynski
.
• Right-hander
Henderson Alvarez
, who made his major league debut last August, has produced a quality start in seven of eight outings this season. He tossed his first career shutout May 4 against the Angels in Anaheim.
• Toronto signed previously unemployed
Vladimir Guerrero
to a minor league deal. He arrived at the Jays' complex in Dunedin, Fla., Tuesday.
• Right-hander
Brandon Morrow
has walked a combined eight batters in his past two outings, albeit while striking out 17 in 11 innings during that span. Morrow's fastball has averaged 92.8 mph this season, down from 93.9 mph a season ago and a career-high 95.5 mph in 2008 with the Seattle Mariners while primarily working in relief.
• Closer
Sergio Santos
, who had 30 saves with the Chicago White Sox last season, is on the disabled list with shoulder inflammation.
Casey Janssen
is 3-for-3 in save chances this month since assuming the role.
Francisco Cordero
struggled in the role for the Blue Jays, who lead the AL in blown saves, so the team turned to Janssen. The Mets'
Frank Francisco
and
Jon Rauch
comprised the back end of Toronto's bullpen last season.
• The Blue Jays are among the most radical defensive shifters in the majors under second-year manager
John Farrell
. Toronto leads the American League in errors, too.
• Second baseman
Kelly Johnson
was acquired from the Arizona Diamondbacks last Aug. 23 for
John McDonald
and
Aaron Hill
.
• Catcher
J.P. Arencibia
homered in consecutive games against the Yankees to increase his season total to five.
• Ex-Mets left-hander
Darren Oliver
has limited opponents to a .182 average. He has struck out 11 and walked one in 13 innings spanning 15 relief appearances.
Matchups
Niese vs. Jays (career: never faced)

Kelly Johnson .400, 1 BB, 3 K, 11 PA
Ben Francisco .250, 4 BB, 3 K, 17 PA
Yunel Escobar .000, 4 BB, 6 PA
Jeff Mathis .000, 1 K, 2 PA
Batista vs. Jays (career: 3-2, 1.70 ERA)

Adam Lind .667, 1 RBI, 6 PA
Rajai Davis .500, 1 BB, 3 PA
Omar Vizquel .417, 1 RBI, 6 BB, 2 K, 30 PA
Ben Francisco .250, 1 HR, 2 RBI, 3 K, 8 PA
Jose Bautista .222, 1 BB, 3 K, 10 PA
Jeff Mathis .200, 1 RBI, 1 K, 8 PA
Edwin Encarnacion .000, 2 K, 4 PA
Kelly Johnson .000, 1 BB, 2 PA
Yunel Escobar .000, 1 K, 1 PA
Gee vs. Jays (career: never faced)

Kelly Johnson .000, 1 K, 3 PA
Ben Francisco .000, 1 PA
Romero vs. Mets (career: never faced)
Rob Johnson 1.000, 1 RBI, 3 BB, 6 PA
Justin Turner 1.000, 2 RBI, 1 PA
Scott Hairston .333, 6 PA
Ronny Cedeno .000, 1 K, 3 PA
Morrow vs. Mets (career: 0-0, 0.00 ERA)
Ronny Cedeno .667, 1 RBI, 3 PA
Andres Torres .333, 3 PA
Scott Hairston .000, 3 PA
Alvarez vs. Mets (career: never faced)
Last series results
Mets won, 2-1, at Rogers Centre, June 23-25, 2006 (AP game recaps)
Mets 6, Jays 1:
Tom Glavine became baseball's first 11-game winner, David Wright hit a three-run homer and New York set a club record with its ninth straight road victory. Lastings Milledge also homered for the Mets, and Glavine (11-2) pitched seven strong innings to win his ninth consecutive decision. But it might have been a costly victory because setup man Duaner Sanchez, a key member of New York's stellar bullpen, left after only two pitches with a pinched nerve in his neck. Carlos Delgado went 0-for-3 with a walk in his first game against his former team. Delgado, Toronto's career leader in home runs and RBIs, left as a free agent two years ago after the club didn't offer him a multiyear contract. Xavier Nady hit an RBI triple with two outs in the first. Wright gave New York 4-0 lead in the third with his 18th homer, a shot to left off starter Casey Janssen (5-6).
Jays 7, Mets 4:
Vernon Wells homered twice and the Blue Jays ended the Mets' franchise-record nine-game road winning streak. Wells hit a three-run homer in the second off Orlando Hernandez (4-7) and a solo shot off Heath Bell in the seventh for his fifth multi-homer game of the season. Toronto's center fielder went 2-for-4, raising his average to .321. Staked to a 6-0 lead in the second, Toronto ace Roy Halladay (9-2) allowed four runs and 10 hits, while striking out four and walking none in 7 1/3 innings. The Mets loaded the bases in the eighth, but reliever Justin Speier got Jose Valentin to pop out and Xavier Nady to strike out swinging to end the threat. B.J. Ryan pitched the ninth for his 21st save in 22 chances. Jose Reyes tripled and went 4-for-5 for the Mets. He has a 12-game hitting streak and is 28-for-52 (.538). Hernandez (4-7) was forced to leave his start early in the second inning after the Mets were charged with two trips to the mound. Pitching coach Rick Peterson went out to the mound in the inning and manager Willie Randolph made a trip after Hernandez almost ignited a bench-clearing brawl by throwing a pitch high and tight to Troy Glaus after Wells hit his three-run homer a pitch before.
Mets 7, Jays 4:
Jose Reyes had four hits again, including a leadoff homer, and Carlos Beltran hit a three-run shot off Josh Towers (1-9). The streaking Reyes went 4-for-5 for the second consecutive game and the third time in five days. He extended his hitting streak to 13 games and is on a 32-for-57 (.561) tear that's raised his batting average from .246 to .302. It was his fifth game this season with at least four hits, tying Seattle's Ichiro Suzuki for tops in the major leagues. Reyes also got his big league-leading 34th stolen base and scored twice. Steve Trachsel (6-4) won his fourth straight start, allowing four runs and six hits in five innings. He struck out two and walked three. Billy Wagner pitched a scoreless ninth for his 15th save in 19 chances.
May, 26, 2011
5/26/11
2:54
AM ET
Dillon Gee
allowed four first-inning runs and pitched only six innings, but nonethless earned the first complete-game victory of his career as the Mets beat the Cubs, 7-4, in a game called because of inclement weather with two out in the top of the seventh at Wrigley Field.
Thursday's news reports:
•
Richard Sandomir
in the Times says the Mets have
settled on a minority partner
who will pay $200 million for a non-majority share. The article does not name the winner, but identifies
David Einhorn
as a name who has emerged. He is the president of Greenlight Capital, which is based in Manhattan. Asked specifically about Einhorn as a prospective buyer by ESPNNewYork.com this week, the Mets issued this statement: "Amidst the ongoing speculation related to our continued negotiations for a sale of a minority interest in the New York Mets, we will neither confirm nor deny the identity of any of the possible partners nor the details of any potential deal."
UPDATE: ESPN's Karl Ravech reports Einhorn has been selected as minority partner.
•
David Waldstein
in the Times
looks at the market
for
Jose Reyes
. He suggests Toronto could be a player next offseason, and could move
Yunel Escobar
to another position to clear the shortstop position. The article lists San Francisco, St. Louis, Boston and Washington as potential free-agent landing spots for Reyes next offseason. Of course, the July 31 trading deadline comes first. Writes Waldstein:
The Toronto Blue Jays contacted the Mets in spring training to find out their plans regarding several of their players, including Reyes, according to two baseball officials aware of the situation. It is believed that Alex Anthopoulos, Toronto's general manager, made only exploratory contact and that no trade proposals were made.
•
Francisco Rodriguez
said he's
not looking to get out of Flushing
. Read more in the
Times
and
Daily News
.
•
Sandy Alderson
discussed the Sports Illustrated article
on Wednesday, saying his understanding is the payroll will be north of $100 million in 2012, although not at this year's level of $140 million to $145 million. Alderson also said he would have to discuss contract-extension parameters with Reyes' representatives before the trade deadline to make an informed decision about how to proceed. Read more in the
Record
,
Newsday
and
Star-Ledger
.
• No matter
Fred Wilpon's
take,
Carlos Beltran
was worth seven years, $119 million,
according to the Wall Street Journal's statistics
. Writes
Brian Costa
:
Entering Wednesday, Beltran had an OPS+ of 150. In other words, he's been 50 percent better than the average National League hitter. That was identical to his OPS+ in 2006, his best year with the Mets, and 18 points higher than in 2004, the year before the Mets signed him. ... The baseball statistics site FanGraphs.com calculates a player's dollar value each season based on two factors: how many more wins he was worth than a replacement-level player; and how much teams paid per marginal win on the free-agent market that year. ... Through six seasons and the Mets' first 47 games of 2011, Beltran earned roughly $105.9 million in salary. His value over that span: $119.8 million.
• Gee retired 16 of the final 18 batters he faced. Read game reviews in the
Star-Ledger
,
Record
,
Newsday
,
Daily News
and
Journal
.
•
Jason Bay
is
not moving to the No. 2 hole
in the order after all,
Terry Collins
said. Read more in
Newsday
.
BIRTHDAY:
No Mets birthdays of prominence, although May 26 is the anniversary of the famous 19-1 win over the Cubs in 1964, a game in which
Dick Smith
became the first player in Mets history to record five hits in one game.
-Mark Simon