New York Mets:

Bill Buckner
October, 25, 2011
10/25/11
3:03
PM ET
By
Mike Mazzeo
| ESPNNewYork.com
"A little roller up along first... Behind the bag... It gets through Buckner! Here comes [Ray] Knight, and the Mets win it!" -- Vin Scully, Oct. 25, 1986.
A quarter-century after committing the
most infamous error in baseball history
,
Bill Buckner
says he's long since moved on.
"It's been so long ago and so many things have happened and things have changed. Life goes on," Buckner told ESPN New York 1050's "Ruocco and Lundberg" on Tuesday, the 25th anniversary of Game 6 of the 1986 World Series. "Obviously I don't enjoy looking at it, but it's not something that really bothers me."
Buckner, of course, is referring to replays of the gaffe that has come to define his career -- unfairly or not.
With two outs in the bottom of the 10th inning,
Ray Knight
on second base and the score tied at 5,
Mookie Wilson
grounded a 3-2 pitch from
Bob Stanley
toward Buckner at first. It was a routine play, a play that should've been made by the normally sure-handed fielder.
But the ball somehow scooted under Buckner's glove and into short right field. Knight game around to score,
tying the series at 3
and the Mets won Game 7 to capture the Fall Classic and extend the Curse of Bambino.
"Hopefully after today, 25 years is something that everybody's talking about," said Buckner, who received death threats from irate Red Sox fans for years after it occurred. "But hopefully it kind of goes away for a while."
Wilson, who joined Buckner Tuesday in the radio station's Manhattan studio, has continued to be linked with him ever since. The ball from the indelible play
is currently on EBay for $1 million
, although no bids have been made on it.
"I think even though I wasn't thinking about how Bill would react or how it would affect his life or affect my life, we were just so wrapped up in what we were doing and we weren't thinking about the consequences of the whole thing," Wilson said. "I was just happy to get out of that game without losing. I was in a situation where i easily could've been the goat, and as it turned out things kind of worked out for me."
Earlier this year, the two made a cameo appearance on HBO's "Curb Your Enthusiasm" with Larry David.
"It was a lot of fun, and Larry was a funny guy and I think the intention of the show was to make me look good," Buckner said. "It was fun and I'm ready to put it all to bed for a while."
Despite the fact that the singular moment has overshadowed any of their other accomplishments and accolades in the game, Buckner and Wilson have both taken the positive out of it.
"It does get a little annoying," Wilson said. "But there's no getting around or denying that it was one of those unbelievable moments, and I was part of it. Of course, it's easy to say that because we won. But I would like people to think that I had a successful career and that one groundball doesn't define what Mookie Wilson meant to major league baseball and the organization that he played for."
In Boston, the Buckner blow has since been softened by a pair of championships and the end of an 86-year title drought. On Opening Day, Apr. 8, 2008, Buckner threw out the first pitch and unfurled the team's 2007 World Series championship banner. He received a lengthy standing ovation from the soldout crowd at Fenway Park.
"I was happy for them, but personally I didn't think it affected me," Buckner said. "It wasn't my team, but I was happy for them. Being invited to throw out the first pitch, it was a great experience and I appreciate the management and the new ownership of the Red Sox [for giving me the opportunity]. It was a good day for me and my family. My emotions were kind of crazy that day, but overall it was great."
Buckner always felt he was unfairly criticized for committing the error because it didn't lose the series for his team. The Red Sox held a two-run lead and were one out from winning the Fall Classic before the Mets staged their dramatic, 10th-inning rally in Game 6. And right before his gaffe, it was Stanley that uncorked a wild pitch, allowing
Kevin Mitchell
to come home from third with the tying run.
But when asked if he'd like to criticize any of his former teammates, Buckner responded, "I'm all good."
October, 25, 2011
10/25/11
12:01
AM ET
By
Mark Simon, ESPN Stats & Information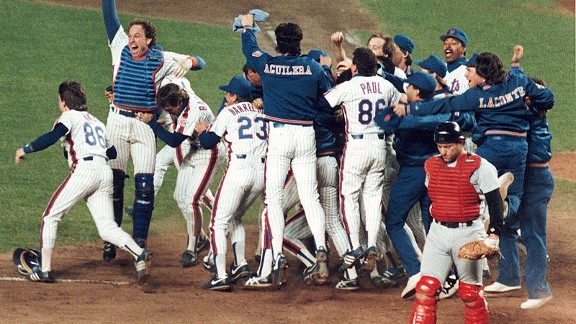 Focus on Sports/Getty Images Rich Gedman (front right) is the picture of Red Sox despair as the Mets celebrate the most improbable win in team history, a 6-5 triumph over the Red Sox in Game 6 of the World Series.
Over the last three weeks, Mark Simon has reminisced here about the 1986 postseason. The 1986 Mets won the World Series in an exhilarating fashion. Here's a look at Game 6 of the 1986 World Series, played on October 25, 25 years ago.
"I'm sitting here and I still don't believe it."
That's what Hall of Fame-honored sportswriter
Bus Saidt
wrote to open his story for my former employer, the
Trenton Times
, and it still holds true 25 years to the day after the most remarkable, unbelievable and amazing of the Mets' 3,854 regular-season and postseason wins. Let's review all that went into the greatest game of the greatest season in Mets history.
Game 6, Shea Stadium: Mets 6, Red Sox 5
Game 6 of the 1986 World Series began as Game 6 of the 1986 NLCS did, with Mets starting pitcher
Bob Ojeda
on the ropes early.
He allowed a run in the first inning on a two-out double by
Dwight Evans
that hit the top of the fence in left center and a run in the second on a two-out RBI single to left field by
Marty Barrett
just in front of
Mookie Wilson
.
The lead could have been bigger. Evans' ball hit the top of the fence. Had it gone over, it would have been a three-run homer instead of a single-run double. In the second inning, a catch by backpedaling right fielder
Darryl Strawberry
on
Bill Buckner's
fly ball to right field saved two more runs from scoring.
As
Vin Scully
pointed out on NBC's telecast, there had not been a come-from-behind win in the World Series yet. With AL MVP
Roger Clemens
on the mound for the Red Sox, that stat hung over the Mets through the first four innings, in which they were hitless.
But Ojeda settled down, as he did in Game 6 of the NLCS, and that kept the Mets in the game.
They would rally to tie in the fifth inning. Strawberry walked, then stole second and
Ray Knight's
single past Clemens into center field on a 2-2 breaking ball brought Strawberry home.
Wilson then had a great at-bat after falling behind 0-2. He took two balls well out of the strike zone to even the count, than fouled two off before hitting a breaking ball into right field for a hit. When Evans bobbled the ball, Knight went to third base.
That turned out to be huge, because it meant he could score to tie the game rather than just advance to third when pinch-hitter
Danny Heep
grounded into a double play
Hernandez made a nice play on a Clemens bunt to get a force play that thwarted a Red Sox threat in the sixth. The Mets then left runners at the corners in the home sixth when Clemens struck out Mets catcher
Gary Carter
with a nasty fastball on the outside corner and got Strawberry to ground out.
In the seventh, the Red Sox took the lead partly thanks to Knight's throwing error at third base, which put runners at first and third with one out (instead of having a man on second with two outs). On a 3-2 pitch, with
Jim Rice
running on reliever
Roger McDowell's
delivery, Evans grounded out. The Mets were unable to get a double play, allowing a run to score and Boston to take a 3-2 lead.
The Red Sox had a chance for another run, but Wilson threw Rice out at the plate on
Rich Gedman's
hit to end the inning.
Clemens got through the seventh, but was pinch-hit for in the eighth inning with the Red Sox threatening (he'd exceeded 130 pitches by this point and there is controversy over whether Clemens asked out due to a blister, or was removed by manager
John McNamara
). The Red Sox had another chance to add to the lead, but
Jesse Orosco
got Buckner to fly out to end the eighth.
Trailing by a run with six outs left in their season, the Mets rallied.
Lee Mazzilli
got a two-strike single and was safe at second when Red Sox reliever
Calvin Schiraldi
's throw on
Lenny Dykstra's
bunt couldn't be handled cleanly by Red Sox shortstop
Spike Owen
.
Wally Backman
advanced the runners to second and third with a sacrifice bunt.
An intentional walk to
Keith Hernandez
loaded the bases for Carter, who took three balls, then lined to deep enough left to plate Mazzilli with the tying run. Strawberry flied out to leave the teams tied heading to the ninth.
After Gedman's double play ended the Boston ninth, the Mets had a great chance to win in the home frame, putting the first two men on base (after Boston botched another bunt). But
Howard Johnson
failed on his first bunt attempt, then struck out. Mazzilli and Dykstra both flied out to send the game to extra innings.
Red Sox center fielder
Dave Henderson
, whose home run in Game 5 of the ALCS helped the Red Sox overcome a 3-1 deficit against the Angels, got a low fastball to his liking from reliever
Rick Aguilera
and pounced on it, crushing it for a home runjust below the loge seats in left field.
The Red Sox tacked another run on at the end of the inning when Wilson misjudged
Wade Boggs'
two-strike liner to left, which turned into a double, and Boggs scored on Barrett's full-count single (Barrett was 10-for-14 in the series with men on base). That made it 5-3 and put the Red Sox within half-an-inning of their first championship since 1918.
The only solace a Mets fan could take at this point, with the season three outs from devastating completion, was that the team had the 2-3-4 hitters up in the bottom of the 10th. But when Backman popped to left and Hernandez skied to center, it looked like the Mets were done for the year.
"Everybody sitting very quietly in that New York Mets dugout," said Mets radio announcer
Bob Murphy
, "hoping against hope that something will start to happen."
The public address system played "Charge!" as Carter came to the plate and, perhaps overeager, Carter popped the first pitch foul, but it went out of play behind home plate. Schiraldi then missed up-and-in with one fastball and down and away with another. On his 2-1 offering, Carter slammed the pitch into left field for a hit.
Kevin Mitchell
came up as a pinch-hitter representing the tying run. He started to swing at an inside fastball checked it and fouled it off. Schiraldi then went to a curveball away and Mitchell whacked it to center for another hit.
With two men on, the Mets had some life, and had one of their best clutch hitters up in Knight, who took a fastball down the middle for a strike, then hit a slow roller down the third base line that Boggs let roll foul.
The next pitch is an oft-forgotten one in the grand scheme of what happened, but the results were impressive. Schiraldi threw a tailing fastball, that came inside but Knight adjusted, curled his back foot, and got just enough of the good part of the bat on the ball to muscle it into shallow center for a hit, allowing Carter to score and Mitchell to advance to third base.
With the Red Sox lead now a run but still just an out from victory, McNamara pulled Schiraldi for
Bob Stanley
, with Wilson at the plate.
Wilson fouled off the first pitch solidly, than took a fastball wide for ball one and another high for ball two. Wilson fouled the next pitch off his foot, to put Boston within a strike of the title. He fouled the next pitch straight down into the dirt, and another foul behind the plate on a pitch away.
Stanley reversed course on the next pitch and tried to come inside, but came too far inside. Gedman, the catcher, reached for the ball, but never moved his body to block it as Wilson leapt to avoid it, and the ball went to the backstop. Mitchell came racing home with the tying run.
Wilson fouled the next two pitches off and the Mets were fortunate on the last of those, because according to TV analyst
Joe Garagiola
, had Stanley tried for a pickoff at second base, he'd have had Knight out easily.
Instead came the 10th pitch of the at-bat, one that Wilson was able to roll along the first base line. The ball trickled to Buckner at first base, but then bounced right through his legs for the most infamous miscue in sports history. Knight leapt on the plate with the winning run.
As Scully noted they were "not only alive, they are well" and they would be playing the Red Sox in a Game 7 for the championship.
Turning Point
There were so many turning points in this game, and we were able to document most of them above, but there were also a couple of bad karma moments of which you may not have been fully aware.
The more well known of them is that McNamara didn't bring
Dave Stapleton
in to play first base in the bottom of the 10th inning. Stapleton, a far better and far healthier defender than Buckner, had relieved Buckner at first base in all seven of the Red Sox postseason wins.
McNamara had the perfect opportunity to do so after Buckner grimaced when hit just below the belt buckle by a pitch in the top of the 10th, but chose not to make the switch.
Interestingly, Buckner was left in to play first base in the ninth inning of Game 4 of the ALCS, with the Red Sox leading the Angels, 3-0. The Red Sox blew that game too, losing 4-3 in 11 innings.
Also, someone saw fit to vandalize the visitors bullpen with spray-paint graffiti, as the initials R.C. can be seen in the background of a couple of NBC's pre-celebration shots of Red Sox players in the 10th inning. We don't know who committed the "crime," but one of the shots did feature Clemens exchanging high-fives with his teammates.
What They Wrote
"Bill Buckner has just limped off the field, carrying the weight of the world on his back. He can ice those aching ankles all night so he can play in Game Seven of the World Series tonight, but there isn't enough ice to freeze the pain in his heart."
-- Ray Sons, Chicago Sun-Times
"The ghosts of World Series past, of seven-game losses in 1946 and 1967 and 1975, wrapped their cold fingers around the Red Sox' throats Saturday night and choked the life out of what the people of Boston had been calling 'The Possible Dream.'
"If the Red Sox couldn't win their first World Series in 68 years after leading ... by two runs ... with two out ... and the bases empty in the bottom of the 10th inning of Saturday's sixth game, well, maybe it's impossible after all."
-- Kevin Modesti, L.A. Daily News
"Their history has been one of pathos and heartbreak, of lofty dreams and crushing disappointments. But no night in the 68-year-old losing legacy of the Boston Red Sox could match what befell them last night."
- Peter Pascarelli, Philadelphia Inquirer
"It was enough to make you believe there are curses that haunt this team. It was enough to make you believe that the Mets are on some highway toward destiny."
-- Jayson Stark, Philadelphia Inquirer
"From 200 miles away, you could practically feel New England quaking with fear, grief and disbelief. The Boston Red Sox were one out away from their first World Series championship since 1918 early this morning, and the New York Mets rose up like the ghosts of Denied Christmases past and extended big-league baseball's most extraordinary postseason by one more game.
"The denouement of this stirring October drama is scheduled tonight at Shea Stadium, but the forecast is for rain, possibly lasting two days. But 48 hours of steady showers would likely not produce more moisture than the tears shed by the Red Sox's long-suffering fans last night."
- Barry Lorge, San Diego Union
"I can only imagine what the good citizens of Boston are doing now. Are the blindfolds in place? Are they out on the window ledges? Have they wrapped up the sharp instruments?"
- Tony Kornheiser, Washington Post
"If the World Series had been a pleasure cruise to the fans of most teams, it has been to two generations of Bostonians, a stateroom on the Titanic, a deck chair on the Lusitania, first class passage on the Hindenburg."
-- Bruce Lowitt, St. Petersburg Times
"It would not happen this time, the Boston Red Sox had promised. Not in this World Series. Their failures belong to the past. That was then, this is now. Alas, the team that lived by the last strike in the American League playoffs died by the last strike when the World Series was in hand against the New York Mets in Game 6."
-- Hal Bock, Associated Press
Quote of the Day
"My legs didn't have any effect. I felt good out there. It just shows you anything can happen. I feel lousy. Tomorrow, hopefully, will be a different story. We don't have a day or two to forget about it. You can't get down about it.
"Hey, we outhit them tonight. We hit good out there. We just made some big mistakes. I hate to say I missed a ground ball. I did concentrate on that ball. I saw it well. It bounced and bounced and then it didn't bounce. It just skipped. I can't remember the last time I missed a ball like that, but I'll remember that one."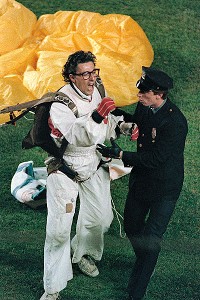 Amy Sancetta/A.P. PhotoMichael Sergio chanted "Let's Go Mets" as police escorted him off the field.
"It was a slow roller with a lot of spin on it. I thought I watched it good. I was playing deeply Than I normally do because I didn't want it to get through the infield.
"If Mookie didn't run so fast I'd get down on a knee to block it. It bounced and bounced And then skidded right under my glove. I was waiting for it to bounce. It didn't."
-- Bill Buckner
Further Reading
Perhaps foreshadowing a bizarre night, with Buckner at the plate in the first inning, a Mets fan,
Michael Sergio
, parachuted onto the playing field. He would be escorted away by police, but not before getting some laughs and a high-five from Mets pitcher Ron Darling.
Earlier this year, New York attorney
Eric Turkewitz
interviewed Sergio for his blog. His story can be found
here
.
Stats/Notes To Remember
1-- There have only been three instances in World Series history in which a game ended on a play that was ruled as an error.
The Mets have been involved in two of them- this one and Game 4 of the 1969 World Series, in which the Mets won when Orioles pitcher Pete Richert hit
J.C. Martin
in the back with his throw on Martin's bunt attempt, allowing
Rod Gaspar
to score the winning run.
2-- Baseball Info Solutions, a Pennsylvania-based company, does video review of every play from every major-league game. Their video tracking found that in 2011, there were 20 balls hit to the same area, and at the same approximate speed that Wilson's ball was hit to Buckner. All 20 of those were turned into outs.
3--
Bill Buckner
made his major league debut for the Dodgers on September 21, 1969. He pinch-hit in the ninth inning and popped out.
What was prominent about that game? The Giants beat the Dodgers that day, 4-3 in walk-off fashion.
The game ended on a ground ball to Dodgers shortstop
Maury Wills
.
It went through his legs for a game-ending error.
October, 24, 2011
10/24/11
10:00
AM ET
By
Mark Simon
| ESPNNewYork.com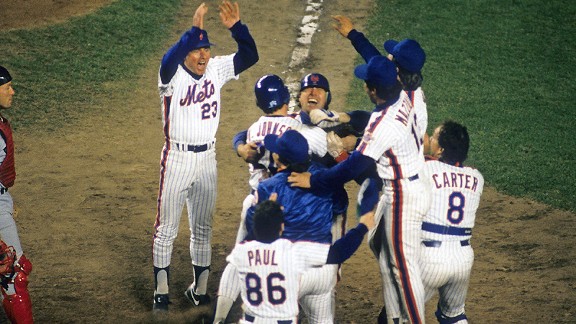 Focus on Sports/Getty Images The Mets weren't the only ones jubilant when Ray Knight scored the winning run in Game 6 of the World Series.
We asked Mets bloggers, a couple of our ESPN friends and an ex-Mets employee to reminisce about Game 6 of the 1986 World Series. Feel free to share your stories in the comments section below.
Michael Baron
,
Metsblog
October 25, 1986 was my mother's 41st birthday, so my father was obligated to take her out for dinner rather than go to the game. Instead, he sent me with my cousins to Game 6 of the World Series, which I knew was do-or-die.
We were seated in our usual Loge Box 472A at Shea Stadium, the first box in fair territory in left field. It was an emotional night through nine innings, but as
Dave Henderson's
go-ahead home run hit the scoreboard just beneath us in the tenth, I had never heard Shea grow so quiet. However, just a few minutes later, I had never heard Shea roar so loud.
When
Bob Stanley
knocked
Mookie Wilson
down and Kevin Mitchell scored the tying run, strangers around us were yelling, screaming and hugging. By the time that little roller squeaked through Bill Buckner's legs, those same strangers began to kiss each other.
From those seats, it was hard to see the ball roll through Buckner's legs, but as the Loge began to shake and the roar of the fans grew to the loudest I had ever heard in that building, all this six year old knew was something extraordinary had happened and the Mets were playing tomorrow.
Linda Cohn
, ESPN anchor
Did I really think the Mets were going to do the unthinkable as I sat on my couch in my home in Astoria, Queens?
Yes, that's where I was. Astoria, Queens, located just minutes away from Shea Stadium. Don't get me wrong. I didn't give up. I didn't shut off the television. Hey, no matter how bleak I never shut off a game that involves one of my teams when there is always a chance.
I'll always remember my doubt and disappointment disappear when that ball went through the wickets of Buckner. So much for sitting on my couch. I jumped straight up and neighbors dropped by to peel me off the ceiling.
Taryn Cooper
,
KinersKorner
I just remember sitting at the edge of my mom's bed, watching the end of the game. I was 10 years old, my dad was actually AT the game, and my mom was sleeping or at least trying to (she's not a sports fan).
I was in charge of taping the games on the old VHS recorder, and I usually edited the commercials. Of course, I was in shock after the Red Sox took a 2-run lead, I forgot to reset the tape! I realized it after the rally had taken charge, then of course, the end. I was 10, so a lot of this was a daze. But I do remember that my dad called my mom a little bit later, to tell her he had met some people at the game who couldn't make Game 7, but had four tickets.
Guess who was going to Game 7? **THIS CHICK!!**
Dennis D'Agostino
I was the assistant PR director for the Mets then.
When Henderson swung and the ball passed over the infield, I knew it was gone and I remember saying to myself, "Hit something! Hit a plane, hit a bird (this was a year before
Dion James
did hit a bird!), hit something!!" What it hit, of course, was the Newsday sign beyond the left field fence.
When I got down there,
Rick Cerrone
of the Commissioner's Office called down to the clubhouse phone (remember, no cell phones, e-mails, text messages, Tweets or twits back then) and said that we were to bring
Davey Johnson
into the interview room as fast as possible (while the Sox were still celebrating), and that would take care of our interview room obligations (in other words, no players). Then the Sox would take it over.
I distinctly remember that when
Gary Carter
came up I remembered thinking that if there is a God in heaven that He won't allow this guy, who played so hard and waited so long, to make the last out.
I think the whole
Kevin-Mitchell
-in-the-clubhouse thing is a bit overblown. Mitch WAS in the clubhouse, but if you watch the tape he's on deck during Carter's at bat, so it wasn't like they had to hold up the game to go look for him.
What I will remember most of all was the scene in Davey's office when
Keith Hernandez
came in after making the second out --
Jay Horwitz
was sitting in front of the big TV set, cross-legged on the floor. Keith was behind him in the blue Adidas director's chair, a Budweiser in one hand and a cigarette butt in the other.
Charlie Longo
, one of our clubhouse kids, was sitting at Davey's desk.
Darrell Johnson
, the old Red Sox manager who was now working in our minor league department, was sprawled on the couch.
I was hovering in the doorway. I saw the wild pitch (soundless) on a little monitor outside near the big bat rack, then raced into Davey's office to see Keith and D.J. hugging and motionless in front of the TV, with me, Jay and Charlie jumping and screaming.
Then the phone rang again and it was Cerrone, this time screaming, "Mookie and Knight [in the interview room] if you win!!"
The rest, as they say, is history.
Howard Megdal
,
Lower Hudson Mets Blog
At age six, I actually saw Game 6 about 12 hours after everyone else. At my mother's behest, I was sent to bed while my father recorded the game on our VCR.
Obviously, I couldn't wait to see it in the morning, and he couldn't wait to show it to me. Two days later, I got to stay awake on a school night and see the Mets capture their last World Series championship. I still remember racing with my father up to their bedroom, jumping up and down and screaming to wake my mother. I like to think my daughter and I will do the same thing to my wife someday.
Greg Prince
,
Faith and Fear in Flushing
When Backman led off, I was filled with hope. He was
Wally Backman
, .320 hitter, and I trusted him to start a rally. After Backman made out, I remained filled with hope because
Keith Hernandez
was up and I couldn't imagine Keith not coming through in a desperate situation. When he made out, I gave up.
When Carter got his hit, I refused to believe it was anything more than a tease. When Mitchell got his hit, I thought it was just cruel to keep the tease going. I didn't buy into anything until Knight's hit, because I assumed Knight was going to revert to his 1985 self (.218) and make the last out.
When he didn't, I was fully invested in the possibility the Mets could come back, but I also decided
Mookie Wilson
was going to let me down in some kind of cosmic throwback to his rookie year when I waited for him to become the kind of player
Tim Raines
was and all he turned out to be was Mookie Wilson. While my dark cloud of foreboding grew ever wider, Mookie jumped out of the way of
Bob Stanley's
pitch, the game was tied, and I fully stopped expecting the worst.
For a fan who subscribed heart and soul to "You Gotta Believe," it took total apostasy toward the Mets' creed to find myself a born again believer.
Gus Ramsey
, ESPN producer
I watched the game in the common room of my dorm at Rollins College.
When Mookie was up I remember saying to my roommate, and fellow Strat-O-Matic baseball player, Troy, "We really need a catch-x (Strat-O-Matic for potential wild pitch or passed ball) here."
And moments later Stanley threw the wild pitch.
Then when the ball went through Buckner's legs I jumped up and ran circles around the common room with my arms in the air.
I still get goosebumps and giggle whenever I see that moment.
Shannon Shark
,
Metspolice
My friend Jim and I used to call each other the second the other guy's team was eliminated. Islanders/Rangers or Mets/Yankees.
I watched the first 9.5 innings in the living room with my dad, and then went into my bedroom to be depressed and wait for the call. It never came.
The next day Jim told me he had my phone number dialed except for the last digit.
Matt Silverman
,
MetSilverman.net
I had used the last of my savings to travel to New York from college in southwestern Virginia for the NLCS and the first two games of the World Series. Broke and preparing to be broken hearted, I sat in my friend's dorm room at Roanoke College in the bottom of the 10th inning, trying to think how I was going to make good on previously friendly bets I had defiantly doubled after the Mets went down two games to none.
Then bing, bam, boom,
Kevin Mitchell
scored on the wild pitch to tie it. Having grown up with the Mets in the 1970s, I knew that thoughts of impending victory usually resulted in crushing anguish. So I concentrated on Mookie Wilson. I'd always liked
Bill Buckner
as a Cub, but I liked him more on the Red Sox that evening.
Mike Silva
,
New York Baseball Digest
I fell asleep during Game 6 of the 1986 World Series. I woke up to hear my dad throw his Mets hat across the living room and talking to my mom about how they blew a great season. I was in that half asleep/half-awake mode, but the next thing I know is I hear my dad jumping after the Buckner error and saying "hello,
Oil Can Boyd
" after the play.
I can remember laying in bed and listening to my dad's emotions of the moment. I was just getting into baseball and that playoff run was what got me into the game.
September, 15, 2011
9/15/11
8:32
AM ET
Hours after the Atlanta Braves won an afternoon game to
officially eliminate the Mets from postseason contention
, the Amazin's
lost to the Washington Nationals
, 2-0.
"You would have thought that with the resources that we've had and the players that we've had that we would have the opportunities to go to the playoffs more that once and that hasn't happened,"
David Wright
said. "And obviously, that's disappointing. There's only one thing to do and that's play better."
Rookie
Chris Schwinden
is on the mound Thursday afternoon for the Mets, attempting to halt a five-game losing streak and prevent the Nats from earning a four-game sweep at Citi Field. The last time the Mets lost a four-game series to that franchise, it was twice eight years ago, when the Nats were the Montreal Expos -- in September 2003 at Shea Stadium and April 2003 in San Juan.
Thursday's news reports:
• Major League Baseball
released its 2012 schedules
. The Mets open the season at home on April 5 against Atlanta. They travel to Toronto and Tampa Bay and host Baltimore in addition to the annual pair of series against the Yankees. The Sept. 11 game next season will be at home against Washington.
•
Johan Santana's
course has been altered
. Rather than pitch in Game 3 of the South Atlantic League championship series for Savannah on Thursday, Santana instead will throw a simulated game Sunday in Fort Myers, Fla., where he resides. He then will participate in the fall instructional league for young minor leaguers, which also will be held in Fort Myers for the second straight season. Santana no longer is due to appear in the majors this season. Read more in
Newsday
, the
Record
,
Post
and
Star-Ledger
.
•
Jose Reyes
elaborated on his hamstring tightness
, calling the muscle "shaky." He went 1-for-5 Wednesday, including getting robbed by Nats center fielder
Rick Ankiel
to end the game, as his average slipped to .331. Milwaukee's
Ryan Braun
went 1-for-4 and is now hitting .329.
• Wright's seventh error in nine games led to two third-inning unearned runs against
Mike Pelfrey
in Tuesday's defeat. The last Met with that many errors in a nine-game span was
Rey Ordonez
in April 2002, according to the Elias Sports Bureau. The last Mets third baseman with seven errors in a nine-game span:
Jeff Kent
in June/July 1996. He was traded two weeks later.
• The Mets honored their minor league award winners in a pregame ceremony at Citi Field on Wednesday.
Josh Satin
was named organization player of the year, while St. Lucie left-hander
Darin Gorski
-- who won the Florida State League ERA title -- earned pitcher of the year. Catcher
Cam Maron
was named the organization's top player at Kingsport. Watch video of the Hicksville, L.I., product
here
. And click
here
for the full list of award winners.
• Savannah, the Mets' lone remaining active minor league team, resumes its best-of-five South Atlantic League championship series against Greensboro on Thursday at home. The series is tied at a game apiece.
•
Mookie Wilson
unveiled artwork
that he and
Bill Buckner
partnered to produce. Wilson on Wednesday told the story of the first time he talked about the '86 World Series moment with Buckner following that historical event. Wilson was playing with the Toronto Blue Jays and was stretching when Buckner, then with the Kansas City Royals, approached him and jokingly asked if Wilson would hit some grounders to him. Read more in the
Star-Ledger
.
•
Carlos Beltran
bashed
his 300th major league homer
on Tuesday, on a tumultuous day for the Giants organization in which
Bill Neukom
is
out as managing general partner
.
• With the Mets eliminated, read reflections on what went awry in
Newsday
, the
Post
,
Times
,
Journal
,
Record
,
Daily News
and
Star-Ledger
.
BIRTHDAYS:
Former reliever
Satoru Komiyama
turns 46. ...
Charley Smith
, who played infield for the Mets in the mid-'60s, was born on this date in 1937. He passed away in 1994.
September, 14, 2011
9/14/11
11:48
PM ET
By
Ian Begley
| ESPNNewYork.com
After their cross paths in a way that would change baseball history in the fall of 1986, Mookie Wilson and Bill Buckner did not see eachother again for three years.

Wilson, now a coach on the Mets' staff, was in Toronto and Buckner was in Kansas City in 1989 when they ran into eachother during pregame warmups. Wilson was stretching before a game when Buckner stood over him and asked, 'Can you hit me some ground balls?'

The two men have approached their moment in history with a certain amount of levity ever since.

They've signed memorabilia together at card shows and talked freely about the moment in which Buckner allowed Wilson's grounder to go through his legs in the bottom of tenth inning of Game 6 in '86.

"We get along very well," Wilson said on Wednesday.

Which is one of the reasons Wilson and Buckner decided to commission a painting commemorating the moment.

It's easy to see why Wilson would agree to do the painting. His hit, after all, helped the Mets win the 1986 World Series.

But why Buckner?

"He can't run away from it" and can't deny that it happened, Wilson says, so Buckner "wants to show it's not an issue."

Said Buckner: "We have been signing the same photo for the past 25 years. It's a great shot, but we wanted something new and different. That was a play that has come to define us and this is a beautiful depiction of that play."

The two men also recently appeared together on an episode of HBO's "Curb Your Enthusiasm."

"I have a great appreciation for the man, knowing the man behind the player," Wilson said. "He's a great human being."

According to the Mets, the original painting will be housed in the team's Hall of Fame and Museum at Citi Field.

It was painted by renowned Toronto sports artist Rob MacDougall. Framed 16 x 20 prints are available for sale at www.theplay86ws.com. Wilson and Buckner have autographed each print, which has been authenticated by Major League Baseball.

For more information on purchasing the artwork, contact Sports Celebrity Marketing S.C.M. Inc. in the United States at 954 642 0707 or via email at Elaine@sportscelebs.com or in Canada at 905 873 8405 or via email at paul@sportscelebs.com.
NBA
NHL
COLLEGE BASKETBALL
MLB
NBA
NHL
COLLEGE BASKETBALL
MLB
MLS
NBA
NHL
COLLEGE BASKETBALL
MLB