New Jersey Devils:

Cory Schneider
August, 12, 2014
Aug 12
8:57
AM ET
It will be a strange sight indeed should legendary goaltender
Martin Brodeur
, now an unrestricted free agent after more than two decades with the
New Jersey Devils
, sign elsewhere.
And while Brodeur reigned supreme as the face of the franchise for years, leading it to three Stanley Cup championships while establishing himself as perhaps the best goaltender of all time, the time has finally come for him to part ways with his long-time team.
That may be a good thing for the Devils.
With the departure of Brodeur, the Devils have since swung full support behind incumbent
Cory Schneider
, who recently inked a seven-year, $42 million extension.
"He was ready to take that mantle," former Devils goatlender
Kevin Weekes
told ESPN.com in a telephone interview last week. "I like that the franchise was able to put that to bed and start that transition."
[+] Enlarge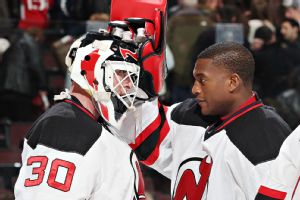 Andre Ringuette/NHLI/Getty ImagesFormer Devils goalie Kevin Weekes says New Jersey is set up well to move past the Martin Brodeur era.
For a good chunk of last season, Schneider outplayed Brodeur, leaving the Devils in a tight spot in how to handle the situation with an elite, accomplished player who will surely be a first-ballot Hall of Famer.
Schneider, who was mired in long goaltending controversy in Vancouver before he was acquired by the Devils in a stunning trade in June 2013, was clearly the heir apparent in New Jersey, but Brodeur seemed reluctant to relinquish the throne.
"It's a unique situation," said Weekes, now an analyst for NHL Network. "Because he's Marty Brodeur, he's earned the right to his influence and impact. Sometimes, the problem with that is it's not always what's best for the Devils' personnel."
The Devils, who finished 10th in the Eastern Conference, missing the playoffs by five points with a disappointing 35-29-18 record, may benefit from having a clear-cut starter moving forward. And Schneider, who posted a 1.97 goals-against average and a .921 save percentage last season, has proved himself more than capable of assuming the No. 1 job.
Weekes, who has known Schneider since he was an NHL rookie, said the 28-year-old Marblehead, Massachusetts, native is a gem.
"He's a first-rate individual," said Weekes, who finished his career as a Devil. "Classy, super-intelligent and he handles himself like a pro."
Weekes was also thrilled to see veteran goal scorer
Mike Cammalleri
sign with New Jersey as a free agent this summer. He thinks he'll be a great fit with the Devils and will provide the club with leadership and much-needed offense, especially after a strong 2013-14 season with the
Calgary Flames
.
"He's obviously a goal scorer and it's not just his shot, but also his legs. He kind of got back to doing things to get open space, finding holes, eluding defenders, setting himself up in position to shoot," Weekes said. "I think he did an unbelievable job at that last year in Calgary. He really rediscovered his game."
Add in a long-term contract for well-respected blueliner
Andy Greene
and a healthy captain in
Bryce Salvador
, and the Devils have a strong veteran presence on their blue line.
But what Weekes is most intrigued to see is how 21-year-old
Adam Larsson
fits into the plan moving forward. The Devils' handling of the young Swede has been a puzzling case for many, particularly vexing to some Devils fans who'd like to see the talented prospect develop into the type of defenseman anticipated when he was selected fourth overall in the 2011 draft.
Instead, he has struggled to find a consistent spot among the Devils' regular defensemen.
"I do know there is definitely a value to having a player earn it -- trust me, I know what that is like," said the 39-year-old Weekes, who spent time in both the AHL and IHL before cracking an NHL roster. "It's a curious case for me. He obviously has an exceptional ability, he's built beyond his years, has a good shot, he's very smart, a good kid, but for some reason the organization isn't fully buying in on where his game is at.
"He is still young. But he's good enough to be an everyday regular."
That will be one of the many storylines to follow come training camp. Peter DeBoer, who signed a contract extension last season, enters his fourth season as head coach. He'll have some challenges ahead, but with an Eastern Conference that is wide open -- especially compared to the uber-competitive West -- the Devils should have a good chance to make the playoffs this season.
"I think anything is possible in the NHL," Weekes said, "but especially in the East."
July, 1, 2014
Jul 1
1:55
PM ET
The
New Jersey Devils
ranked 27th in the NHL in goals per game (2.4) last season, a key reason they missed the playoffs for the second straight year after a surprise run to the 2012 Stanley Cup finals.
And for years the Devils have had to steel themselves against a parade of top players fleeing the franchise, players like former captain
Zach Parise
,
Ilya Kovalchuk
(who walked right into a completely different league in Russia),
Paul Martin
and
Brian Gionta
, all of whom exited New Jersey without the Devils getting any return for those assets.
[+] Enlarge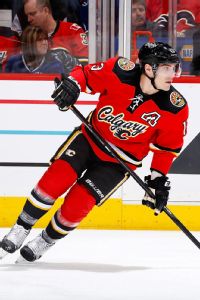 Gerry Thomas/NHLI/Getty ImagesBig names usually leave New Jersey, but Mike Cammaleri is coming aboard.
Tuesday, though, the Devils managed to land a good-sized fish in veteran goal-scorer
Mike Cammalleri
.
Now, the Devils had to overpay Cammalleri both in terms of money and contract length, giving the 32-year-old a five-year deal that will cost the them $5 million annually against the salary cap.
Still, it's a slight decrease from what Cammalleri was making in Calgary, and it's a fact of life that until the Devils return to contender status it will cost them more to bring in outside free agents.
Cammalleri is an interesting guy and he'll bring a little more pizzazz to a Devils' room that also is home to another top character in
Jaromir Jagr
, who led the Devils with 24 goals and 67 points last season and is back for one more year.
The Devils also added Martin Havlat on Tuesday, signing the winger to a one-year deal worth $1.5 million.
Cammalleri had 26 goals in just 63 games last season for a rebuilding Flames, and there's nothing to suggest he can't replicate that production or even see those numbers jump with a Devils team that had the ninth-ranked power play in the NHL.
The Eastern Conference looks pretty fluid (read: mediocre) at this point, and if goalie
Cory Schneider
remains healthy there's no real reason New Jersey can't get back into the top eight and make the playoffs. If the Devils make the postseason, Cammalleri may truly earn his keep.
Although he hasn't played in the postseason since 2011, in his last 26 playoff games with Montreal in 2010 and '11, he collected an impressive 16 goals and 13 assists.
Welcome to Newark, Mr. Cammalleri.
January, 25, 2014
Jan 25
6:23
PM ET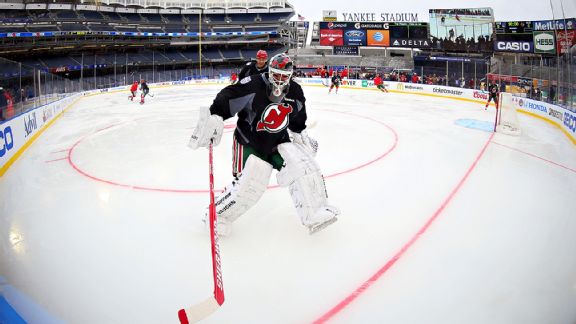 Ed Mulholland/-USA TODAY SportsMartin Brodeur gets the nod over Cory Schneider to start in goal at Yankee Stadium.
NEW YORK --
Martin Brodeur
will get the start for the
New Jersey Devils
in Sunday's heralded Stadium Series game against the
New York Rangers
at Yankee Stadium in the Bronx.
Devils coach Pete DeBoer described it as the "right thing to do" for the legendary goaltender and future Hall of Famer.
Is this surprising?
No, not really, especially considering all Brodeur has done for the franchise throughout an illustrious 20-year career, but with the two teams so close in the standings and a critical two points at stake, the choice is still one up for debate.
DeBoer decided to go with Brodeur despite the fact his heir apparent has posted significantly better numbers this season. Though
Cory Schneider
has a middling 9-9-7 record, he boasts an impressive 1.84 goals-against average and .928 save percentage. He has also held opponents to two goals or fewer in each of his past eight starts. By comparison, Brodeur is 13-10-4, with a 2.36 goals-against average and .905 save percentage.
"The tough part is that Cory is on a roll right now, and he's been almost unbeatable for the last five or six games," DeBoer said. "So that threw a little bit of a wrench in the thinking, but at the end of the day, this is the right thing to do. And both guys have handled it professionally and Cory understands that."
The 41-year-old Brodeur has not played since Jan. 18 with the Devils currently riding the hot hand.
"I'm happy to play a game. It's been a while. It's been over a week," Brodeur said after the Devils practice Saturday. "Kind of a little different setting to do it, but it's exciting."
Schneider is already well-versed in the delicate dance of two dueling goaltenders from his days in Vancouver, where he split time in net with
Roberto Luongo
. As such, he was diplomatic when discussing DeBoer's choice.
"He just pulled me aside and said this has been 20 years in the making for Marty and that it's a big moment for the organization and would be sort of symbolic of what he's meant to this team," Schneider said. "He's played well all season long."
Brodeur, who grew up playing hockey on outdoor rinks as a school-aged boy in Montreal, said he was looking forward to the experience. He didn't expect to get the chance while playing for the Devils, and he will relish the opportunity.
"I've watched a lot of them through the years and I never guessed that the Devils would be in one. And here we're going to play tomorrow," Brodeur said. "So I'm really excited about it. It's going to be fun. It's going to be good memories, hopefully."
NYC or L.A.?
Fellow veteran
Jaromir Jagr
said if he had the choice of playing an outdoor game in L.A. or New York, he'd choose the sunny California locale, if only to prevent the type of lower-body injury he sustained during the last NHL outdoor game he experienced, against the Rangers in 2012, while playing for the
Philadelphia Flyers
.
"If I had a choice to play here or in L.A., I would probably choose L.A. -- nothing against the Yankees or New York. I think [that way] because I had a bad experience two years ago," Jagr explained. "I got injured in the first period [of the 2012 Bridgestone NHL Winter Classic] and it was the same weather -- it was pretty cold. And I think it's a lot tougher for the muscles to get warmed up. And I feel like it would be a lot better for me, for my body, to play in different conditions."