New Jersey Nets:

Boston Celtics
March, 14, 2011
3/14/11
11:09
PM ET
NEWARK, N.J. -- With 35.6 seconds left, New Jersey Nets point guard
Deron Williams
let a 3-pointer from the right wing fly without any hesitation.
Swish.
Just like that, Williams had delivered the final blow in the Nets' biggest victory of the season.
Williams' fourth 3-pointer of the game gave his team a seven-point lead and the Nets went on to upset the Boston Celtics 88-79 on Monday night in front of a sellout crowd of 18,711 at the Prudential Center. New Jersey (23-43) has now won a season-high five games; the last time the Nets accomplished the feat was Dec. 28, 2007-Jan. 5, 2008.
The Nets are now 5½ games out of the eighth and final playoff spot in a weak Eastern Conference with 17 games remaining.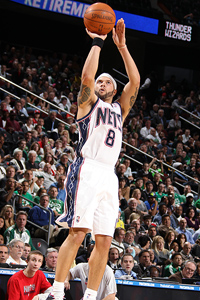 Nathaniel S. Butler/NBAE/Getty ImagesDeron Williams hit four 3-pointers, dished out nine asissts and scored 16 points in his return after the birth of his fourth child.
"Deron is a closer," head coach
Avery Johnson
said. "And I was hoping and praying that he'd close it for us."
Williams did just that. The All-Star -- who missed the previous two games to be with his wife, who gave birth to their fourth child last Wednesday -- capped a 16-point, nine-assist, six-rebound, three-steal performance by draining his first signature big-time shot since being acquired from New Jersey in a blockbuster trade from the Utah Jazz three weeks ago.
"I wanted to make up for London," Williams said of the Nets' March 4-5 overseas visit, which resulted in two victories, one in triple overtime. "I had a couple of chances there but didn't make them. But I love to have the ball at the end of games and just be able to create."
Despite playing with an ailing strained tendon in his right wrist, Williams went 4-for-6 from beyond the arc Monday night. He entered the game just 6-for-27 from downtown in his five previous outings with New Jersey.
Granted, his wrist wasn't hurting him when he attempted, and made, his final 3-pointer of the evening -- the dagger that put Boston (47-18) away for good.
"No, I tweaked it after," Williams said. "And I'm going to continue to tweak it in practice, in games. It won't be fully healed until I sit out for 3-4 weeks like the doctors keep telling me."
Before his key shot, Williams fed center
Brook Lopez
for a hook shot inside that put the Nets ahead 83-79 with 1:14 left. Overall, the Nets were a plus-nine when Williams was in the game.
"I think we're playing and jelling really well right now for having such a short time together," said Williams, who has been limited in practice because of his injury. "And we're having fun. These games are important, not just because we have a chance to make the playoffs but also for the future as well going forward next year."
Williams said he was impressed by the way his teammates played without him, beating both the Golden State Warriors and Los Angeles Clippers. However, being able to drop the East's best team validates their current hot streak.
"Those four wins were good wins, but they weren't against playoff teams, and this is the best team in the East," said Williams, who is averaging 15.8 points and 14.2 assists in six games for the Nets (3-3). "But this was a tough game. We battled, it was a defensive type game. And we grinded it out."
Williams' night didn't start out the way he hoped. He picked up two fouls just 8:20 into the first quarter, and without him, the Nets were outscored 10-0. They trailed 23-14 after the opening 12 minutes, but Williams came back with reckless abandon in the second, scoring seven points in 11 minutes as New Jersey crept back to within 38-36 at the half.
"It was frustrating because I didn't think either of them were fouls," Williams said. "But eventually I picked it up in the second and carried it into the fourth."
The Nets ended up separating themselves from the Celtics -- going on a 14-1 run late in the third and early in the fourth to take a 12-point lead -- without Williams on the floor. But when they needed big plays in crunch time he was there to provide them, rendering the fact that they shot just 37.7 percent when he was in the game, and 47.0 percent without him, meaningless.
"I thought we competed. I thought we fought hard today," Williams said. "Both teams shot poorly. We didn't shoot well. But we battled and we played defense -- especially down the stretch when we had to."
You can follow Mike Mazzeo on Twitter:
@MazzESPN
October, 9, 2010
10/09/10
8:44
PM ET
By
Chris Sheridan
| ESPNNewYork.com
Some of this
I've tweeted about
, some I haven't. But all of it bears mentioning in this blog.
So here we go:
" Spoke with Semih Erden of the Boston Celtics the other night at the Prudential Center in Newark, where I've been keeping an eye on the Nets and an ear to the maneuverings surrounding Carmelo Anthony --
the subject of today's column, an open letter to 'Melo.
Erden told me that each of the players on the Turkish National Team that won the silver medal at last month's World Championship received a bonus of 1 million Turkish Lira (about $700,000) along with a free villa/apartment, courtesy of a wealthy Turkish real estate mogul who wanted to reward them for their success. The members of the gold-medal winning Team USA were paid $25,000 apiece, Andre Iguodala said.
" Spoke with referee Bill Kennedy 2 1/2 weeks ago at a media seminar in Jersey City at which NBA officials explained
this year's rules changes and points of emphasis
, and he told me a couple interesting things: Kennedy paid for his own plane ticket from Phoenix to Istanbul, because the ticket sent to him by FIBA was coach class and could not be upgraded. Also, Kennedy had no air conditioning at his hotel in the city of Kayseri, where he worked the preliminary round, and he said there was only one instance when he called a traveling violation under the stricter FIBA interpretation, whereby a player must begin his dribble before taking a step. I also caught up with referee David Jones, who worked the 2008 Olympics but said he is ineligible to continue as a FIBA ref because he has reached the age of 50. Saw Joey Crawford and asked if he had called any balls and strikes over the summer. "Only about a million," Crawford said.
" Dropped off a package of
"Rondo" cookies
in the Celtics locker room, giving them to Rajon Rondo, who
I had last seen in Athens on the day he withdrew from Team USA
. "Rondo" is a brand of Turkish cookies, packages of which were laid out for the media's consumption in Istanbul.
Missing from the Boston locker room that night was Tony Gaffney
, who was given his release so he could sign with
Turk Telecom in Ankara, Turkey
.
" Spent some time today speaking with Nets rookie Derrick Favors, who will be travelling to Asia for the first time in his life as the Nets fly there to play exhibition games against the Houston Rockets in Beijing and Guangzhou. Favors has been to Africa, travelling to Senegal and Mali with a Reebok team three years ago. "Makes you thankful for everything you've got over here," Favors said, "just how hard they work over there. One man I met said he walked to work 5 to 6 miles a day, each way, every day."
" Also ran into NBA executive Kim Bohuny, who runs the
Basketball Without Borders
program and will be with the Nets and Rockets in China next week, and who I had last seen in Athens when I ran into her having dinner with a group that included former NBA guard Sarunas Jasikevicius, who spent last season with Panathinaikos in Athens. Jasikevicius told a story of how one night when the "Greens" played at the gym of archrival Olympiacos, three knives were hurled at them as they ran through the tunnel onto the court prior to the game. He also said fans tore apart bathroom fixtures and threw the porcelain pieces at the Panathinaikos bench, along with baseball-ball sized chunks of concrete stripped from the damaged bathroom walls. (For a sampling of the video from that game,
click here and jump to the 2:50 mark
, which is shortly before the fireworks begin. Literally.)
" One more FIBA note, since people have been asking me
in e-mails
. The United States is the only team that has qualified for the 2012 Olympics, although it's a safe bet that Great Britain will be awarded a spot as the host nation. That leaves only 10 spots open in the 12-team field, and they will be allotted thusly: The top two teams in the 2011 Eurobasket, to be held in Lithuania; the top two teams from the Tournament of the Americas, to be held in Mar Del Plata, Argentina; one team from the FIBA-Africa championship, to be held in Ivory Coast; one team from the FIBA-Asia championship, to be held in Lebanon; one team (Australia or New Zealand) from FIBA-Oceania; and four teams (three if G.B. makes it) from a 12-team qualifying tournament (comprised of four teams from Europe, three from the Americas, two each from Africa and Asia and one from Oceania) to be held in July, 2012.