New Jersey Nets:

Jeremy Lin
February, 24, 2012
2/24/12
11:11
PM ET
By
Jared Zwerling
| ESPNNewYork.com
RECAP:
While Team Shaq's
Jeremy Lin
of the Knicks received the loudest ovation during pregame player introductions, his squad, which also featured his teammate
Landry Fields
, didn't have a roaring performance. They got blown out by Team Chuck, which included the Nets'
MarShon Brooks
,
146-133 in the Rising Stars Challenge on Friday night
as part of the NBA's All-Star Weekend.
Cavaliers rookie
Kyrie Irving
was named the game's MVP, after only missing one shot -- yes, one shot -- the entire game. He finished 12-for-13 from the field (8-for-8 from 3), en route to a game-high 34 points.
HIGHLIGHTS:
As Fields has become an alley-oop threat with the Knicks, thanks to Lin's playmaking off the pick-and-roll, he showed off those same skills tonight. In the second half alone, Fields (16 points) had three alley-oop dunks and clearly outshined Lin, who didn't even hit double digits in minutes. Someone needs to talk to his head coach,
Shaquille O'Neal
.
Whatever the case, Lin (two points) had his moments, while limited. He had a nice reverse layup in traffic and threw a picture-perfect pass to the Clippers'
Blake Griffin
for the alley-oop. While Lin to Fields and
Tyson Chandler
has been fun to watch, imagine Lin to Griffin, who many players call the best current in-game dunker.
As for Brooks (eight points), he delivered on something he's been excelling at lately: hitting 3-pointers. In his past two NBA games, he's gone 6-for-12 from downtown, and tonight he had two 3's, wearing the brightest orange sneakers you'll ever see in your life.
FUNNIEST MOMENT:
The arena showed Lin's parents,
Shirley
and
Gie-Ming
, on the jumbotron during a "Kiss Cam" segment, and they didn't even realize it. They were both separately texting on their cell phones, and Lin's older brother,
Josh
, was sitting behind them. Finally, after the arena DJ said something about it, Lin's parents looked up and smiled. Lin and Fields, who were both sitting on the bench at the time, laughed together.
SHUMPERT MISSING, BUT NOT FORGOTTEN:
While Lin and the Heat's
Norris Cole
were late additions to the Rising Stars, and deservedly so,
Iman Shumpert
was robbed of a roster spot. Shumpert let fans know how he felt about it on Twitter, saying "Seeing the personnel in this rookie challenge... #coldgame bro smfh."
J.R. Smith
gave him a shout-out right after, tweeting, "Watching the chuck an Shaq challenge an @I_Am_Iman isn't in it! #koldGame!"
WHAT'S NEXT:
Lin and Fields' Knicks host the Cavaliers on Wednesday night and Brooks' Nets travel to Dallas on Tuesday to take on the Mavericks.
You can follow Jared Zwerling on Twitter.
February, 24, 2012
2/24/12
3:47
PM ET
Nets guard
MarShon Brooks
will play in the Rising Stars Challenge at 9 p.m. in Orlando, Fla.
The event was formerly known as the Rookie Challenge and pitted the best second-year players against top rookies during All-Star weekend. The format is different this year: TNT analysts
Shaquille O'Neal
and
Charles Barkley
conducted a draft and built teams with a mixture of first- and second-year players.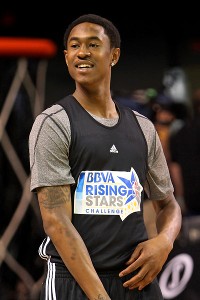 Joe Murphy/NBAE/Getty ImagesBrooks at Friday's practice.
Brooks will play for Team Chuck. Knicks guards
Jeremy Lin
and
Landry Fields
will play for Team Shaq.
Other players with ties to New Jersey and New York:
• Cavaliers guard
Kyrie Irving
of Team Chuck played for St. Patrick's High School in Elizabeth, N.J.
• Cavaliers forward
Tristan Thompson
of Team Shaq spent two years at Saint Benedict's Prep in Newark, N.J.
• Jazz forward
Derrick Favors
of Team Chuck was drafted by the Nets and traded to Utah in the
Deron Williams
blockbuster.
• Bobcats guard
Kemba Walker
of Team Shaq is a Bronx native who played for Rice High School in Harlem.
TEAM SHAQ
•
Norris Cole
, Heat
•
Landry Fields
,
Knicks
•
Blake Griffin
, Clippers
•
Brandon Knight
, Pistons
•
Jeremy Lin
,
Knicks
•
Greg Monroe
, Pistons
•
Markieff Morris
, Suns
•
Ricky Rubio
, Timberwolves
•
Tristan Thompson
, Cavaliers
•
Kemba Walker
, Bobcats
TEAM CHUCK
•
Kyrie Irving
, Cavaliers
•
DeMarcus Cousins
, Kings
•
Derrick Williams
, Timberwolves
•
Paul George
, Pacers
•
MarShon Brooks
,
Nets
•
John Wall
, Wizards
•
Evan Turner
, 76ers
•
Gordon Hayward
, Jazz
•
Kawhi Leonard
, Spurs
•
Derrick Favors
, Jazz
February, 21, 2012
2/21/12
10:18
AM ET
By
Mike Mazzeo
| ESPNNewYork.com
Knicks point guard Jeremy Lin sought out Nets power forward Kris Humphries after the Nets' 100-92 victory on Monday night to tell Humphries that he thought the boos directed at him by the crowd at the Garden were "unfair," according to ESPN.com's Rachel Nichols.

"Now that's a good dude," Humphries told Nichols.

The Nets spawned "Linsanity" on Feb. 4. The Garden crowd spawned the "Everybody Hates Kris" campaign on Dec. 21 during the preseason, when they booed Humphries vociferously every time he touched the ball.

The 27-year-old says the boos are motivation, and it certainly showed on Monday night, when he notched another double-double, scoring 14 points and grabbing 14 rebounds.

At this point, the boos have mostly died down -- but they've continued at the Garden.

The irony in this whole situation is, Humphries isn't being booed for anything he's doing on the court. He was married to Kim Kardashian for 72 days. It didn't work out. But it's in the past. Hump has moved on. Isn't it time for the fans to do the same?

PHEW: Those four teeth shooting guard Anthony Morrow lost? Don't worry. They're temporary.

Morrow lost them on Jan. 6 in Toronto. He was actually supposed to have a dentist appointment on Tuesday afternoon, but it got moved up to the morning, according to reports.

"Y'all, i just got reconstructive work done I didn't just lose 4 teeth," Morrow tweet at around 11 a.m. Tuesday

The greater concern is why a travel was called on that particular play, when Morrow got elbowed in the mouth by Carmelo Anthony.

Credit to Morrow for gutting it out, though. The Knicks got within eight in the fourth quarter, but Morrow ended a 3 minute, 1 second scoring drought with one of the biggest buckets of the game, a 14-footer from the baseline with 5:41 left that put the Nets ahead 87-77. And Hump's three-point play 40 seconds later made it a 13-point Nets' lead. They were able to survive from there.

BIG PICTURE: A couple big picture quotes from D-Will didn't make it in my column. Here they are anyway:

"We still need to get some guys in here if we're going to be a better team. There's no doubt about that. We're 10-24 right now. So we have to get some better players. But I think everything will work out. It takes some time to put it together," Williams said.

Williams added that he was "comfortable" with the direction of the franchise.

[After the season], I'm sure I'll have a conversation with GM Billy [King] and ownership, and go from there."

LIN-FERIOR: Lin still got his -- he finished with 21 points, nine assists and seven rebounds -- but give the Nets' defense credit for forcing him into a 7-for-18 shooting night. Their bigs packed the paint, and kept him out of it a bit. If Nets' fans haven't watched Lin before, they probably figured two things out: 1. He's definitely for real and 2. He's much less effective going left than right.

OF NOTE: Center Brook Lopez will go through a hard workout on Tuesday before returning to the lineup and playing on Wednesday night against the Magic. ... The Nets were outscored 40-20 in the paint and 20-11 on the fastbreak, but won the rebounding battle, 46-42, and went 21-for-29 from the free throw stripe. ... A Barclays Center spokesman said Tuesday that construction of $1 billion arena remains on schedule for its Sept. 28 opening.
February, 21, 2012
2/21/12
1:10
AM ET
By
Christopher Hunt
| ESPNNewYork.com
NEW YORK -- Clearly there's something about
Kris Humphries
that gets under people's skin.
The crowd booed
Kim Kardashian
's ex all night,
Carmelo Anthony
tripped him and
Tyson Chandler
followed him halfway into the Nets' huddle.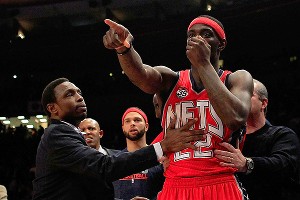 Chris Trotman/Getty ImagesAnthony Morrow lost four teeth after taking an elbow from Carmelo Anthony.
The Knicks downplayed the incidents after the Nets won 100-92 at the Garden on Monday night.
"[It was] just nerves and [being] tired and we just don't like getting beat," Knicks coach
Mike D'Antoni
said. "Nothing major."
It seemed that the Nets took the worst of the physicality. Humphries had scratches on his face after the game. Nets guard
Anthony Morrow
lost four teeth to a Melo elbow.
"It was physical from start to finish,"
Amare Stoudemire
said. "You have to expect that from those guys. They're going to try and play us very physical. That's the way they play; we have to expect that."
The Nets (10-24) certainly came across the river with an edge. It started with
Deron Williams
, who recorded 38 points, six assists and a career-high eight 3-pointers. He made a point to stick it to
Jeremy Lin
, who started his rise to international stardom by outplaying Williams at the Garden on Feb. 4, sparking a seven-game winning streak for the Knicks.
Both Lin and Williams fouled out in the fourth quarter on Monday. Lin finished with 21 points, nine assists and seven boards.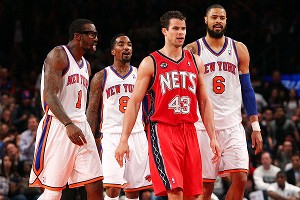 Debby Wong/US PresswireKris Humphries had the Knicks' attention Monday.
But the game increasingly became physical under the basket. On one play in the third quarter, Humphries (14 points, 14 rebounds) was tangled with Chandler in the paint, positioning for a rebound, and appeared to push him to the ground. Anthony took exception and poked out his leg to trip Humphries as he went downcourt, and was called for a technical.
"It happens in the course the game," said Anthony, who went 4-for-11 with 11 points, six assists and six turnovers in his first game back from a right groin strain. "It happens. I made a mistake and tripped him."
Chandler was bumping with Humphries much of the night. Humphries and Chandler collided twice on one play in the fourth before Humphries was called for an offensive foul. The two started jawing and, after the Nets called timeout, Chandler followed Humphries into the New Jersey huddle and grabbed him by the arm, which earned Chandler a technical.
"I didn't think I fouled him to start the play," Humphries said. "I just think he was a little overhyped and came over and slapped me on the arm or something. I don't know. It is what it is. We were just playing ball."
Asked if Humphries probably wouldn't meet with the 7-1 Chandler for dinner after the game, Humphries said: "I'll probably see him later. He's a nice guy. Some people might put it on out there, but off the court he's a gentle giant."
You can follow Christopher Hunt on Twitter.