New Jersey Nets:

Mikhail Prokhorov
April, 10, 2012
4/10/12
7:12
PM ET
By
Mike Mazzeo
| ESPNNewYork.com
Mikhail Prokhorov
may be able to "crush"
Mark Cuban
in kickboxing, but when it comes to owning an NBA franchise, Cuban already has what Prokhorov covets: an NBA championship.
And this coming offseason, the Mavericks owner is likely going to try to convince Prokhorov's superstar player,
Deron Williams
, to leave New Jersey/soon-to-be Brooklyn in favor of the city he grew up near: Dallas.
Prokhorov can joke all he wants -- "let the best man win" and so forth -- but deep down, if Williams bolts and becomes a Maverick, it'll feel like Cuban kicked
him
in the face.
Yes, he has a $1 billion arena in the biggest market in the world. But how is he going to sell tickets if his team can't contend? Maybe the allure of the borough's first sports franchise since the Dodgers will work for a season or two, but what about a third season? How long can that really last?
While Prokhorov has been off trying -- and failing, despite his best efforts -- to become president of his native Russia, the Nets have been floundering in their final season in New Jersey. They've been decimated by injuries, derailed by slow starts and disappointed at home, and are on their way to missing the playoffs for a fifth straight season.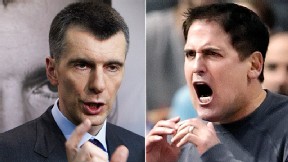 Getty Images/AP PhotoIf Mark Cuban steals D-Will, "I will crush him in a kickboxing throwdown," warns Mikhail Prokhorov. Maybe the Nets owner should learn something from his Mavs counterpart first.
After taking over as owner prior to the start of the 2010-11 campaign, Prokhorov promised a championship within five seasons.
He didn't exactly back down from that on Tuesday
. At the same time, he preached "patience," something that fans in the New York City area don't want to hear.
Williams certainly doesn't. He has been a winner throughout his playing career -- all the way from high school to the pros.
He doesn't do losing. Williams has put up with it because he was traded to a team in transition -- something that was beyond his control -- but he isn't going to put up with it anymore, not when he's entering his prime.
Williams wants to win, and for the first time his career, he gets to choose where he plays.
Prokhorov said he met with Williams on Monday and added that both of them are "on the same page."
Great. So what?
Does that mean Prokhorov is convinced he can get Williams to sign on the dotted line of a five-year, $109 million max extension this summer? Or is Cuban really going to be able to pull off a robbery and leave the Nets without a superstar going into Brooklyn?
Prokhorov can say he's committed to bringing a championship to Brooklyn. But how can he go all-in to fulfill that goal when he's pursuing other ventures and still has political aspirations?
Wouldn't it be nice if he were fully invested in the Nets, much the same way Cuban is fully invested in the Mavericks?
Prokhorov may be rich and powerful, and have a good sense of humor too, but it's time for him to figure out what he wants his basketball legacy to be.
All he has done so far is help pay for the construction of the Barclays Center. Now it's time to put a competitive team on the court to play in it.
GM
Billy King
acted swiftly in trading for Williams and has made some other nice moves, such as acquiring
MarShon Brooks
on draft day, plucking
Gerald Green
out of the D-League and risking losing a lottery pick in order to land
Gerald Wallace
, but the Nets remain -- just like their new Brooklyn arena -- a far-from-finished product.
They couldn't lure
Dwight Howard
out of Orlando -- not that the "Dwightmare" is over or anything -- and are going to turn their attention toward trying to round out their starting five by landing the likes of free-agent power forwards
Kevin Garnett
,
Ryan Anderson
or
Ersan Ilyasova
in the offseason. That's all contingent on keeping Williams, of course.
King, coach
Avery Johnson
& Co. can't make that happen alone. They need Prokhorov to be fully invested in his franchise.
April, 3, 2012
4/03/12
3:16
PM ET
By
Mike Mazzeo
| ESPNNewYork.com
Mikhail Prokhorov is coming to the Big Apple.

The Nets owner will meet with NBA commissioner David Stern in New York next week, Stern said Tuesday.

"He'll be in New York next week. Whether he is gonna physically be there for [the Board of Governors] vote, I'm not sure, but I hope so," Stern said, according to the New York Post.

At the Board of Governors vote, which will take place April 12 or 13, the NBA owners will approve the Nets' move to Brooklyn and their name change (New Jersey to Brooklyn Nets).

Prokhorov had been pre-occupied trying to win the presidential election in his native Russia, and has yet to attend a game this season.

He did attend nine last season, of which, the Nets won seven.

The Nets are 7-19 at home in 2011-12.

No word if Prokhorov will attend a game at the Prudential Center before the Nets move to the $1 billion Barclays Center.
March, 12, 2012
3/12/12
3:54
PM ET
By
Mike Mazzeo
| ESPNNewYork.com
Barclays Center officials are currently in discussions with Russia's Kontinental Hockey League about hosting some regular season games at the Nets' future home in Brooklyn next season, according to Brett Yormark, CEO of the $1 billion arena.

"Hockey will have a place at Barclays Center," Yormark said Monday in an e-mailed statement.

SovSport, a Russian sports website, first reported the possibility.

"I had a good meeting with the head of the NHL, Gary Bettman ... [and] discussed many important questions," KHL president Alexander Medvedev told SovSport, according to a Yahoo! Sports translation. "We decided that when the basketball club finishes building its arena in Brooklyn, KHL Legends Game and regular season games will be held there. We are continuing to improve the relationship between the KHL and the NHL."

Medvedev told SovSport that the NHL "promised they won't oppose" the plan.

The Nets are owned by Russian billionaire Mikhail Prokhorov, who recently lost the country's presidential election.

The Islanders and Devils will play a preseason game at Barclays Center on Oct. 2. There has been speculation that the Islanders could move to Brooklyn when their lease expires at the Nassau Coliseum in 2015.

"We feel Brooklyn is an untapped hockey market that offers the Islanders with an exciting opportunity to grow its fan base," Yormark said back in January. "Barclays Center will also afford current Islander fans with great accessibility, as the Long Island Rail Road and nine subway lines will come directly to the arena at the Atlantic Terminal transit hub."

The only problem with the Barclays Center is that it is able to accommodate only about 14,500 for hockey, which would be the smallest capacity in the NHL. The MTS Centre, where the Winnipeg Jets play, houses just 15,004, the current smallest capacity in the league.

March, 4, 2012
3/04/12
3:09
PM ET
By
Mike Mazzeo
| ESPNNewYork.com
The Nets can't win in the NBA -- or in Russia.
Nets owner
Mikhail Prokhorov
was easily defeated in the Russian president election by
Vladimir Putin
on Sunday, according to
multiple reports
.
The Russian billionaire, who purchased a majority stake in the Nets in May of 2010, announced his intentions to run for president of his native country in December.
Despite campaigning, it was widely believed that Prokhorov had no chance of winning the election.
Now, perhaps he can turn his attention to the basketball franchise he owns. The Nets are 11-26 and own the third-worst record in the Eastern Conference. But they're hopeful they can turn around their fortunes when they move to Brooklyn next season.
The Nets are currently in the running to land
Dwight Howard
by the March 15 trade deadline or in free agency assuming the Magic center opts out during the offseason.
Prokhorov has yet to attend a Nets game this season.
December, 27, 2011
12/27/11
6:36
PM ET
By
Mike Mazzeo
| ESPNNewYork.com
The Nets fell to the Hawks in their home opener on Tuesday night -- but their owner wasn't in attendance to see it.
In a statement released by the team's public relations staff via Twitter,
Mikhail Prokhorov
said that "other obligations" -- perhaps like running for president in his native Russia -- prevented him from being in New Jersey.
"I very much wanted to be with you today, but other obligations have prevented me from making the trip to the home opener," the statement read. "I will be watching and rooting for the team from Moscow. Rest assured that I am with you in spirit and will be with you in body, too, as soon as my schedule permits. To
Brook Lopez
, wishing you a speedy recovery. For the rest of the team, it's great to see everyone back on the court. Go Nets!"
You can follow Mike Mazzeo on Twitter.
May, 16, 2011
5/16/11
3:12
PM ET
By
Jared Zwerling
| ESPNNewYork.com
If $22.7 billion Nets owner
Mikhail Prokhorov
became a politician in the U.S., he'd be the country's richest one after New York City Mayor
Michael Bloomberg
, whose estimated worth is $18.1 billion.
Well, it turns out Prokhorov
is actually running for a seat
-- but back in his native Russia (BBC). He wants to lead the Pravoye Dyelo party, or Right Cause, which strongly supports Russian President
Dmitry Medvedev
, at a time when there's mounting speculation that
Vladimir Putin
wants a return to the presidency. Right Cause hopes to win legislature seats in parliamentary elections in December.
However, Prokhorov admitted in televised remarks that it was "an uneasy and somewhat surprising decision."
According to the Associated Press,
"the establishing of the [political] party is widely seen by critics as an attempt by the Kremlin to lure opposition-minded, pro-business voters, while creating an illusion of competition with the ruling United Russia party ahead of elections." The Kremlin, which is the main Russian governmental building, closely monitors the political activities of the country's billionaires known as oligarchs.
If Prokhorov succeeds, it will be the first time a Russian business tycoon has taken a prominent role in politics since the imprisonment in 2003 of another Mikhail,
Mikhail Khodorkovsky
. The win would also establish Prokhorov as one of the world's richest politicians or royals. Currently, the King of Thailand,
Bhumibol Adulyadej
, is No. 1 with an estimated worth of $30 billion.
You can follow Jared Zwerling on Twitter.
February, 25, 2011
2/25/11
10:57
PM ET
By
Mike Mazzeo
| ESPNNewYork.com
Recap
|
Box score
|
Photos
WHAT IT MEANS
: All-Star point guard
Deron Williams
' debut as a New Jersey Net didn't exactly go the way he hoped it would. Williams was held to only 14 points on 5-for-13 shooting as the Nets lost in San Antonio on Friday night. Despite struggling to put the ball in the basket, Williams did contribute a game-high 12 assists for New Jersey (17-41), which dropped its fourth straight game, and first following the All-Star break. Meanwhile, the Spurs (48-10), the NBA's best team, improved to 27-2 at home. The Nets fell to a dismal 4-26 on the road.
TURNING POINT
: When the Spurs closed the third quarter on an 18-6 run, turning a four-point lead into a commanding 16-point edge.
Tim Duncan
sparked the surge with a dunk inside, and
George Hill
capped it, beating the buzzer with a corner 3-pointer that bounced high off the front rim before dropping through the net.
PLAYER OF THE GAME
:
Anthony Morrow
. The 25-year-old shooting guard came off the bench to notch a game-high 25 points for New Jersey. Morrow had the touch from the perimeter all night long, connecting on his first five shots en route to a 7-for-11 performance from the field. He was also 8-for-9 from the free throw line and added five rebounds.
BREAKING IT DOWN
: Like most players, it's going to take Williams some time to get acclimated with the Nets' system. The two-time All-Star struggled mightily in the first quarter, going 0-for-4 from the floor with a pair of turnovers. He even injured his right wrist on a hard drive to the hoop late in the opening stanza. Williams finally recorded his first field goal when he converted a layup inside with 2:00 left in the second quarter. He did show flashes throughout, working the pick-and-roll game well with
Kris Humprhies
, and even displaying some offensive prowess late in the fourth. Williams had 11 of his 14 points after the intermission.
FLYING IN
:
Mikhail Prohkorov
attended his first-ever road game as owner of the Nets. He was skiing in Vancouver, but made the trek to San Antonio so that he could watch Williams in his first game as a Net. Williams, of course, did a lot more flying than Prohkorov. This week alone, Williams made three flights and traveled more than 3,000 miles -- from Dallas to Salt Lake City to New Jersey and then to San Antonio -- after he was acquired by the Nets in a blockbuster deal with the Utah Jazz. The Nets are 5-3 with Prohkorov in attendance.
THE DIFFERENCE
: Much like it did in the Nets' 17-point loss to the Spurs in New Jersey, it came on the interior. Duncan and
DeJuan Blair
each amassed 17 points and six rebounds on 8-for-11 shooting.
UP NEXT
: The Nets finish off their Texas Two-Step on Saturday night when they head to Houston to take on the Rockets. Williams will make his home debut with the Nets on Monday night against
Steve Nash
and the Phoenix Suns.
February, 23, 2011
2/23/11
12:30
PM ET
By
Mike Mazzeo
| ESPNNewYork.com
During my first appearance on Sportscenter Tuesday afternoon, I referred to the billboard that owner
Mikhail Prohkorov
and
Jay-Z
put up across the street from Madison Square Garden.
It said, "The Blueprint for Greatness." But after the Nets failed to land
LeBron James
,
Rudy Gay
,
Carlos Boozer
,
Chris Bosh
and
Carmelo Anthony
(after all the Melo Drama they went through), I called it "The Blueprint for Disappointment."
Not anymore.
The Nets came out of nowhere Wednesday morning and acquired superstar point guard
Deron Williams
in a blockbuster trade with the Utah Jazz. Not only that, they gave up less than they would've given up for Anthony (two firsts, instead of four) while stealing some of the New York Knicks' thunder in the process.
Anthony is set to make his Madison Square Garden debut Wednesday night.
There's just one caveat that separates this move from being a layup to a slam dunk, and that's Williams signing an extension. He is slated to become an unrestricted free agent -- if he opts out of the final year of his contract worth $17.9 million -- after the 2011-12 season.
According to some of my colleagues at ESPN, Williams cannot sign an extension with the Nets until July 9, 2011 if the rules stay the same under the current CBA. Williams signed an extension with the Jazz on July 9, 2008, and, per NBA regulations, must wait three years after the previous extension is signed. That is, of course, if the current CBA still exists by that date.
The reason for that is
here
. (No. 52). Williams signed a four-year, $70 million contract, and that means a mandatory three-year wait.
So it basically comes down to this: The Nets need to ink Williams to an extension by the time they move -- or are supposed to move -- to Brooklyn in 2012-13.
Otherwise, they'd be paying a lot -- in the form of
Derrick Favors
and
Devin Harris
plus those picks -- for a luxury rental.
For now, though, the Nets and their fans should be ecstatic.
They just landed a 21-point, 10-assist per game player who may arguably be the best point guard in the entire league.
That calls for celebration.
Looks like "The Blueprint for Greatness" billboard makes sense now.
The Nets finally have their superstar player. Their first franchise-changer since
Jason Kidd
. The question is: can they keep him?
February, 22, 2011
2/22/11
12:30
PM ET
By
Michael Jackson, ESPN Stats & Information
Since taking over the Nets, Mikhail Prokhorov and Knicks owner Jim Dolan have battled on and off the court. Here's a look at the timeline of some of the more notable events.

May 11, 2010: NBA approves sale of Nets to Prokhorov.

May 19, 2010: Prokhorov reveals in first news conference with N.Y./N.J. media that he originally wanted to purchase the Knicks. Prokhorov later says, "We will turn Knicks fans into Nets fans."

July 1, 2010: Nets unveil a 225'x95' billboard on a building across from Madison Square Garden on 33rd St. and 8th Ave. with Nets owners Prokhorov and Jay-Z that reads, "The blueprint for greatness."

July 13, 2010: Knicks sign free agent Russian center Timofey Mozgov to 3-year contract.

Oct. 27, 2010: Knicks hang billboard of Amare Stoudemire near site of new Nets arena in Brooklyn. Caption reads, "Brooklyn Represent."

Nov. 28, 2010: In their preview to an upcoming game against the Nets, the Knicks run an ad during MSG Network's telecast of the Knicks' victory at Detroit saying, "Hey Nets. You can walk like us, you can talk like us, but you ain't never gonna be like us."

Nov. 30, 2010: Prokhorov responds to Knicks ad by saying, "I don't think we want to be like the Knicks. I think we'd more like to resemble the Lakers."

Nov. 30, 2010: Knicks defeat Nets 111-100 in first meeting of the season.

Jan. 19, 2011: Prokhorov tells team executives to "walk away from the deal" and their pursuit of Carmelo Anthony saying, "there comes a time when the price is simply too expensive."

Feb. 12, 2011: Knicks defeat Nets in New Jersey, 105-95; improve to 2-0 vs N.J. this season.

Feb. 18, 2011: Nets reach tentative agreement with Nuggets on trade for Anthony, pending Anthony signing three-year, $65M contract extension according to multiple sources.

Feb. 18, 2011: Knicks make trade offer to Nuggets for Anthony, according to sources.

Feb. 20, 2011: Prokhorov essentially gloats about driving up the Knicks' price in trade negotiations for Anthony. "I think we made a very good tactical decision to force Knicks to pay as much as they can," Prokhorov said. "So it's very good, it's very interesting, it's very competitive."

Feb. 21, 2011: Knicks acquire Anthony.

Stay tuned. There will be more to come.


NBA
NHL
COLLEGE BASKETBALL
COLLEGE FOOTBALL
NBA
NHL
COLLEGE BASKETBALL
NFL