Diamante is new 'voice of the Nets'
December, 17, 2011
12/17/11
12:35
AM ET
By
Mike Mazzeo
| ESPNNewYork.com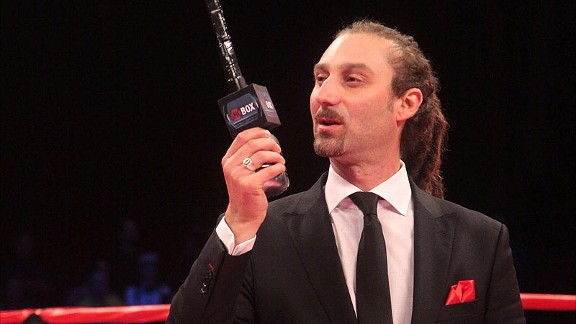 David Diamante
The Nets have added "the man with the golden voice."
Brooklyn resident
David Diamante
, 40, has signed a multi-year deal to become the franchise's PA announcer, he confirmed to ESPN NewYork.com on Friday. His hire was first-reported by the New York Daily News. Diamante will be taking over for long-time PA announcer
Gary Sussman
, who will continue in his role as the team's vice president of public relations.
"It's incredible," said Diamante, who has worked as a ringside boxing announcer for the past decade. "Just being a Brooklynite and being the voice of the Nets, it's very exciting. The Barclays Center is a beautiful and intimate arena and I'm looking forward to feeding off the crowd's energy."
Diamante beat out several hundreds of other hopefuls after trying out a couple of months ago. He had to read off scripts while calling live action.
"This is something I've always wanted to do," Diamante said. "Boxing has always been my No. 1 passion, but I'm a sports guy. I love football, basketball, baseball, every sport."
While Diamante was born in Baltimore and grew up in the D.C. area, his family has been living in Brooklyn for five generations. His great-great-grandfather started living there in 1868.
Diamante aspired to be a professional boxer when he was young. But after doing some sparring in the gym, he realized he wasn't going to make it. Still, he absolutely loved the sport, and wanted to stay in it any way he could. Diamante very much enjoyed talking in front of a large group of people -- he worked hard as a DJ and an Emcee for a while -- so being a PA announcer was a natural fit.
According to his bio on his official website, Diamante has had multiple announcing appearances on HBO, as well as ESPN, Showtime, SNY and MSG. Granted, he isn't just known for his voice.
Diamante hasn't cut his hair since 1988, and sports signature dreadlocks.
"It just always felt right," Diamante said of his hairstyle.
At first, Diamante thought they'd be a detriment, but he soon found that people really enjoyed them.
Aside from his announcing ventures, Diamante owns "Diamante's Brooklyn Cigar Club," which is located three or four blocks away from the Barclays Center.
"There are going to be some pretty sweet after parties there," Diamante said.
As an NBA PA announcer, Diamante expects the most fun part of his gig to be the player introductions. He doesn't expect to plan them ahead of time, though.
All in all, Diamante is just looking forward to getting started.
"This is a dream job," Diamante said. "It's one of those jobs where you never feel like you're actually working."