New Jersey Nets:

Dallas Mavericks
February, 28, 2012
2/28/12
1:19
PM ET
By
Tim MacMahon, ESPN Dallas
DALLAS -- Two words immediately come to
Rick Carlisle's
mind when he thinks of
DeShawn Stevenson
, who will become the latest ex-Maverick to receive his championship ring Tuesday night.
"Ultimate pro."
That's not exactly how Stevenson was perceived when he arrived in Dallas as a throw-in with
Caron Butler
and
Brendan Haywood
in the 2010 All-Star break blockbuster deal with the Wizards. At the time, well, folks didn't know quite what to think of the two-guard with tattoos from his forehead to his feet.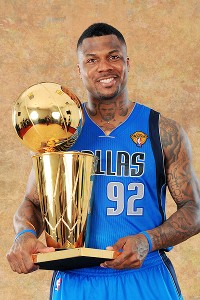 Jesse D. Garrabrant/NBAE/Getty ImagesDeShawn Stevenson helped the Mavs win the Larry O'Brien Trophy.
There was a strong suspicion that Stevenson, whose claim to fame had been a high-profile playoff trash-talk war with
LeBron James
, was a wee bit crazy. That turned into an appreciation around these parts for Stevenson's unique personality after he played the biggest role of any of the ex-Wizards in the Mavericks' first title.
"I had a bad rap of being a loose cannon," Stevenson said Monday night after his new team, the Nets, practiced at SMU. "I think it's a different type of crazy. It's a crazy where I'm going to go out there and fight for my teammates and do the right thing. I'm kind of misunderstood, but that's what I try to do and I won a championship doing it."
Stevenson's style and work ethic earned him immense respect in the Mavericks' locker room.
The Mavs' veteran leadership trio of
Dirk Nowitzki, Jason Kidd
and
Jason Terry
twice lobbied Carlisle to insert Stevenson into the starting lineup. Carlisle listened on both occasions, once near the beginning of the season and the second time just before the playoffs began.
The Dallas vets embraced the nasty tone that Stevenson -- who usually got the most difficult defensive assignment among the opposing guards and small forwards -- set along with big man
Tyson Chandler
.
"Just a tough, tough guy that we miss," Nowitzki said. "I'm happy for him that he gets his ring and he's going to get a standing ovation. He brought a toughness and grittiness to our club last year that we needed."
In between his successful stints as the starting lineup's defensive stopper, Stevenson fell out of the rotation while his minutes went to
Rodrigue Beaubois
. Stevenson never complained, continuing to prepare the same way, a persistence that paid off in the playoffs.
Stevenson's professionalism was never more apparent than Game 4 of the NBA Finals. After Stevenson started the first 18 games of the postseason, Carlisle decided to replace him in the lineup with
J.J. Barea
, in part because the Mavs wanted to make sure that
Shawn Marion
or Stevenson was always available to defend James.
Instead of pouting about a perceived demotion, Stevenson responded with his best performance of the playoffs. Stevenson outscored his old adversary LeBron, 11-8, playing lockdown defense and knocking down three 3-pointers.
"He kept himself ready and always answered the bell," Carlisle said. "Always."
Stevenson was ready to return to Dallas for the repeat attempt. However, he said he felt like he had done too much with the Mavericks to accept an offer for the minimum salary and moved on by signing a one-year, $2.5 million deal with the Nets.
Stevenson will return to the American Airlines Center with mixed emotions. He looks forward to finally seeing the championship banner and getting his ring. (He's seen plenty of pictures of the 31-diamond spectacles, including one fellow free agent departure Barea texted him the night of the ring ceremony.)
But Stevenson admits that he wishes he could stay in Dallas and move back into the locker now occupied by
Delonte West
.
"We just had a special team," Stevenson said. "It's just sad how it went down. It's tough. It's the business part, but I'm always a Mavericks guy until the day I die."
February, 28, 2012
2/28/12
1:16
AM ET
By
Tim McMahon, ESPNDallas.com



DALLAS -- All-Star point guard Deron Williams doesn't want to address the subject of possibly playing in his hometown on a permanent basis during this trip to Dallas, but his coach acknowledged that the Mavericks are a major threat to sign the free agent-to-be.

New Jersey Nets coach Avery Johnson believes that because of the respect he has for his former boss, billionaire Mavs owner Mark Cuban, who has teamed with Dallas president basketball of operations Donnie Nelson to give the Mavs the financial flexibility this summer to attempt to sign Williams and/or Orlando Magic center Dwight Howard.

"He's a threat, OK?" Johnson said of Cuban after the Nets' practice Monday night at SMU. "I know the guy. I think because of the success he's had -- and I know he got criticized a lot for quote-unquote having all those years where he didn't win a championship -- but he's had some great success here that rivals any situation. So that's a threat."

Williams, whose team plays the Mavericks on Tuesday night, pretended to not be aware that the Mavericks would have enough salary-cap space to be major players in free agency this offseason. He made it clear that he had no intention of discussing the possibility of joining Dirk Nowitzki in Dallas next season.

"I'm just going to play out this season and look at my options after this season," Williams said, repeating several variations of that statement during a five-minute session with the media.

But Williams, a native of Dallas suburb The Colony who attended several Mavs playoff games during last year's championship run, acknowledged that he enjoys playing in the American Airlines Center.

"I've always liked playing here," Williams said. "This is one of my favorite arenas to play in, probably my favorite arena to play in. I just enjoy playing in it. I enjoy playing in front of my friends and family. It's always good for them to get the chance to see me play."

Williams, who has averaged 22.3 points on 50.3 shooting in 10 career games at the American Airlines Center, said he likes the shooting background in the arena. He also appreciates the atmosphere.

"It's always good when an arena has a lot of energy," Williams said. "Ours doesn't have too much energy."

The Nets hope that changes when they move into the Barclays Center in Brooklyn next season. They also hope that Williams will be the face of the franchise when that happens.

"For us, we don't make any assumptions until we get Deron signed on the dotted line," said Johnson, who played 55 games for the Mavs late in his career and was the head coach in Dallas from 2005-08. "The main thing is we keep doing what we're doing. Deron's been a major part of what we're doing behind the scenes. He's been a major part of what we're doing with the new Barclays Center, so we're saying he's doing all of that with the intent that he's going to remain with us in the future."

However, Johnson is also saying that he's aware that Cuban's Mavs will be serious competition for Williams' services this summer.
January, 22, 2011
1/22/11
9:49
PM ET
Recap
|
Box score
|
Photos
WHAT IT MEANS:
The New Jersey Nets' chances of winning three straight games for the first time since Jan. 31-Feb. 7, 2009, were washed away with one unfriendly roll on the rim.
Dirk Nowitzki
, who was just 7-for-24 from the field, got a fadeaway jumper to fall with six seconds left. And it proved to be the difference in an 87-86 Dallas Mavericks' win on Saturday night over the resilient Nets at the Prudential Center.
New Jersey, which fell to 5-2 with owner
Mikhail Prohkorov
in attendance, is still stuck on 12 wins. The Nets could've won, but they botched their final possession badly and it resulted in
Jordan Farmar
not being able to get his desperation attempt off in time. Nowitzki finished with 24 points to lead the Mavericks (28-15).
STAR OF THE GAME: Brook Lopez
. The 22-year-old center did his usual strong work offensively, finishing with a team-high 24 points on 10-for-15 shooting despite having to sit for much of the third quarter in foul trouble. He only grabbed six rebounds, but that's typical for Lopez at this point of the season. He played 29 minutes.
TURNING POINT:
The Nets trailed 82-75 with 4:43 remaining, but Lopez sparked an 8-0 run with five consecutive points.
Sasha Vujacic
capped the burst with a 3 to make it 83-82 with 2:33 left.
Jose Juan Barea
hit a jumper to put Dallas back in front, but Lopez responded with a a pair of free throws with 1:31 remaining that gave the Nets the lead.
Devin Harris
pushed the New Jersey advantage to 86-84 by splitting a pair at the stripe.
Tyson Chandler
had a chance to tie it, but he only made one of two attempts at the line. Harris airballed a jumper on the Nets' ensuing possession, setting up Nowitizki's heroics.
HUG IT OUT:
Mavericks owner
Mark Cuban
was invited into Prohkorov's luxury suite. No word on what the two billionaires discussed -- or if there was any trash-talking involved.
KIDD RETURNS:
Former Nets great
Jason Kidd
returned once again. He talked a lot about
Carmelo Anthony
and the MeloDrama with the media pregame, then went out and had five points, eight assists and five rebounds in 34 minutes.
CELEB SUMMIT:
At the end of the third quarter,
Kim Kardashian
and "Jersey Shore" star
Snooki
met at midcourt. It was like a dream come true for the paparazzi, who proceeded to snap photos of the duo. The fans in attendance also seemed enamored with the scene.
UP NEXT:
The Nets wrap up their five-game homestand with games against the Cleveland Cavaliers on Monday and the Memphis Grizzlies on Wednesday.