New Jersey Nets:

Derrick Favors
February, 24, 2012
2/24/12
3:47
PM ET
Nets guard
MarShon Brooks
will play in the Rising Stars Challenge at 9 p.m. in Orlando, Fla.
The event was formerly known as the Rookie Challenge and pitted the best second-year players against top rookies during All-Star weekend. The format is different this year: TNT analysts
Shaquille O'Neal
and
Charles Barkley
conducted a draft and built teams with a mixture of first- and second-year players.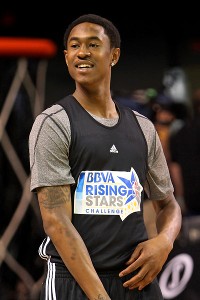 Joe Murphy/NBAE/Getty ImagesBrooks at Friday's practice.
Brooks will play for Team Chuck. Knicks guards
Jeremy Lin
and
Landry Fields
will play for Team Shaq.
Other players with ties to New Jersey and New York:
• Cavaliers guard
Kyrie Irving
of Team Chuck played for St. Patrick's High School in Elizabeth, N.J.
• Cavaliers forward
Tristan Thompson
of Team Shaq spent two years at Saint Benedict's Prep in Newark, N.J.
• Jazz forward
Derrick Favors
of Team Chuck was drafted by the Nets and traded to Utah in the
Deron Williams
blockbuster.
• Bobcats guard
Kemba Walker
of Team Shaq is a Bronx native who played for Rice High School in Harlem.
TEAM SHAQ
•
Norris Cole
, Heat
•
Landry Fields
,
Knicks
•
Blake Griffin
, Clippers
•
Brandon Knight
, Pistons
•
Jeremy Lin
,
Knicks
•
Greg Monroe
, Pistons
•
Markieff Morris
, Suns
•
Ricky Rubio
, Timberwolves
•
Tristan Thompson
, Cavaliers
•
Kemba Walker
, Bobcats
TEAM CHUCK
•
Kyrie Irving
, Cavaliers
•
DeMarcus Cousins
, Kings
•
Derrick Williams
, Timberwolves
•
Paul George
, Pacers
•
MarShon Brooks
,
Nets
•
John Wall
, Wizards
•
Evan Turner
, 76ers
•
Gordon Hayward
, Jazz
•
Kawhi Leonard
, Spurs
•
Derrick Favors
, Jazz
February, 23, 2011
2/23/11
11:43
AM ET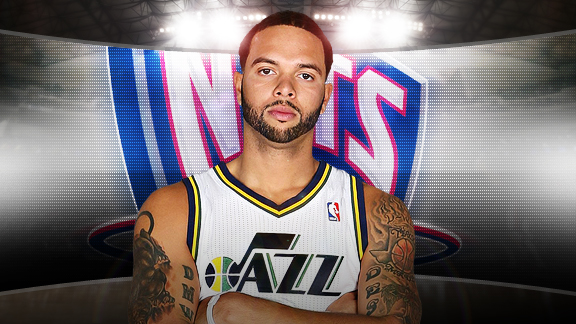 ESPN.com IllustrationAll-Star point guard Deron Williams is on his way to Newark.
Trying to rebound from the disappointment of their failed pursuit of
Carmelo Anthony
, the New Jersey Nets have agreed to a blockbuster trade with the Utah Jazz for
Deron Williams
, sources told ESPN's Marc Stein and Chad Ford on Wednesday.
The Nets will send
Derrick Favors
and
Devin Harris
to Utah for the All-Star point guard.
The deal, scheduled for completion later Wednesday after a trade call with the league office, would also involve the Golden State Warriors and bring multiple draft picks to Utah.
Read more »
February, 2, 2011
2/02/11
10:57
AM ET
By
Jared Zwerling
| ESPNNewYork.com
For a while there,
Derrick Favors'
name was only popping up in the national headlines as one of the featured guests in a potential
Carmelo Anthony
trade. But since
Mikhail Prokhorov
called that off, Favors has been able to focus on his game, and he finished the month of January with his highest points average (6.9), including four double-doubles. Now he's being recognized around the country as one of the featured participants in the T-Mobile Rookie Challenge, which takes place during All-Star Weekend on Friday, February 18th at 9 p.m. EST.
Anthony Morrow
congratulated his teammate this morning on Twitter: "Shout to my young fella D Fav on being selected to the rook sophomore game, he deserves it, I'm still tryna convince him to get on twitter tho."
The Rookie team also includes:
Eric Bledsoe
-- Clippers guard
DeMarcus Cousins
-- Kings center
Landry Fields
-- Knicks guard
Blake Griffin
-- Clippers forward
Wesley Johnson
-- Timberwolves guard
Greg Monroe
-- Pistons center
Gary Neal
-- Spurs guard
John Wall
-- Wizards guard
The Sophomore team includes:
DeJuan Blair
-- Spurs center
DeMar DeRozan
-- Raptors guard
Stephen Curry
-- Warriors guard
Tyreke Evans
-- Kings guard
Taj Gibson
-- Bulls forward
Jrue Holiday
-- 76ers guard
Serge Ibaka
-- Thunder forward-center
Brandon Jennings
-- Bucks guard
Wesley Matthews
-- Trail Blazers guard
ESPN.com's
David Thorpe
says that Favors gets the midseason award for
"Best Trade Bait,"
though he's done nothing wrong.
"It's because he's done so much right. As the third or fourth best prospect in this group (Griffin, Wall, Cousins), Favors is the only player of this foursome on a team that has interest in acquiring a superstar immediately for reasons that go beyond the court. If Favors was playing like he did this summer -- unpolished and uninspired -- I don't think there would have been so much speculation about sending him to Denver. But he has been terrific and already acts like a pro, so New Jersey can entertain thoughts of moving him for a star like Melo. It's quite a compliment. He presents a huge reward but little risk for any team acquiring him."
Tomorrow the reserves for the All-Star Game will be announced. Will
Brook Lopez
or
Devin Harris
get the nod? Tune into TNT's NBA pregame show at 7 p.m. EST.
You can follow Jared Zwerling on Twitter.
January, 9, 2011
1/09/11
5:31
PM ET
The New Jersey Nets' attempts to acquire Denver's
Carmelo Anthony
are "further along" than any trade scenario that has been discussed since their near-acquisition of Anthony in late September, according to sources close to the negotiations.
A three-team deal involving the Detroit Pistons that would include at least 15 players -- with
Rip Hamilton
and
Chauncey Billups
winding up in New Jersey with Anthony -- could be completed as soon as this week, sources said.
The primary elements of the scenario currently on the table, sources said, call for New Jersey to acquire Anthony, Billups and Hamilton; Denver to land
Devin Harris, Derrick Favors, Anthony Morrow
and at least two first-round picks; and Detroit to acquire
Troy Murphy
and
Johan Petro
.
Other players with smaller contracts would have to be included to make the salary-cap math work.
Full story
•
Agent: You can count Billups out »
January, 6, 2011
1/06/11
12:08
AM ET
By
Mike Mazzeo
| ESPNNewYork.com
Recap
|
Box score
|
Photos
NEWARK, N.J. -- The rookie's first start was all the hype going in.
But the veteran he supplanted was all the talk afterward.
Derrick Favors
' first NBA start was overshadowed by reserve
Kris Humphries
' best performance of the season in the New Jersey Nets' narrow 96-94 victory over the Chicago Bulls.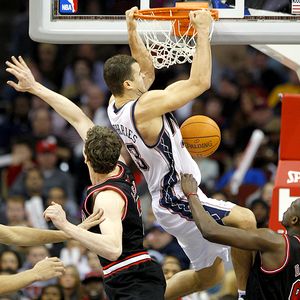 AP Photo/Julio Cortez
The Bulls couldn't match Kris Humphries' energy during his 20-point, 11-rebound night.

Favors finished with seven points in nine minutes. Humphries recorded a season-high 20 points and game-high 11 rebounds in 39 minutes for his 11th double-double, stealing the thunder from the league's youngest player.
"Whatever people's role is, we just gotta accept it and do it to the fullest," Humphries said.
For Humphries, that role used to be starting power forward, the job now held by Favors, who was inserted into the starting lineup prior to the 35th game of the season by coach
Avery Johnson
.
"This has been planned for some time now for [Favors] to start his first game here in the new year at home," Johnson said before the game. "He's had about 34 games to get some experience coming off the bench and he's played against the Bulls before, so we thought this would be a good game for him to get his first NBA start."
Which meant that for the first time since Nov. 9, Humphries would be coming off the bench.
Asked if his "demotion" gave him added motivation, Humphries, a consummate professional, responded: "I'm motivated, but it's not like there's no anger or anything. I'm always motivated -- especially to play against the Bulls. I struggled against them the last time we played. I also used to play with
Carlos Boozer
when I was on Utah so I try to compete against him every time."
By the end of the night, though, Boozer was riding the pine. And Humphries was out there, making it happen.
It started early in the second quarter. First it was a jaw-dropping follow-up slam that got the fans out of their seats. Then it was an emphatic alley-oop finish that forced the Bulls to call a 30-second timeout. And from there, Humphries continued his aggressiveness, snagging all five of his offensive rebounds in the first half.
Favors looked good in the limited action he got after his name was introduced among the starters. He got a layup in transition and was playing with a reckless abandon -- until he picked up two early fouls and was saddled to the bench by the 8:40 mark of the first. He played just six of the opening 24 minutes, finally got it going again at the start of the third with a hook and an alley-oop jam, but was whistled for his fourth foul -- a controversial one that could've gone either way.
"I was a little nervous out there at first, but I'm glad I got it out of the way," Favors said. "I gotta fight through it and pick my spots and just be smarter with fouls."
Still, Favors is pleased to be in the starting five. Even if he is the subject of persistent speculation and trade rumors -- specifically involving Denver Nuggets superstar
Carmelo Anthony
.
"It was was wonderful, really," Favors said. "Coach put his trust in me and I feel like I did a good job."
Humphries did an even better one.
Even if their roles are reversed, the Nets' dynamic duo at the 4 spot remains the same.
December, 29, 2010
12/29/10
3:22
PM ET
By
Jared Zwerling
| ESPNNewYork.com
From
David Thorpe
, NBA analyst for ESPN.com's Scouts Inc., on Nets rookie
Derrick Favors
in his latest
"Rookie Watch" column:
Something good:
There is little to be excited about in New Jersey regarding Favors, mostly because he's playing about a 1½ quarters per game. He is finishing paint shots, which is good, but it's not like he's shocking anyone with his play. I like this about him, though: Despite all the trade rumors that have been swirling about regarding him and the Denver/Carmelo situation, Favors has been about the same guy all season. That is better than what we saw this summer and in the preseason. He's been able to maintain his level of play while dealing with something most rookies are not at all exposed to, and he's holding his own. Good stuff for such a young guy.
Something bad:
I'm impressed that he's been consistent all season but disappointed that he's not made any kind of jump over the first nine weeks of the season. It's not a sign of anything, or a concern, but it would be great for him to make another leap forward while earning more playing time in the process. Of all the draft picks who have just been OK so far, Favors is the guy I most expect to break out with a monster month. It just has not come close to happening in 2010.
You can follow Jared Zwerling on Twitter.
December, 7, 2010
12/07/10
9:50
PM ET
By
Mike Mazzeo
| ESPNNewYork.com
Recap
|
Box score
|
Photos
WHAT IT MEANS:
The Nets still haven't won a road game in ages. They lost their eighth straight game away from home -- and fifth straight overall -- Tuesday night, 116-101, to an Atlanta Hawks squad that was without All-Star swingman
Joe Johnson
. The Nets (6-16) have now dropped 16 of 20 and currently find themselves in the basement of not only the Atlantic Division, but also the Eastern Conference. And for the record, they're now a 2-10 road team.
SECOND-QUARTER WOES:
For the second straight game, the Nets were done in by a dismal second quarter. They led by as much as 38-31 with 7:30 left in the second, but the Hawks closed the stanza on a 29-9 run to take a 13-point edge to the break. It seems impossible really, that a team could score 29 points in that short amount of time, but Atlanta did. And it did so with seemingly everyone on its roster contributing -- most notably high-flyer
Josh Smith
, who finished the evening with a season-high 34 points on 14-for-16 shooting. Meanwhile, the Nets mustered just four field goals in that stretch, including one in the final 4:20.
New Jersey trailed by as many as 16 in the third quarter before eventually cutting its deficit to as little as five late in the fourth. But the Hawks (15-8) -- who played a much taller lineup with Johnson out, featuring
Marvin Williams
at small forward and ex-Net
Jason Collins
at center -- answered with back-to-back field goals from four-man
Al Horford
to put the game away for good. Atlanta has now won six of seven and improved to 4-1 without Johnson.
STAR OF THE GAME:
For the Nets, we'll give it to a somewhat-deserving
Brook Lopez
. The 22-year-old center put in a team-high 24 points on 8-for-16 shooting after being held to just five points and six rebounds in the Nets' 100-75 drubbing at the hands of the Boston Celtics on Sunday. And it was well-documented that Lopez had drawn the ire of head coach
Avery Johnson
after snagging just two boards in his team's 91-84 overtime loss to the Charlotte Bobcats on Friday night. He only pulled down five in this one, but at least the point production and the aggressiveness on the offensive end was where it needed to be.
SOUTHERN COMFORT:
No. 3 overall pick
Derrick Favors
was one Net ecstatic to be back in Atlanta. Favors grew up there, ultimately attending South Atlanta High School and spending one year at Georgia Tech. He decided to forgo his final three years of eligibility and go to the NBA. The athletic 19-year-old scored four points while adding five rebounds in 24 minutes.
HARRIS LOOKIN' GOOD:
Point guard
Devin Harris
looked like he had much more lateral quickness against the Hawks than he did versus the Celtics. The point guard, who had missed two games with a strained left knee, finished with 18 points and 13 assists in 37 minutes.
WILLIAMS PROMOTED: Terrence Williams
is back. He was promoted up to the big club after spending three games in NBDL purgatory, the result of his punishment for being repeatedly late to practice. He'll join the Nets Wednesday in Dallas. Williams averaged 28 points in the D-League.
UP NEXT:
Johnson gets to make his return against the team he used to coach, the Dallas Mavericks (16-4). The Mavericks, who Johnson led to four consecutive 50-win seasons and an NBA Finals appearance during his tenure there, trail the first-place San Antonio Spurs (17-3) by a game in the Southwest Division.