New Jersey Nets:

Detroit Pistons
February, 9, 2012
2/09/12
2:43
PM ET
By
Mike Mazzeo
| ESPNNewYork.com
On Oct. 30, 2001,
Jason Kidd
's debut with the Nets was overshadowed by Game 3 of the World Series and
Michael Jordan
's return to the Garden.
Pistons coach
Lawrence Frank
couldn't tell you that
Roger Clemens
pitched the Yankees past the Diamondbacks that night, or that Jordan's Wizards fell to the Knicks. But, more than a decade later, he can tell you exactly what happened inside Continental Airlines Arena in East Rutherford, N.J.
"To me, where it all started was the first year when we got Jason, on opening night," Frank, a former Nets coach, recalled before Wednesday night's Nets-Pistons game at Prudential Center in Newark.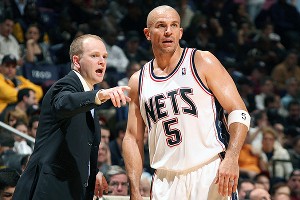 Nathaniel S. Butler/NBAE/Getty ImagesLawrence Frank and Jason Kidd
"We had around 5,600 people here in the stands [close, the official box score said 8,749]. It was during a World Series game, and we're playing the Pacers. We're down 11 heading into the fourth quarter. We put Kidd on
Reggie Miller
and [
Kerry Kittles
] on
Jalen Rose
. They played like Rottweilers and turned the game around and we won the game at the end, and then you just knew it was gonna be a different Nets team."
Prior to the Kidd era, the Nets had made the playoffs just once in a seven-season span. But they acquired the All-Star point guard in a blockbuster trade the day after the 2001 NBA draft, and it took only one game for Frank -- an assistant under
Byron Scott
at the time -- to realize that the Nets had something special brewing.
They trailed the Pacers 79-68 after the first three quarters but outscored Indiana 35-18 in the final period to claim a 103-97 victory behind Kidd's near-triple-double of 14 points, 10 rebounds and nine assists.
The Nets went on to reach the NBA Finals for the first time in franchise history in 2001-02, and repeated the feat in 2002-03.
"It's hard to beat going to the Finals," Frank said. "That's as significant as anything."
Frank got his first chance to be a head coach in the NBA in 2004, after Scott was fired, and wound up winning his first 13 games -- a league record.
"We just focused on one game at a time," said Frank, who was 33 at the time. "And it wound up to the point where we just strung some wins together."
Frank went on to compile a 225-241 record with the Nets, taking the team to the playoffs in each of his first four seasons at the helm. But after failing to qualify for the postseason in the next two years, Frank's 2009-10 squad got off to an 0-16 start, which led to his dismal. That season, the Nets became just the fifth team in NBA history to lose 70 or more games.
Barring some sort of miracle, Wednesday night's game -- a game in which his Pistons ultimately prevailed over the Nets, 99-92 -- is likely the final game Frank will ever coach in his home state. The Nets will move into the $1 billion Barclays Center in Brooklyn next season.
"The building we're playing in isn't the same, so that's different," said Frank, who was raised in Teaneck, still has a house in New Jersey and added that many of his family members still reside there. "But there's so many great memories when you talk about the support the team always had through good times and bad, and just how the franchise turned around with the Jason Kidd trade, and the years of success we had once we made that deal.
"It's time for a new beginning for them, but as a Jersey guy, it's sad that this is going to be the last time. But you never know how it turns out. I was reading that [Newark mayor]
Cory Booker
wants to try to attract another team here, and this is a basketball-rich state with a ton of tradition, not just as the professional level, but in the high school and collegiate ranks, so it's bittersweet."
February, 1, 2012
2/01/12
11:51
PM ET
By
Mike Mazzeo
| ESPNNewYork.com
The Nets had just eight healthy players going into Wednesday night's game -- and they needed every one of them to eke out a 99-96 victory over the flailing Pistons at Prudential Center.
"We went out there before the game and went into our little huddle, and I was like, 'Where's everybody at?'" said
Deron Williams
, who had 18 of his game-high 26 points in the second half, shot 12-for-21 from the field and added nine assists in 43 minutes.
"And they're like, 'This is it.' It's kind of hard to do layups before the game. You get tired because you're just running around and around."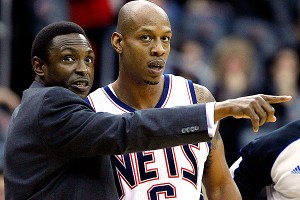 AP Photo/Julio CortezAvery Johnson had to put newly signed Keith Bogans to work immediately.
The Nets (8-15, 3-6 home) were supposed to have nine healthy players --
Johan Petro
was already ruled out with flu-like symptoms -- but about an hour before tipoff,
Anthony Morrow
was scratched with a sore left ankle.
Just like that, they were down to eight. And if you count
Keith Bogans
-- who hadn't played a game all season prior to being signed by the injury-depleted Nets on Wednesday after working out for the team on Tuesday -- it was more like 7¼.
"I told them they were the Great Eight," coach
Avery Johnson
said. "We normally give a set of nets to the guy that's most valuable player of the game, but we kind of cut it up in eight pieces tonight, because each one of them deserved it. Everybody contributed."
Johnson wasn't kidding.
• The Nets needed D-Will's first and only 3-pointer of the game with 4:47 left that put them up 93-88, along with his tenacious defense on Detroit's final possession, which ended with
Brandon Knight
missing a jumper from downtown that would've tied the game.
• They needed all 14 points
Kris Humphries
scored in the second half -- including the pair of free throws he knocked down with 5:22 remaining that put them ahead to stay.
• They needed all 11 points
Shawne Williams
scored in the second quarter.
• They needed all seven rebounds
Shelden Williams
grabbed in the first quarter.
• They needed all eight points
Jordan Farmar
scored in the fourth quarter.
• They needed all eight points
Sundiata Gaines
scored in the third quarter.
• They needed each and every one of
Jordan Williams
' career-high nine points and eight rebounds in a career-high 21 minutes.
• And perhaps most importantly of all, they needed Bogans' layup with 1:17 left -- his first two points as a Net and his only two points of the night -- that gave the team a 98-92 lead.
Bogans wasn't even close to being in game-shape. He didn't even know what town he was staying in after the game ended. After all, he'd been chilling in Orlando for the first third of the NBA season, waiting for a call.
But when the Nets had to have a basket, Bogans cut to the rim, and D-Will found him for a deuce.
"We hadn't had a cut like that to the basket all year," Johnson said.
"I just saw guys standing around, saw Deron with his back to the basket. He's been telling guys to cut all game, so I did, and he hit me," said Bogans, who ended up playing 17 minutes -- five more minutes than Johnson wanted to play him.
Ultimately, the Nets barely beat a 4-20 Pistons squad that has lost seven straight and became the first team in the NBA this season to lose all three games of a back-to-back-to-back stretch.
But the Nets were playing with just eight healthy players, so they'll take it.
Brook Lopez
remains out with a broken right foot.
Damion James
won't be back for the rest of the season after undergoing right foot surgery. Rookie
MarShon Brooks
is out indefinitely with a broken toe and was seen wearing a walking boot out of the team's locker room.
DeShawn Stevenson
will miss at least the next two weeks with a right knee injury. And
Mehmet Okur
won't return until late this week or perhaps early next week due to a sore lower back.
The Nets have obviously had plenty of reason to make excuses this season, from an assortment of injuries to a lack of continuity to a lack of talent. On Wednesday night, they went with their 12th different starting lineup in their first 23 games.
They nearly blew a 12-point lead, but managed to win the rebounding battle 44-31 while holding the Pistons to 5-for-18 from 3-point range. And when the final buzzer sounded, they walked off the court with a win, something that had eluded them in their previous two games.
"If you wanna be a good team, you gotta win the ones you're supposed to," said D-Will, who had his midrange fadeaway jumper going all night long and is now averaging 29 points and 8.6 assists in his last five games.
"They had a couple of key guys out as well. It was an important game for us at home, where we've been struggling so much, and this is a team that's been struggling, so we had to take advantage of that."
They did. And now they'll get some rest.
After playing 14 of their first 22 games on the road, the Pistons game started a stretch of six of eight at home -- a place where the Nets have struggled.
They took care of business there on Wednesday night, though, and they're going to have to continue to do so if they want to stay in the playoff hunt.
February, 1, 2012
2/01/12
10:02
PM ET
By
Mike Mazzeo
| ESPNNewYork.com
Recap
|
Box score
|
Photos
WHAT IT MEANS
: Eight was enough. The short-handed Nets -- who had just eight healthy players because of injuries -- barely took care of the lowly Pistons, winning 99-96 on Wednesday night at Prudential Center to snap a two-game losing streak.
The Nets (8-15, 3-6 home) shot 48.1 percent from the field, went 8-for-23 from the 3-point line and won the rebounding battle, 44-31. The Pistons (4-20) have now lost seven in a row and became the first NBA team this season to all three games of a back-to-back-to-back stretch.
Brandon Knight
missed a 3-pointer at the buzzer that would have tied the game.
D-WILL
: After a quiet first half,
Deron Williams
began to take over in the third quarter. The All-Star point guard scored 18 of his game-high 26 points in the second half -- using his unstoppable crossover dribble to set up his dazzling array of midrange pullups. He also added nine assists and shot 12-for-21 from the field.
TURNING POINT
: D-Will's 3-pointer that put the Nets up 93-88 with 4:47 left in the fourth quarter. Later, he found
Keith Bogans
for a key layup -- Bogans' first two points in his Nets debut -- with 1:16 left to make it 98-92.
THREE-WILL
:
Shawne Williams
had all of his season-high tying 11 points in the second quarter. He hit three 3-pointers, and the Nets closed the first half on a 13-5 run to take an 11-point lead into the locker room.
Shelden Williams
had seven of his 11 rebounds in the first quarter, while rookie
Jordan Williams
set career highs in points (nine), rebounds (eight) and minutes (20).
NOT-SO-FUN FACT
: The Nets have used 12 different starting lineups in their first 23 games.
STAT OF THE NIGHT
: Seven Nets scored at least nine points.
UP NEXT
: Nets vs. Timberwolves, 7:30 p.m. Friday.
January, 21, 2011
1/21/11
10:56
PM ET
By
Mike Mazzeo
| ESPNNewYork.com
NEWARK, N.J. -- The reporters waited. Then waited some more.
The star of the game had yet to emerge from his shower.
When New Jersey Nets shooting guard
Anthony Morrow
finally did manage to mosey his way into the locker room, one of the reporters asked him what took so long.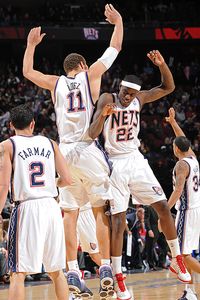 David Dow/NBAE/Getty ImagesBrook Lopez and the Nets were glad to have Anthony Morrow (22) back on the court.
"We've waited 17 games already," the reporter joked.
Everyone burst into laughter.
Had Morrow -- playing for the first time since he strained his hamstring on Dec. 14 against the Philadelphia 76ers -- missed just one more shot after coming up empty on his first four, it would've been no laughing matter.
But with 1.8 seconds remaining in the third quarter, Morrow finally got a 3-pointer to fall. So head coach
Avery Johnson
left him in, then proceeded to run a play for Morrow on the team's second possession of the fourth. He made that one, too. Morrow followed that swish with another 3-pointer off a pass from
Jordan Farmar
.
All of a sudden, the Nets were up 72-62 with 10:40 remaining -- and well on their way to consecutive wins for the first time since Dec. 19-21.
"I was just about to take him out of the game," Johnson said of Morrow, who wound up going 4-for-8 from the field and scoring 10 points in 14 minutes, as the Nets went on to roll past the Detroit Pistons 89-74 Friday night at the Prudential Center.
"Tonight, he was coming up on his minute restriction and he was struggling a little bit getting up and down the floor. But when he hit that 3 I said, 'We'll leave him in there.' I ran a play for him and he hit one. I ran another one and he made it. So it was good that he helped get us a nice cushion."
The Nets (12-31), came in as one of the worst shooting teams in the NBA. Prior to Friday night's game, they ranked 27th in both field goal percentage (.439) and 3-point field goal percentage (.332).
That's why they were elated to have Morrow -- the second most-accurate 3-point shooter in NBA history (.451 career, .411 in 2010-11) -- back in the lineup. And they were even more elated when he finally found his shot, stretching a four-point lead to double digits.
"I just wanted to get the first few shots out of the way and just keep plugging," said Morrow, who went 2-for-3 from beyond the arc. "I'm glad I could contribute and help the team win."
They may not have had Morrow not drained that 3-pointer from the right wing off a pass from
Kris Humphries
, which gave the Nets a 67-60 lead heading into the final 12 minutes.
All of a sudden, his confidence was restored. For most marksmen like Morrow, it only takes one shot.
"It felt good [to get that first one]," Morrow said. "I knew Hump was gonna pass it to me. It was the end of the quarter; gave us some momentum. Anytime you can get a shot to go down when you're a shooter and a scorer and get some momentum going, it's a good thing."
Now the Nets have to hope Morrow stays healthy and continues to rip the chord from the perimeter the way he did on Friday night.
"I'm still getting my game legs under me," Morrow said. "That's gonna take a couple games. But other than that, conditioning wise, I felt great. It's just a matter of getting my timing back."
Johnson said he's going to continue to play Morrow about 15 minutes per game until he's 100 percent.
He's wasn't even going to get that much time had that shot with 1.8 seconds left in the third not gone down.
Luckily for Morrow, it did.
"He basically put the game away for us with those 3-point shots," Johnson said.
January, 21, 2011
1/21/11
9:31
PM ET
By
Mike Mazzeo
| ESPNNewYork.com
Recap
|
Box score
|
Photos
WHAT IT MEANS:
New Jersey Nets owner
Mikhail Prohkorov
needs to attend more games. The Nets defeated the Detroit Pistons 89-74 Friday night at the Prudential Center to improve to 5-1 when the Russian billionaire sits in his luxury perch over midcourt. They also established their first winning streak since Dec. 19-21. The Nets, who improved to 12-31 overall, are now 9-10 on their home court. They shot 50 percent from the field, while limiting the Pistons to just 33.3 percent. New Jersey also outrebounded Detroit 44-35.
TURNING POINT:
The Nets gained some distance from the Pistons with a surge late in the third quarter. With the score knotted up at 53,
Travis Outlaw
sparked a 9-2 run with a 3-pointer and the Nets never looked back.
MORROW IMPACT:
Shooting guard
Anthony Morrow
, who missed the last 17 games with a hamstring injury, finally returned to the lineup. He missed his first four shots but ended up connecting on his next four -- including a pair of 3-pointers -- which allowed the Nets to establish a 12-point edge with 10:15 remaining in the fourth quarter. They ended up leading by as many as 18. Morrow finished with 10 points in 14 minutes.
BALANCED ATTACK:
The Nets had seven players score in double figures in their 103-95 win over the Utah Jazz on Wednesday night. On Friday night, they had four.
Brook Lopez
led New Jersey with 15 points,
Devin Harris
had 12 points, nine assists and five rebounds, and
Kris Humphries
notched yet another double-double with 11 points and 12 boards.
MR. AGGRESSIVE:
Remember when head coach
Avery Johnson
said he wanted Lopez to grab 8.9 rebounds per game the rest of the way? Well, he got off to a great start, snagging four boards in the first eight minutes of the contest. But when the game ended, Lopez was still stuck on four. Typical.
NO. 12:
The Nets won just 12 games all of last season. But this season, it took them just 43 games to accomplish the dubious feat. After the game, a reporter asked Harris how many wins the Nets had. "12?" he responded, then laughed. "Sweet." "It does mean a lot," Harris added. "Not so much to the guys that are here, much more to the guys that were here last year. It's not something we're thinking about or talking about, but in the back of my mind, it was there." Then he laughed again.
UP NEXT:
The return of
Jason Kidd
. The Nets' former superstar point guard and his Dallas Mavericks invade Newark for a Saturday night matchup. Kidd is averaging 8.1 points and 8.4 assists per game for the Mavs (27-15), who came into Friday holding the fourth seed in the Western Conference.
January, 12, 2011
1/12/11
2:10
AM ET
In the end, the biggest holdup in a trade that would send
Carmelo Anthony
to New Jersey may be Anthony himself.
According to several league sources, Anthony has not told anyone, not even his representatives, that he will sign a contract extension with the Nets.
One source who has spoken with Anthony since trade talks between Denver, New Jersey and Detroit became public last weekend said the Nuggets forward has never even hinted at signing with New Jersey.
"He has not agreed to go to New Jersey," said the source, who speaks regularly with Anthony. "I have never heard him, in all the times we've talked, say he's willing to go to New Jersey. Not once. Personally, I would be stunned if he went there and signed an extension."
This, of course, does not mean there's no chance of Anthony signing with the Nets. But it does mean the three teams involved in the potential deal that could involve as many as 15 players are working on nothing more than a hunch. For even if they do reach an agreement, Anthony's refusal to sign a three-year, $65 million extension with the Nets would kill the deal completely. New Jersey has been steadfast in its commitment to trade for Anthony only if he agrees to stay with the franchise long term.
Full story »
January, 9, 2011
1/09/11
5:31
PM ET
The New Jersey Nets' attempts to acquire Denver's
Carmelo Anthony
are "further along" than any trade scenario that has been discussed since their near-acquisition of Anthony in late September, according to sources close to the negotiations.
A three-team deal involving the Detroit Pistons that would include at least 15 players -- with
Rip Hamilton
and
Chauncey Billups
winding up in New Jersey with Anthony -- could be completed as soon as this week, sources said.
The primary elements of the scenario currently on the table, sources said, call for New Jersey to acquire Anthony, Billups and Hamilton; Denver to land
Devin Harris, Derrick Favors, Anthony Morrow
and at least two first-round picks; and Detroit to acquire
Troy Murphy
and
Johan Petro
.
Other players with smaller contracts would have to be included to make the salary-cap math work.
Full story
•
Agent: You can count Billups out »