New Jersey Nets:

Gerald Wallace
March, 16, 2012
3/16/12
12:27
AM ET
By
Mike Mazzeo
| ESPNNewYork.com
The New Jersey Nets are going to Brooklyn. But which players will be going with them?
On Wednesday night, with the Nets and Orlando Magic engaged in trade talks, it appeared that
Dwight Howard
would be joining
Deron Williams
& Co. in making the move to Brooklyn and the $1 billion Barclays Center next season.
Fans on Twitter were ecstatic. GM
Billy King
was heaped with praise. There was even talk that the Nets were going to take over New York City from the Knicks, as if that's possible.
But by Thursday morning, about three hours before the 3 p.m. trade deadline, Howard had changed his mind for the 8,000th time in the last 24 hours or so: He was going to waive his early termination option and stay in Orlando through 2012-13.
The situation had turned into a "Dwightmare." An "all-in" pursuit gone wrong. The Nets were stunned, shell shocked, as was their fan base.
The Nets had tried to get Howard since the offseason. They thought they had a three-team blockbuster done in the offseason. Magic ownership nixed it. Then in December, Howard demanded a trade to New Jersey. Never happened.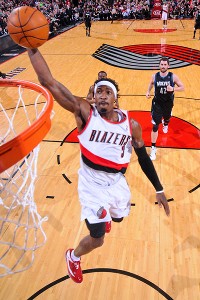 Sam Forencich/NBAE via Getty ImagesGerald Wallace has averaged 13.4 points and 6.3 rebounds during his 11-year career.
Come Wednesday, though, things were looking up. Howard said he wanted to stay in Orlando through this season, but that the Magic were going to have to "roll the dice."
But as of 3:01 p.m. Thursday, the only ones rolling the dice were the Nets.
Acting swiftly following the Dwight debacle, the Nets put a top-three protection on their 2012 first-round draft pick and dealt it -- along with
Mehmet Okur
and
Shawne Williams
-- to the Blazers for combo forward
Gerald Wallace
.
Fan outrage ensued on Twitter.
All season long the Nets had stayed the course. The losses and injuries piled up, yet the philosophy never wavered. The Nets had been accumulating assets and cap space in the event that both Williams and Howard did opt out.
But now, instead of staying patient and developing a roster, they traded a valuable commodity -- a first-round pick which very well could be Nos. 4 or 5 -- for a player like Wallace, who, despite his prowess on both ends of the court, could be on the downside of his career as he approaches his 30th birthday.
Why? To appease Williams? He's leaving for Dallas anyway, fans said via social media. To try to win now and make a playoff run? They can't even stay healthy, fans added.
This was clearly not what they had in mind.
King has done a phenomenal job since taking over the reins at the beginning of last season. He acted boldly to get D-Will. He traded up on draft day to land
MarShon Brooks
. Recently, he plucked a gem named
Gerald Green
out of the D-League.
But this doesn't feel quite like those moves. It feels different.
The payoff could be the playoffs. It could be a five-year, $109 million extension for D-Will. Down the road, perhaps it could even mean a blockbuster for D-12.
Yet there are so many risks. What happens if D-Will and Wallace both walk after the season? Then what? Then they just lost a possible lottery pick for nothing.
During a Thursday night conference call, it became abundantly clear that King didn't want to discuss the future.
He defended the move, saying his team acquired a veteran staring small forward, which it didn't have, and that he'd rather make a playoff run rather than wait to develop a raw talent. (The Nets liked only three players in the 2012 class, sources told ESPN.com's Chad Ford:
Anthony Davis
,
Michael Kidd-Gilchrist
and
Thomas Robinson
.)
D-Will has praised his relationship with upper management and loves all the marketing opportunities he has received since being dealt to New Jersey. He even loves living in New York. But he hates losing. And the Nets have won 18 of the 52 games he has played in since the trade.
In spite of that, though, they're just 4½ games out of the eighth and final playoff spot in the Eastern Conference, so King saw an opportunity to upgrade his roster and take a shot while maintaining flexibility moving forward.
Question is, can a lineup of
Brook Lopez
, D-Will, Brooks, Wallace and a power forward to be named later (like
Kris Humphries
,
Kevin Garnett
or
Ryan Anderson
) win a championship in the future?
Would you take that lineup over the Heat, Bulls or even Magic's right now? Tough to say yes.
Maybe everything works out. Maybe D-Will re-signs in the offseason and the Nets make another run at D-12. Or maybe D-Will leaves the Nets high and dry -- as does Wallace -- and they lose a possible lottery pick for nothing.
There are inherent risks that come with every NBA move. This one carries extreme risk.
July 1 can't come soon enough. Neither can Sept. 28. But who will be on the Nets at that point? That's the question.
March, 15, 2012

3/15/12

5:26

PM ET

By

Mike Mazzeo

| ESPNNewYork.com



The Nets had no intention of trading Deron Williams by Thursday's 3 p.m. deadline -- even if the Lakers offered Pau Gasol -- and they followed through on that.

The Nets still feel confident that they can re-sign Williams in the offseason once he likely opts out of the final year of his contract. Williams has a strong relationship with upper management, and Wednesday night spoke highly of all the marketing opportunities he has been afforded.

Williams is from Dallas, and the Mavericks are expected to pursue him. The point guard, though, has reiterated all season his desire to ink a long-term max deal with the Nets when the team moves to Brooklyn and the $1 billion Barclays Center in 2012-13.



• • •



The Nets had hoped that Dwight Howard would be joining them, but in a stunning decision, the Magic center changed his mind just hours before the deadline and elected to waive his early termination option and stay in Orlando through next season.

ESPN The Magazine's Chris Broussard said on SportsCenter that the Nets were "shellshocked" by the news, and why wouldn't they be? They were hopeful that they'd acquire Howard either via trade or free agency, and form a dynamic duo between him and Williams. The Nets and Magic were talking trade late Wednesday night, ESPN.com's Marc Stein reported. But along the way, Howard had a change of heart and dashed those hopes.

The Nets acted quickly from there. Stein's sources said the Nets' strategy is to stockpile as many draft picks and players as possible, while creating salary-cap space to make a run at Howard or another yet-to-be-determined superstar by the June draft.

But they seemed to steer away from that philosophy by trading Mehmet Okur (injured, $10.9 million expiring), Shawne Williams (injured, $3.1 million player option) and their 2012 first-round draft pick, top-three protected, to the Blazers for small forward Gerald Wallace.

Many fans expressed outrage via Twitter, calling the move risky and brash.

Wallace is a high-motor player who will instantly become the team's best defender, but he's owned $9.5 million this season and has a player option for 2012-13 at the same salary. So it's conceivable that the Nets may surrender a No. 4 pick -- they would be fifth, pending the lottery, if the season ended Thursday -- for a player who can opt out and go elsewhere in the offseason.

But the Nets are banking on the idea that Wallace will make them a better team and appease Williams in helping them win now.

If Brook Lopez, who will become a restricted free agent, can ever get healthy, the Nets could conceivably start him, Kris Humphries ($8 million expiring), Wallace, MarShon Brooks and D-Will and make a playoff push. The Nets will offer an update on Lopez (sprained ankle) on March 23. They are just 4.5 games behind the Bucks and Knicks in the Eastern Conference playoff standings.



• • •



The Nets' only guaranteed salary commitments in 2012-13 are to sharpshooter Anthony Morrow ($4 million expiring), Johan Petro ($3.5 million expiring), Brooks and Jordan Williams.

Jordan Farmar ($4.5 million), Wallace and D-Will have player options.

The Nets are likely to keep emerging high-flyer Gerald Green, who is in his second 10-day contract, for the rest of the season. They'll have to make a decision to keep him or let him go by Sunday. And they could keep him beyond that, given how well he has played since they signed him on Feb. 27.

The Nets still have Houston's top-14 protected first-rounder as well, which may bring a projected salary of around $1.4 to $1.8 million.



• • •



So who will be available in the offseason? More importantly who makes sense?

If they don't bring back Humphries (they have his Bird Rights), free agents Kevin Garnett (unrestricted), Tim Duncan (unrestricted), Michael Beasley (restricted) and Ryan Anderson (restricted) could all be on the market.

Boston may not retain Garnett, so he could make some sense. Would Duncan really leave the Spurs? Probably not. Beasley has a ton of talent and has been rumored to the Nets all season, but there are issues about his maturity and character. Anderson is a young and emerging stretch 4, who has played quite well next to D-12 in Orlando. Perhaps a return engagement would make sense. The pipe dream would be Josh Smith ($13.2 million expiring next season), who had asked for a trade out of Atlanta but didn't get it.

And don't forget, Howard's deal -- at least as of now -- will be expiring again next offseason. It's not like he'll be damaged goods in a year. And the Nets may end up having even more assets to send Orlando's way.



• • •



Funny, the Nets were after Nene in the offseason, but the Brazilian big man wound up re-signing with Denver for five years and $67 million. Now, he finds himself in Washington with the lowly Wizards after he was traded Thursday. Ouch.
March, 15, 2012
3/15/12
3:07
PM ET
By
Mike Mazzeo
| ESPNNewYork.com
The Nets
have agreed to acquire
Blazers forward
Gerald Wallace
in exchange for the expiring contract of center
Mehmet Okur
, injured small forward
Shawne Williams
and their 2012 first-round pick, top-3 protected. The trade has yet to be made official.
WHAT IT MEANS
: The Nets had to go with Plan B. They wanted Magic center
Dwight Howard
. He was their Plan A. But those hopes were shockingly dashed -- for now -- when Howard changed his mind again and officially waived his early termination option, keeping him in Orlando through 2012-13. Point guard
Deron Williams
is likely to opt out, but has expressed his desire to stay with the Nets once they head to Brooklyn next season, assuming they can put the right pieces around him and become a contender. Wallace is certainly a piece that can help appease Williams and dissuade him from leaving, but there is still a lot of work that needs to be done on that end.
WHO'S GERALD?
Wallace, 29, is an athletic 6-foot-7, 220-pounder who can play both forward positions and fill up the stat sheet. He's currently averaging 13.3 points, 6.6 rebounds, 2.7 assists, 1.5 steals and 0.6 blocks in 35.8 minutes per game on 47.2 percent shooting -- including 26.5 percent from 3-point range. But his PER is just 15.55, the lowest its been since 2004-05, his third season in the league. Wallace, a 2010 All-Star and All-Defensive First Team selection, averages 1.3 points per play in transition, third-best in the NBA this season. According to Hoopdata.com, Wallace is slated to make $9.5 million in 2011-12 and has a player option at the same amount for 2012-13.
RISK FACTOR
: Many have considered this a deep draft. If the season ended Thursday, the Nets would have the fifth pick, pending the lottery. So they may wind up surrendering a top-5 pick for a player who makes them a little bit better. Given that Wallace may exercise his option, the Nets could lose $9.5 million in cap space in the summer of 2012.
NET THOUGHTS
: Maybe the Nets don't feel as strongly about this draft as everyone else. Maybe they feel they can make a late playoff push. Maybe they love Wallace and think he can really help them. Perhaps Williams, who has been directly involved in management decisions, wanted Wallace, and the Nets were willing to make the move as a result. It's also possible that their pick becomes top-3 and they end up adding Wallace for next to nothing. And finally, if D-12 becomes available again next season, Wallace is a piece they could move in a deal.
GIVING UP
: Okur and Williams have been major disappointments this season. Williams shot 24.1 percent from 3-point range before going down ith a season-ending foot injury. Okur has been dealing with back problems all season, and hasn't played since Jan. 25.
REMEMBER THIS?
The Nets were willing to give up center
Brook Lopez
and five first-rounders to get Howard in a three-team blockbuster deal that would've sent Wallace to the Magic.
MY TAKE
: Losing Howard is tough. Settling for Wallace is even tougher. He's a solid player and certainly makes the Nets better, but is he enough to convince Williams to stay? There's a lot of risk involved in this move given the quality of the pick they gave up. Ever since GM
Billy King
took over, the Nets have made smart and calculated decisions. Time will tell how this one turns out. There is still a lot of work that needs to be done.