New Jersey Nets:

Golden State Warriors
January, 18, 2012
1/18/12
11:47
PM ET
By
Mike Mazzeo
| ESPNNewYork.com
NEWARK, N.J. --
Wow.
That's the only word Nets coach
Avery Johnson
needed to describe the performance of his starting backcourt following Wednesday night's 107-100 victory over the Warriors at Prudential Center.
"What else is there to say?" Johnson said of
Deron Williams
and
MarShon Brooks
, who combined for 46 points, 16 rebounds and 16 assists while committing just five turnovers as the Nets (4-11) became the last team in the NBA to secure a win on their homecourt (1-4).
"I was finding him, he was finding me. I look forward to doing that," said Brooks, who finished with career-highs of 22 points and six assists to go along with eight rebounds.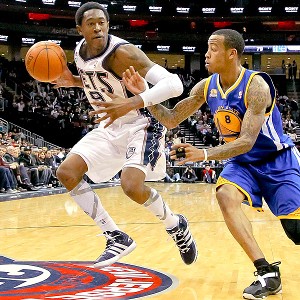 Jim O'Connor/US PresswireMarShon Brooks scored 22 points on 8-for-15 shooting, to go with eight rebounds and six assists.
Williams scored 11 of his team-high 24 points in the fourth quarter and came up two rebounds shy of recording a triple-double.
"Probably," was Williams' reply when asked if this was the best he and Brooks have played together in a single game.
The major difference? They both started hot and stayed hot. The duo combined for 16 of the team's season-high 29 first-quarter points -- 10 more than the Nets' league-worst average -- and 14 of the team's 27 points in the decisive fourth quarter, a final stanza in which the Nets outscored the Warriors by 10.
"They wanted it more," said Warriors coach
Mark Jackson
, whose team fought to the end despite playing its fourth game in five nights.
The Nets have been in that miserable situation before. They tipped off the lockout-shortened 2011-12 campaign by playing six games and eight nights and 10 of their first 14 games on the road -- which included five sets of back-to-backs.
But after coming back from their four-game West Coast trip and getting Tuesday off, the Nets had fresher legs -- and it showed when D-Will and the 22-year-old kid better known as "The Rookie" took over in the fourth.
The Nets trailed 92-87 with 7:39 left, but Williams drained a 3-pointer and hit three free throws after being fouled behind the arc to give New Jersey a lead it would never relinquish. Brooks drained a 3 to give the Nets a 98-94 lead, and Williams scored five of the team's last seven points, capping off an 18-4 run with another 3 that put the Nets ahead 105-96 with 3:26 remaining.
"I just wanted to put in a better effort," said Williams, who had gone 8-for-29 from the field with eight turnovers in his previous two games -- both losses.
"We played with energy and got key stops," said Brooks, who ranks second among all rookies in scoring (15.1 ppg), assisted on three dunks by
Kris Humphries
(18 points, 15 rebounds) and grabbed a key offensive rebound with 19.4 seconds left to seal the deal.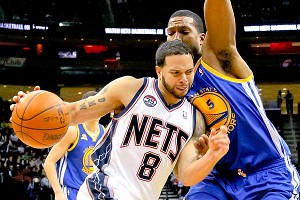 Jim O'Connor/US PresswireDeron Williams, cold from the field all season, shot a healthy 6-for-13.
"We've been telling MarShon [to pass the ball]," Williams joked. "He's been drawing a lot of double-teams and he has to learn to get rid of the ball. [Wednesday night] was a step in the right direction."
Williams has been key in Brooks' development as a basketball player.
"A lot of confidence. That's his best attribute. He's borderline cocky. But that's a good thing," Williams said. "He feels like he can score on anybody, and he doesn't even know how to play the game yet. He's figuring things out slowly but surely."
Brooks took some good-natured heat from GM
Billy King
before the game started, regarding his defense.
"He'll be a good defender if he stays in front of somebody," King said.
"Oh, man, he needs to stop that," Brooks said, laughing.
All the injuries and all the losses have taken their toll on Williams and Brooks. They can't stand coming up short
So on Wednesday night they went out and did something about it.
January, 18, 2012
1/18/12
9:57
PM ET
By
Mike Mazzeo
| ESPNNewYork.com
Recap
|
Box score
|
Photos
WHAT IT MEANS
: It took five tries and came against a Warriors team that was playing its fourth game in five nights, but the Nets finally got their first home win this season. They snapped a three-game losing streak with an impressive 107-100 victory over Golden State on Wednesday night, and improved to 4-11 on the young season.
NICE REBOUND
:
Deron Williams
, who had gone 8-for-29 from the field with eight turnovers in his previous two games, had an efficient night, finishing with a team-high 24 points -- 11 of them coming in the decisive fourth quarter -- 10 assists and eight rebounds.
YEAH, ROOK
: First-round pick
MarShon Brooks
scored a career-high 22 points while adding eight rebounds and six assists. Brooks came up big in the fourth quarter, and a key offensive rebound with 19.4 seconds left to seal the win.
TURNING POINT
: Six straight points from D-Will ignited an 18-4 run that turned a five-point fourth-quarter deficit into a commanding 105-96 lead.
DOUBLE HUMP
:
Kris Humphries
recorded his fifth double-double of the season, finishing with 18 points and a game-high 15 rebounds -- including eight on the offensive end.
STRONG START
: The Nets scored season-high 29 points in the first quarter. They came in averaging a league-worst 19.2 points per game in the opening stanza.
Monta Ellis
drained a 3 at the buzzer to give the Warriors a 31-29 lead after one.
THE HALF OF IT
: Every Nets starter except
DeShawn Stevenson
registered double figures in the first half, as they amassed 55 points -- their highest point total in a first half this season. They shot 51.3 percent in the first half but trailed by one as a result of turning it over nine times. The back-and-forth first half featured 13 lead changes and seven ties.
PLAY OF THE GAME
: Humphries' out-of-no-where block on
Ekpe Udoh
late in the second quarter, which led to a 3 by D-Will on the other end.
STAT OF THE GAME
: The Nets outrebounded the Warriors, 45-25.
UP NEXT
: Nets vs. Thunder, 8 p.m. Saturday.
March, 9, 2011
3/09/11
11:01
PM ET
By
Mike Mazzeo
| ESPNNewYork.com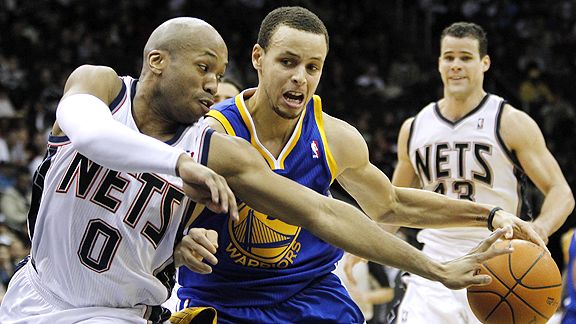 AP Photo/Julio CortezSundiata Gaines (0) didn't give Stephen Curry (pictured) or Monta Ellis room to move.
NEWARK, N.J. -- The New Jersey Nets continue to plan for the future.
Sundiata Gaines
' focus, however, is on the present.
That's typical in the life of any undrafted journeyman playing on a 10-day contract in the NBA, still trying to fulfill his aspirations of finding a permanent home.
There's no time to worry about tomorrow. Only today.
Of course, if Gaines continues to perform the way he has since signing with the Nets on Feb. 28, his dream of inking a long-term deal might someday become a reality.
On Wednesday night, Gaines played the roll of unsung hero yet again, willing the Nets to their first three-game winning streak since Feb. 2009 in a 94-90 victory over the Golden State Warriors at the Prudential Center.
Maybe his stat line -- five points (2-for-6 shooting), a career-high eight assists and four steals in 24 minutes -- didn't stand out the way superstar point guard
Deron Williams
' line usually does. But without Gaines' intangibles -- namely the way he defended
Monta Ellis
(16 points on 7-for-22 shooting) down the stretch -- the Nets would've been 0-for-6 this season when trying to capture three in a row.
"I just wanted to come in and bring energy," said Gaines, who received significant playing time because Williams missed the game to be with his wife for the birth of their fourth child. "Once I got guys going, we started getting back in the flow and playing better. I think I had a solid game."
The Nets didn't necessarily know what they were getting when they brought in Gaines on an emergency basis after backup point guard
Jordan Farmar
sprained his ankle. Gaines, a 24-year-old Queens native who played his high school basketball at Archbishop Molloy and his college hoops at Georgia, had been known for one thing and one thing only: his game-winning 3-pointer that beat the Cleveland Cavaliers when he was a member of the Utah Jazz last season.
Yet Nets coach
Avery Johnson
immediately thrust him into action during the fourth quarter of the Nets' 116-103 triumph over the Toronto Raptors in London on March 5. Gaines responded, sparking the Nets with seven points in the final stanza.
Johnson didn't wait that long to put Gaines in Wednesday night. He couldn't afford to. The Nets' offense was stagnant with Farmar running the show, so they turned to Gaines once again late in the first quarter.
Good decision.
He immediately swiped the ball from
Stephen Curry
at midcourt and raced the other way for an uncontested layup. Then he found
Sasha Vujacic
for a couple of perimeter jumpers, and the next thing you knew, the Nets were up nine, their largest lead of the game.
Gaines -- who had a game-high plus/minus of plus-21 -- wouldn't make his presence felt again until the second half, when he continued to be a facilitator, disrupter and playmaker in Williams' absence. Of course, it wasn't until the Nets' final offensive possession that Gaines showed why Johnson left him in during crunch time.
Aside from helping hold Ellis to just 1-for-6 shooting in the last period, Gaines came up with an out-of-nowhere rebound off a Vujacic miss with 34.6 seconds remaining that gave the Nets a fresh shot clock.
Talk about basketball acumen.
Ultimately, the Nets didn't score and had to come up with a defensive stand at the other end of the floor to survive. Still, Gaines' ability to come up with a critical play at the most critical of times couldn't be understated. Anyone with any knowledge of basketball understood just how big a play it was.
"I think that was my only rebound for the game," Gaines said. "I'm just happy to get an extra possession."
Although Gaines wouldn't admit as much, he must be ecstatic about earning another 10-day contract, which begins on Thursday.
He may not have a nameplate on his corner locker, but he does have more time to make a name for himself. And that's all an undrafted NBA journeyman can ask for.
"Tonight it was Gaines' assists, his four steals, his defense, his leadership," Johnson said. "It was just terrific."