New Jersey Nets:

Jason Kidd
March, 8, 2012
3/08/12
1:29
PM ET
By
Mike Mazzeo
| ESPNNewYork.com
The Nets made
Kenyon Martin
the No. 1 overall pick in the 2000 NBA draft -- and the high-flying power forward out of Cincinnati didn't disappoint.
In four seasons with New Jersey, Martin quickly became a fan favorite, wowing the crowds at Continental Airlines Arena with his acrobatics above the rim. And when he wasn't finishing off emphatic dunks, he was swatting shots on the defensive end.
"My time in New Jersey holds a special place in my heart," Martin said before playing his final game in the Garden State on Wednesday night, as a member of the Los Angeles Clippers.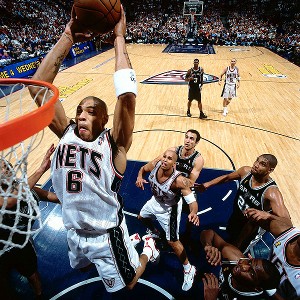 Nathaniel S. Butler/NBAE/Getty ImagesKenyon Martin played above the rim, and the fans loved him for it.
Asked what his favorite memories were when he played there, K-Mart responded, "Being around [GM]
Rod Thorn
, working with [coach]
Byron [Scott]
, and being the No. 1 pick, first and foremost. Two [NBA] Finals runs. Being able to play with a point guard like
Jason Kidd
, arguably one of the greatest point guards of all-time."
Like some of his former teammates, Martin called the Nets' imminent move to Brooklyn, "an unfortunate situation."
"But it's a business," he continued. "Just like it was a business of me leaving, and everything that's transpired here over the years. It's very unfortunate."
Martin never wanted to leave New Jersey. He had just enjoyed the best season of his career in 2003-04, averaging 16.7 points, 9.5 rebounds and 1.3 blocks per game and being named an All-Star. The Nets failed to reach the Finals for the first time in three years, coming up short against Detroit, but Martin figured they'd be back.
The Nets had other plans. They didn't want to commit max money to Martin, and dealt him to Denver in a sign-and-trade.
"Guys like [former owner]
Bruce Ratner
came in and basically destroyed the team," Martin said. "It was a sad day for me, [and] sad day for the Nets of course, but we had to move on unfortunately. We didn't get a chance to revisit going to the Finals again. We had a pretty good team at the time, and we were a couple pieces away I think from really making noise and being crowned champion."
Martin said his most memorable game as a Net was against the Bucks on March 5, 2001, when he recorded his first-career triple-double: 18 points, 15 rebounds and 11 assists.
His favorite dunk is an off-the-backboard, two-handed hammer flush from J-Kidd against the Knicks at CAA. And he loved when the Nets used to take over the Madison Square Garden.
"There was nothing like playing in that city and hearing the crowd cheer for us," he said.
Martin was especially touched by Nets fans when he made his return to New Jersey with the Nuggets on Feb. 13, 2005.
"They showed me love, nothing but love," Martin said. "Everybody had the 'Kenyon Crew' signs up."
Martin said he wouldn't rule out the possibility of returning to the Nets next season.
"I wouldn't mind that if it was a possibility," K-Mart said. "We can always visit it. I can't predict the future, but I wouldn't mind it."
February, 23, 2012
2/23/12
3:51
PM ET
By
Mike Mazzeo
| ESPNNewYork.com
Jason Kidd
won't get the chance to say goodbye to the Garden State this season.
Kidd's Mavericks were supposed to play the Nets in New Jersey on Nov. 9, but the game was nixed because of the lockout.
"It's unfortunate we don't get to go there and close the place," said Kidd -- widely considered the greatest player in the New Jersey chapter of the Nets history -- after Dallas lost to the Knicks at the Garden on Sunday. "But I have a lot of great memories there. We had a lot of success. So I wish them luck in Brooklyn, and unfortunately New Jersey won't have a team.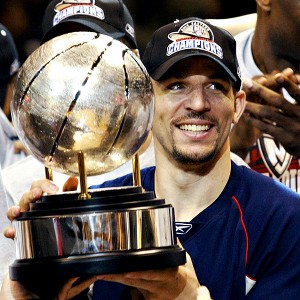 AP Photo/Rusty KennedyJason Kidd led the Nets to their only Eastern Conference titles.
"It's business. That's what it is. That's what it comes down to. Brooklyn will be a great place for the Nets."
During Kidd's six-plus seasons in New Jersey, the Nets, one of the most downtrodden franchises in the NBA, became contenders. In his first season with the team after being acquired in a blockbuster trade from Phoenix in 2001, Kidd led the Nets to a 26-win improvement and their first trip to the Finals, where they lost to the Lakers.
They reached the Finals the following season too, losing to the Spurs.
"To get to the Finals twice and come up short against San Antonio [in 2003] when we thought we had a chance was tough," Kidd said. "We just never could get back there with the pieces they filled in [after
Kenyon Martin
was traded]. I was shipped to Dallas [in 2008] and finally achieved my goal to win a championship [last season]."
Kidd said the Nets moment that resonates with him was his first game in New Jersey -- opening night on Oct. 30, 2001, in East Rutherford -- against Indiana. The Nets trailed by 11 heading into the fourth quarter of that game but wound up winning, and it proved to be the start of something special.
"We only had maybe 3,000 or 4,000 people in the stands," Kidd said. "But they grew after that, and that didn't stop us from playing hard and winning."
Kidd said his favorite pass a Net was his bowling-ball delivery to
Lucious Harris
for a layup in February 2002 against the hated Knicks. Kidd saw Harris streaking to the basket in transition and rolled the ball downcourt with a little curvature for Harris to catch and convert.
"By far that's the best pass," said Kidd, who ranks second in league history with 11,709 assists. "The bowling-ball pass was just creativity, the idea of being able to do it and Lou being able to catch it."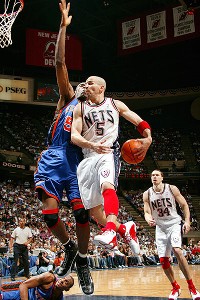 Jesse D. Garrabrant/NBAE via Getty ImagesKidd tormented the Knicks during his Nets career.
Kidd loved beating the Knicks more than anything.
"My record was pretty good against them," Kidd said.
To be exact, Kidd went 23-4 (including playoffs) against the Knicks as a Net, averaging 16.7 points, 9.4 assists and 6.1 rebounds, according to ESPN Stats & Information.
Kidd said the Nets were broken up too early. After their 2004 Eastern Conference finals loss to the eventual NBA champion Pistons, the Nets decided against giving Martin a max contract and dealt him to Denver in a sign-and-trade.
"Unfortunately, they sent K-Mart to Denver for nothing [but draft picks]," Kidd said, "and that's when it just went downhill for us.
"It was business, I guess. In basketball, sometimes the business gets in the way of breaking up a team too early, and the Nets never recovered."
Still, Kidd will always remember his time in New Jersey fondly.
"The fans," Kidd responded when asked what he'll miss the most. "I thought the fans were great, the ones that were loyal, the ones that came and supported us every night win or lose. They were out there, and they got to see some good basketball."
It hasn't been the same since he left.
February, 9, 2012
2/09/12
2:43
PM ET
By
Mike Mazzeo
| ESPNNewYork.com
On Oct. 30, 2001,
Jason Kidd
's debut with the Nets was overshadowed by Game 3 of the World Series and
Michael Jordan
's return to the Garden.
Pistons coach
Lawrence Frank
couldn't tell you that
Roger Clemens
pitched the Yankees past the Diamondbacks that night, or that Jordan's Wizards fell to the Knicks. But, more than a decade later, he can tell you exactly what happened inside Continental Airlines Arena in East Rutherford, N.J.
"To me, where it all started was the first year when we got Jason, on opening night," Frank, a former Nets coach, recalled before Wednesday night's Nets-Pistons game at Prudential Center in Newark.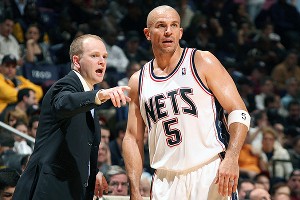 Nathaniel S. Butler/NBAE/Getty ImagesLawrence Frank and Jason Kidd
"We had around 5,600 people here in the stands [close, the official box score said 8,749]. It was during a World Series game, and we're playing the Pacers. We're down 11 heading into the fourth quarter. We put Kidd on
Reggie Miller
and [
Kerry Kittles
] on
Jalen Rose
. They played like Rottweilers and turned the game around and we won the game at the end, and then you just knew it was gonna be a different Nets team."
Prior to the Kidd era, the Nets had made the playoffs just once in a seven-season span. But they acquired the All-Star point guard in a blockbuster trade the day after the 2001 NBA draft, and it took only one game for Frank -- an assistant under
Byron Scott
at the time -- to realize that the Nets had something special brewing.
They trailed the Pacers 79-68 after the first three quarters but outscored Indiana 35-18 in the final period to claim a 103-97 victory behind Kidd's near-triple-double of 14 points, 10 rebounds and nine assists.
The Nets went on to reach the NBA Finals for the first time in franchise history in 2001-02, and repeated the feat in 2002-03.
"It's hard to beat going to the Finals," Frank said. "That's as significant as anything."
Frank got his first chance to be a head coach in the NBA in 2004, after Scott was fired, and wound up winning his first 13 games -- a league record.
"We just focused on one game at a time," said Frank, who was 33 at the time. "And it wound up to the point where we just strung some wins together."
Frank went on to compile a 225-241 record with the Nets, taking the team to the playoffs in each of his first four seasons at the helm. But after failing to qualify for the postseason in the next two years, Frank's 2009-10 squad got off to an 0-16 start, which led to his dismal. That season, the Nets became just the fifth team in NBA history to lose 70 or more games.
Barring some sort of miracle, Wednesday night's game -- a game in which his Pistons ultimately prevailed over the Nets, 99-92 -- is likely the final game Frank will ever coach in his home state. The Nets will move into the $1 billion Barclays Center in Brooklyn next season.
"The building we're playing in isn't the same, so that's different," said Frank, who was raised in Teaneck, still has a house in New Jersey and added that many of his family members still reside there. "But there's so many great memories when you talk about the support the team always had through good times and bad, and just how the franchise turned around with the Jason Kidd trade, and the years of success we had once we made that deal.
"It's time for a new beginning for them, but as a Jersey guy, it's sad that this is going to be the last time. But you never know how it turns out. I was reading that [Newark mayor]
Cory Booker
wants to try to attract another team here, and this is a basketball-rich state with a ton of tradition, not just as the professional level, but in the high school and collegiate ranks, so it's bittersweet."
August, 9, 2011
8/09/11
8:30
AM ET
By
Mike Mazzeo
| ESPNNewYork.com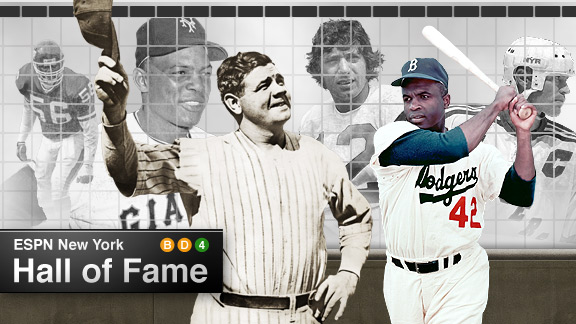 ESPN.com illustration
Vote: Pick the ESPN New York Hall of Fame class | Meet the candidates

In honor of ESPN New York's inaugural
Hall of Fame ballot
, here are my top five Nets:
1. Julius Erving:
The Nets haven't won a championship since he left. That alone makes him No. 1 on our list. They acquired Erving on Aug. 1, 1973, and he proceeded to lead the franchise to its first ABA title in 1974 -- capturing both regular-season and playoff MVP honors. In 1976, "Dr. J" legitimized the dunk contest with his free throw-line slam and led the then-New York Nets to their second ABA title. His No. 32 jersey was eventually retired by the organization and currently hangs in the rafters. Erving played just three seasons in New York but he left a lasting legacy, averaging 28.2 points per game.
Focus on Sport/Getty Images
Julius Erving led the Nets to their only league championships, the 1974 and '76 ABA titles.
2. Jason Kidd:
Kidd did it all for the Nets. He just didn't win a title, which is why we're putting him at No. 2. Kidd led the Nets to two NBA Finals appearances -- only to lose to Shaq's Lakers and Duncan's Spurs -- and was a five-time All-Star during his 6½-year tenure in New Jersey. One of the best pure passers in NBA history, the point guard's contributions to the franchise will never be forgotten. The Nets don't go from a 26-win team to a 52-win team in 2001-02 without him, that's for darn sure.
3. Rick Barry:
The Hall of Fame forward played just two seasons for the Nets but put up big numbers, averaging 29.4 ppg in 1970-71 and 31.5 ppg in 1971-72. Barry was an All-Star both seasons. New York was bounced in the Eastern Division semifinals in 1971 before advancing to the 1972 finals and falling to the Indiana Pacers.
4. Buck Williams:
Williams, who played eight seasons with New Jersey, is the franchise's all-time leader in 11 of 17 categories, including points, rebounds and games played. He also led the Nets to five playoff appearances (1982-86). His No. 52 was retired in 1999.
5. Drazen Petrovic:
Deron Williams may take this spot one day, and perhaps Vince Carter was more deserving. But we honor Petrovic because we wonder what could've been. In two of his three seasons with the Nets, the Croatian marksman averaged more than 20 points per game and shot better than 44 percent from 3-point range. He was named to the All-NBA third team after the 1992-93 season. That summer, he was killed in a car accident in Germany at the age of 28. The Nets immortalized him prior to the start of the 1993-94 season when they raised his No. 3 to the rafters.
June, 13, 2011
6/13/11
6:15
PM ET
By
Mike Mazzeo
| ESPNNewYork.com
I remember thinking it was inevitable: Jason Kidd was going to sign with the San Antonio Spurs.

The Nets were going to get Tony Parker back, which was all well and good.

Parker was a nice player. He just wasn't Kidd.

J-Kidd had meant as much to the Nets' franchise as Dr. J. Probably more.

In just one season after he was acquired in a blockbuster trade with the Suns, Kidd had changed the culture in Jersey.

The Nets had gone from cringe-worthy to contender.

They had become a team to be reckoned with. A team with an identity. A team with a superstar.

But try as they might, the Nets weren't good enough. Nor were they lucky.

They ran into Shaq and Kobe's Lakers and the Duncan, Ginobli and Parker's Spurs.

No one was going to beat those teams. No one.

So it would've made sense for Kidd -- a free agent -- to join forces with Duncan and Ginobli in San Antonio.

And that's why I remember thinking it was inevitable: Jason Kidd was going to sign with the San Antonio Spurs.

Had he done so, it might not have taken him so darn long to win his first NBA championship.

But Kidd decided on July 24, 2003 that he was going to make it harder for himself.

He was going to remain loyal. He was going to remain a New Jersey Net.

"It would have been easy to go to San Antonio and play with Tim Duncan and those guys," Kidd told the Associated Press that day. "I have some unfinished business, and that is to win a championship in this league and win it as a Net. This is the best chance for me to win a championship."

As it turns out, it wasn't. The Nets made one last push in Kidd's first season of his brand-new six-year, $103-million contract.

Once again, though, they ran into another juggernaut: the Detroit Pistons.

Their season ended in the semi-finals. And that was it.

Their core had to be broken up. Kenyon Martin was traded to the Denver Nuggets.

And the Nets haven't been the same since.

They brought in Vince Carter, but it never worked out.

On Feb. 13, 2008, the Nets and Kidd finally parted ways. Everyone thought New Jersey was getting the better end of the deal that sent Kidd to the Mavericks for Devin Harris.

But when it all came down to it, the Nets were starting over. And Kidd was heading to a place where he had an opportunity to get the thing that had eluded him for entire career: a ring.

It took Kidd three years to get it.

Seventeen seasons, really.

The Nets eventually traded Harris to the Jazz along with several other pieces in order to acquire the player they believe can take their franchise to the same heights that Kidd did: Deron Williams.

And months later, on June 12, 2011, the 38-year-old Kidd got his championship.

At this point, Jason Kidd is no longer a superstar. He might even retire.

But at least he'll be able to ride off into the sunset knowing that he was different.

He didn't do the inevitable.

And at the end of the day, he'll always have the respect of everyone in New Jersey.

Come 2012-13, when the Nets move into their new home in Brooklyn, Jason Kidd's jersey doesn't just belong in the Hall of Fame.

It also belongs in the Barclay Center rafters

Because he means as much to the franchise as anyone -- even Dr. J himself.
February, 24, 2011
2/24/11
9:11
PM ET
By
Mike Mazzeo
| ESPNNewYork.com
EAST RUTHERFORD, N.J. -- New York Knicks superstar Carmelo Anthony may have had to change his number, but recently acquired New Jersey Nets superstar Deron Williams is sticking with the same one he wore with the Utah Jazz: No. 8.

"I wore No. 5 in college and I was the third pick in the NBA draft," Williams said as to why he wore No. 8 in the pros (5+3=8). "Plus, Carlos Boozer wore No. 5 when we were together in Utah."

Williams said the Nets would've allowed him to wear No. 5, the same number Jason Kidd wore, but he decided to stick with No. 8.

Although the Nets have not discussed retiring Kidd's number, you would think it will become a distinct possibility following his retirement from the NBA.
January, 22, 2011
1/22/11
9:49
PM ET
By
Mike Mazzeo
| ESPNNewYork.com
Recap
|
Box score
|
Photos
WHAT IT MEANS:
The New Jersey Nets' chances of winning three straight games for the first time since Jan. 31-Feb. 7, 2009, were washed away with one unfriendly roll on the rim.
Dirk Nowitzki
, who was just 7-for-24 from the field, got a fadeaway jumper to fall with six seconds left. And it proved to be the difference in an 87-86 Dallas Mavericks' win on Saturday night over the resilient Nets at the Prudential Center.
New Jersey, which fell to 5-2 with owner
Mikhail Prohkorov
in attendance, is still stuck on 12 wins. The Nets could've won, but they botched their final possession badly and it resulted in
Jordan Farmar
not being able to get his desperation attempt off in time. Nowitzki finished with 24 points to lead the Mavericks (28-15).
STAR OF THE GAME: Brook Lopez
. The 22-year-old center did his usual strong work offensively, finishing with a team-high 24 points on 10-for-15 shooting despite having to sit for much of the third quarter in foul trouble. He only grabbed six rebounds, but that's typical for Lopez at this point of the season. He played 29 minutes.
TURNING POINT:
The Nets trailed 82-75 with 4:43 remaining, but Lopez sparked an 8-0 run with five consecutive points.
Sasha Vujacic
capped the burst with a 3 to make it 83-82 with 2:33 left.
Jose Juan Barea
hit a jumper to put Dallas back in front, but Lopez responded with a a pair of free throws with 1:31 remaining that gave the Nets the lead.
Devin Harris
pushed the New Jersey advantage to 86-84 by splitting a pair at the stripe.
Tyson Chandler
had a chance to tie it, but he only made one of two attempts at the line. Harris airballed a jumper on the Nets' ensuing possession, setting up Nowitizki's heroics.
HUG IT OUT:
Mavericks owner
Mark Cuban
was invited into Prohkorov's luxury suite. No word on what the two billionaires discussed -- or if there was any trash-talking involved.
KIDD RETURNS:
Former Nets great
Jason Kidd
returned once again. He talked a lot about
Carmelo Anthony
and the MeloDrama with the media pregame, then went out and had five points, eight assists and five rebounds in 34 minutes.
CELEB SUMMIT:
At the end of the third quarter,
Kim Kardashian
and "Jersey Shore" star
Snooki
met at midcourt. It was like a dream come true for the paparazzi, who proceeded to snap photos of the duo. The fans in attendance also seemed enamored with the scene.
UP NEXT:
The Nets wrap up their five-game homestand with games against the Cleveland Cavaliers on Monday and the Memphis Grizzlies on Wednesday.
NBA
NHL
COLLEGE BASKETBALL
MLB
MLS