New Jersey Nets:

Jordan Farmar
March, 8, 2012
3/08/12
12:40
AM ET
By
Mike Mazzeo
| ESPNNewYork.com
From the moment the ball left his right hand,
Jordan Farmar
had no doubt. It was going in.
"I would've felt hurt if it went out," the Nets' backup point guard said.
The Nets had already blown an 18-point lead to the Clippers on Wednesday and were in danger of losing their eighth straight game at home. So when Farmar caught an "on-time, on-target" bounce pass from
Deron Williams
and let a wide-open 3-pointer fly from the right wing with less than a second remaining and the Nets down two, almost everyone in the sellout crowd at Prudential Center -- from the players to the coaches to the fans -- desperately needed it to fall.
With 0.2 ticks left, it did. And the building erupted.
Just like that, a 30-point drubbing in Miami the previous evening had been forgotten.
Brick City had upset Lob City.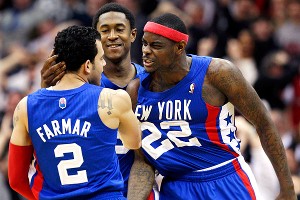 AP Photo/Mel EvansAnthony Morrow and MarShon Brooks celebrate with Jordan Farmar after his game-winning 3-pointer.
"Jordan made probably one of the biggest shots on the court for us this year," Nets coach
Avery Johnson
said after his team prevailed 101-100 over the Clippers and improved to 4-13 at home -- their first victory at The Rock since Feb. 1.
"In this situation at home in front of a great crowd -- we had a big lead at one point -- but the way this win happened was perfect."
Imagine what he would've said if it hadn't.
A little over eight seconds earlier,
Shelden Williams
inexplicably fouled
Chris Paul
(22 points, 10 assists, six rebounds) 30 feet from the basket, and the Clippers point guard drilled a pair of free throws to put Los Angeles in front.
"Chris Paul is just dynamite, man," Johnson said. "He basically got me fired in Dallas, if you remember that playoff series, so I had some bad flashbacks."
But "Why Shelden? Why?!" quickly turned into "Thank goodness for Jordan!"
On the ensuing Nets possession, Johnson ran an isolation play for D-Will, but he was trapped and the ball was kicked out of bounds. The Nets got the ball back to their All-Star point guard again and he was thinking about driving, but saw Paul cheating over to help.
Farmar was open. So D-Will fed him the ball -- and Farmar did the rest.
"That was a huge shot from deep," said Williams, who finished with 21 points, 10 assists and six rebounds and improved to 13-4 vs. Paul in his career. "He had ice in his veins."
"I had just passed one up," Farmar said. "I told myself if I get another shot, I'm gonna make sure I shoot it."
He did. He made it, too.
"They were cheating a bit and taking [Deron's] space away. He had to bounce it, and he put it in the perfect spot," Farmar said. "I was a little deep, but I just wanted to keep an eye on the rim and stay with my follow-through."
The Nets held an 80-71 lead entering the fourth quarter, but it quickly evaporated because they couldn't buy a bucket. In all, they went 3-for-16 in the final period after shooting a scintillating 58.3 percent in the first half, but made 14 of 18 free throws to stay in it.
And when it was all said and done, they finally gave their fans something to cheer about.
"The Clippers drew a big crowd. It was a home-court environment. It felt like a big game. It was fun to play in." Farmar said. "When it's dead in here and there's not that many people in the crowd, it gets tough at times -- especially when we don't play well, it's hard to keep that energy to get back in the game. But it was a full crowd, the game was going back and forth, and it was fun to be a part of."
"This is the best our fans have been in a long time, and they're definitely part of the win," D-Will added.
Jay-Z
and his over-the-top gold chain, Giants wide receiver
Victor Cruz
, right tackle
Kareem McKenzie
and kicker
Lawrence Tynes
, and Ravens running back and Rutgers product
Ray Rice
were all sitting courtside.
And they were treated to a dandy.
The third quarter alone featured 11 straight points by D-Will, three dunks by
Blake Griffin
(28 points, 17 rebounds) -- including a two-handed alley-oop flush and a baseline reverse throwdown -- and one ridiculous rejection by
Kris Humphries
to prevent another Griffin oop.
"I needed that," said Humphries, who played physical inside with Griffin all night and both were assessed technicals with 9:08 left in the third. "He snuck one by me at the rim earlier [on the reverse]. It felt good. I think we fed off that and just kept it going."
The Nets are 13-27, but they've beaten Philadelphia in Philadelphia, New York in New York, Chicago in Chicago, Dallas in Dallas and now the Clippers in New Jersey and trail the Knicks by 5½ games for the eighth and final playoff spot in the Eastern Conference with 26 contests remaining. They may be decimated by injuries, but it didn't matter on Wednesday night.
Shelden Williams -- inserted into the starting lineup after
Brook Lopez
sprained his ankle, causing him to miss at least three weeks -- gave them 15 points, 10 rebounds and a 9-for-11 performance from the free throw stripe.
MarShon Brooks
-- despite foolishly fouling
Randy Foye
on a three-point play that knotted the game at 98 -- poured in 19 points. Humphries added 12 points and 11 rebounds, while Farmar contributed 16 of the team's 34 bench points -- and the biggest shot of the game, if not the season.
"I've been on the bench. I haven't been in game-winning situations too much," Farmar said. "I'm just happy I got the opportunity and it went through for me."
February, 24, 2012
2/24/12
10:51
AM ET
By
Mike Mazzeo
| ESPNNewYork.com
Call it a "process." Call it a "Dwightmare." Call it "the end of an error." Call it whatever you want. The point is, the Nets' final season in New Jersey has been an utter disaster.
Decimated by injuries, a lack of continuity and a flawed roster, the Nets have struggled mightily in the first half of the season, and enter the All-Star break with a 10-25 record -- third-worst in the Eastern Conference. Brooklyn is the Nets' destination next season, but the future remains uncertain. Will
Deron Williams
stay? Will
Dwight Howard
end up with the Nets via trade or free agency?
For now, coach
Avery Johnson
isn't concerned. Most nights he doesn't even know who he's going to start. Consider: The Nets have used 17 different starting lineups this season -- more than any other team in the NBA. Also consider: The Nets have been plagued by poor starts all season, and are 4-19 when trailing after the first quarter. Oh, and they've struggled to a 3-13 record at the Prudential Center.
Now on to the grades.
Check them out here
.
February, 1, 2012
2/01/12
11:51
PM ET
By
Mike Mazzeo
| ESPNNewYork.com
The Nets had just eight healthy players going into Wednesday night's game -- and they needed every one of them to eke out a 99-96 victory over the flailing Pistons at Prudential Center.
"We went out there before the game and went into our little huddle, and I was like, 'Where's everybody at?'" said
Deron Williams
, who had 18 of his game-high 26 points in the second half, shot 12-for-21 from the field and added nine assists in 43 minutes.
"And they're like, 'This is it.' It's kind of hard to do layups before the game. You get tired because you're just running around and around."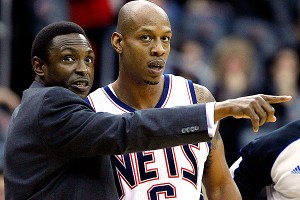 AP Photo/Julio CortezAvery Johnson had to put newly signed Keith Bogans to work immediately.
The Nets (8-15, 3-6 home) were supposed to have nine healthy players --
Johan Petro
was already ruled out with flu-like symptoms -- but about an hour before tipoff,
Anthony Morrow
was scratched with a sore left ankle.
Just like that, they were down to eight. And if you count
Keith Bogans
-- who hadn't played a game all season prior to being signed by the injury-depleted Nets on Wednesday after working out for the team on Tuesday -- it was more like 7¼.
"I told them they were the Great Eight," coach
Avery Johnson
said. "We normally give a set of nets to the guy that's most valuable player of the game, but we kind of cut it up in eight pieces tonight, because each one of them deserved it. Everybody contributed."
Johnson wasn't kidding.
• The Nets needed D-Will's first and only 3-pointer of the game with 4:47 left that put them up 93-88, along with his tenacious defense on Detroit's final possession, which ended with
Brandon Knight
missing a jumper from downtown that would've tied the game.
• They needed all 14 points
Kris Humphries
scored in the second half -- including the pair of free throws he knocked down with 5:22 remaining that put them ahead to stay.
• They needed all 11 points
Shawne Williams
scored in the second quarter.
• They needed all seven rebounds
Shelden Williams
grabbed in the first quarter.
• They needed all eight points
Jordan Farmar
scored in the fourth quarter.
• They needed all eight points
Sundiata Gaines
scored in the third quarter.
• They needed each and every one of
Jordan Williams
' career-high nine points and eight rebounds in a career-high 21 minutes.
• And perhaps most importantly of all, they needed Bogans' layup with 1:17 left -- his first two points as a Net and his only two points of the night -- that gave the team a 98-92 lead.
Bogans wasn't even close to being in game-shape. He didn't even know what town he was staying in after the game ended. After all, he'd been chilling in Orlando for the first third of the NBA season, waiting for a call.
But when the Nets had to have a basket, Bogans cut to the rim, and D-Will found him for a deuce.
"We hadn't had a cut like that to the basket all year," Johnson said.
"I just saw guys standing around, saw Deron with his back to the basket. He's been telling guys to cut all game, so I did, and he hit me," said Bogans, who ended up playing 17 minutes -- five more minutes than Johnson wanted to play him.
Ultimately, the Nets barely beat a 4-20 Pistons squad that has lost seven straight and became the first team in the NBA this season to lose all three games of a back-to-back-to-back stretch.
But the Nets were playing with just eight healthy players, so they'll take it.
Brook Lopez
remains out with a broken right foot.
Damion James
won't be back for the rest of the season after undergoing right foot surgery. Rookie
MarShon Brooks
is out indefinitely with a broken toe and was seen wearing a walking boot out of the team's locker room.
DeShawn Stevenson
will miss at least the next two weeks with a right knee injury. And
Mehmet Okur
won't return until late this week or perhaps early next week due to a sore lower back.
The Nets have obviously had plenty of reason to make excuses this season, from an assortment of injuries to a lack of continuity to a lack of talent. On Wednesday night, they went with their 12th different starting lineup in their first 23 games.
They nearly blew a 12-point lead, but managed to win the rebounding battle 44-31 while holding the Pistons to 5-for-18 from 3-point range. And when the final buzzer sounded, they walked off the court with a win, something that had eluded them in their previous two games.
"If you wanna be a good team, you gotta win the ones you're supposed to," said D-Will, who had his midrange fadeaway jumper going all night long and is now averaging 29 points and 8.6 assists in his last five games.
"They had a couple of key guys out as well. It was an important game for us at home, where we've been struggling so much, and this is a team that's been struggling, so we had to take advantage of that."
They did. And now they'll get some rest.
After playing 14 of their first 22 games on the road, the Pistons game started a stretch of six of eight at home -- a place where the Nets have struggled.
They took care of business there on Wednesday night, though, and they're going to have to continue to do so if they want to stay in the playoff hunt.
December, 18, 2011
12/18/11
11:30
AM ET
By
Mike Mazzeo
| ESPNNewYork.com
Continuing through Dec. 23, ESPNNewYork.com will run a series called "Christmas Countdown" examining a hot topic each day that involves the New Jersey Nets.
Today's Hot Topic:
Backcourt breakdown
Last season, only one player in the NBA averaged 20 points and 10 assists per game:
Deron Williams
.
Nets GM
Billy King
pulled off a blockbuster trade so that Williams could anchor his team's backcourt.
The superstar point guard can do it all, from finding an open teammate to finishing at the rim off dribble-drive penetration. He's also capable of playing tenacious defense when he wants to. And most importantly, he's healthy coming off offseason surgery on his right shooting wrist.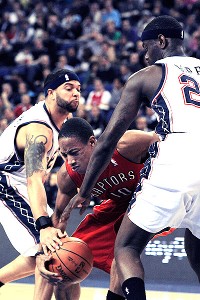 AP Photo/Tom HeveziDeron Williams (left) and Anthony Morrow will be the Nets' starting backcourt.
Joining Williams in the Nets' starting backcourt this season will be
Anthony Morrow
, the second most-accurate 3-point shooter in league history (.465). Only former Bull
Steve Kerr
has a better 3-point field goal percentage than Morrow, who briefly surpassed Kerr for the honor in 2010-11.
Morrow isn't a great defender by any means, but he has the uncanny ability to make shots in crunch time, and opposing defenses won't be able to key in on him late in games because the Nets will also have long-range threat
Shawne Williams
on the floor as well.
The Nets finished 28th in points per game last season, so they'll be looking to rookie
MarShon Brooks
to provide a scoring spark off the bench. Brooks was the second leading collegiate scorer in the nation at Providence last year, and coach
Avery Johnson
wants the 22-year-old to be aggressive -- even at the expense of hoisting up some bad shots.
Brooks loves to create off the dribble and has a potent fadeaway jumper from about 15 to 20 feet. Like Morrow, his defense still leaves much to be desired, but he's young and if there's anybody who can help him improve on the defensive end, it's Johnson.
Jordan Farmar
and
Sundiata Gaines
will serve as the team's backup point guards behind Williams. Farmar or Gaines may also play with Williams on occasion, allowing the two-time All-Star to shift over to the two-guard spot and operate off screens without the ball in his hands. Farmar needs to improve his shot selection, while for Gaines, it's all about consistency.
Johnson was pleased that all three of his point guards played overseas during the lockout, and feels like they'll be ready to play from the start of the 2011-12 campaign.
Given the uncertainly at power forward, there's no question that the guard spot is the Nets' deepest position right now.
March, 12, 2011
3/12/11
1:57
AM ET
By
Mike Mazzeo
| ESPNNewYork.com
NEWARK, N.J. -- The New Jersey Nets have looked like a different team since their two-game London trip. They're making clutch plays, playing as a confident and cohesive unit, and winning basketball games. Close basketball games.
And lately, they've been doing it without their best player.
New Jersey rallied from a 20-point deficit topple the Los Angeles Clippers 102-98 in overtime on Friday night, in front of a sellout crowd at the Prudential Center. The Nets have won four in a row for the first time since Jan. 31-Feb. 7, 2009. And they won the last two without All-Star point guard
Deron Williams
, who is in Dallas with his wife after the birth of their fourth child.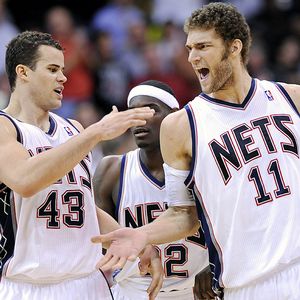 AP Photo/Bill KostrounKris Humphries, Brook Lopez and the Nets are only three wins away from doubling last season's total.
"Our confidence is higher now," power forward
Kris Humphries
said. "I think we're getting more efficient offensively. We were able to bounce back from our awful first half. And potentially we're getting our best player, Deron, back into the mix. We're just trying to move forward and finish this year strong and see where we're at."
Right now, the Nets (21-43) find themselves just 5½ games back of the Indiana Pacers (27-38), who lost their sixth straight game Friday night, for the eighth and final playoff spot in the East with 18 games to play. And while it seems outlandish to believe the Nets will catapult past the three teams ahead of them to catch the Pacers, it's not out of the realm of possibility.
Granted, it seemed that way Feb. 28, following a 104-103 overtime loss to the Phoenix Suns, which dropped the Nets to 26 games below the .500 mark. That Nets team couldn't find a way to notch the W. In fact, that Nets team lost six in a row.
Then they went to London. And they haven't lost since.
"The London trip really brought us all together, getting us away from here for a while," point guard
Jordan Farmar
said. "It was us against the world out there and we spent a lot of time together and just got to know each other."
Behind Farmar and
Travis Outlaw
, the Nets rallied in the third quarter Friday, outscoring the Clippers 31-16. They ended up shooting 65 percent in the stanza, and followed that up by staying right with Los Angeles in the fourth quarter. In all the Nets shot 60 percent in the second half, while getting a fortuitous bounce when
Blake Griffin
missed a free throw with 1.2 seconds left in regulation that would've allowed the Clippers to win.
Instead, the two teams headed for overtime and an eventual Nets victory. Emerging center
Brook Lopez
(24 points, seven rebounds) scored the first four points on interior buckets for the Nets, while Farmar had the final four, including a key 3-pointer with 2:27 remaining that gave his team a 101-96 lead it wouldn't relinquish. Humphries, who finished with 19 points and a career-high 20 rebounds, ended up drawing two critical charges on Griffin in overtime, which helped push the outcome in the Nets' favor.
"We're a pretty gutsy team," Nets coach
Avery Johnson
said. "We've been in two triple-overtime games this year. And the guys just never really quit.
"I just told them I was really disappointed with in the first half. And I didn't have a smile on my face either. But they bounced back and rose to the challenge."
Farmar was scoreless in the first half, but finished with 24 points and seven assists.
"What a second-half performance from Jordan," Johnson said. "He had a really good performance against the Clippers and he really came through. Brook was really big for us down the stretch, demanding the ball and making strong moves, and what can you say about Kris Humphries? Nineteen and 20. Wow."
"Wow" is just about all you can say for the Nets since that Jan. 28 loss. They're 4-0 and scoring 112.3 points per game (inflated by two overtime contests, of course). And they've won their last three games by a combined nine points.
"It shows our growth as a team," Farmar said. "There's no way earlier in the year we win this game; it would've been too hard for us to get back. But we've grown a lot as a group. Just this momentum is carrying and it feels good."
Sellout crowds? Comebacks? Close victories?
Will it be enough for the playoffs? Who knows.
But right now, there's no question about it: The New Jersey Nets have looked like a different team ever since they went to London.
March, 11, 2011
3/11/11
9:51
PM ET
By
Mike Mazzeo
| ESPNNewYork.com
Recap
|
Box score
|
Photos
WHAT IT MEANS:
All-Star point guard
Deron Williams
can stay in Dallas for all the New Jersey Nets care. All right, that's just a joke. Granted, the Nets didn't need Williams again on Friday night as they rallied from a 20-point deficit to down the Los Angeles Clippers 102-98 in overtime in front of a sellout crowd -- the team's second all season -- at the Prudential Center. New Jersey (21-43) has now won four consecutive games for the first time since Jan. 31-Feb. 7, 2009. The Nets also won both of their games without Williams, who stayed at home while his wife gave birth to their fourth child on Wednesday afternoon. Meanwhile, the loss by the Clippers (25-41) snapped their four-game winning streak.
THE DIFFERENCE:
The Nets scored the first four points of overtime -- courtesy of a pair of interior buckets by
Brook Lopez
-- and seven of the first nine to open up a five-point lead, 101-96, after
Jordan Farmar
drained a 3-pointer with 2:27 left in the extra session. Eventually, the Clippers sliced that deficit to within three after
Blake Griffin
got a layup. They even had a chance to tie late, but
Mo Williams
' 3-pointer clanged off the back rim with 13.8 seconds remaining and Farmar split a pair at the stripe with 11.2 seconds left to make it a two-possession game, 102-98, and effectively end it.
AND WE'RE TIED:
The Nets thought they were going to emerge with a victory in regulation after Lopez got an up-and-under layup to go with 3.8 seconds left. However, on the Clippers' ensuing possession Griffin took the ball hard to the rim and was fouled trying to dunk with 1.2 seconds left. Had he made both, Los Angeles would've left with a win. But he didn't, missing the back end of a pair of free throws that sent the game to overtime tied at 94-94.
TURNING POINT:
The Nets trailed by as many as 20 in the first half, but rallied from a 14-point deficit in the third quarter, outscoring the Clippers 31-16 to take a 68-67 lead into the fourth. They scored 22 of the first 28 points of the third, taking their first lead since the 7:43 mark of the first when Farmar converted a layup to make it 59-57 with 4:50 remaining in the quarter. New Jersey shot 65 percent in the period.
MR. PERFECT:
Most of the fans in attendance came to see Griffin -- and he certainly put on a show. But so did
Kris Humphries
. He posted 19 points and career-high 20 rebounds while shooting a perfect 8-for-8 from the field and 3-for-3 from the foul line. He didn't hold Griffin to 11 points like last time, when the teams played in Los Angeles -- Griffin got 23 and nine in this one -- but Humphries basically outplayed him for much of the evening.
STEPPING UP:
Farmar made up for Williams' absence in a big way, tying Lopez with game-high 24 points. Farmer didn't have any in the first half, but notched 20 in the second half on 8-for-10 shooting and 4-for-5 from 3-point range. And, of course, his 3-pointer in the extra session proved to be the difference.
NUMBER CRUNCHING:
The Nets shot just 26.1 percent in the first quarter, 35.7 percent in the first half. However, they turned it up a notch in the second half, converting on 60 percent of their field goals.
HAMMERTIME:
Griffin had five dunks -- all of them of the emphatic, SportsCenter highlight-reel variety. His two best came in the first quarter: a left-handed alley-oop flush in transition and a breakaway throwdown in which his entire right arm looked like it was above the rim before he finished.
UP NEXT:
No reprieve for the Nets, who have to welcome the Boston Celtics to the Prudential Center on Monday night. Of course, New Jersey should have Williams for that matchup. Head coach
Avery Johnson
has said he expects his 26-year-old All-Star to be back on Saturday.
January, 8, 2011
1/08/11
9:37
PM ET
By
Mike Mazzeo
| ESPNNewYork.com
Recap
|
Box score
|
Photos
WHAT IT MEANS:
One of those closed-door, players-only meetings is in order. Some accountability would be nice. And that
Carmelo Anthony
blockbuster trade needs to get done.
Now
. Not in a day, a week, a month. Now! Because, right now, the New Jersey Nets are a bad basketball team.
As if that wasn't painfully obvious before.
The Nets put up their second clunker in as many nights, getting obliterated by the Milwaukee Bucks, 115-92 at the Prudential Center on Saturday. Other than a couple emphatic dunks by rookies
Derrick Favors
and
Ben Uzoh
, there were no positives the Nets could take away from the blowout. Their defense, which allowed the Bucks to shoot 58.3 percent from the floor, was atrocious. As was
Brook Lopez
(five points, one rebound) They brought no energy. They were out-hustled. And that's not going to make head coach
Avery Johnson
happy -- especially considering his favorite football team, the New Orleans Saints, were eliminated from the playoffs.
New Jersey (10-27 overall, 7-10 home) clearly missed injured point guard
Devin Harris
, who sat out with a right quad contusion. His 16.6 points, 6.8 assists and consummate professionalism and leadership were sorely missed on the court.
TURNING POINT:
The first quarter. All 12 minutes of it. That's all it took for the game to be decided.
The Nets trailed 28-15 at the end of the opening stanza. The reason? Where do we start. First off, they couldn't make shots. They made just seven of 20 attempts from the field. Second, they allowed the NBA's worst offense to shoot 62.5 percent. And finally, Lopez was nonexistent. Despite the absence of Bucks center
Andrew Bogut
from the lineup, the 22-year-old center went just 1-for-3 from the floor with no rebounds in 9 minutes, 27 seconds of action in the first quarter.
The Nets ended up cutting a 15-point deficit to seven late in the second quarter, only to see
Earl Boykins
knock down a 3 and follow a
Kris Humphries
jumper with one of his own to make it a 55-45 Bucks lead at the half. The Nets never got within single digits again the rest of the way. Milwaukee started the third quarter on a 12-2 run to take a 20-point lead. That's when the boos started. They didn't stop. The fans who paid to witness this one in-person deserve their money back. And those that were watching on television probably turned on the Jets-Colts game. For the record, it got to as bad as 26.
STAR OF THE GAME:
Normally in an outcome like this, the home team doesn't deserve one. But Humphries quietly put up a team-high 22 points and eight rebounds off the bench. Backup point guard
Jordan Farmar
also deserves praise. He put up 20 points and added a game-high 10 assists while starting in Harris' place.
UP NEXT:
A flight to the left coast. The Nets went 1-3 in their first trip out west. They'll try to at least equal that record during their second one -- another four-gamer -- which begins in Phoenix against the Suns on Wednesday. The Nets are a lowly 3-17 away from The Rock.
December, 11, 2010
12/11/10
7:51
PM ET
By
Jared Zwerling
| ESPNNewYork.com
Nets vs. Lakers: 1 p.m. Sunday
Nets coach
Avery Johnson
realizes the Lakers aren't playing great lately -- they're 5-5 in their last 10 games -- but he knows the two-time defending NBA champions present a lot of problems for New Jersey on Sunday afternoon at the Prudential Center.
"The obvious are
Kobe [Bryant]
and
[Pau] Gasol
," Johnson said after the Nets' Saturday practice. "Right now, I think
Steve Blake
has been a nice addition for their team, shooting the three awfully well.
[Derek] Fisher
and
[Ron] Artest
are terrific defenders.
Lamar Odom
is one of the best versatile players in the league. We've got to play well to win any game, and definitely tomorrow."
Fortunately for Johnson, he has been able to consult with Nets point guard
Jordan Farmar
, a Laker for four seasons, to learn more about the purple and gold's tendencies.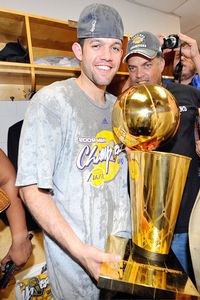 Jesse D. Garrabrant
Getty Images
Jordan Farmar was a member of two Lakers championship teams.

"He has obviously given us some of the things the Lakers like to do," Johnson said. "But guess what? Everybody in the league knows what they like to do, and you still have to stop them."
So what has Farmar relayed to Johnson about the Lake Show?
"They're a good team and you have to go out there and compete -- make them work on both ends of the floor, make them try to take tough shots, and get out and run," Farmar said. "The scouting report is pretty simple. They just dump the ball into Pau, they space the floor and just play basketball. We have to really work on our individual defense, helping each other out and try to get some stops."
With
Devin Harris
a game-time decision with a bruised left shoulder, Farmar could start for the third time in six games -- a role in which he's flourished. In his previous two starts, Farmar averaged 22 points and 9.5 assists, and he's scored in double figures in six straight games.
Farmar's veteran mentor, Harris, has been most impressed with his basketball IQ and knowledge of the game. "He's also a fighter," Harris said. "He's a very scrappy player and he's actually taught me a few things about the game."
If Farmar does get the call Sunday, Johnson is prepared to make the adjustments.
"Jordan is a little bit different defensively than Devin is, especially on the ball," Johnson said. "Everybody has strengths and weaknesses. Jordan is an awfully good shooter, and we just have to play to his strengths."
Nets notes:
• Johnson said rookie
Damion James
tweaked his right foot against the Mavericks on Thursday. While the team awaits the results of an MRI, Johnson said James is a game-time decision for Sunday. Johnson he will consider starting
Quinton Ross
or
Stephen Graham
at small forward;
Travis Outlaw
will continue to come off the bench.
• Johnson on what he took away from the team's strong third quarter against Dallas, when they outscored the Mavs 29-24 and cut the deficit from 20 to five: "We were on our heels a little bit early in the game, and after watching the film, we started executing our defensive game plan and system better in the third quarter. We put more pressure on them, we rotated. Early in the game, our rotations were slow. We're a team that's probably only playing about 18 good minutes of basketball. You can't win in this league doing that. The really good teams, like Dallas, Boston, Utah, are playing somewhere around 36 to 38 minutes of good basketball. So we have a long ways to go."
• Johnson on Kobe vs.
Michael Jordan
: "Kobe's up there. He can arguably be one; in some polls, he'll be two. He can be 1A and Jordan can be 1B, or in some polls they'll be flipped. Fortunately, I had a chance to play against both of them and now coach against Kobe and, boy, sometimes he looks like the same player."
• Farmar on how good Bryant is: "Very good (laughs). He's the best in the league, absolutely. I've never seen anything like him. He can do everything very well. It doesn't matter if it's single coverage -- you can play good defense and he still makes the shot -- or you double team and he still makes shots. And if he decides to take the game over by passing, he has the ability to do that as well. He's just a competitor. His will to win is amazing. The list goes on and on."
You can follow Jared Zwerling on Twitter.