New Jersey Nets:

Kris Humphries
December, 19, 2011
12/19/11
9:00
AM ET
Continuing through Dec. 23, ESPNNewYork.com will run a series called "Christmas Countdown" examining a hot topic each day that involves the New Jersey Nets.

Today's Hot Topic: Forwards, march (!)

The Nets may have rid themselves of Travis Outlaw and his four-year, $28 million albatross via the amnesty clause, but they still have plenty of issues to address at forward.

Consider: As of Monday -- a week before the team's season opener in D.C. -- their projected starters at the 3 and 4 spots are second-year pro Damion James and veteran journeyman Shelden Williams.

Try to name a worse starting forward tandem in the NBA. You'd be hard-pressed to find one.

Williams is a solid rotation big man who possesses the intangible qualities NBA coaches love -- in bench players. The Nets clearly need to upgrade at power forward, but the prevailing thought is that they want to wait and see if they can land Orlando center Dwight Howard before the season begins. They currently have $18.9 million in cap space, so they have the ability to take on the bloated contracts of Hedo Turkoglu and Chris Duhon.

Kris Humphries appears to be their fallback option if they can't meet the Magic's steep demands for their franchise player. Humphries is coming off a career season in which he averaged a double-double in New Jersey, and he may have to settle for a short-term deal in an effort to prove he's not just a one-year wonder. If Humphries is agreeable to signing a one-year pact, he'd be eligible to be dealt on March 1, and could serve as an expiring contract in a Howard blockbuster. Andrei Kirilenko was allegedly another option -- and the Nets have spoken highly of him -- but he's hurt and may stay and play in his native Russia.

In the offseason, the Nets contemplated moving 23-year-old Brook Lopez from center to power forward, but had to abandon those plans after failing to score Tyson Chandler or Nene in free agency.

As for the small forward spot, James will likely get the starting nod due to his defensive prowess. He's probably the Nets' best wing defender given his size and strength, and did an admirable job guarding Carmelo Anthony on Saturday afternoon, holding the Knicks swingman to 7-for-15 shooting. Coach Avery Johnson has said James is going to be every opportunity to try and contain the hybrid forwards that caused so many nightmares for the Nets last season.

Behind James is ex-Knickerbocker sharpshooter Shawne Williams, who connected on 40.1 percent of his 3-point attempts in 2010-11.

Stephen Graham sits third on the small forward depth chart, but he's an offensive liability and his $1.1 million salary is only guaranteed unless he makes the team out of camp. And then there's Ime Udoka, whose contract is also unguaranteed.

As for the wildcard, it's Dennis Horner, an NBDLer who made quite an impression in his NBA debut. And then there's second-round pick Jordan Williams, who hasn't been able to practice recently due to dehydration issues. The 21-year-old was a tremendous rebounder at Maryland, but he's still acclimating himself at the NBA level.

There's no question forward is the Nets' weakest position, and one that needs to be improved immediately.
February, 23, 2011
2/23/11
3:18
PM ET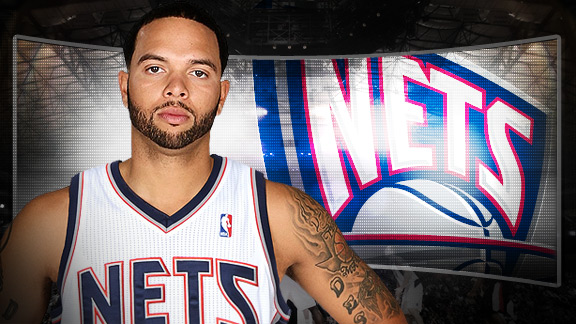 ESPN.com Illustration
EAST RUTHERFORD, N.J. --
Brook Lopez
and
Kris Humphries
would be remiss if they said they weren't going to miss
Devin Harris
and
Derrick Favors
. But they know, just like everyone else does, the NBA is a business.
"It's tough to see them go. Devin and I are good friends," Lopez said after the New Jersey Nets pulled off a blockbuster deal, sending Harris, Favors and two first-round picks to the Utah Jazz in exchange for superstar point guard
Deron Williams
. "But the league's a business and it was a business decision. I know the team is definitely excited to play with Deron."
"I didn't get a chance to say bye or anything," Humphries said. "I came out on the court this morning and saw [Favors]. I figured he was with us. And then he got traded and they told me that. I think a few guys got say bye to him. It's part of the business. I think he'll handle it well. I've also been traded a few times. So you kind of get used to it and know it's something that comes along with being an NBA player."
Despite having mixed emotions about the deal, both Lopez and Humphries are elated that they're going to be able to play alongside Williams on a nightly basis. The 26-year-old All-Star is averaging career-high 21.3 points to go with his 9.7 assists per game.
"I think he's a little different player than Devin was," Lopez said. "He's definitely a great player and I think he's gonna help us. I'm not making predictions going forward, but it'll be nice to have him with us. He's had a lot of winning experience in Utah, and that goes a long ways. I'm excited to get to know him and I'm sure we'll match very well pick-and-roll wise and get to know each other on the court pretty quickly."
Said Humphries: "He gets mentioned as the first, second- or third-best point guard in the league every year. So I think that he's going to bring us a lot. He's shown that he's a winner. And hopefully, we finish the year up strong and he's our leader."
While the Nets made a splash in the short-term, the one caveat to making this trade successful in the long-run is if they are able to convince Williams to sign a multiyear extension. His contract expires at the end of the 2011-12 season, and at that point, if he doesn't opt out of the final year of the deal, he will become an unrestricted free agent.
New Jersey cannot attempt to extend him until July 9, 2011, under the current CBA. That accord expires on June 30, and general manager
Billy King
said a pact with Williams cannot be reached until a new CBA is in place.
Lopez says the only way the Nets can convince him to stay long-term is by playing winning basketball.
"I think we just gotta sell the team on the court. That's the bottom line," Lopez said. "I can say whatever I want, but whatever happens in the next 25 games or so, is really gonna have the most effect."
January, 8, 2011
1/08/11
9:37
PM ET
Recap
|
Box score
|
Photos
WHAT IT MEANS:
One of those closed-door, players-only meetings is in order. Some accountability would be nice. And that
Carmelo Anthony
blockbuster trade needs to get done.
Now
. Not in a day, a week, a month. Now! Because, right now, the New Jersey Nets are a bad basketball team.
As if that wasn't painfully obvious before.
The Nets put up their second clunker in as many nights, getting obliterated by the Milwaukee Bucks, 115-92 at the Prudential Center on Saturday. Other than a couple emphatic dunks by rookies
Derrick Favors
and
Ben Uzoh
, there were no positives the Nets could take away from the blowout. Their defense, which allowed the Bucks to shoot 58.3 percent from the floor, was atrocious. As was
Brook Lopez
(five points, one rebound) They brought no energy. They were out-hustled. And that's not going to make head coach
Avery Johnson
happy -- especially considering his favorite football team, the New Orleans Saints, were eliminated from the playoffs.
New Jersey (10-27 overall, 7-10 home) clearly missed injured point guard
Devin Harris
, who sat out with a right quad contusion. His 16.6 points, 6.8 assists and consummate professionalism and leadership were sorely missed on the court.
TURNING POINT:
The first quarter. All 12 minutes of it. That's all it took for the game to be decided.
The Nets trailed 28-15 at the end of the opening stanza. The reason? Where do we start. First off, they couldn't make shots. They made just seven of 20 attempts from the field. Second, they allowed the NBA's worst offense to shoot 62.5 percent. And finally, Lopez was nonexistent. Despite the absence of Bucks center
Andrew Bogut
from the lineup, the 22-year-old center went just 1-for-3 from the floor with no rebounds in 9 minutes, 27 seconds of action in the first quarter.
The Nets ended up cutting a 15-point deficit to seven late in the second quarter, only to see
Earl Boykins
knock down a 3 and follow a
Kris Humphries
jumper with one of his own to make it a 55-45 Bucks lead at the half. The Nets never got within single digits again the rest of the way. Milwaukee started the third quarter on a 12-2 run to take a 20-point lead. That's when the boos started. They didn't stop. The fans who paid to witness this one in-person deserve their money back. And those that were watching on television probably turned on the Jets-Colts game. For the record, it got to as bad as 26.
STAR OF THE GAME:
Normally in an outcome like this, the home team doesn't deserve one. But Humphries quietly put up a team-high 22 points and eight rebounds off the bench. Backup point guard
Jordan Farmar
also deserves praise. He put up 20 points and added a game-high 10 assists while starting in Harris' place.
UP NEXT:
A flight to the left coast. The Nets went 1-3 in their first trip out west. They'll try to at least equal that record during their second one -- another four-gamer -- which begins in Phoenix against the Suns on Wednesday. The Nets are a lowly 3-17 away from The Rock.
January, 6, 2011
1/06/11
12:08
AM ET
Recap
|
Box score
|
Photos
NEWARK, N.J. -- The rookie's first start was all the hype going in.
But the veteran he supplanted was all the talk afterward.
Derrick Favors
' first NBA start was overshadowed by reserve
Kris Humphries
' best performance of the season in the New Jersey Nets' narrow 96-94 victory over the Chicago Bulls.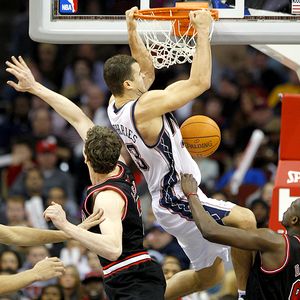 AP Photo/Julio Cortez
The Bulls couldn't match Kris Humphries' energy during his 20-point, 11-rebound night.

Favors finished with seven points in nine minutes. Humphries recorded a season-high 20 points and game-high 11 rebounds in 39 minutes for his 11th double-double, stealing the thunder from the league's youngest player.
"Whatever people's role is, we just gotta accept it and do it to the fullest," Humphries said.
For Humphries, that role used to be starting power forward, the job now held by Favors, who was inserted into the starting lineup prior to the 35th game of the season by coach
Avery Johnson
.
"This has been planned for some time now for [Favors] to start his first game here in the new year at home," Johnson said before the game. "He's had about 34 games to get some experience coming off the bench and he's played against the Bulls before, so we thought this would be a good game for him to get his first NBA start."
Which meant that for the first time since Nov. 9, Humphries would be coming off the bench.
Asked if his "demotion" gave him added motivation, Humphries, a consummate professional, responded: "I'm motivated, but it's not like there's no anger or anything. I'm always motivated -- especially to play against the Bulls. I struggled against them the last time we played. I also used to play with
Carlos Boozer
when I was on Utah so I try to compete against him every time."
By the end of the night, though, Boozer was riding the pine. And Humphries was out there, making it happen.
It started early in the second quarter. First it was a jaw-dropping follow-up slam that got the fans out of their seats. Then it was an emphatic alley-oop finish that forced the Bulls to call a 30-second timeout. And from there, Humphries continued his aggressiveness, snagging all five of his offensive rebounds in the first half.
Favors looked good in the limited action he got after his name was introduced among the starters. He got a layup in transition and was playing with a reckless abandon -- until he picked up two early fouls and was saddled to the bench by the 8:40 mark of the first. He played just six of the opening 24 minutes, finally got it going again at the start of the third with a hook and an alley-oop jam, but was whistled for his fourth foul -- a controversial one that could've gone either way.
"I was a little nervous out there at first, but I'm glad I got it out of the way," Favors said. "I gotta fight through it and pick my spots and just be smarter with fouls."
Still, Favors is pleased to be in the starting five. Even if he is the subject of persistent speculation and trade rumors -- specifically involving Denver Nuggets superstar
Carmelo Anthony
.
"It was was wonderful, really," Favors said. "Coach put his trust in me and I feel like I did a good job."
Humphries did an even better one.
Even if their roles are reversed, the Nets' dynamic duo at the 4 spot remains the same.