New Jersey Nets:

LeBron James
April, 16, 2012
4/16/12
11:43
PM ET
By
Mike Mazzeo
| ESPNNewYork.com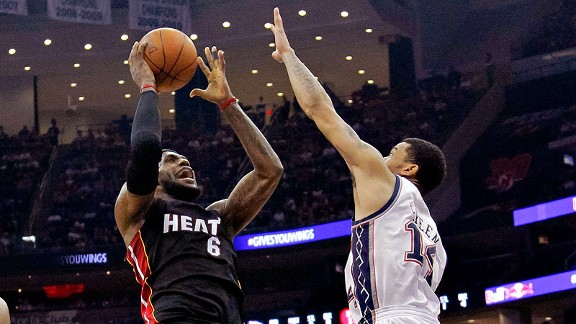 Jim O'Connor/US Presswire
In the summer of 2010, the Nets were hopeful that
LeBron James
would be the bridge to Brooklyn.
Nearly two years later, James drew a massive crowd to one of the franchise's final home games in New Jersey.
Too bad he was playing for the other team.
In front of a pro-Heat contingent that chanted "MVP!" and "Let's Go Heat" all evening long, James stole the show -- and gave all 18,711 in attendance a heroic late-game performance they won't soon forget.
James scored the Heat's final 17 points and went on an 11-0 run in the closing minutes as Miami rallied from a 13-point third-quarter deficit to topple the Nets for the 10th straight time, 101-98, on Monday night at Prudential Center.
"It was amazing, honestly," James said after scoring a game-high 37 points, dishing out seven assists and grabbing six rebounds. He also shot 11-for-19 from the field and 14-for-15 from the free-throw stripe.
"I give a lot of thanks to all the Heat fans that we have -- and all the Nets fans that rooted for us as well," James added. "Like I said at one point last year, I never thought I would hear 'Let's Go Heat' on someone else's floor, so I'm happy to be a part of it, and thanks to the fans, it was great."
This won't happen once the Nets move to Brooklyn next season, right?
Those fans aren't going to cheer for so-called "villains," are they?
"I'm surprised. Where were those fans earlier when we were up?" wondered Nets power forward
Kris Humphries
, who scored a team-high 29 points and pulled down eight rebounds.
"They should've been screaming the whole game. Don't just show up when they get on top. That surprised me. If you're a Heat fan you should be screaming the whole game for them, even when they're down."
Some of the star-studded faces in the crowd included
Jay-Z
and
Beyonce
,
Victor Cruz
,
Justin Tuck
,
Antrel Rolle
,
D'Brickashaw Ferguson
,
Bart Scott
,
Antonio Cromartie
,
John Conner
and
Thierry Henry
.
And they were all lucky enough to have courtside seats to the LeBron Show.
"As good as I remember," small forward
Gerald Green
said. "As good as a video game."
The Nets (22-40), sans All-Star point guard
Deron Williams
(sore right calf), lost their 13-point edge midway through the fourth quarter. But instead of folding, they countered.
Working out of a baseline isolation set, Humphries hit a turnaround fadeaway jumper from 13 feet to give his team a 95-88 lead with 2:28 left.
At that point, it was over. Well, it should've been.
Humphries split a pair of free throws with 2:06 remaining to make it 96-90. That's when James finally decided he'd had enough -- and put the Heat on his back.
First, he drove the lane and converted a three-point play at the 1:51 mark: 96-93.
Next, he went left to right and got a layup to go 25 seconds later: 96-95.
After that, James bodied up Humphries and finished with his left hand with 51 ticks left: 97-96.
It was the Heat's first lead of the game. It was the only one they needed.
An 8-footer made it 99-96. Two free throws made it 101-96.
The Nets still haven't beaten the Heat since March 20, 2009.
"I am at a loss for words," Nets coach
Avery Johnson
said. "I don't know what to say.
"But I am so proud of our team. This is probably as proud as I have been of them all year."
If only D-Will was available in crunch time. The Nets missed three shots and had a turnover during James' decisive run.
"I wish he could've put on a uniform in the last two minutes of the game and come out and will us to win," Johnson said of Williams.
The Nets have just two home games left in the Garden State. Then it's on to Brooklyn they go.
They were hoping James would lead them there. But he took his talents to South Beach instead.
So the Nets are relegated to trying to convince Williams to be their bridge. They're building a beautiful $1 billion arena -- Barclays Center -- in a borough starving for the return of a professional sports franchise.
But without a superstar to win games and sell tickets, the excitement isn't going to last.
"It's not just about the building or the city we're going to, we gotta put a really good product on the floor," Johnson said.
James captivated their crowd on Saturday night -- the way they hope Williams will next season.
November, 9, 2010
11/09/10
4:07
PM ET
By
Mike Mazzeo
| ESPNNewYork.com
The city of Cleveland may still be bitter over LeBron James' decision to leave the Cavaliers and play for the Miami Heat. But first-year head coach Byron Scott said today he isn't.

"No," Scott said when asked if it's been difficult for him to move on. "I keep stressing this point. When I took this job, I had no emotional ties to LeBron. I never coached him. For me, it's easy to get over. You can't be upset or anything about something that you never had. So for me it's easy to go on day by day and prepare this team and get ready to play."

Scott, who led the Nets to back-to-back NBA Finals appearances when he was their head coach in the 2001-02 and 2002-03 seasons, said it took him about "five to 10 minutes" to get over James' departure. Then he saw the massive Nike billboard featuring James being taken down while he was driving to the team hotel after a training camp practice.

"That's when I was like oh man, that's right," Scott joked.

Six games into this season, however, he doesn't know if his players have put it behind them.

"I think they're over it," Scott said. "They've all moved on; especially the guys that were here with LeBron for a number of years. They've understood from the beginning of training camp it's time to move on."

Of course, that's not been the case for the city of Cleveland itself.

"The city's had a lot of bad breaks," Scott said. "Now I'm getting a history lesson in some of the things that have happened and I think the city feels a little disrespected at times. I've always been a guy who's been the underdog."

The Cavaliers (3-3) wouldn't have been the underdog with James. But without last season's NBA MVP and second-leading scorer, they are, aside from Mo Williams (20.7 points), merely a mix of role players and talented -- yet inexperienced -- youth.

Still, Scott has placed expectations on his team, even if they might sound unrealistic to prognosticators.

"You guys might think I'm crazy -- I have my own numbers in my head that I'll probably tell you when the season's over -- but we have a good team," Scott said. I've said that from day one.

"When I took this job I felt like I was in a win-win situation. With LeBron we were a championship caliber team. Without him, we're still a very good team."

A playoff team?

"A team that wants to win," Scott said. "The players know that and they want that."

Said Williams: "Everything's new. New players. A lot of youth. But we're working extremely hard. And we're reaping the benefits with a few wins."

So has it been hard to move forward, despite being constantly bombarded with LeBron questions before and after every game?

"It's not difficult at all," Williams said. "It's just you guys doing your job and we respect that."

TERRANCE WILLIAMS OUT

Terrance Williams will not play against the Cavs on Tuesday.

Johnson said Williams has been bothered by an abdominal strain. Yesterday, while talking to reporters, he said he felt fine.

The second-year guard out of Louisville has provided a spark for the Nets (2-4) off the bench, averaging 8.7 points, 4.8 rebounds and 3.8 assists in 24 minutes per game.
August, 10, 2010
8/10/10
4:22
PM ET
By
Chris Sheridan
| ESPNNewYork.com
New Jersey Nets' 2010-11 schedule
If you want to make the case that the Nets are every bit as good as the Detroit Pistons, then there is real hope that New Jersey can get above .500 for the first time since Dec. 19, 2008, when they open the season against Tracy McGrady's newest team.
You may recall
that long-ago night when the Nets rose above the break-even mark
, because it came in a 24-point victory over the Dallas Mavericks in which
Devin Harris
scored 41 points against his former team with Nets fans taunting Mavs owner Mark Cuban by chanting, "Thank You, Cuban."
It has all gone downhill in the nearly two years since then, the low point coming when New Jersey sank to 0-18 last Dec. 2, but at least the Nets will have a new owner (
Mikhail Prokhorov
), a new place to call home and a new coach (
Avery Johnson
) when they open the 2010-11 season at the Prudential Center in downtown Newark.
The Nets will play their first four games at home, including a Sunday afternoon 1 p.m. matinee on Halloween against the Miami Heat that will allow
LeBron James, Dwyane Wade
and
Chris Bosh
to make it back to South Beach in time for the human costume parade along Collins Avenue that must be experienced in person to be truly appreciated.
And just think, if the Nets can knock off the Pistons and the Sacramento Kings in their first two games, they would actually be two games over .500 for the first time since Nov. 30, 2008, when Harris scored a career-high 47 points in a 117-109 victory at Phoenix (career victory No. 200 for former coach Lawrence Frank).
Aside from opening with a four-game homestand,
the Nets' schedule
includes this oddity: Among their first nine games, the Nets will play the Heat twice, the Magic twice and the Cavs twice.
Also, the Nets will play just five home games (and 10 road games) in the month of November, and they will become the first team to play a regular-season game in Europe when they face the Toronto Raptors in London on March 4 and 5.
In their news release announcing the schedule, the Nets touted their home games against
Jason Kidd
and the Mavericks on Jan. 22 and
Richard Jefferson
and the San Antonio Spurs on Feb. 14. Curiously, they did not make special mention of
Lawrence Frank's
first game against his former team. That'll come Dec. 5 against the Boston Celtics, who have hired Frank as an assistant coach to replace Tom Thibodeau.
The Nets' news release also mentioned that a limited number of season tickets are available for $299. If you divide that number by 41, you learn it'll cost just $7.29 to sit in a cheap seat at The Rock.
Just a guess, but I'd reckon there won't be any $7.29 tickets two years from now when the Nets move into their new arena in downtown Brooklyn.
NBA
NHL
COLLEGE BASKETBALL
COLLEGE FOOTBALL
NBA
NHL
COLLEGE BASKETBALL
NFL