New Jersey Nets:

Sasha Vujacic
July, 14, 2011
7/14/11
10:21
AM ET
By
Greg Newman
| ESPNNewYork.com
According to the
Post
,
Sasha Vujacic
may join Nets teammate
Deron Williams
in Turkey during the lockout. However, the Slovenian would be playing on a different team.
Vujacic is negotiating with Anadolu Efes to spend a full season overseas, whereas Williams will play with Besiktas. Vujacic was not considered a lock to play for the Nets anyway, but
this kid
will be disappointed.
January, 26, 2011
1/26/11
11:09
PM ET
NEWARK, N.J. -- After being outscored 32-16 by the Memphis Grizzlies in the first quarter, the New Jersey Nets were in desperate need a lift.
They got one from their bench.
The Nets' reserves combined to outscore their Grizzlies counterparts 56-12 and ultimately came away with their fourth victory in their last five games, 93-88 Wednesday night at the Prudential Center.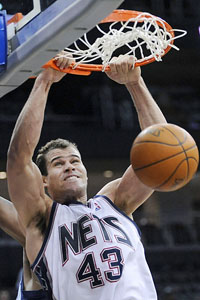 AP Photo/Bill KostrounKris Humphries came off the bench to score 14 points and grab seven rebounds.
Anthony Morrow
led the way with a team-high 19 points, while
Sasha Vujacic
and
Kris Humphries
each finished with 14 points off the pine.
"Our bench was special," head coach
Avery Johnson
said. "They were really good tonight. Our starters needed a lift and we've been talking about our bench and them getting their own identity. They take it really personal in practice when they play against the starters, which is really fun to watch now. It was good to see their production. That was an area we thought we could win the battle."
Morrow inflicted much of his damage in the first half, and Vujacic and Humphries ignited the Nets in the second half.
Morrow's 12 second-quarter points helped the Nets stay in the game. They went to the locker room down 53-42, but, if not for Morrow, it could've been worse.
He missed his first three shots from the floor, but ended up connecting on five straight, finishing the first half with 14 points.
"We don't want to tinker with anything," Johnson said of Morrow, who will continue to come off the bench after returning from a hamstring injury which caused him to miss 17 games. "We're feeling pretty good. This was a good homestand for us."
The Nets trailed by eight with 9:12 remaining, but Vujacic ignited an 8-0 run with a 3-pointer that brought the Nets back to even.
Morrow drained a crucial 3-pointer that put the Nets up 84-77 with 3:23 remaining. And Humphries -- aside from playing great defense on
Zach Randolph
, who went 3-for-8 in the final 12 minutes -- made two key free throws with 2:45 left to keep Memphis at bay.
Humphries had 12 points and five rebounds in the second half on a perfect 5-for-5 shooting and 2-for-2 from the stripe. Meanwhile, Morrow and Vujacic combined to hit six of the Nets' nine 3-pointers.
"We had a full team effort tonight," point guard
Devin Harris
said. "I thought we got out to a lethargic start and I thought the bench came in the second quarter and really gave us a boost."
January, 5, 2011
1/05/11
10:04
PM ET
Recap
|
Box score
|
Photos
WHAT IT MEANS:
The Nets blew a 13-point fourth-quarter lead, but
Sasha Vujacic
somehow got a short shot to fall with five seconds remaining, snapping a 94-94 tie and his team's five-game losing streak. New Jersey led by nine with 2:59 remaining, only to see the edge evaporate thanks to
Derrick Rose
. But when it came down to it, the Nets were one possession better.
New Jersey overcame a porous night at the free throw stripe (15-for-23) by shooting 49.4 percent from the floor. The Nets had five scorers in double-digits. Devin Harris had 18 points and 11 assists to pace the Nets (10-25).
TURNING POINT:
The Nets came out like gangbusters in the third quarter -- normally the quarter that proves to be their demise. They were clicking on all cylinders in the stanza, connecting on eight of their first 11 shots to establish a 65-56 lead. It was a sight to see. Even more so because the Nets came in ranked 29th in the NBA in scoring offense, averaging 92.9 points per game.
New Jersey ended up leading as many as 13 once
Jordan Farmar
got a transition slam with five seconds left. The Nets ended up outscoring Chicago 32-18 in what had to be one of their best quarters of the season as they led 78-65 heading into the fourth. They shot it at a 68.4 percent clip, while limiting the Bulls to just 5-for-14 from the floor.
STAR OF THE GAME:
Unequivocally and without question, it was
Kris Humphries
. Relegated to a reserve roll in favor of
Derrick Favors
-- no pun intended -- Humphries played like a man motivated to reclaim what as once his. But if he continues playing this well coming off the pine, that won't happen. The 25-year-old gave the Nets everything they were looking for, notching yet another double-double, his 11th of the season. He led New Jersey with a season-high 20 points, while snatching 11 rebounds.
ROOKIE WATCH:
Favors' first NBA start lasted just 3 minutes, 10 seconds. After getting any early hook shot to go in transition, Favors picked up two quick fouls -- the second of which was questionable on a block attempt -- and had to sit for the rest of the first quarter and well into the second. He was charged with his third foul -- an offensive foul -- shortly thereafter.
Favors played just six minutes in the first half. His second half began a lot better. First there was a layup, then an alley-oop, which prompted the Bulls to utilize a 30-second timeout. But then he picked up his fourth foul 1 minute, 14 seconds in and once again returned to the pine with Humphries spelling him. Favors finished with seven points in nine minutes.
ENERGY LINE:
Maybe it's more like an energy duo, but we like the hockey reference when it comes to Vujacic and Humphries. They gave the Nets exactly what they were looking for off the bench, combining for 20 of New Jersey's 46 points in the first half and breathing life into a struggling offense. Humphries (12 points, five offensive rebounds) provided the wow factor early and often, flying in for a follow-up slam and then skying to convert an alley-oop throwdown, while Vujacic (eight points) brought his peskiness and 3-point bombing to the party.
VEAL:
Former Nets favorite
Brian Scalabrine
got some love from the crowd midway through the second quarter when fans began chanting his name: "Scal-a-bri-ne! Scal-a-bri-ne!" Were they Bulls fans? Maybe. Scalabrine and his fire-red hair have been all the rage in Chicago. Despite scoring just 14 points all season, Scalabrine has gotten a ton of fanfare -- especially when he checks in late during blowout wins.
J-E-T-S:
New York Jets nickel corner
Drew Coleman
got an ovation from the Rock contingent. Gang Green travels to Indianapolis to meet the Colts in a wild-card game on Saturday night.
UP NEXT:
The Nets haven't had many wins this season, but one of them did come against the Washington Wizards, the team they will play Friday night at the Phone Booth in D.C. Then they'll return home and play their second game in as many nights on Saturday, when they host the Milwaukee Bucks. And they'll follow that with a daunting four-game trip to the West Coast. So what does it all mean? They need to beat the Wizards and Bucks, a pair of teams that have combined for a 21-45 record -- especially since the Nets are a 3-16 road team.