New Jersey Nets:

Jeremy Lin
February, 21, 2012
2/21/12
12:28
PM ET


Nets. Magic. Deron Williams. Dwight Howard. Wednesday night. Prudential Center.

"It'll be interesting to see how the fans are gonna react. I'm sure it'll be pretty crazy," D-Will said after dropping 38 points on Jeremy Lin and the Knicks on Monday night at the Garden. "I kind of look forward to the game. I like playing against him, so it should be fun."

Both D-Will and D-12's futures are uncertain. And before "Linsanity," trade rumors and speculation surrounding both were all the rage in the NBA.

Where will they end up? Brooklyn? Dallas? Los Angeles with the Lakers? Together? Apart?

The possibilities seem endless, and no one except the players themselves knows for sure.

The Nets appear to be in the driver's seat. D-Will has reiterated his intent to stay -- assuming the Nets put the right pieces around him, and said Monday night he was comfortable with the direction of the organization. D-12 is the big piece. ESPN NewYork.com's Stephen A. Smith said on Mike and Mike Tuesday morning that if the Nets can't get D-12, then D-Will is headed to his hometown Mavericks.

Makes sense. D-Will wants to win now. He doesn't want to be part of a rebuilding project.

The Nets are obviously in transition mode at this point, but if they were to land a dominant center like D-12 to go along with D-Will, all of a sudden they would become an instant playoff contender.

As has been discussed on this blog before, the Nets can either try to acquire D-12 by the March 15 trade deadline, or take their chances that they'll be able to sign him to a max deal assuming he opts out and becomes a free agent -- which is basically all but a formality at this point.

The Nets obviously have a lot of assets right now, including Brook Lopez, MarShon Brooks and two first-round draft picks, among other things.

If the Magic were to come with them with an offer and assurances from D-12's camp that he'd sign, they'd have to sacrifice some of if not all of those assets. But in a perfect world, the Nets would be able to keep of all those assets, and add D-12 to the mix, becoming an instant contender in the East.

What do you think will happen to D-Will and D-12? Let us know in the comments section.
February, 20, 2012
2/20/12
7:14
PM ET
The Knicks have been the definition of futility for the last decade.

But the franchise has enjoyed a rebirth with the emergence of "Linsanity."

"When you haven't won a playoff series in 10 years, they've been starving for this," Nets coach Avery Johnson said when asked about Knicks point guard Jeremy Lin.

"Linsanity" was born on Feb. 4 against Johnson's Nets. An unknown then, Lin came off the bench, exploited the Nets in the pick-and-roll and went for 25 points and seven assists. He has started every game since, leading the Knicks to a 7-1 mark as a starter.

Don't compare Lin to Steve Nash -- another Mike D'Antoni point guard -- just yet, though.

"I've heard a lot of different stories. I even got a question from my daughter whether Lin was in Nash's category. We don't wanna go there. It's only been nine games," Johnson said. "Give the kid a chance. It's a great global story and he's inspiring a lot of kids, but let's give the kid a chance to play a whole season, maybe even a playoff series before we put him in the Nash category."

The Nets are the first team to see Lin a second time. So is that an advantage?

"Last game [against Dallas] on ball screens they went big on him quite a bit with [Shawn] Marion, and that didn't slow him down that much," Johnson said. "So again, he's obviously seen switches, you've seen teams play him one-on-one and forcing him to score. So he's seen quite a few defenses. But hopefully it's an advantage for us since we've seen him so we know what we're dealing with."

And playing well in D'Antoni's system?

"Systems sometimes can be overrated. Let's give the kid credit," Johnson said. "Mike's had a pretty good system ever since he was in Phoenix, but your system works a lot better when he's playing the way he's playing. So let's give the kid some credit, but also let's give guys like [GM Donnie] Walsh credit who survived and turned this thing around bringing in Melo and Amare."

• As expected, center Brook Lopez is inactive. He seemed upset about it before the game, but Johnson said there was no chance he could talk his way into the lineup. The 23-year-old will play on Wednesday against Orlando. Shelden Williams will start in his place.
February, 15, 2012
2/15/12
11:01
AM ET
Everyone seems to be caught up in "Linsanity."

Everyone ... except D-Will.

"Why would we get excited about the Knicks?" Nets point guard Deron Williams replied when asked about Knicks point guard Jeremy Lin on Wednesday morning. "We're 8-21. I'm worried about us, not what the Knicks are doing."

So, does all the attention the Knicks are getting bother him?

"They're the Knicks," Williams replied.

And the fact that Lin's rise to prominence began against the Nets?

"Y'all got anything about [our game]?" Williams asked. "Anything that's relevant with us?"

Williams said he didn't see Lin's last-second, game-winning 3-pointer against the Raptors on Tuesday night because he hasn't watched TV since he was playing overseas in Turkey.

Williams vs. Lin Part II will take place on Monday night at MSG.

• Shawne Williams (mild sprained left shoulder) will miss Wednesday night's game against Memphis.

He is visiting the doctor, and coach Avery Johnson didn't know how he suffered the injury.

Veteran DeShawn Stevenson, who has missed the last two weeks with a sore right knee, will start, Johnson said.

"We've definitely missed him," Johnson said. "We've missed his energy and his experience. Here's a guy who knows how to play the game."

Johnson said he doesn't know if Stevenson will play "40 minutes," but he should see plenty of time at the 3 with Shawne Williams unavailable.

Stevenson will be assigned to guard Grizzlies scoring wing Rudy Gay.

Johnson said the Nets will be careful to monitor his minutes with a string of six games in eight nights coming up.

• So, D-Will, what's up with all these injuries? One day it's someone. The next day, it's someone else.

"I told you guys, that's Avery Johnson and his 'New Orleans Voodoo,'" Williams joked.

• Center Mehmet Okur (lower back) remains out. The team will update his status on Saturday. As was already reported, center Brook Lopez is out at least through Thursday. The team will update his status on Friday.
February, 12, 2012
2/12/12
12:42
AM ET
All the recent "Linsanity" over Knicks point guard Jeremy Lin? Blame it on the Big Apple, ex-Net Richard Jefferson says.

"It's New York, it's New York. It's New York City. You do it in the Garden, in New York City against the Lakers, you're doing it for the Knicks," the Spurs small forward said prior to his team's 103-89 victory over the Nets on Saturday night at Prudential Center.

"He'd be getting a lot of attention if he was doing it any place, but doing it in the Garden, doing it for the Knicks makes it that much more special."

Lin went off again on Saturday night in Minnesota, as the Knicks extended their winning streak to five. He needed 24 shots to score 20 points, but drained the go-ahead free throw late. The legend of Lin continues.

Nets coach Avery Johnson has been impressed with what the undrafted Harvard grad has accomplished -- seemingly out of nowhere.

"I think it's great," Johnson said. "I think it's great for the NBA, any time a guy is an underdog and basically is about to get cut, again, and makes it."

Spurs coach Greg Popovich feels the same way.

"It seems strange, it seems out of the blue where all of the sudden this guy's kicking everybody's butt and no one can stop him," Popovich said. "He's helping a team to win with some of its stars that are out, and it just seems improbable, and that's why the story is so great and everyone is in enjoying it."

Povovich claims he isn't surprised. He's probably the only one. Could you really have seen this one coming? Lin has been living on his brother's couch, after all.

"No. In today's world, are you serious?" Popovich said to a reporter, laughing. "There's gazillions of your type everywhere, just waiting for a story. And when something like that happens, its upbeat, it's a win-win for everybody. Everybody's jumping on it. It's an international story. … It's great."

Jefferson is happy for Lin. The two became friendly after they met during pregame chapel sessions.

"It couldn't happen to a better person," Jefferson said. "He's a firm believer that god puts you where you need to be when you need to be there. Like I said, he's a good kid and I'm happy for him."

Johnson thinks Lin is the perfect role model for everyone -- including his son, Avery Jr., who is currently a sophomore in high school.

"For me it's a good argument because I've been trying to encourage my son to go play basketball at an Ivy League school," Johnson said. "My daughter attends an Ivy League school, but he thought you can't go to the NBA from an Ivy League school."

Yes, Jeremy Lin is the American Dream. Most Americans dream of graduating Harvard. But starring in the NBA, too? C'mon now! That's Linsanity!
February, 4, 2012
2/04/12
11:50
PM ET
The best point guard in Madison Square Garden on Saturday night wasn't
Deron Williams
. It was a Harvard graduate by the name of
Jeremy Lin
.
The Nets held
Carmelo Anthony
to 3-for-15 shooting and
Amare Stoudemire
played just 25 minutes due to foul trouble, but Lin abused the Nets all evening long, pouring in a career-high 25 points off the bench as the Knicks emerged with a 99-92 victory.
"We tried to trap him, he beat our traps. We tried to stay back on him, and he threw up some Hail Marys and they went in," Nets coach
Avery Johnson
said. "I guess he'll have a good day at church [Sunday]."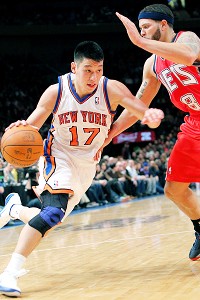 Nicole Sweet/US PresswireLittle-used Jeremy Lin was too much for Deron Williams, one of the NBA's best point guards.
In an ugly game that came down to who wanted it more, the team that was playing its third game in three nights emerged over the team that was playing its fourth game in five nights. Lin outscored Williams 12-7 in the fourth quarter, and the Nets went 3-for-10 in the final 5½ minutes as the Knicks closed the contest on a 17-10 run that proved to be the difference.
"I didn't do a good job containing Jeremy Lin," said Williams, who scored just 11 of his 21 points after the first quarter. "There's so much focus on Carmelo and Amare and the other guys, and our game plan was to help off him. And he just started knocking down shots and got confidence and he was relentless taking it to the basket."
On Friday night, it was a Montenegrin by the name of
Nikola Pekovic
who abused the Nets inside. On Saturday night, it was Lin, an undrafted backup, who abused them with his crafty ball-handling in the pick-and-roll.
"We did a good job containing the stars on those teams and other guys stepped up and beat us," Williams said. "It seemed like they beat us to a lot of loose balls and rebounds that we should've had, especially with them playing three games in three nights."
The Nets got off to a sizzling start, hitting four of their first five 3-pointers, scoring a season high-tying 30 first-quarter points and taking a 10-point lead into the second period. But they went just 6-for-21 from deep the rest of the way, were outrebounded 48-39 and outscored in the paint, 60-28.
"We started off the game great and we got good things and I think we got away from that," Williams said. "They started switching and we just got out of our offense totally. From there, it was just trying to find good shots and good looks, and then we had some breakdowns on defense that really cost us."
By we, Williams must've meant, "I." His pick-and-roll defense was atrocious. When he was supposed to get over screens, he went under them. When he was supposed to body up on Lin, he let the speedy 23-year-old drive right past him for a layup.
"We tried to give him different looks on our pick-and-roll coverage, and he just had a terrific game," Johnson said of Lin.
The Knicks are still lousy. The Nets are too, but at least they have an excuse.
Not having
Brook Lopez
and
MarShon Brooks
makes winning games extremely difficult. Allowing anonymous players like Lin and Pekovic to go off makes winning games flat out impossible.
The Nets (8-17) have now lost to the Knicks (9-15) five straight times. Saturday night's game is one they'd love to have back.
"This was a boxing match, they swung last and kind of knocked us out," Johnson said.
February, 4, 2012
2/04/12
10:01
PM ET
Recap
|
Box score
|
Photos
WHAT IT MEANS
: The Knicks are terrible, but the Nets can't figure them out. New Jersey lost its fifth straight game to New York, 99-92 on Saturday night. The Nets (8-17) led by as many as 12 but couldn't contain
Jeremy Lin
-- who? -- and were outrebounded by the much taller Knicks, 48-39.
TURNING POINT
: A 9-2 run late in the fourth quarter fueled the Knicks to victory.
EVERYBODY STILL HATES KRIS
:
Kris Humphries
was booed every time he touched the ball -- again. But the boos provided the motivation for his 20-point, 12-rebound performance. Humphries was held scoreless in the fourth quarter, though.
D-WILL
:
Deron Williams
got off to a strong start, scoring 10 points in the first quarter. But he scored just 11 points the rest of the way, and finished 7-for-19 from the field. Williams filled up the stat sheet in other ways, dishing out 11 assists and adding six rebounds.
SIZZLING START
The Nets scored a season-high tying 30 points in the first quarter and led by 10 after one. They went 5-for-10 from 3-point range in the opening stanza.
PLAY OF THE GAME
: D-Will's behind-the-back-pass to Hump for a dunk that gave the Nets a 35-28 lead in the second quarter.
STAT OF THE NIGHT
: The Nets started out 4-for-5 from 3-point range, but finished 6 for their last 21.
UP NEXT
: Nets vs. Bulls, 7:30 p.m. Monday.