New Jersey Nets:

Richard Jefferson
February, 12, 2012
2/12/12
12:42
AM ET
By
Mike Mazzeo
| ESPNNewYork.com
All the recent "Linsanity" over Knicks point guard Jeremy Lin? Blame it on the Big Apple, ex-Net Richard Jefferson says.

"It's New York, it's New York. It's New York City. You do it in the Garden, in New York City against the Lakers, you're doing it for the Knicks," the Spurs small forward said prior to his team's 103-89 victory over the Nets on Saturday night at Prudential Center.

"He'd be getting a lot of attention if he was doing it any place, but doing it in the Garden, doing it for the Knicks makes it that much more special."

Lin went off again on Saturday night in Minnesota, as the Knicks extended their winning streak to five. He needed 24 shots to score 20 points, but drained the go-ahead free throw late. The legend of Lin continues.

Nets coach Avery Johnson has been impressed with what the undrafted Harvard grad has accomplished -- seemingly out of nowhere.

"I think it's great," Johnson said. "I think it's great for the NBA, any time a guy is an underdog and basically is about to get cut, again, and makes it."

Spurs coach Greg Popovich feels the same way.

"It seems strange, it seems out of the blue where all of the sudden this guy's kicking everybody's butt and no one can stop him," Popovich said. "He's helping a team to win with some of its stars that are out, and it just seems improbable, and that's why the story is so great and everyone is in enjoying it."

Povovich claims he isn't surprised. He's probably the only one. Could you really have seen this one coming? Lin has been living on his brother's couch, after all.

"No. In today's world, are you serious?" Popovich said to a reporter, laughing. "There's gazillions of your type everywhere, just waiting for a story. And when something like that happens, its upbeat, it's a win-win for everybody. Everybody's jumping on it. It's an international story. … It's great."

Jefferson is happy for Lin. The two became friendly after they met during pregame chapel sessions.

"It couldn't happen to a better person," Jefferson said. "He's a firm believer that god puts you where you need to be when you need to be there. Like I said, he's a good kid and I'm happy for him."

Johnson thinks Lin is the perfect role model for everyone -- including his son, Avery Jr., who is currently a sophomore in high school.

"For me it's a good argument because I've been trying to encourage my son to go play basketball at an Ivy League school," Johnson said. "My daughter attends an Ivy League school, but he thought you can't go to the NBA from an Ivy League school."

Yes, Jeremy Lin is the American Dream. Most Americans dream of graduating Harvard. But starring in the NBA, too? C'mon now! That's Linsanity!
February, 11, 2012
2/11/12
9:56
PM ET
By
Mike Mazzeo
| ESPNNewYork.com
Prior to 2001-02, the Nets were disrespected, thought of as a joke of an NBA franchise.
"They weren't that good. They sucked," former Nets player
Richard Jefferson
, now with San Antonio, told ESPNNewYork.com prior to the Nets-Spurs game at Prudential Center on Saturday night.
"I won more games [28] in college [my senior year] than they did the year before I got here [26]."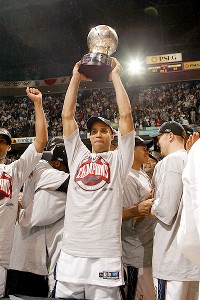 Noren Trotman/Getty ImagesMay 24, 2003: Richard Jefferson hoists the Nets' Eastern Conference championship trophy at Continental Airlines Arena.
That changed quickly. Nets GM
Rod Thorn
swung a draft-night deal to acquire Jefferson on June 27, 2001, and the following day he acquired arguably the greatest player in franchise history,
Jason Kidd
.
"I just remember when I got here the lack of respect that the organization had on the court, and how in a short amount of time we kind of changed that," Jefferson said. "Even now the banners that are hanging up [in New Jersey] are from the time that I was playing with great players like Jason,
Kenyon Martin
and
Kerry Kittles
, so I have a lot of fond memories."
"We had a good group of guys. Even Jason hadn't had that type of success in his career, so he was all in. We were playing for each other, making the extra pass, defending. We just rode that wave and it worked out for us."
The Nets made the NBA Finals in back-to-back seasons, losing to the Lakers in 2002 and the Spurs in 2003. They advanced to the Eastern Conference finals in 2003-04, falling to the eventual NBA champion Pistons. Jefferson figured they'd make it back and have a chance to win it all. They didn't.
"The guys that I had some good fortune to play with, we won some games, but we weren't able to get the championship," Jefferson said. "I think we were broken up a little early, but at the end of the day just the memories and the people that I had the ability to play with [are what will stay with me]."
Martin got a max contract from the Nuggets, and the Nets didn't want to match it, so they dealt Martin to Denver in a sign-and-trade for three first-round picks. It was the beginning of the end. Eventually, Kidd and Jefferson were traded, too.
"They made an executive decision to change the direction of the franchise," Jefferson said, "and that's the way it goes."
The Nets are bound for Brooklyn, N.Y., in 2012-13, so Saturday night marked Jefferson's final game in New Jersey.
"I had a lot of fond memories here," Jefferson said. "You try to enjoy the experience, and you try not to get too nostalgic until after the game."
Jefferson understands why the Nets are moving on.
"It's a business situation. It's no different than me being traded to another team," he said. "It's a business situation and you have to approach it as such. New arenas, it happens a lot in this league and it happens a lot in sports in general. I wouldn't take it personally."
Jefferson, 31, said he respects the die-hard fans who have stayed loyal to the Nets both in good times and bad. He said he'll miss the great people involved with the franchise the most.
Jefferson said his Spurs teammates sometimes joke with him about losing to them in the 2003 NBA Finals
"Everyone once in awhile they give me a reminder of that, and that banner's hanging up in [our] building," Jefferson said.