Irina Falconi, the kid from Washington Heights who heralded the resurgence of American women's tennis by winning two matches in the U.S. Open, was as turns calm and funny after a straight-sets loss to No. 22 seed Sabine Lisicki 6-0, 6-1 Friday. No impatience, no temper, just the same measured answers Falconi had after she beat the No. 14 seed, Dominika Cibulkova, Wednesday.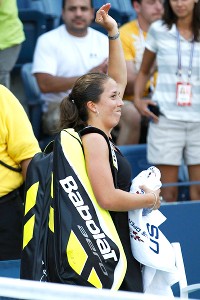 AP Photo/Paul J. Bereswill
Irina Falconi waves goodbye after her breakthrough week.
"I came in here defending 60 points and I made 100," Falconi said. "I made some cash, I got some media -- there's nothing but positives to take from this week."
Her coach, Jeff Wilson, who trains Falconi in Alpharetta, Ga., explained that Falconi doesn't have a big sponsor or wealthy parents footing the bill, which keeps her grounded.
"She's playing with her own money," Wilson said, "so there's a high level of perspective about what's important and what's not important."
Lisicki dominated Friday's match and brought to an end Falconi's part of a young American story that includes Christina McHale and Sloane Stephens. On the men's side, wild cards Jack Sock and Donald Young have won big matches.
Falconi took an unusual route to the WTA Tour by opting to play two years of college tennis at Georgia Tech, where she was going to major in history, technology and society. She agonized for three days over the decision to turn pro and dreaded the moment she would have to tell her coach she was leaving the team.
The decision looks pretty good right now. Asked how she would sum up the week, Falconi showed a touch as a headline writer.
"Hmm," she said. "Hurricane Irina has left New York City."