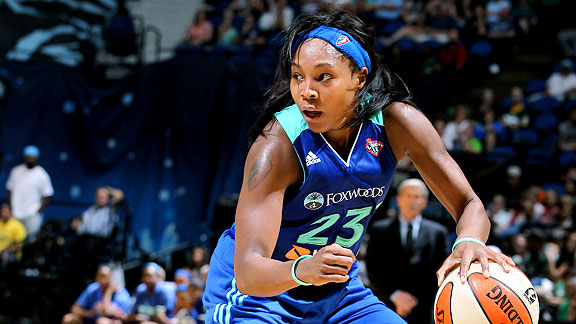 David Sherman/NBA/Getty Images
For the Liberty to upset the Fever, Cappie Pondexter must re-ignite her game.The postseason begins Thursday night. Not exactly the best time for the Liberty's best player to be in a shooting funk, especially when No. 4 seed New York opens the WNBA Eastern Conference playoffs at top seed Indiana.
Cappie Pondexter is struggling. She averaged 11.5 points in her last five regular season games, down considerably from her 17.5 season average. Yet, as is the motto of any playoff campaign, Pondexter said it's a new season, a clean slate. In other words, what shooting funk?
"I've been in a slump," she said. "It happens as a basketball player. The most important thing is to continue to work hard. There's not a day that goes by that I'm not in the gym shooting extra or I'm not in the gym last. When the slump ends, it'll end. Tomorrow. I'm thinking positively. I want to win a championship."
Pondexter sprained her ankle against in an overtime win against Connecticut at home last month, and aggravated the injury by continuing to play on it, which may have contributed to the Liberty star shooting 13 for 59 in her past four games combined. But the playoffs tend to help big-time players ignore nagging injuries, and Pondexter promised to be ready when New York sees the likes of All-Star Tamika Catchings at Conseco Fieldhouse.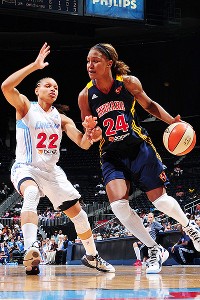 Scott Cunningham/NBA/Getty Images
Indiana's Tamika Catchings will be a handful for New York.
Despite Indiana owning the No. 1 seed, both teams are stumbling into the playoffs. Indiana dropped its last two games -- including a 84-75 loss to New York last Friday -- and closed the season losing six of its final nine games. New York carried a 4-4 record in its final eight games. The Liberty and the Fever tied in their season series, 2-2.
The two teams mirror each other in terms of defensive intensity, and they both have star players who can completely change the face of a basketball game. There's no question that the series will come down to Catchings and Pondexter, two players who have made cases for MVP honors this season. Pondexter has two championship rings with Phoenix, when she shared a backcourt with Diana Taurasi. Catchings is still looking for her first title.
Catchings has been nursing a knee injury, and sat out her team's regular season finale against Atlanta. The Liberty held Catchings to just nine points in Friday's win, a defensive effort they will need to continue if they hope to advance. New York has made 10 playoff appearances in the league's 15-year existence, and is looking for its third trip to the Eastern Conference finals in the past four years.
"I expect to win and nothing less than that," Pondexter said. "We had a great regular season run. Now this is the real deal. You put all the marbles out there right now. All that you worked hard for all regular season and training camp, it all starts tomorrow."
THREE KEYS FOR THE LIBERTY
1. Stop Catchings from catching fire: The Liberty spent much of the season trying to gel playing coach John Whisenant's defense, and have been one of the toughest defensive teams in the league. Much of the responsibility for keeping the Fever's Tamika Catchings in check will fall on Nicole Powell, who played for Whisenant when he won an WNBA title in Sacramento. It's also important keep a body on Katie Douglas, who can make a huge difference from behind the 3-point arc. Douglas ended the regular season shooting 44 percent from 3-point range.
2. Establish the post: The Liberty's post play has been a theme all season, since New York lost Taj McWilliams Franklin and Janel McCarville in the offseason. That presented an opportunity for Kia Vaughn, and this series may be her biggest opportunity yet. Vaughn, Plenette Pierson and Powell have to keep order in the post on the defensive end. The Liberty will need Vaughn's offense. They'll also need the hard-nosed play of Pierson to keep the Fever's Jessica Davenport out of the paint.
3. Cappie needs to be Cappie: Despite Pondexter struggling with her shot, the Liberty managed to beat Indiana on Friday and went 2-2 during her rough patch. When Pondexter is on, she is one of the best one-on-one players in women's basketball. She is a threat to take over a game at any time, and if the Liberty are going to win two games against the Fever they will need Pondexter to be a force on both ends of the floor. That will open things up for the post players, and make things easier for Essence Carson, the team's second-best scorer.