October, 14, 2014
Oct 14
11:17
PM ET
By
Danny Knobler | Special to ESPNNewYork.com
NEW YORK -- Forget the numbers.
The numbers are bad for the
New York Rangers
right now, but you really don't need numbers. We'll give them to you later, but you really don't need them.
All you need to do is watch. All you needed to see was a few minutes of the second period on Sunday night, or a few minutes of the third period of Tuesday night's 6-3 loss to the
New York Islanders
.
Watch, and wonder. Watch the Rangers turn one bad goal into three. Watch a team that played in the Stanley Cup Finals in June, and wonder how they've shown up in October as a team that sees a game slipping away and can't find any way to stop it.
The Rangers are only four games into this season. Every team will have bad losses. That doesn't make it any less stunning to watch this team play this poorly, on home ice, in two games that should have been uplifting rather than shots to the gut.
"Right now if you try to boil it down, it's about 10 minutes of the last two games that somehow we became unraveled on the ice," Rangers coach Alain Vigneault said. "I'm sure we can fix that."
That doesn't sound bad, until you remember that the Rangers were saying after Sunday's 6-3 loss to the
Toronto Maple Leafs
that they could fix their problems. And until you remember that they were saying confidently Tuesday morning that they had figured a few things out.
[+] Enlarge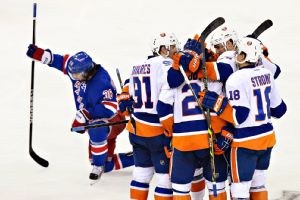 AP Photo/John MinchilloThe Islanders put the Rangers away with four goals during the third period in a 6-3 win at the Garden.
They watched video. They changed the lineup. They even played two pretty strong periods Tuesday, especially a second period where they had a 21-8 shots advantage. They twice took the lead and would have been comfortably ahead if not for big saves by Islanders goalie
Jaroslav Halak
.
All it took was two mistakes from
Michael Kostka
to send the Rangers back into a terrible spiral. They were bad mistakes, the type of mistakes you almost never see an NHL player make, but two mistakes shouldn't have thrown a supposedly confident team into turmoil.
Yet they did.
Defenseman
Dan Girardi
said the Rangers aren't mentally focused enough. He said they seem to get to nervous and talked about a "nightmarish snowball effect."
You'd expect to hear talk like that from the Islanders, a team that missed the playoffs last season. But the Islanders, boosted by what appear to be some good additions, have won their first three games of this season.
The Rangers have lost three straight after winning on opening night. They gave up five goals on Saturday night in Columbus, then six in each of their first two home games.
That's 17 goals allowed in the last three games.
The Rangers have scored 11 goals in four games overall, and six of those have come from one player.
Yes,
Rick Nash
scored again Tuesday, becoming the first Rangers player ever with goals in each of the first four games of the season. He leads the NHL with his six goals. And yet when he answered questions Tuesday night, his goal scoring wasn't even discussed.
[+] Enlarge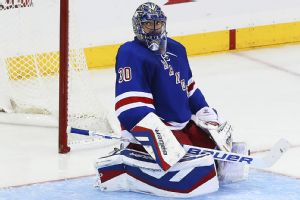 AP Photo/John MinchilloHenrik Lundqvist let the Islanders in for four goals in the third period of Tuesday's loss against the Isles.
"We're not helping our goaltender out enough," Nash said. "They're getting too many chances from the middle.
"We're aware of how serious it is. We have to correct our game and get a win on Thursday."
Goalie
Henrik Lundqvist
didn't absolve himself of the blame.
"We just need to be on the same page here," Lundqvist said. "But it's also my job to be there and take care of the mistakes we make. There's going to be some mistakes. It's just when we lose our structure a little bit, I tend to do a little too much sometimes."
Lundqvist has had other games like this, but never two in a row. In 667 NHL regular-season and playoff games before this week, he had never had back-to-back games allowing five goals.
Now he's had two in a row allowing six.
Yes, the numbers really do look bad. But the worst part for the Rangers is that your eyes tell you it's even worse.
"We're lucky it's only four games in," Girardi said. "At the same time, we're digging ourselves a hole."
They're digging it fast. And then falling in it.