New York Rangers:

Anton Stralman
June, 19, 2014
Jun 19
1:40
PM ET
Two of the biggest decisions facing the
New York Rangers
this summer? Whether to bring back unrestricted free agents
Brian Boyle
and
Anton Stralman
.
Both players made $1.7 million last season, but will be looking for more money, and, at least in Boyle's case, "more responsibility."
Boyle was excellent in his role as a top penalty killer/gritty fourth-liner last season.

His short-handed goal in Game 5 of the Stanley Cup finals was nothing short of sensational. It was probably his greatest moment as a Ranger, but it also may have been his last.
Here's coach Alain Vigneault when asked about Boyle:
"Players all want to play on the power play. His role on our team is a very important role. It's first [unit] penalty killing. It's when we've got a lead, we're sending him out. He had a huge contribution to our team. I would say in my dealing with Brian, he would probably like to have a different role, but his role on our team is a very important role. If he's satisfied with having that role, I would definitely want him back.
"At the end of the day, players have to decide if they're satisfied with what they're being given, but it's 12 to 14 minutes a game that he's getting, they're huge minutes. Some players don't see it, but they're huge minutes to teams having success and I'm hoping he sees that."
Doesn't sound promising. At the same time, you wonder: Would another team be willing to give Boyle what he wants?
Stralman really came into his own playing alongside
Marc Staal
on the second defensive pairing. During the playoffs, he averaged 21:03 of ice time, while posting five assists and a plus-5 rating.
Here's Stralman when asked about his future:
"The only thing in my mind really is security for me and my family," Stralman said. "We've been moving a lot -- four teams in seven years. All we're really looking for is stability, to stay in one place. This is obviously where we want [to be]. I'd like to stay. I hope it can happen. We'll see."
Make no mistake about it: Both players were integral parts of the team's surprising run to the Stanley Cup finals.
But the Rangers are also going to have to pay restricted free agents
Derick Brassard
($3.2 million last season),
Chris Kreider
($1.325 million) and
Mats Zuccarello
($1.15 million).
Benoit Pouliot
($1.3 million), who played so well with Brassard and Zuccarello on the third line, is unrestricted. Vigneault said that he could foresee
Kevin Klein
stepping into a top-four blueliner role, something he did well in Nashville.
The Rangers have about $17 million in cap space. A buyout of
Brad Richards
would give them $24 million.
Bottom line: It's going to be hard to keep Boyle and Stralman. Ultimately, they may lose both.
Question: Which player do you think is more important to the Rangers: Boyle or Stralman? If you could only keep one, who would you keep? Why? Let us know in the comments section below.
June, 14, 2014
Jun 14
2:37
AM ET
LOS ANGELES -- This is what heartbreak looks like: a stunned
Derek Stepan
with his stare fixed on the ground, arms folded on his knees, shoulders sagging in the moments after defeat.
Henrik Lundqvist
clasping his tape-laced fingers behind his neck, bowing his head in a locker room that was staggeringly silent.
Dan Girardi
, unmoving in his stall, sitting stoically in his sweat-soaked jersey.
"I have nowhere to go. No hurry now," Girardi said. "Just kept it on. No reason. I just -- just hanging onto it, I guess. Hanging onto the last moments here."
There were so many poignant moments to remember for the
New York Rangers
throughout what was a remarkable postseason run. So much to be proud of, yet all those fond memories were difficult to summon in the wake of the team's season-ending loss to the
Los Angeles Kings
in Game 5 of the Stanley Cup finals on Friday night.
[+] Enlarge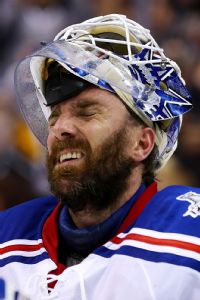 Bruce Bennett/Getty ImagesThe Rangers' playoff run ended with a Game 5, double-overtime loss to the Kings.
Those moments will be recalled in a few days' time. They'll probably be rehashed many times throughout what will feel like a long, endless summer. Down the road, years from now, those memories will be shared over beers, laughs, maybe even some tears, too. There will be a sense of pride.
But not now.
"There will be. Not tonight, but there will be," said veteran
Brad Richards
, the Rangers' de facto captain. "Tonight's not a night to reminisce, but there will be a time this summer when you look back at what an amazing run it was. Has to be amazing to get this far. Things have to come together. No one will ever know, except for us, how fun it was and how we came together. You lose three overtime games in the final. It's hard to explain."
It was already tough for the Rangers to articulate, to put into words just how exactly they were feeling physically, mentally and emotionally after a beautifully chaotic and drama-filled double-overtime game that ended with
Alec Martinez
's game winner.
Some tried to explain what it was like.
"Empty," said defenseman
Anton Stralman
, who had a particularly strong postseason. "Emptiness, I think."
Marc Staal
, as steady as any player in that room, both on or off the ice, made no effort to conceal his anguish.
"It's the worst feeling you can have as a hockey player," said Staal, which is not hollow hyperbole coming from a player who has suffered through a pair of frightening, career-threatening injuries in recent years.
Maybe the worst part for all of those involved is that the group will never again get a chance with the team constituted as it currently stands. Richards has likely played his last game as a Ranger, with a potential buyout looming.
Rick Nash
, with another disappointing postseason performance, might not be long for Broadway. The team has six impending unrestricted free agents and several key restricted free agents to get under contract as well.
It will not be the same group of players come training camp this fall.
"Who knows if we're going to have another crack at this? We might not get another crack at this opportunity," Girardi said, almost unbelieving. "That's why it hurts, I think, that much more."
It will also sting, for some time, for the Rangers to look back on a series that went five games but was riddled with squandered leads, missed opportunities and some odd outcomes.
The Rangers played better in the games they lost than in their sole victory in Game 4. The Kings erased leads, rallied back, showed resilience. The Rangers never even really felt like they settled into their game. They dropped the first three games and seemed shell-shocked by their position.
"It felt like we closed our eyes and opened them and we were down three-nothing [in the series]," Staal said.
But the Rangers salvaged pride in Game 4, avoiding a sweep on home ice at Madison Square Garden, and they should have left the handshake line with their heads held high as well.
They left every ounce of effort on that Staples Center ice Friday night in what was maybe the most riveting stretch of playoff hockey this spring, maybe ever. There was not a single moment to mentally adjust, no time to take a deep breath. Just end-to-end, do-or-die hockey in its purest form. It was wildly entertaining, captivating and absolutely mesmerizing.
Both teams had their chances, great chances, to end the game in each overtime period. There was
Ryan McDonagh
's shot off the post and
Tyler Toffoli
's crossbar shot in the first period. There was Nash's shot directed at an open net, foiled only by a sliver of shaft of Kings defenseman
Slava Voynov
's stick in the next. Lundqvist was superb the whole way through, denying every Grade-A chance that passed his crease for his second outing of 40 saves or more, but it was just one juicy rebound surrendered that ended up in the back of their net.
Martinez buried the chance, a play that seemed to unfold in slow motion, if only because it signaled the end to a game that many hoped would just keep going. It was that good.
Coach Alain Vigneault, talking to just a smattering of reporters with the muffled sounds of victory music lingering in the background, lauded his club for its heart.
"You go into this hoping you don't regret anything," Vigneault said. "We put it out there. We gave our best shot, our best effort. Three games here all went to OT. What can I say?"
There was not much to say, after all. But there will be time to think and reflect.
Defenseman
John Moore
, finally showered and dressed in his suit, paused on his way out of the dressing room. There was a television monitor in the barren hallway, and he took a brief glance at the Kings celebrating their Stanley Cup win with friends and family on the ice.
He looked away and kept walking.
It's too painful in the immediate aftermath, but they will remember this run -- the team's first Stanley Cup appearance in 20 years.
It was special, even in defeat.
"It's definitely worth it. Worth every second, these two months," Richards said. "Right now, you're just sort of speechless."
June, 3, 2014
Jun 3
6:35
PM ET
Anthony Gruppuso/USA TODAY Sports
Position:
D
Number:
6
Age:
27
Born:
Tibro, Sweden
Height:
5-11
Weight:
190
How Acquired:
Signed with the Rangers as a restricted free agent (two years, $3.4 million) on July 26, 2012.
In case you didn't know ...
• Stralman has done a pretty decent job on the blueline, posting a plus-six plus/minus rating and five assists during the playoffs.
• When Stralman originally signed with the Rangers as an unrestricted free agent on Nov. 5, 2011, his former coach, John Tortorella had this to say: "I didn't know who the hell he was when we got him. When I first saw him, I didn't like him."
• Stralman will probably get himself a raise in the offseason -- whether it's from New York or another team
Click here
for the rest of our series.
January, 21, 2014
Jan 21
11:19
PM ET
NEW YORK -- Polar vortex be damned, the Islanders are heating up.
With their 10th win in the past 13 games, the plucky Islanders rallied from a 2-0 deficit to knock off the
New York Rangers
5-3 at Madison Square Garden Tuesday night, snapping the Rangers' three-game winning streak in the first of three meetings between the two clubs over the next 12 days.
[+] Enlarge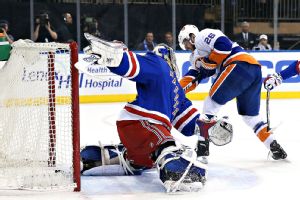 Bruce Bennett/Getty ImagesThomas Vanek scored the game-winning goal with 4:38 left in the third period.
With the come-from-behind victory, the Islanders have now won nine of their past 11 road games.
The team's top line of
Thomas Vanek
,
John Tavares
and
Kyle Okposo
had what Rangers coach Alain Vigneault described as "quite an evening," combining for seven points among them.
Tavares and Vanek connected late in the third for what stood up as the game winner, executing a beautiful power-play goal to take a 4-3 lead at 4:38 after the Rangers were whistled for a too-many-men bench minor.
Tavares finished the night with a team-leading three assists.
"The whole game didn't feel totally right," said alternate captain
Brad Richards
.
Indeed, even when the Rangers took a 2-0 lead in the first compliments of
Rick Nash
's second straight multigoal game (and third in the course of a nine-game span), it never really felt like they had control of the game. The Islanders looked and played desperate, buzzing from the beginning, controlling the puck, and generating chances on Rangers goaltender
Cam Talbot
, who started in place of
Henrik Lundqvist
(flu).
When the Islanders cut the lead in half on
Matt Martin
's goal with 2:38 remaining in the first period, there was the sense that the game was going to take a turn.
"They were hungry," Nash said. "They played a good road game."
In contrast, the Rangers did not show that same level of intensity. Instead, they seemed to surrender some of the confidence and moxie they have shown of late.
"I think we were a little flat, especially at the start of the first period," defenseman
Anton Stralman
said. "We couldn't find our jump."
Though the Rangers had built a 3-1 lead following
Chris Kreider
's power-play marker in the second period -- the speedy winger finished the night with three points -- the Islanders just kept battling.
The Rangers struggled in their own end through stretches, allowing the Isles to capitalize and tie the game in the second period. A pretty passing sequence led to
Thomas Hickey
's third goal of the season at 13:22 of the second period and
Colin McDonald
buried a rebound to knot the score at 3 with 3:24 remaining in the middle frame.
"They were coming at us hard," said Rangers captain
Ryan Callahan
. "You have to give them credit, they were coming."
Though the Islanders remain in last place in the Metropolitan Division, they sit only five points back of the last wild-card spot in the Eastern Conference. That enough is fuel for the Islanders, who made their first playoff appearance in six years last spring, to keep fighting for a postseason berth.
Is the belief still alive in the room?
"Absolutely," McDonald told ESPNNewYork.com Tuesday morning before the game. "Especially because of last year, making that push."
Meanwhile, the Rangers came down to earth after a fine week in which they downed the Red Wings, Senators and Capitals.
They let up on the gas Tuesday night and they were saddled with a loss as a result.
"We wanted to keep that streak going," Stralman said. "We didn't put forth a good enough effort to continue it."
December, 23, 2013
12/23/13
11:40
PM ET
NEW YORK -- Even though the
New York Rangers
regrouped to earn a 2-1 shootout win against the
Toronto Maple Leafs
on Monday, players were still buzzing about a call in the locker room after the game.
Anton Stralman
was describing the scene to fellow defenseman
Justin Falk
. Goaltender
Cam Talbot
still seemed perplexed when recalling the sequence to a group of reporters. Coach Alain Vigneault was frank in revealing what he thought of the call to uphold
Nazem Kadri
's game-tying goal with less than two minutes remaining in regulation.
[+] Enlarge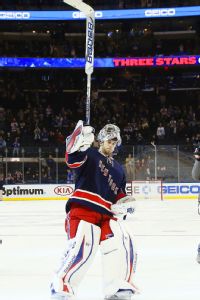 Bruce Bennett/Getty ImagesCam Talbot celebrates after the Rangers' win.
"In my opinion, it was the wrong call," he said.
After killing off a late-game penalty to preserve a 1-0 lead in the third period, the Rangers saw that lead disappear as Kadri followed up on teammate
David Clarkson
's pair of whacks at the right post. While players appeared to think the play was dead, Kadri kept at it and pushed the puck through with 1:24 left on the clock.
Whether the puck crossed the line was not debatable. The video review was initiated to review whether or not the puck crossed the line legally. Because Kadri jammed the puck through, rather than drive Talbot's pad over the line, the call was upheld. The official never blew his whistle. The Rangers clearly felt he should have.
"I didn't hear a whistle,, no, but I was expecting one because I thought I had it covered," said Talbot, whose shutout bid was subsequently spoiled. "Obviously, the ref didn't lose sight of the puck. I thought that he would have, but that's his call, and they went upstairs and reviewed it and the call stood."
Talbot, usually pretty calm as far as goaltenders go, was banging his stick on the crossbar trying to get the official's attention and gesturing in protest.
Brian Boyle
, who was on the ice for the play, also smacked his stick in frustration.
"You call a goal on the ice, it's hard for them to take that back," Stralman said. "It's a tough call."
The NHL's official explanation left something to be desired, and Vigneault's explanation that he received secondhand via alternate captain
Brad Richards
didn't do much to provide clarity.
In the end, the issue was moot as the Rangers recovered to knock off the Leafs in a shootout to close out a nine-game homestand with back-to-back wins.
If Talbot was rattled by the controversy, he didn't show it, stopping Kadri in the third round of the shootout to seal the win. The 26-year-old backup, awarded his second straight start over franchise netminder
Henrik Lundqvist
, improved to 8-2-0 on the season.
"I would have been pretty devastated, especially with the game we played tonight," Talbot said. "We deserved to win the game, and to get a goal like that against us could have really hurt us. But we kind of let it go, pushed forward and got the eventual game winner.
"It didn't really hurt us in the end, but we did a good job of staying focused and pushing forward."