New York Rangers:

Brian Boyle
June, 19, 2014
6/19/14
1:40
PM ET
Two of the biggest decisions facing the
New York Rangers
this summer? Whether to bring back unrestricted free agents
Brian Boyle
and
Anton Stralman
.
Both players made $1.7 million last season, but will be looking for more money, and, at least in Boyle's case, "more responsibility."
Boyle was excellent in his role as a top penalty killer/gritty fourth-liner last season.

His short-handed goal in Game 5 of the Stanley Cup finals was nothing short of sensational. It was probably his greatest moment as a Ranger, but it also may have been his last.
Here's coach Alain Vigneault when asked about Boyle:
"Players all want to play on the power play. His role on our team is a very important role. It's first [unit] penalty killing. It's when we've got a lead, we're sending him out. He had a huge contribution to our team. I would say in my dealing with Brian, he would probably like to have a different role, but his role on our team is a very important role. If he's satisfied with having that role, I would definitely want him back.
"At the end of the day, players have to decide if they're satisfied with what they're being given, but it's 12 to 14 minutes a game that he's getting, they're huge minutes. Some players don't see it, but they're huge minutes to teams having success and I'm hoping he sees that."
Doesn't sound promising. At the same time, you wonder: Would another team be willing to give Boyle what he wants?
Stralman really came into his own playing alongside
Marc Staal
on the second defensive pairing. During the playoffs, he averaged 21:03 of ice time, while posting five assists and a plus-5 rating.
Here's Stralman when asked about his future:
"The only thing in my mind really is security for me and my family," Stralman said. "We've been moving a lot -- four teams in seven years. All we're really looking for is stability, to stay in one place. This is obviously where we want [to be]. I'd like to stay. I hope it can happen. We'll see."
Make no mistake about it: Both players were integral parts of the team's surprising run to the Stanley Cup finals.
But the Rangers are also going to have to pay restricted free agents
Derick Brassard
($3.2 million last season),
Chris Kreider
($1.325 million) and
Mats Zuccarello
($1.15 million).
Benoit Pouliot
($1.3 million), who played so well with Brassard and Zuccarello on the third line, is unrestricted. Vigneault said that he could foresee
Kevin Klein
stepping into a top-four blueliner role, something he did well in Nashville.
The Rangers have about $17 million in cap space. A buyout of
Brad Richards
would give them $24 million.
Bottom line: It's going to be hard to keep Boyle and Stralman. Ultimately, they may lose both.
Question: Which player do you think is more important to the Rangers: Boyle or Stralman? If you could only keep one, who would you keep? Why? Let us know in the comments section below.
June, 8, 2014
6/08/14
3:01
PM ET
LOS ANGELES --
Brian Boyle
did not hold back in the wake of the New York Rangers' 5-4 double-overtime loss to the
Los Angeles Kings
in Game 2 of the Stanley Cup finals Saturday night, lashing out at the notion that the Rangers are underdogs in a series that is now 2-0 in favor of L.A. with the series shifting back to New York.
"I don't give a s--- about underdogs. That's ridiculous. Give me a break," the rugged fourth-line forward said after the game, seething. "We're not. We're here, too. We're a good team. And we can't take any solace [in having played two close games], because we lost."
Though the Kings entered the finals as heavy favorites, champions of what many feel to be a superior Western Conference, they have not held a lead for a single moment throughout the first two games of the series. And yet they lead 2-0 heading into Game 3 at Madison Square Garden on Monday night.
The Rangers didn't make it this far to simply feel satisfied with being there for the spectacle of it all. They harbor the belief that they can compete with the big, physical Kings, and the first two games have shown just that. The Rangers have dominated stretches of play, building 2-0 leads in consecutive games, though their inability to close out their opponent has them in a daunting hole as they head back to the East Coast to defend home ice.
"We came here to win games. It doesn't matter how the hell we do it, we have to win the game," Boyle said. "If you don't win the game, you didn't do what you came to do, and that's the worst feeling there is."
Unlike Game 1, in which the Rangers unraveled after the Kings erased a two-goal deficit, the Blueshirts played a hard, purposeful hockey game Saturday night.
Mats Zuccarello
was buzzing,
Rick Nash
played with passion and physicality.
Chris Kreider
had a pair of glorious chances in overtime.
Still, they have nothing to show for it.
Part of that is a testament to the plucky Kings, who have outlasted their opponents in three consecutive seven-game series en route to their second Stanley Cup finals appearance in three years. The Kings have experience in abundance when it comes to this time of year. That has shown in their resolve.
Rallying to recover from deficits of 2-0, 3-1 and 4-2, the Kings became the first team in NHL history to win three straight playoff games when trailing by two goals.
"They've been in three Game 7s and come out on top. They were Stanley Cup champions a couple years ago. They know what it takes to win," defenseman
Dan Girardi
said after the game. "They're getting those good bounces, those good plays in front. We're just going to have to find a way to, when we have the lead, to hold on to it, especially against a team like this. We know they're going to be coming. They have all that experience over there, and we need to be ready for that."
Now, it's up to the Rangers to be the comeback kids. They made a stunning turnaround in their second-round series to surmount a 3-1 series deficit and knock off the favored
Pittsburgh Penguins
. Can they forget the past two games and muster that magic again?
"You don't have a choice," goaltender
Henrik Lundqvist
said. "You have to move on."
June, 3, 2014
6/03/14
6:58
PM ET
Adam Hunger/USA TODAY Sports
Position:
C
Number:
22
Age:
29
Born:
Dorchester, Massachusetts
Height:
6-7
Weight:
244
How Acquired:
Acquired by the Rangers in a trade with the
Los Angeles Kings
on June 27, 2009 in exchange for a 2010 third-round draft pick.
In case you didn't know ...
• Boyle was a first-round draft pick of the Kings in 2003. But he ended up playing just 36 games with Los Angeles, scoring eight goals in parts of two seasons. The Kings, of course, were hoping for more than that.
• In New York, Boyle has blossomed as a fourth-line pivot and is adept as a penalty-killer. He scored a career-high 21 goals in 2010-11.
• Boyle has 12 siblings.
Click here
for the rest of our series.
May, 13, 2014
5/13/14
11:43
PM ET
PITTSBURGH -- The emotions following the
New York Rangers
' historic
2-1 victory
against the
Pittsburgh Penguins
could not be contained.
One by one, players left the ice, barreling into the dressing room in haste to celebrate, screaming in elation and hollering with the sort of exuberance one might expect following one of the most dramatic turnarounds in franchise history.
Even team owner James Dolan couldn't suppress his giddy grin as he was ushered down the victor's hallway following the series-ending win. He had plenty to smile about.
[+] Enlarge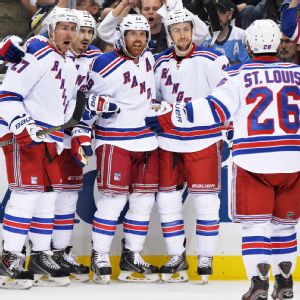 Jamie Sabau/Getty ImagesThe Ranger rallied around St. Louis and took this series from the Penguins.
For the first time since the club's inception, the Rangers rallied back from a 3-1 deficit to upset an opponent in Game 7. And for the second time in three years, the team is headed to the Eastern Conference finals.
"It's a pretty fun thing we've got going on right now," said
Brian Boyle
, who scored the first goal of the game following a beautiful passing sequence from his fourth-line teammates. "We don't want it to end."
More stunning than the Rangers' ability to avoid elimination in three straight games against superstars
Sidney Crosby
,
Evgeni Malkin
and the Pens was the club's utter transformation in wake of a tragedy that occurred between Games 4 and 5.
That, of course, was the turning point of the series, perhaps the most meaningful 24 hours in the team's whole season, when the Rangers banded together to support veteran forward
Martin St. Louis
, who found out upon arrival in Pittsburgh on Thursday that his mother had died from a heart attack.
His courageous and heartfelt return to the ice in Game 5, less than 24 hours after her death, inspired the Rangers, but that was just one game. The Rangers were able to carry over that raw emotion, that passion and purpose, into Game 6 is well, a win that became even more meaningful because St. Louis scored the all-important first goal and because the game fell on Mother's Day.
When it came down to Game 7, the Rangers did not need to manufacture any inspiration or energy. They had that in abundance and, unlike the pressure-burdened Penguins, they played with verve and joy and had a hell of a time in punching their ticket to the conference finals, in which they will meet the winner of Game 7 between the
Montreal Canadiens
and the
Boston Bruins
.
"The whole last seven days. I don't know if I've ever been with a group of guys that have been through what we've been through," veteran center
Brad Richards
said. "Nobody gave us a chance. Marty's situation falls upon us. It wasn't a good feeling after Game 4. To have this feeling, after all that, it shows how fun this group is to be around. Everyone's willing to do their part. It's unbelievable."
The daunting two-game series deficit was never treated as a non-starter for the Blueshirts. Led by veterans such as Richards and St. Louis, who won a Stanley Cup championship together in 2004 in Tampa, the situation was instead treated as a challenge.
The belief was there inside that room and the leadership was calm and steady in showing everyone else the way. Richards, as he has done all season but especially since the departure of former captain
Ryan Callahan
, stepped up in every situation, saying what needed to be said, even when it wasn't pleasant to say or easy to hear, and leading by example on the ice as well.
"I gotta say. We lost our captain. We brought in Marty [St. Louis], but other guys stepped to the front and assumed more in bigger roles, and bigger leadership," Vigneault said. "In this series, we had said we needed a lot of bus drivers and we had a lot of guys driving the bus."
The 34-year-old Richards, who has assumed the rule of de facto captain, scored the game-winner in the second-period, a critical man-up marker that quickly sieved the mounting pressure the Pens had built following
Jussi Jokinen
's tying goal less than four minutes prior.
It was just another clutch performance in a long list of special moments for the former Conn Smythe Trophy winner, and it kept his pristine record in Game 7s untarnished. The veteran center has won all seven in which he has played.
Suffice it to say that franchise goaltender
Henrik Lundqvist
was simply exceptional in continuing his dominance in elimination games as well, outplaying every other player on the ice.
In a series that came down to three veritable game-changers: Lundqvist vs. Crosby and Malkin, the former Vezina Trophy winner edged the Penguins' talented tandem by a country mile. Following up a 36-save effort in Game 6, Lundqvist finished Tuesday with 35. And of course he was at his absolute best with the Penguins bearing down in the final minutes of the game, even when he was flailing in the crease, trying to preserve a one-goal lead without his stick.
Crosby was held to just one goal all series. Malkin was more effective (three goals, four assists) but couldn't deliver the type of goal the Penguins needed most in a winner-takes-all Game 7 at home.
The Rangers entered the series as underdogs, but they emerged as winners because they were the better team. They exploited their balance and structure and heart to beat a team that has two of the best forwards in the world.
Now, they move on to the next round -- a remarkable feat.
Few people expected them to be here. Who knows what they are capable of now?
"We're in the final four now," Richards said. "I don't know of any teams in the history of the NHL that get this far that don't think they can win it."
May, 13, 2014
5/13/14
9:47
PM ET
PITTSBURGH -- The
New York Rangers
made history Tuesday night, rallying back from a 3-1 series hole to knock off the
Pittsburgh Penguins
in Game 7 with a 2-1 win that earned them a trip to the Eastern Conference finals.
It was the first time in franchise history the club had surmounted such a deficit, and in doing so, the Blueshirts punched their ticket for their second conference finals appearance in the past three seasons.


In a battle of the stars it was the Rangers who had the edge when all was said and done, with goaltender
Henrik Lundqvist
besting both
Sidney Crosby
and
Evgeni Malkin
. Despite constant pressure from a desperate Pens squad, Lundqvist was a wall in making 35 stops to secure yet another win for his Blueshirts while avoiding elimination. He didn't even surrender a goal in the final six minutes of the game when, despite being without his stick during a frenzied shift, he left the Penguins gobsmacked with frustration.
Crosby finished the series, and the 2014 playoffs, with just one goal.
Big-goal Brad:
Hard to imagine that at this point last spring, veteran center
Brad Richards
was watching games from the press box as a healthy scratch. The former Conn Smythe winner added to his already-lengthy list of clutch goals with a key power-play marker in the second that stalled a threatening Penguins push and allowed the Rangers to reclaim a one-goal lead. Richards was set up for the goal by a brilliant, no-look feed from good friend and teammate
Martin St. Louis
, who was the hero of Game 6. Richards' goal snuffed out a ton of momentum that the Penguins had wrangled following
Jussi Jokinen
's game-tying rebound goal less than four minutes prior. Richards, one of the team's most vocal and experienced leaders, entered Tuesday's action with an untarnished 6-0 record in Game 7's during his career.
First-goal foreshadow:
Before the game, Rangers coach Alain Vigneault was asked about the significance of a strong start and the game's first goal. Considering the team that scored first won each of the first six games of the series, Vigneault answered: "It seems to be an important trend in this series." Well, the Rangers fourth-line got them on the board to deflate a Penguins crowd that was raucous to start. A beautiful little passing sequence resulted in
Brian Boyle
's goal at 5:25 of the first. Granted, the Penguins gave up an odd-man rush, but that was the sort of shot that
Marc-Andre Fleury
really should have been able to stop. The Penguins picked up their pace, controlling play for much of the remainder of the first frame but Lundqvist yielded nothing, turning away all 10 shots faced in the period.
Changes coming?
Considering the team's embarrassing collapse from a two-game series lead, it seems fairly certain that change may be coming for a Penguins team that has underachieved yet again. Both coach
Dan Bylsma
and general manager Ray Shero are likely to endure quite a bit of scrutiny in the coming days as the future direction of the team, and its leadership, is assessed.
April, 21, 2014
4/21/14
1:53
PM ET
NEW YORK -- As of Monday afternoon, the
New York Rangers
know who they will be facing in net for the
Philadelphia Flyers
when the two teams square off in Game 3 on Tuesday night.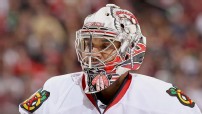 Christian Petersen/Getty ImagesFlyer's backup goalie Ray Emery
With backup netminder
Ray Emery
back between the pipes for their divisional rivals, they know what they have to do to make his life more difficult: Crash the net, get in front, and create traffic.
"Talking about net presence and driving to the net, those are all facets that are very important to good offensive hockey," said Rangers coach Alain Vigneault. "And that's an area that we need to continue to do better."
The Rangers were able to solve Emery in the first period on Sunday, tallying twice as a result of quick puck movement and some expert passing in lanes that, thanks to a disjointed Philadelphia defensive effort, went largely unobstructed.
But with the Flyers down 2-0, the team made some adjustments to its game and Emery seemed to as well. He appeared more prepared to stop those back-door plays and ready for any type of movement that would take him post to post.
He made a couple of spectacular stops on both
Derek Stepan
and
Mats Zuccarello
as the Flyers charged back for four unanswered goals.
The Rangers have to make things tough in his crease and take away his ability to see shots coming through if they want to rattle his confidence. Especially now with the Flyers hosting a pair of games on home ice at Wells Fargo Center.
"I don't know if it's necessarily a mindset -- different things happen in a game – but we need to make sure that if the opportunity is there we need to be there," said forward
Brian Boyle
.
It would help to see their power-play perform more consistently than Sunday afternoon, when the team was limited to just one man-up marker on six attempts. That said, the group still has high confidence that has shown night and day improvement from last year's maligned unit that was more of a liability than anything.
"We've got three power-play goals in two games. I know it could have won us the game last night, but when you put it into perspective, if you'd said you had three power-play goals in first two games, you'd probably take it," said veteran center
Brad Richards
, who mans the right point on the top unit. "We're going to keep working on it."
More important, Richards said, is the team's battle level heading into Game 3.
"They probably were a little more desperate than we were," Richards said of Sunday's effort "Intensity level and the level of play has to keep going up. And it has to jump up a lot more from each game than it did from game 1 and to for us. That's our main focus. We have to be better."
March, 27, 2014
3/27/14
2:37
PM ET
They haven't all been pretty. They haven't all been dominant. Regardless, the
New York Rangers
embark on a four-game swing through Western Canada having stacked together five consecutive wins.
For some perspective: the Blueshirts have not managed such a streak since the 2011-12 season.
In beating the
Philadelphia Flyers
Wednesday night, the Rangers extended their advantage within the Metropolitan Division standings –- they now lead the Flyers by three points, though Philly has two games in hand –- but more importantly, they are showing the type of consistency, toughness and depth that have been conspicuously absent previously this season.
[+] Enlarge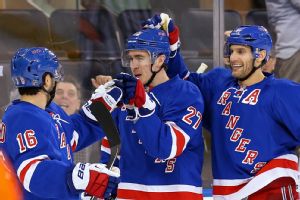 Anthony Gruppuso/USA TODAY SportsRyan McDonagh scored his 14th goal of the season Wednesday vs. Philadelphia.
The Rangers held a high-octane Flyers offense without a goal for more than 48 minutes Wednesday night at Madison Square Garden. Meanwhile, their fourth line chipped in with a pair of goals and defenseman
Ryan McDonagh
dazzled the crowd and his teammates with a stunner for his 14th goal of the season.
Even without one of their top-six forwards producing -- trade-deadline acquisition
Martin St. Louis
is still searching for his first goal as a Ranger -- the Rangers are hitting their stride.
Chris Kreider
, by the way, may or may not require surgery for a hand injury sustained last week.
They have one of the best goaltenders in the game in
Henrik Lundqvist
, who has a franchise-best 306 NHL wins after Wednesday, and a potential Norris Trophy candidate in defenseman Ryan McDonagh.
And they boast considerable balance, as evident by their fourth line's straight-forward, and effective, performance Wednesday night.
"They are simple and they compete," coach Alain Vigneault said after the team's win Wednesday night. "That fourth line is big, grinding, you know, wear-the-opposition type line, and when they find ways to contribute, like they have the last couple of games offensively, it makes our team that much better, as far as winning hockey games."
The trio of
Brian Boyle
,
Dominic Moore
and
Derek Dorsett
(who has split time with
Daniel Carcillo
in this spot) has provided the Rangers with energy and timely production. Considering how potent Boston's fourth line was against them in the Eastern Conference semi-finals last spring, this is a valuable asset as the Rangers prepare for the playoffs.
"You have to have that," said Moore, who also won six of seven faceoffs Wednesday. "You can't win without that. You see every game every night –- it's usually one-goal games. [Wednesday] wasn't the case, but everyone has to chip in and everyone has to be firing on all cylinders."
Boyle said that the team's considerable depth is an encouraging sign, especially at this time of year. The last time the Rangers were regarded in a similar way, when they finished on top of the East after the regular season in 2012, the club made it to the Conference finals.
This team has some similarities to that one, according to Boyle. "It's a pretty well-oiled machine," he said.
Though their playoff position is favorable –- sportsclubstats.com has the team's chances of making it at 99% -- the Rangers will be tested during this upcoming stretch in travel alone. Though the Avs are the only playoff team they'll face before returning home for the final week of the regular season, the Rangers will make stops in Calgary, Edmonton, Vancouver and Colorado.
Said Boyle, "There's plenty on the line."
February, 6, 2014
2/06/14
9:37
PM ET
NEW YORK -- Edmonton's
Nail Yakupov
snapped a 1-1 tie with just 1:38 left in regulation to end the Rangers' four-game winning streak and give the Oilers a 2-1 win at Madison Square Garden Thursday night.


The former first overall pick fired from the high slot and beat backup netminder
Cam Talbot
for the game-winner as the Oilers recorded their fifth win in the last six games.
The Rangers have a tough test ahead before they wrap up for the Olympic break, facing the Metropolitan Division-leading Penguins in Pittsburgh on Friday.
No goal:
The Oilers can't be happy about what would've been a go-ahead power-play goal that was nullified with a quick whistle at 10:57 of the second period. According to the NHL's situation room, the play was not reviewable because the official blew his whistle to stop play before the puck crossed the goal line.
Shutout streak snapped:
Oilers netminder
Ben Scrivens
had his shutout streak at Madison Square Garden this season snapped at 80 minutes 22 seconds after
Derick Brassard
notched the equalizer on a one-timer from the right circle 22 seconds into play. Scrivens blanked the Rangers 1-0 earlier this season while still playing for the Kings in November.
Quick start:
The Oilers jumped out to a quick lead with
Ryan Smyth
's goal just 2:56 into play. After
Brian Boyle
lost the puck in the Rangers' zone,
David Perron
ripped a shot high off Talbot, who lost track of the puck as Smyth swooped in to bang it home.
Clock is ticking:
With less than a day until the Olympic roster freeze goes into effect, it does not appear the
Ryan Callahan
situation will have any resolution before the 28-year-old winger heads off to Sochi. Multiple sources told ESPNNewYork.com Thursday evening that the situation was status quo and that nothing appeared imminent. Further evidence to that end? Callahan was not held out of the lineup, a precautionary move teams opt to make to protect their asset when a deal is close.