New York Rangers:

Dan Girardi
March, 2, 2014
Mar 2
11:23
PM ET
NEW YORK -- Will Sunday's 6-3 loss to the
Boston Bruins
be remembered as
Ryan Callahan
's last game as a
New York Ranger
?
The 28-year-old captain said he didn't consider that possibility.
"No, I didn't look at it like that. This is where I want to be. I'm just focused on doing what I can for the team."
[+] Enlarge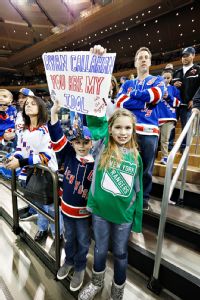 Rebecca Taylor/NHLI/ Getty ImagesWill the Rangers grant Ryan Callahan's wish and keep his fans happy?
With the Rangers having played their final game before the NHL's trade deadline at 3 p.m. ET Wednesday, all Callahan can do now is wait to see how the situation unfolds.
The pending unrestricted free agent has yet to come to terms on a contract extension with the Rangers and though the two sides have met in the middle on a six-year term -- multiple sources confirmed to ESPNNewYork.com that Callahan's camp has moved off it's initial request of seven years -- they are still working to bridge the gap on salary. Still, GM Glen Sather appears committed to moving the heart-and-soul winger if he can't get him under contract soon.
Hence, the rampant speculation that has been hounding Callahan over the past month, when news first broke that he was being shopped.
Understandably, he is ready to put all that talk behind him soon.
"Yeah, definitely," Callahan said. "It's been on my mind -- there's no secret there -- so it'll be nice to get it done with and move past it."
As it stands, Callahan is one of the most alluring players on the market, though this deadline seems to have the makings of an unusual one in the type of talent that may be available. Both
Tampa Bay Lightning
captain
Martin St. Louis
and
Vancouver Canucks
forward
Ryan Kesler
are reportedly seeking exits from their respective clubs, and players such as
Thomas Vanek
and
Matt Moulson
will round out the rental market.
One player that will no longer be a trade target for the many playoff teams looking to solidify their blue line? Rangers defenseman
Dan Girardi
, who inked a six-year $33 million contract extension with the Rangers on Friday.
With Girardi's deal done, the question now is whether his good friend and teammate, Callahan, is next.
"Just wait and see, I guess," Callahan said. "Obviously my heart's still here and I want to be here, so we'll see what happens."
March, 2, 2014
Mar 2
1:53
PM ET
At a glance:
The
New York Rangers
will get right back to work Sunday night against the
Boston Bruins
after dropping one to the
Philadelphia Flyers
in Philly on Saturday afternoon. The Rangers host the Atlantic Division-leading Bruins in a rematch of last spring's Eastern Conference semis in the team's final game before the NHL's trade deadline on Wednesday.
Stay or go?:
The biggest question facing the Rangers right now is whether Sunday will be captain Ryan Callahan's last game with the Blueshirts. The 28-year-old winger, a pending unrestricted free agent, has yet to come to an agreement with the team on a contract extension, further fueling rampant speculation that he may be traded. And while GM Glen Sather locked up veteran defenseman
Dan Girardi
on Friday, a new deal for Callahan doesn't look nearly as promising. The two sides still have a significant bridge to gap before Wednesday and whether Callahan remains a Ranger or not likely hinges on his willingness to take less than he will likely be offered in free agency July 1.
Close race:
Saturday's loss allowed to the Flyers was a disappointing one, particularly because it allowed some opponents to make up ground. With a win against the Capitals Sunday afternoon, the Flyers leap-frogged the Rangers for second place in the Metropolitan Division standings and the Washington Capitals pulled within one point by taking the game to overtime. Columbus isn't too far behind, either. The dark horse Blue Jackets are four points back but will have two games in hand after Sunday night. "Everybody [is] winning," coach Alain Vigneault said in his pre-game press briefing. "We've got to win."
Got your number:
Though the Bruins have struggled out of the break, they have the chance to turn things around in New York, as well as complete a series sweep against the Rangers. Boston has dropped two consecutive games since returning from the Olympic break and is looking to avoid a three-game skid, which would be a season worst.
Lineup change:
After returning to the lineup for the first time in two months Saturday, Derek Dorsett is back to the press box as a healthy scratch. Vigneault said he wants to afford Dorsett more practice to get back his timing considering the rugged winger missed almost two months with a broken leg. Dominic Moore will be back in Dorsett's place.
March, 1, 2014
Mar 1
5:32
PM ET
PHILADELPHIA -- Despite the Rangers' 4-2 loss to the Flyers on Saturday afternoon, defenseman
Dan Girardi
had good reason to look relieved while answering questions in his stall after the game.
Girardi inked a six-year, $33 million contract extension with the Rangers on Friday afternoon, ending weeks of speculation that the 29-year-old defenseman might be traded.
Prior to signing his new deal on Friday, which will keep him in New York through 2020, Girardi was one of the most attractive potential rental players on the market along with teammate, good friend and team captain
Ryan Callahan
.
"I'm just really excited about the deal and to be a New York Ranger for my career," said Girardi, who signed with the team as an undrafted free agent in 2006.
Instead of moving the top-pair veteran, which could've fetched an attractive return from a playoff team seeking to bolster its blue line, general manager Glen Sather locked him up long-term to a deal that, as ESPNNewYork.com reported on Friday, includes a full no-move clause in the first three years and a limited no-trade clause in the final three years.
The deal comes with an annual average value of $5.5 million, in line with what Girardi was reportedly seeking from the beginning of negotiations.
"I wish we could have gotten it done earlier, but that's part of it," Girardi said. "I'm just glad to be done and have it over with and work on the other guy now."
The other guy, of course, is Callahan, whose progress toward a contract extension hasn't been nearly as promising.
Unlike the Girardi situation, in which the two sides spoke consistently in the weeks leading up to the deal, Callahan's camp and the club have gone through stretches without any communication.
Following the Olympic break, during which the two sides did not talk, talks have resumed, though they have yet to yield any significant progress.
Callahan's agent, Steve Bartlett, told ESPNNewYork.com via email on Friday that the two sides are talking but that there is "nothing much to report besides that."
Though multiple sources deny that Girardi's deal will impact the Callahan situation, it's hard to imagine his longtime teammate's new deal won't affect the 28-year-old winger's thinking at all.
The two have been playing together since their junior hockey days in Guelph, Ontario, and their families are close.
Still, Girardi expressed doubt that one situation would have direct implications on the other, though he sounded hopeful a new deal gets done.
"You want to keep the captain of your team. I don't think it affects him too much," he said. "[I'm] letting him deal with it, work itself out, and hopefully in the next three or four days, we'll see what happens."
Before the game, coach Alain Vigneault was optimistic that Callahan could be next in forging a new pact.
Vigneault told reporters he was "confident" the two sides could come to an agreement prior to the NHL's trade deadline on Wednesday.
March, 1, 2014
Mar 1
10:24
AM ET
At a glance:
The Rangers returned to action with a big win against the defending Stanley Cup champion
Chicago Blackhawks
at Madison Square Garden on Thursday night. Now they travel to Philadelphia aiming to put even more distance between themselves and their bitter Broad Street rivals in the Metropolitan Division. Meanwhile, the Flyers, who trail the Blueshirts by three points in the standings, suffered a 7-3 loss to the
San Jose Sharks
on Thursday night.
Here to stay:
With two huge questions hanging over them heading into the final week before the NHL's March 5 trade deadline, the Rangers answered one Friday afternoon, locking up 29-year-old defenseman
Dan Girardi
to a six-year, $33 million deal. With Girardi's deal done, attention now shifts to the protracted contract negotiations with captain
Ryan Callahan
. The 28-year-old winger, a pending unrestricted free agent, has yet to sign an extension with the club, making it appear increasingly likely that he could be traded by Wednesday. The two sides continue to talk, but little progress has been made towards keeping him on Broadway.
Return to action:
After a stellar performance on Thursday from backup netminder
Cam Talbot
, who held the Hawks' league-leading offense scoreless for over 59 minutes only to have his shutout spoiled with 11.6 seconds remaining in regulation, starter
Henrik Lundqvist
returns to the net Saturday for the first game of the Rangers' back-to-back set this weekend. Lundqvist got plenty of work during the Olympic break, however, leading an injury-ravaged Swedish team to the gold-medal game against Canada. Though Lundqvist and his Swedish 'mates had to settle for silver in Sochi, Lundqvist was named to the all-tournament team. He is expected to face
Steve Mason
on Saturday.
Long time coming:
Derek Dorsett
will make his return to action against a chippy Flyers squad as Alain Vigneault told reporters Saturday morning that the gritty winger, who hasn't played in almost two months after suffering a broken leg back in January, will replace Dominic Moore in the lineup.
February, 28, 2014
Feb 28
6:01
PM ET
With the
Dan Girardi
deal done
, attention will now fixate squarely and solely on the developing situation with Rangers captain
Ryan Callahan
.
Will he stay or will he go?
Whereas the Rangers and Girardi's Newport Sports reps had frequent communication during the Olympic break and over the past week, that sort of dialogue has been largely missing from the team's negotiations with Callahan.
Callahan's agent, Steve Bartlett, told ESPNNewYork.com earlier this week that the two sides had no communication during the entire Olympic break, and though they have since resumed discussions over the past few days, there appears to be little to no appreciable progress.
"We have been talking but not much to report besides that," Bartlett told ESPNNewYork.com via email Friday afternoon.
Maybe that changes now that GM Glen Sather has locked up Girardi long term and can devote his full attention to Callahan, but the gap seems much more difficult to bridge with the latter.
Girardi received a deal in line with what he was asking: six years, $33 million (with a full no-move clause in the first three years and a modified no-trade clause in the final three years), but there is a significant divide in what Callahan is reportedly seeking (seven years with an annual average value upward of $7 million) and what the Rangers have reportedly offered (five years, $30 million).
The Rangers and Callahan's camp have less than five days to forge a deal, and Sather is expected to shop him aggressively if the impasse continues.
Prior to the Olympic break Callahan was one of the most buzz-worthy names on the trade market, joining other top rental players like
Thomas Vanek
and goaltender
Ryan Miller
, but the landscape has shifted a bit in light of some interesting developments during the past week.
A report surfaced last week that veteran Lightning captain
Martin St. Louis
requested a trade after his initial Olympic snub last month and the Rangers are believed to have interest in the reigning Art Ross Trophy winner, with one report even suggesting that the Blueshirts are the only team to which St. Louis will waive his no-move clause.
In other news, Canucks forward
Ryan Kesler
is reportedly seeking out of Vancouver. If true, the talented two-way center could be the most coveted player next Wednesday.
One other factor to consider with Callahan in light of the Girardi news: The two players, who have played together since their junior days in Guelph, Ontario, are also very good friends and their families are close.
Could Girardi staying put sway Callahan to stay as well?
We'll see. Should be an interesting five days ahead.
February, 27, 2014
Feb 27
12:49
PM ET
NEW YORK -- While the negotiations between
Ryan Callahan
and the
New York Rangers
are at a stalemate, making it appear increasingly likely that the 28-year-old captain may be traded, there has at least been consistent communication between the club and
Dan Girardi
's camp on forging a new agreement for the pending unrestricted free agent.
The Rangers and Girardi's camp have been in discussions over the past week and a half, Girardi's agent confirmed to ESPNNewYork.com Thursday afternoon, and the lines of communication remain open.
Though Meehan said it is "still too early to tell" whether the two sides can bridge the gap on an extension for the 29-year-old defenseman before next week's March 5 trade deadline, he remains optimistic with the two sides still talking.
Girardi is reportedly seeking a six-year deal worth $5.5 million, which is considered a pretty sound market-value deal. It is not believed the two sides are significantly far apart, though Girardi could be one of the most attractive rental players on the market and fetch an enticing return for the Blueshirts if they decide to move him.
This trade deadline is already proving to be full of intrigue and plot twists with the Callahan saga taking yet another turn amid reports that GM Glen Sather is interested in a captain-swap with Tampa Bay that would bring veteran
Martin St. Louis
to New York.
St. Louis addressed the reports that he asked for a trade out of Tampa Bay Wednesday, when he confirmed to meeting with GM
Steve Yzerman
but declined to elaborate further. And in another surprising development, news broke Wednesday night that
Vancouver Canucks
center
Ryan Kesler
has asked out of Vancouver, though his agent denies that report.
Sather will have some interesting decisions to make in the week ahead, though he seems committed to dealing either Callahan, Girardi -- or both -- if he cannot get them under contract before the deadline, rather than seeing them walk as free agents for nothing come July.
Lots of moving parts at play. Stay tuned ...
February, 7, 2014
Feb 7
10:08
PM ET
After blowing a late lead and coming perilously close to entering the Olympic break on a two-game losing streak, the
Rangers
recovered to top the Eastern Conference-leading
Pittsburgh Penguins
4-3 in an emotional shootout win Friday night on the road at Consol Energy Center.
Veteran center
Brad Richards
notched the shootout winner,
Benoit Pouliot
had a pair of regulation goals and defenseman
Dan Girardi
had a fine game to finish with a goal and an assist.


The Penguins erased one-goal deficits on three separate occasions and tied the game late in the third with
James Neal
's equalizer with less than three minutes to go. It was the second time in as many nights the Rangers surrendered a critical goal on a defensive breakdown, but they didn't leave any points on the table this time.
Sticking around
: The Olympic roster freeze went into effect Friday at 3 p.m. with virtually no movement throughout the league prior to the deadline. That means pending unrestricted free agents
Ryan Callahan
and defenseman
Dan Girardi
are sticking around -- at least for now. Neither player has reached an agreement with the team on a contract extension.
Power surge
: Playing with fire against the top-ranked power play in the league, the Rangers paid for a few trips to the penalty box in the first two periods. Rookie defenseman
Olli Maatta
knotted the score at one in the first period, and the Pens converted again in the second period with
Evgeni Malkin
's man-up marker to tie the game at two. Pittsburgh, which entered the game with a 24.9 percent success rate on the power play, has cashed in on 48 of 188 attempts this season. The Rangers matched the Penguins with a pair of power-play goals as well from Girardi and Pouliot. The Rangers went six straight games without a scoring on the man advantage -- albeit they didn't even have a single opportunity Thursday night -- heading into Friday's action.
First strike
: The Rangers jumped on the Penguins early, scoring just 64 seconds into play. Pouliot finished off
Mats Zuccarello
's rebound attempt, beating
Marc-Andre Fleury
for a 1-0 lead. Zuccarello, the lone NHL'er on the Norwegian national squad to compete in Sochi, Russia, recorded his eighth point in the past six games. The diminutive forward, who was discovered by Rangers GM Glen Sather during the 2010 Olympics in Vancouver, British Columbia, has two goals and six assists during that span.
Well wishes
: The mysterious illness ailing
Kris Letang
was revealed Friday, when Pittsburgh announced that the Penguins defenseman suffered a stroke last month. Though the situation is not considered to be life threatening -- Letang can treat the condition with blood thinners -- he is expected to be sidelined for six weeks. Scary stuff.
Sochi-bound stars
: Metropolitan Division rivals on Friday night, some of the Rangers and Penguins will join forces once they head over to Sochi this weekend.
Rick Nash
will join superstar
Sidney Crosby
and
Chris Kunitz
on Team Canada, while Rangers Callahan,
Derek Stepan
and
Ryan McDonagh
will partner up with American-born defensemen
Brooks Orpik
and
Paul Martin
.
January, 23, 2014
Jan 23
11:19
PM ET
NEW YORK -- The Rangers knew what to expect from a strong
St. Louis Blues
team that got absolutely hammered two nights prior, 7-1, by the goal-starved
New Jersey Devils
.
The Blues delivered on a big, heavy, tight-checking game that left little room to maneuver, and for the most part, the Rangers felt they responded in kind despite the 2-1 defeat, the team's second straight loss.
After the game, the team was happy with its overall game, save for a power play that came up short.
[+] Enlarge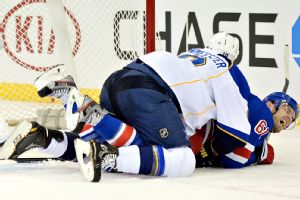 Joe Camporeale/USA TODAY SportsThe Rangers were blanked on three power-play opportunities.
The Rangers were blanked on all three man-up opportunities, including one in the third period with the chance to tie the game.
Prior to that, the team's sixth-ranked unit had tallied on the power play in eight of the previous 10 games.
"It was the first time in a long time I thought the power play let us down," said veteran center
Brad Richards
. "We were just not pounding the puck; if there's anything that wasn't on tonight, that was it."
The Rangers have largely exorcised those power-play demons from years past, but the unit that entered Thursday's action with a 21 percent success rate just couldn't get the job done.
"We didn't establish our shot enough, for whatever reason" said coach Alain Vigneault. "That's the No. 1 element, I believe, you have to do on the power play."
The Rangers fell behind 1-0 8:38 into play on
Alexander Steen
's team-leading 26th goal of the season, one that deflected in off his skate.
Steen later left the game with a lower-body injury, missing the entire third period.
The Rangers didn't lie down, though, as star winger
Rick Nash
tallied his 10th goal in 10 games, a snipe from the left circle that was the only shot Blues netminder
Jaroslav Halak
let through all night.
It was a tight 5-on-5 game the entire night, but Sochi-bound Blues defenseman
Kevin Shattenkirk
ultimately snapped a 1-1 tie on a power-play goal with Nash in the box serving a slashing penalty.
The Rangers' best chance to knot the score came 12:31 into the third period, with
Barret Jackman
whistled for a crosscheck, though the team's power play didn't even get a shot on goal.
"I don't know if they weren't giving us the opportunity to get the shot through or we just weren't taking that opportunity," Vigneault said.
With the loss, the Rangers dropped to 27-23-3, though they remain in second place in the Metropolitan Division standings, one point ahead of the scorching-hot
Columbus Blue Jackets
.
Thursday's effort was at least night-and-day different from Tuesday's match against the Islanders, in which the Rangers were outplayed and on the wrong side of the puck all night.
It had to be, with the team knowing that the Blues were looking to shed the embarrassment of Tuesday night's rout in New Jersey.
"We saw the ticker and we knew they were coming with some anger, obviously," defenseman
Dan Girardi
said. "A team like that never gets beat like that, so we knew they were going to come in hard, but like I said, I thought we matched it, played a pretty solid physical game."
Matched up with one of the top teams in the West, the Rangers were pretty satisfied with how they fared, just not the result.
"It was a good hockey game. We played a real good hockey team," Richards said. "They scored on the power play and we don't."