New York Rangers:

Daniel Carcillo
June, 3, 2014
6/03/14
8:01
PM ET
Francois Laplante/Freestyle Photography/Getty Images
Position:
LW
Number:
13
Age:
29
Born:
King City, Ontario
Height:
6-0
Weight:
203
How Acquired:
Acquired by the Rangers in a trade with the
Los Angeles Kings
on Jan. 4, 2014 in exchange for a conditional 2014 seventh-round draft pick.
In case you didn't know ...
• Carcillo, who has scored two goals in eight playoff games for New York, will be eligible to return in Game 4 of the Stanley Cup finals after having his 10-game suspension for official abuse reduced to six games.
• He also likes to fight. Carcillo once accumulated a career-best/league-high 324 penalty minutes in just 57 games with the Phoenix Coyotes in 2007-08. He also scored 13 goals that season.
• His nickname is "Car Bomb." "I was at a golf tournament and they were trying to figure out a nickname and [former Philadelphia Flyer]
Riley Cote
came up with car bomb and it stuck ever since," Carcillo said. "The way I play and my personality, you know something can set me off so that's why they came up with that nickname."
Click here
for the rest of our series.
April, 30, 2014
4/30/14
11:50
PM ET
NEW YORK -- Of course this series between the
New York Rangers
and
Philadelphia Flyers
was going to go to Game 7. And of course this was going to be a winner-take-all match that went right down to the wire, with both teams' respective seasons hanging in the balance as time wound down in the third period.
It was a final frame that seemed interminable for the Rangers, desperately clutching a one-goal lead and feeling each tick of the clock as if it were an eternity.
But at the end of regulation, the better team was left standing as the Rangers held on to knock off the Flyers 2-1 in Game 7 to advance to the next round of the Stanley Cup playoffs, where they will face the
Pittsburgh Penguins
.
[+] Enlarge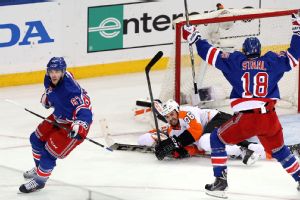 Adam Hunger/USA TODAY SportsThe Rangers prevailed in yet another Game 7 at the Garden.
"It's a sense of relief," said winger
Rick Nash
, whose goal drought continued Wednesday night despite a team-leading five shots. "You have two chances at it and we couldn't get the job done on the first chance, so it's a moment of relief and excitement."
Nash is of course referring to the Rangers' inability to close out the series Tuesday night in Game 6 and that nagging stat that the Rangers just can't quite seem to shake: 12 consecutive losses when leading in a playoff series.
But the Blueshirts began anew Wednesday night in a game that provided the type of pace and intensity that the series otherwise lacked. Both teams came out strong, but it was Flyers goaltender
Steve Mason
who was dazzling from the drop of the puck.
Mason was absolutely sensational in his third start of the series for the Flyers, even when the Rangers began to surge in the second period. It was former Flyer
Daniel Carcillo
who first got the Rangers on the board against his old club, notching his second goal of the series after replacing
J.T. Miller
in the lineup following a pair of games as a healthy scratch.
Mats Zuccarello
enabled Carcillo with a jaw-dropping backhanded pass laced through two different Flyers defenders.
Still, with the Flyers down 1-0 Mason was doing his part to steal the show. But despite several sequences of stunning saves from the 25-year-old netminder, who missed the first three games of the series with what he has subsequently revealed to be a concussion, the Rangers solved him again with
Benoit Pouliot
's marker later in the period.
It wasn't the stars who ended up on the score sheet for the Rangers, but that was only fitting for a team that has received well-balanced contributions from throughout the lineup all season long.
"That's the great thing about our team. Different guys have been different heroes all through the year or throughout this series, as you can see. Every night, every win we've had we've had different guys step up," said veteran center
Brad Richards
. "That's a good sign for our team."
As is the continued steadiness of goaltender
Henrik Lundqvist
, who was rock solid when necessary as the Flyers came buzzing back in the third period, a clear statement that they would not go quietly.
Rookie forward
Jason Akeson
cut the Rangers' lead in half, 2-1, and New York played much of the period on its heels, but Lundqvist was composed between the pipes as the Rangers white-knuckled their way to the buzzer.
Lundqvist did not have the same sort of outstanding performance as Mason, who was saddled with the loss despite making 31 saves, but he recorded a win and that was the only important statistic that means anything to the former Vezina Trophy winner.
"We knew they were going to push in the third and they came pretty hard, but the puck management was really good," said Lundqvist. "it's just exciting, that last minute is so intense and you're nervous but at the same time you just want to see what's going to happen next. The final second, that's probably the best feeling."
According to Elias Sports Bureau, Lundqvist has tied an NHL record with four consecutive Game 7 wins, tying
Cam Ward
,
Ed Belfour
and
Patrick Roy
.
"It's almost a thing that's out of your mind," said defenseman
Marc Staal
, who finished the game with a team-leading 24:28 in ice time. "You never have to think what will be back there because you know he's going to be there."
Now, the Rangers can finally put the Flyers out of their mind, too, after seesawing with their division rivals all series. There will be at least one night to relish a series victory before planning and preparation begin for Round 2.
"A good sense of accomplishment," defenseman
Ryan McDonagh
said when asked about the feeling in the room following the win. "But we know there's a long road [ahead]; we're trying to accomplish something even bigger."
That begins, of course, with the Pittsburgh Penguins, who knocked off the
Columbus Blue Jackets
in a bitter, physical and wildly entertaining first-round series that ended with a decisive Pens victory Monday night. While the Penguins have had a few days to rest while awaiting their second-round foe, the Rangers won't have that same luxury of recovery.
Instead, they'll make a quick turnaround, jumping on a plane to Pittsburgh on Thursday to prepare for what will be their third game in four nights.
That may not be the worst thing, however.
"No thinking. Right back to work. Right back to what we're doing here," Richards said. "Now you're in it and it's fun, so why not start right away?"
April, 30, 2014
4/30/14
9:49
PM ET
NEW YORK -- The
New York Rangers
haven't made it easy on themselves all series, so there's no reason to think that Game 7 should've been any different. Regardless, the Blueshirts held on to knock off the
Philadelphia Flyers
2-1 Wednesday night at Madison Square Garden to punch their ticket for a second-round matchup against the
Pittsburgh Penguins
in the Eastern Conference semifinals.
The Rangers had to white-knuckle their way through a tense third period, in which they were outplayed by the Flyers. Rookie
Jason Akeson
cut a two-goal lead in half, but New York was able to hold on for the victory. Philly surged in the final frame but couldn't find the equalizer with their season hanging in the balance.


And to think, it wasn't even Philly's goaltending that let it down. In fact, Flyers netminder
Steve Mason
was downright phenomenal in his third start of the series, making 31 saves in a spectacular performance that deserved much, much better. Mason even outplayed Rangers goaltender
Henrik Lundqvist
, but Lundqvist left the ice with the only thing that mattered Wednesday night: a win.
A look ahead:
The Rangers are likely facing a quick turnaround with the start of their second-round series against the
Pittsburgh Penguins
reportedly slated for Friday, making it a possibility that they could play five games in eight nights. Meanwhile, the Pens have had some time to rest following a series-ending victory against the
Columbus Blue Jackets
in Game 6 on Monday night, and that recovery time might be a blessing for a Pittsburgh team that got quite a scare from the Blue Jackets in an unpredictable and gritty first-round series.
Though
Evgeni Malkin
came to life for the Penguins with a hat trick in Game 6, superstar captain
Sidney Crosby
was held without a goal for the entire series as former Rangers
Brandon Dubinsky
made him work for every inch of ice.
Strong second:
After a high-paced, evenly-matched first period that was scoreless after 20 minutes, the Rangers took over the game despite Mason's heroics in the Flyers' net. Mason was far and away the Flyers' best player on the ice through two periods, making save after spectacular save, but he didn't get much help in front as the Rangers built a two-goal lead in the second period.
After
Daniel Carcillo
's goal early in the frame,
Benoit Pouliot
gave the Rangers a 2-0 advantage, converting a deft feed from beneath the goal line for a scoring sequence on which Mason had virtually had no chance.
Earlier in the period, Pouliot went to the penalty box for a questionable goaltender-interference call, making that the fourth offensive-zone penalty he has taken this series. A huge penalty kill, replete with a superior shot-blocking sequence, gave the Rangers a lift, and Pouliot was able to capitalize on the other end.
Grit factor:
Rangers coach Alain Vigneault would not tip his hand about any potential lineup changes prior to Game 7, but he opted for some physicality and snarl when he inserted Carcillo into the lineup instead of 21-year-old center
J.T. Miller
, who played in Games 5 and 6. Using Carcillo, who scored a big goal against his former team in Game 3 in Philadelphia, proved to be a wise decision as the master antagonist gave the Rangers a 1-0 lead after notching his second of the series early in the second period. Carcillo cashed in on an excellent backhanded feed from
Mats Zuccarello
-- laced through two Flyers defenders -- following an impressive pair of saves by Mason earlier in the sequence.
April, 22, 2014
4/22/14
10:47
PM ET
PHILADELPHIA -- The
New York Rangers
took a 2-1 series lead with a 4-1 win over the
Philadelphia Flyers
Tuesday night at Wells Fargo Center.
Former Flyer
Daniel Carcillo
made his first appearance of the series and it was a memorable one, as he recovered from both a head shot and a questionable penalty call to deliver the dagger against his old club, scoring to give the Rangers a three-goal cushion in the third period.


Flyers goaltender
Steve Mason
, playing for the first time since suffering an upper-body injury on April 12, replaced
Ray Emery
in the third period after the 31-year-old gave up his fourth goal of the night.
Flyers captain
Claude Giroux
managed to register his first shot on goal of the series, but was again held off the scoresheet as Philly's first line was effectively contained.
Change coming?:
Emery, making his third consecutive start this series in place of injured starter Steve Mason, did not have his best outing Tuesday night. He was solid in the first two games, but gave up at least a few in Game 3 that he'd like to have back.
Considering Mason's surprising appearance -- he dressed as a back-up, even though he was initially reported to be unavailable, and entered the game to replace Emery in the third -- he could be primed to make his first start for the Flyers in Game 4 in Philadelphia on Friday.
Big goal:
The Flyers carried momentum into the second period after cutting the Rangers' lead in half with defenseman
Mark Streit
's goal at the end of the first, but they failed to capitalize on the emotional swing. Instead, Rangers' blueliner
Dan Girardi
tallied the Blueshirts' biggest goal to date of the playoffs, beating Emery with a deep slapshot to reclaim a two-goal lead at 5:17.
Lose your cool:
Flyers coach
Craig Berube
stressed in his pregame press briefing the importance of discipline after his club spent a solid chunk of Sunday's 4-2 win down a man on the penalty kill. Apparently, the players did not heed his message, because there was plenty of sloppy, undisciplined hockey right from puck drop. The Flyers took three separate penalties in the first period and the Rangers were almost as bad. For the Blueshirts,
Benoit Pouliot
was the main offender, taking two ill-advised penalties, the latter of which negated a Rangers power play.
Unlikely duo:
Raise your hand if you had
Jakub Voracek
and
Carl Hagelin
as the first two players to drop their mitts in this black-and-blue series. Exactly. The two skill players squared off in the second period and Voracek ended it quickly in a lopsided bout, pummeling Hagelin before the Swedish winger could even land a punch. The crowd approved, erupting in a raucous roar, but again the Flyers failed to channel the surge. A stingy Rangers penalty-killing unit was the unsung hero for New York in the middle frame, snuffing both man-up opportunities for the Flyers in the period.
April, 16, 2014
4/16/14
6:30
PM ET
We've seen enough regular-season games between the
New York Rangers
and
Philadelphia Flyers
to have have a pretty good idea of what to expect from a best-of-seven playoff series -- animosity, bad blood and plenty of post-whistle extracurriculars.
Some rough stuff in front of the net? Count on it. A
Zac Rinaldo
-
Daniel Carcillo
meeting of the minds? A very good possibility.
Heck, Flyers forward
Scott Hartnell
casually dropped the H-bomb, and the series hasn't even started!
"I think there is a level of hatred by our players to their players, their fans to our fans just being so close and the history behind both franchises," he said to CSN Philly. "It's going to be a battle."
There won't be any need to manufacture a level of contempt between the Blueshirts and Broad Street Bullies. A playoff-esque level of nastiness has always been a staple of these games.
"It's perfect. It's what you want, right?" Flyers forward
Wayne Simmonds
said in an interview with CSN Philly. "It's a playoff series. It's going to be a battle. Even if you do go into a series without having bad blood with a team, I guarantee by Game 2 it's going to be boiling. That's the way hockey [is] supposed to play."
Regarded as one of the most compelling series the NHL has to offer in the first round of action, it has even gained some national attention as ESPN's Keith Olbermann named the Philadelphia Flyers' head of social media the Worst Person in the World in Sports, one of his daily segments of his late-night show.
The Flyers sent out a cheeky message via the team's official Twitter account, encouraging fans to do some "spring cleaning" with their Facebook accounts. The subsequent link provided fans a way to identify all the Rangers fans that popped up as "friends" on their account.
Fun stuff already, and the puck has yet to drop.
Stay tuned for what should be an entertaining Game 1 on Thursday night (7 ET) at Madison Square Garden.
March, 27, 2014
3/27/14
2:37
PM ET
They haven't all been pretty. They haven't all been dominant. Regardless, the
New York Rangers
embark on a four-game swing through Western Canada having stacked together five consecutive wins.
For some perspective: the Blueshirts have not managed such a streak since the 2011-12 season.
In beating the
Philadelphia Flyers
Wednesday night, the Rangers extended their advantage within the Metropolitan Division standings –- they now lead the Flyers by three points, though Philly has two games in hand –- but more importantly, they are showing the type of consistency, toughness and depth that have been conspicuously absent previously this season.
[+] Enlarge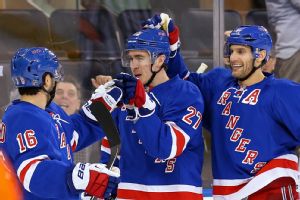 Anthony Gruppuso/USA TODAY SportsRyan McDonagh scored his 14th goal of the season Wednesday vs. Philadelphia.
The Rangers held a high-octane Flyers offense without a goal for more than 48 minutes Wednesday night at Madison Square Garden. Meanwhile, their fourth line chipped in with a pair of goals and defenseman
Ryan McDonagh
dazzled the crowd and his teammates with a stunner for his 14th goal of the season.
Even without one of their top-six forwards producing -- trade-deadline acquisition
Martin St. Louis
is still searching for his first goal as a Ranger -- the Rangers are hitting their stride.
Chris Kreider
, by the way, may or may not require surgery for a hand injury sustained last week.
They have one of the best goaltenders in the game in
Henrik Lundqvist
, who has a franchise-best 306 NHL wins after Wednesday, and a potential Norris Trophy candidate in defenseman Ryan McDonagh.
And they boast considerable balance, as evident by their fourth line's straight-forward, and effective, performance Wednesday night.
"They are simple and they compete," coach Alain Vigneault said after the team's win Wednesday night. "That fourth line is big, grinding, you know, wear-the-opposition type line, and when they find ways to contribute, like they have the last couple of games offensively, it makes our team that much better, as far as winning hockey games."
The trio of
Brian Boyle
,
Dominic Moore
and
Derek Dorsett
(who has split time with
Daniel Carcillo
in this spot) has provided the Rangers with energy and timely production. Considering how potent Boston's fourth line was against them in the Eastern Conference semi-finals last spring, this is a valuable asset as the Rangers prepare for the playoffs.
"You have to have that," said Moore, who also won six of seven faceoffs Wednesday. "You can't win without that. You see every game every night –- it's usually one-goal games. [Wednesday] wasn't the case, but everyone has to chip in and everyone has to be firing on all cylinders."
Boyle said that the team's considerable depth is an encouraging sign, especially at this time of year. The last time the Rangers were regarded in a similar way, when they finished on top of the East after the regular season in 2012, the club made it to the Conference finals.
This team has some similarities to that one, according to Boyle. "It's a pretty well-oiled machine," he said.
Though their playoff position is favorable –- sportsclubstats.com has the team's chances of making it at 99% -- the Rangers will be tested during this upcoming stretch in travel alone. Though the Avs are the only playoff team they'll face before returning home for the final week of the regular season, the Rangers will make stops in Calgary, Edmonton, Vancouver and Colorado.
Said Boyle, "There's plenty on the line."
March, 1, 2014
3/01/14
5:23
PM ET
PHILADELPHIA -- The
Rangers
fumbled a prime opportunity to pull away from the
Philadelphia Flyers
in the Metropolitan Division standings, surrendering a 4-2 loss to their longstanding rivals at Wells Fargo Center on Saturday.
The Blueshirts, riding high after a 2-1 win over the defending Stanley Cup Champion
Chicago Blackhawks
on Thursday, also wasted a chance to jump on the Flyers early with two power-play chances in the first five minutes of play, instead allowing the Flyers to build a 2-0 first-period lead.
Ultimately, the Flyers were able to gain traction in the divisional standings, in which they trail the Rangers by a mere point with 21 games remaining in the regular season.
"The power play could have given us a lead, but their goaltender made some good saves. They made us pay on a couple of opportunities after that," coach Alain Vigneault said. "We battled back hard, won the second period, and in the third just didn't get enough looks."
Goaltender
Henrik Lundqvist
's return to net was spoiled 7:04 into play as
Anton Stralman
's stick directed a puck past him in a flukey first goal that put the Rangers on their heels. Lundqvist was deked and beaten by
Sean Couturier
just 66 seconds later, putting the Rangers into an uncomfortable 2-0 hole.
The Rangers responded in the second, however, with a strong surge that allowed them to tie the game at two with
Derick Brassard
's power-play marker at 11:42. But, despite a strong effort, the Rangers fell behind again on a couple of critical breakdowns that allowed
Wayne Simmonds
to spin and shoot from the left circle for a go-ahead goal on the man advantage.
The Rangers bungled a couple of Grade-A opportunities in the middle frame -- both
Chris Kreider
and
J.T. Miller
whiffed on what would have been gimmies -- and couldn't solve Flyers netminder
Steve Mason
in the third, either.
Mason, who was terrific in the first period, finished with 33 saves in his star performance, a critical one in helping the Flyers bounce back from Thursday's 7-3 drubbing received from the
San Jose Sharks
.
"We were having success in the second,"
Ryan Callahan
said. "For whatever reason, if it was them or us, we didn't generate enough of that in the third."
Derek Dorsett
returned to the lineup for the first time since Jan. 3. The gritty winger, who missed almost two months with a broken leg, was used on the fourth line with
Brian Boyle
and
Daniel Carcillo
.
Before the game, Vigneault said he wanted to see both Dorsett and Carcillo together, but Saturday's game, in which Carcillo spent the majority of the second period in the penalty box, made evaluating that trio a difficult task.
"We did a lot of good things," Lundqvist said, "But it wasn't enough tonight."
January, 31, 2014
1/31/14
9:47
PM ET
NEW YORK -- After completing a Stadium Series sweep on Wednesday, the
Rangers
continued to roll with their second straight victory against the
Islanders
, downing their bitter division rivals 4-1 Friday at Madison Square Garden.
Derick Brassard
snapped a 1-1 tie with 7:46 to go, capitalizing on a beautiful cross-ice feed from defenseman
Marc Staal
.
Brad Richards
added an insurance goal minutes later to give the Rangers a 3-1 lead.
Ryan McDonagh
added an empty-netter with one second in regulation.


The Blueshirts have won six of their past eight games and hope to maintain that momentum in the remaining three games before the Olympic break.
Staal continues to be a force for the Rangers, not just with his defensive abilities but with his offensive contributions as of late. The 27-year-old defenseman finished the night with two assists just hours after coach Alain Vigneault heaped praise upon him for his recent play.
"I think Marc is playing his best hockey since I've been here," Vigneault said in his pregame briefing.
All tied up
: After an abundance of Grade-A looks on the Islanders' second-period power-play,
Kyle Okposo
tied the game at 14:28 just moments after McDonagh's hooking penalty expired. Okposo notched his 24th goal of the season, beating
Henrik Lundqvist
from the doorstep to knot the score at one. Lundqvist had 38 saves on the night.
Chipping in
: The Rangers' fourth line has been an effective one as of late. Two days after rugged winger
Daniel Carcillo
scored the winner in the team's 2-1 win against the Islanders in the Stadium Series match Wednesday night,
Brian Boyle
got the Rangers on the board with his fourth of the season just 3:29 into the first period.
Trade talks
: Things just got real. The trade talk surrounding captain
Ryan Callahan
has escalated, as a source confirmed to ESPNNewYork.com that the Rangers have granted permission to multiple teams to speak with Callahan's agent. The Rangers have yet to re-sign the gritty 28-year-old winger, who is reportedly seeking a seven-year deal worth $6 million annually. No deal is imminent, and there is a healthy dose of skepticism amongst many around the league that the Rangers will actually move him. Obviously, no deal was imminent as of Friday night, given that Callahan was in the lineup.
January, 30, 2014
1/30/14
12:12
AM ET
NEW YORK -- Wednesday night's game in the Bronx was a starkly different game from Sunday's rout of the
New Jersey Devils
-- an offensive onslaught that saw two teams combine for 10 goals -- but the
New York Rangers
won this one, too, dispatching the
Islanders
2-1 to complete a Stadium Series sweep.
There wasn't much room on the ice, the temperature was a bit more frigid and both teams had to battle with a bouncing puck all night long. But despite a desperate Islanders club that came with a furious flurry in the third period while trying to avoid its fourth straight loss, the Rangers held on for the second consecutive win at Yankee Stadium.
[+] Enlarge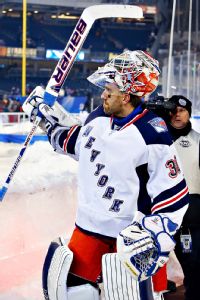 Jim McIsaac/Getty ImagesHenrik Lundqvist said the Yankee Stadium experience was "awesome."
Again, the place was packed, with 50,027 in attendance.
"It's a great stadium, but you need the fans to make it special," said goaltender
Henrik Lundqvist
, who finished the night with 30 saves. "It was awesome. Again."
Give credit to the Rangers for keeping a tight focus. Never once amidst the pageantry surrounding the pair of outdoor games did the Blueshirts fail to grasp the importance. Two bitter division rivals. Four points at stake. The Rangers didn't squander the opportunity despite the ample distraction.
With five wins in their past seven games, the Rangers improved to 29-23-3, tied in points (61) with fifth-place Montreal in the Eastern Conference and firmly entrenched in second within the Metropolitan Division.
"You take it all in the day before, but when it comes to the game, you really bear down and focus," defenseman
Ryan McDonagh
said.
A tight-checking game that was scoreless through almost the first two periods saw the Rangers surrender the game's first goal to rookie forward
Brock Nelson
with 1:27 remaining in the second. The Rangers answered back almost immediately, though, tying the game just 40 seconds later on
Benoit Pouliot
's equalizer with 47 seconds remaining in the frame.
It was a goal that changed the game, one that was set up by
Derick Brassard
as he tried to bank the puck off the backside of Islanders goaltender
Evgeni Nabokov
.
"We knew that Nabokov was coming really hard out of his crease and ... I tried to bank it off his back to go in and I missed both times. The last time I thought I hit [Pouliot] right in the chin and it went in," Brassard explained. "It was not pretty."
Fourth-line forward
Daniel Carcillo
added what would stand up as the game winner 4:36 into the third period, banging home a rebound on a 4-on-2 rush.
The Rangers held on the rest of the way, despite some quality chances from the Islanders' top line. The win allowed them to savor the experience that much more.
"That's like the highlight of my career so far," Brassard said of the two games. "Just to play here. I think when both teams come out of the tunnel, I think that's when you realize that it's awesome. You share the passion of the game with so many people. The game meant something."
Defenseman
Marc Staal
, who also played in the Winter Classic against the
Philadelphia Flyers
back in 2012, gave a similar endorsement.
"These are a ton of fun to play in. I could play in 50 of these a year," said Staal, who was awarded the MVP Broadway Hat. "It's a lot of fun being out in that atmosphere."
Seeing his charges gut out a win in such challenging weather conditions afforded coach Alain Vigneault a new perspective on his club.
Granted, he cringed a bit when seeing guys block shots, but was impressed with both the sacrifice and commitment on display, nonetheless.
"It takes a lot of courage to do those things on a night like this," Vigneault said. "Our guys did it and we've got to keep doing it if we're going to win and get into the playoffs."
This is looking now like a team that is beginning to come together. A team that may actually be capable of doing some damage come playoff time.
Both Vigneault and Lundqvist have seen a change in the past few months. They hope it continues.
"We're starting to grow together as a team," Lundqvist said. "Now's the time to do it."
January, 29, 2014
1/29/14
10:23
PM ET
NEW YORK -- The
New York Rangers
won Sunday's Stadium Series game with their offense.
Their defense did the job in securing Wednesday's win over the
New York Islanders
.


The Rangers squeaked out a 2-1 win over the Islanders in the second Stadium Series game on Wednesday night at Yankee Stadium in the Bronx. Like Sunday, the Rangers fell behind but scored the final goals to close the game.
Daniel Carcillo
provided the game-winner in the third in front of a crowd of 50,027.
Unlikely hero:
With all the star players in this game, it was an unlikely name that provided the difference-maker. With the Rangers on a four-on-two rush, Carcillo cashed in a rebound to give the Rangers the lead for good 4:36 into the third period. Carcillo, whom the Rangers acquired for his toughness, not his goal scoring, tallied just his third goal of the season.
Where's Tavares?
After torching the Rangers for three points in the teams' previous meeting on Jan. 21, Islanders center
John Tavares
was held pointless in this game. Tavares, who entered the team second in the NHL in points, has been held without a point in back-to-back games for the first time since Dec. 20-21. The Islanders need him to perform to win games.
Colder:
The game-time temperature was 22 degrees, a drop from the 24.9 degrees at game time for Sunday's Stadium Series clash between the Rangers and the New Jersey Devils.
Undefeated:
The Rangers are now 3-0-0 in outdoors games. They beat the Philadelphia Flyers in the 2012 Winter Classic, and bested the Devils and Islanders in the Stadium Series. The Rangers, who were the road team in both games, improved the road teams' record in outdoor games to 9-1-1.
No momentum:
The Islanders scored the first goal of the game when
Brock Nelson
beat
Henrik Lundqvist
with just 1:27 left in the second period, but the Islanders squandered that lead in 40 seconds. In a scrum near the goal,
Derick Brassard
's pass bounced off
Benoit Pouliot
's chest, and he hammered it home to tie the game with 47 seconds remaining in the period.
Streaking wrong way:
Since beating the Rangers on Jan. 21, the Islanders have lost four straight. With just 50 points, the Islanders can't afford losing streaks like these if they want to make up ground in the playoffs race.
Up next:
These teams will meet again Friday at Madison Square for the fifth and final time this season. They've split the meetings thus far.
January, 12, 2014
1/12/14
2:35
PM ET
At a glance:
The
New York Rangers
aim to put together a three-game winning streak -- a feat they have accomplished only twice this season -- when they host their bitter divisional rivals, the
Philadelphia Flyers
, at Madison Square Garden on Sunday night. And aiming to protect home ice will be key for a Blueshirts squad that squandered its last lengthy stay at MSG. Both the Rangers and Flyers are in the midst of significant turnarounds following a poor start to the 2013-14 season. The Rangers have won seven of their last 10 games while the surging Flyers have secured nine wins in their last 12 to carve out the third-place spot in the Metropolitan Division.


Important match:
Speaking of the division, in which the dominant
Pittsburgh Penguins
reign supreme with a 33-12-2 record and 48 points (18 points more than second-place Washington), Sunday's game has significant implications for both the Rangers and the Flyers. The Blueshirts trail the Flyers by one point in the standings and have the chance to leapfrog both them and the Capitals. Washington plays Buffalo Sunday afternoon.
Power Rangers:
Long maligned by their anemic power play, the Rangers' specialty teams unit has made a dramatic improvement this season. With four straight games with a man-up marker and a 33-for-155 record, the Blueshirts are sixth in the league with a 21.3% success rate. They'll have a tough test in the Flyers' penalty killers Sunday night. Philly's PK ranks sixth in the league with an 84.8% kill rate.
Downie and out:
Flyers forward
Steve Downie
, acquired earlier this season from the
Colorado Avalanche
, appears to be in coach Craig Berube's doghouse. Berube announced to reporters that Downie will be a scratch Sunday and criticized his "intensity level." Tough guy
Jay Rosehill
will replace him in the lineup. Meanwhile, the Rangers will have ex-Flyer
Daniel Carcillo
in the lineup as an antagonist against his former club. The Rangers sent down forward JT Miller following Friday's game to get him a pair of games this weekend with the team's AHL affiliate in Hartford, CT.
January, 6, 2014
1/06/14
3:26
PM ET
GREENBURGH, N.Y. -- There were several omens for
Daniel Carcillo
that he would land with the Rangers.
Last week, while he was with the Kings, his girlfriend asked him which arena was his favorite.
His response: Madison Square Garden, which is where he will now play his home games.
[+] Enlarge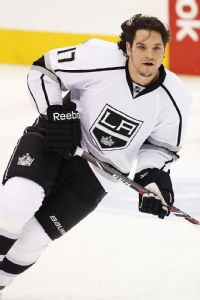 Tom Szczerbowski/USA TODAY SportsDaniel Carcillo was acquired by the Rangers for a conditional seventh-round pick.
"It will be pretty cool man," Carcillo said Monday morning before the Rangers' game against the Blue Jackets. "I always loved to play here."
Carcillo is excited to be with the Rangers after being acquired Saturday for a conditional seventh-round pick. Carcillo, 28, played in 26 games with the Kings and had one goal and one assist. The Rangers are hoping he will provide toughness in the absence of forward
Derek Dorsett
, who could miss six weeks. Carcillo will be scratched for Monday's game against Columbus.
"I was kind of shocked but I welcome it. Wasn't playing much there for whatever reason. A lot of the same type of forwards there," Carcillo said of the trade. "Good place to be. Great team. Good opportunity to bring what I can -- a little bit of a leadership and some experience and hopefully I'll help in whatever way they want me to."
After Dorsett broke his fibula in the Rangers' 5-2 loss to the Penguins on Friday, the Rangers moved quickly to bring in Carcillo. This is Carcillo's fifth team since he joined the league in 2006-07, and he's developed a reputation as a tough guy as he's racked up 1,136 penalty minutes during his career. Rangers coach Alain Vigneault called it a "low-risk move" for the Rangers.
"He brings an energy level. He brings a physical dimension that I think teams need. You need that greasy type player now and then to bring that emotion and energy and grinding game to the forefront. I think Dan brings that," Vigneault said after Monday's morning skate. "He's done it in the past. When we do need him I think he's going to be a good force for us."
Carcillo has been suspended or fined 10 times during his career, including a seven-game suspension in 2012. He said he's making more of a conscious effort to play within the rules.
"No. I love losing money," Carcillo joked. "Of course you make a bigger effort. You see numbers and even if it's a questionable hit now you don't make it, which is tough for guys in my position but I think coaches and management and everyone understands how the game's changing."
•
Henrik Lundqvist
was the first goalie off the ice, indicating he will be the starter against Columbus.
Cam Talbot
started against Toronto, while Lundqvist started against Pittsburgh. Lundqvist, who received a contract extension in December, is struggling this season, as he's 12-16-2 with a 2.78 goals against average. Talbot, meanwhile, is 9-3 with a 1.66 goals against average.
• Vigneault said the Rangers will go with the same lines Monday that they used in Saturday's 7-1 win over the Maple Leafs. Carcillo and
Justin Falk
would be the scratches.