New York Rangers:

Dominic Moore
June, 24, 2014
Jun 24
9:25
PM ET
By
Mike Mazzeo
| ESPNNewYork.com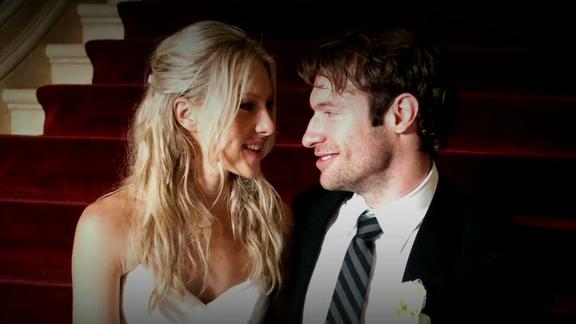 New York Rangers
center
Dominic Moore
won the 2013-14 Bill Masterton Memorial Trophy, the NHL announced Tuesday.
The Masterton Trophy is given to the player who "best exemplifies the qualities of perseverance, sportsmanship, and dedication to hockey."
Moore took a leave of absence to take care of his wife Katie, who eventually died from a rare form of liver cancer at the age of 32 in January 2013.
Moore has since established a foundation in Katie's honor.
He returned for a second stint with the Rangers in 2013-14, and played an integral role during the team's run to the Stanley Cup finals.
Moore scored the lone goal in New York's 1-0 series-clinching victory against Montreal in Game 6 of the Eastern Conference finals.
Winger
Martin St. Louis
finished second in the Lady Bing (award for high-level play and sportsmanship) voting. Defenseman
Ryan McDonagh
finished eighth in the Norris Trophy (top defenseman) voting.
June, 3, 2014
Jun 3
8:15
PM ET
By
Mike Mazzeo
| ESPNNewYork.com
Scott Levy/NHLI/Getty Images
Position:
C
Number:
28
Age:
33
Born:
Thornhill, Ontario
Height:
6-0
Weight:
192
How Acquired:
Signed with the Rangers as an unrestricted free agent (one year, $1 million) on July 5, 2013.
In case you didn't know ...
•
Watch this beautifully-done E:60 piece on Moore
. He's overcome personal tragedy just to be here, having lost his wife Katie, 32, to a rare form of liver cancer. Moore left the
San Jose Sharks
in the middle of the 2012 playoffs to be with Katie. He sat out the entire 2012-13 season after her death.
• Moore, originally selected by the Rangers in the third round (No. 95 overall) of the 2000 NHL Entry Draft, is a really good hockey player. He plays on the fourth line, but he's really elevated his game. Moore scored the only goal in the Rangers' Eastern Conference finals-clinching victory in Game 6 against the
Montreal Canadiens
.
• Moore, who has played with nine different teams in his career, is also extremely smart. He played his college hockey at Harvard. Even cooler than that? He was teammates with his brothers, Steve and Mark. They even got to play on the same line. Harvard is where Moore met Katie, too.
Click here
for the rest of our series.
May, 17, 2014
May 17
6:07
PM ET
MONTREAL -- The
New York Rangers
did not shrink away from the spotlight when it came to test their mettle in the NHL's most daunting, raucous road venue Saturday afternoon. No, the Rangers finally put to bed the notion that the Bell Centre was their own personal house of horrors as they stifled a boisterous crowd and sent fans scrambling for the exits in a commanding 7-2 rout of the
Montreal Canadiens
in Game 1 of the Eastern Conference finals.
Despite having recorded just one win in their last 10 games in the arena, revered for its rabid crowd and ample acoustics, the Rangers dispatched the Habs with ease, jumping out to an early 2-0 lead and chasing goaltender
Carey Price
from net after the second period in their fourth consecutive playoff win.
That stunned silence that settled over the crowd must have felt like music to their ears.
[+] Enlarge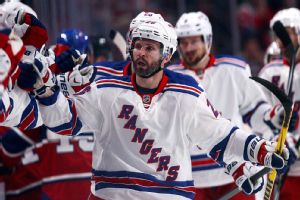 Bruce Bennett/Getty ImagesMartin St. Louis had an emotional homecoming.
"I wish we could play every game here," said veteran center
Brad Richards
, whose goal with less than 12 seconds remaining in the second period served as the dagger for both Price and the Habs. "It's a great building."
The Rangers had a little bit of everything in their series-opening victory in Montreal, including yet another huge moment for second-round series hero
Martin St. Louis
.
St. Louis, who inspired his entire Rangers team when he returned to play in Game 5 last week just one day following the death of his mother, scored the game's first goal just 4:35 into play, converting a beautiful feed from fourth-line center
Dominic Moore
.
It's an emotional homecoming for St. Louis, considering the last time he was here was last Thursday, when he flew home from Pittsburgh to grieve with his family. The St. Louis family will host the entire Rangers team as they attend the funeral for France St. Louis, who died of a heart attack at age 63, on Sunday.
About 10 to 12 of the Rangers went to her wake Friday night in what continues to be an emotional week for St. Louis and his family. Coach Alain Vigneault even texted the 38-year-old veteran afterward, just to make sure he was doing OK.
"It's been very emotional for our whole group, and he's handled it in an incredible way that has probably helped our team come closer together," Vigneault said.
St. Louis appeared elated after the goal, and after the game, he discussed how grateful he is to have the support he has received over the last nine days.
"The guys are behind me and supporting me, and their effort was unbelievable," he said. "We feel really close right now and we're trying to keep feeding off that."
St. Louis was named the game's first star -- and a huge stick tap to the Bell Centre crowd here, for even a disgruntled Habs fan base cheered him heartily after their team lost -- but there were so many for the Rangers who chipped in for the type of resounding win that is sure to keep the team's confidence chugging along.
Moore, who is no stranger to heartbreak himself after losing wife, Katie, to a rare form of liver cancer last year, was absolutely sensational in the opening frame. He made two jaw-dropping feeds to set up the Rangers' first two goals, helping build a critical 2-0 lead that put the hapless Habs on their heels.
The Blueshirts were 3-for-7 on power plays in Game 1.
Rick Nash
finally scored his first goal of the 2014 playoffs, defenseman
Ryan McDonagh
finished with one goal and three assists, and goaltender
Henrik Lundqvist
continued his dominant play.
Lundqvist, who has posted a 1.25 GAA and .961 save percentage in the last four games, may even get a respite now from those persisting questions about his struggles at Bell Centre, where, before Saturday, he had not played in more than two years. He had not won a game in the building since 2009.
"I don't know if you've seen him play the past few weeks,"
Brian Boyle
said, "but he's been on another planet."
The entire Rangers team played pretty otherworldly Saturday, outskating the Habs from start to finish. It just may be that Montreal has not faced an opponent yet this postseason that boasts the same sort of threatening speed element as the Habs. On Saturday, they did not handle that well.
"We got our asses kicked all over the ice," Habs forward
Rene Bourque
told reporters after the game, also calling it Montreal's "worst playoff game by far."
The Rangers were expecting to carry over the type of inspired, purposeful play that allowed them to overcome a 3-1 series deficit and upset the
Pittsburgh Penguins
in Round 2, but it would have been hard to imagine such a drubbing, especially against one of the best goaltenders thus far this postseason.
Price, who did not speak after the game, was pulled after surrendering four goals on 20 shots. He was replaced by backup goaltender
Peter Budaj
, though Budaj couldn't do too much to stop the onslaught, either.
"Yeah, I'd say surprised," defenseman
Marc Staal
said about the Rangers' seven goals against Montreal. "Not surprised in the way we played and the way we wanted to play.
"We had a great start to the game, set that tempo right from the beginning, and were able to convert on a couple, which is big in a road rink, especially here," Staal said. "We were able to carry that through."
April, 27, 2014
Apr 27
4:41
PM ET
NEW YORK -- Asked about
Dominic Moore
's boisterous goal celebration that sent the 6-foot-7, 244-pound
Brian Boyle
crashing to the ice during the second period, Boyle deadpanned: "He was excited, huh?"
Boyle admitted it "didn't feel too good" as he was toppled by Moore and his other
New York Rangers
teammates, but the reward of taking a pivotal Game 5 and a 3-2 series lead against the
Philadelphia Flyers
seemed worth it for the hulking fourth-liner.
Boyle, too, scored a goal in the Rangers' 4-2 victory against the Flyers, when he buried Moore's pass to score on an empty net with less than 16 seconds remaining in regulation.
That both Moore and Boyle appeared on the score sheet Sunday afternoon underscored both the team's depth and the importance of what has become a supremely effective fourth line for the Rangers this season and this series.
The Rangers are not bruising their way to wins or bowling over their division rivals with offensive firepower. But they have consistently employed their speed and skill while utilizing all four lines. Sure, some of the team's biggest stars have endured scrutiny --
Rick Nash
was the one to bear the brunt of the criticism following the loss in Game 4 -- but some of the team's role players have also stepped up in the most important situations this series.
Moore, who is playing in his first season after taking a year off following the death of his wife, Katie, finished the game with a goal and an assist and also went 6-for-7 from the faceoff circle. Nine different players registered a point for the Rangers.
"We've prided ourselves on that all year," alternate captain
Brad Richards
said of the team's depth. "We play four lines. Everybody has a different role. [Moore] is a big PK guy, [on] faceoffs tonight he was unbelievable. ... That's just our MO. You can't have a good fourth line, and he makes that fourth line go."
Richards buried a third-chance attempt to give the Rangers a 2-0 lead in the second period, but Moore helped the team build a commanding three-goal advantage later in the frame. Moore pounced on a bouncing puck that Flyers depth defenseman
Hal Gill
failed to corral and put it home for his second playoff goal of the series.
Though the Rangers had a brief scare late in the third period when the Flyers pulled goaltender
Steve Mason
for the extra attacker and captain
Claude Giroux
scored his first goal of the series to make it 3-2, the Rangers preserved the lead in the third period with stingy play and discipline that was lacking in the first two periods. The team's penalty-killing units were, again, excellent.
"Every play matters, and right now, when games are tight, you need to be smart about it," said Rangers goaltender
Henrik Lundqvist
, who turned away 24 of 26 shots faced. "The biggest part is to be poised and control the momentum swings."
Now comes the difficult part, as the Rangers have the chance to put the Flyers away when they travel to Philadelphia for Game 6. Twice previously in this series, the Blueshirts have allowed the Flyers to climb back into the series and wrest momentum. Avoiding a Game 7 on back-to-back nights would be a major coup for the team's confidence and energy level.
"We have to go in there and win a game," said Rangers defenseman
Marc Staal
, who tallied the Rangers' first goal of the game at 11:53 of the first period. "We want to get it done in their building and we have to have the killer instinct to get in there and try to get a win."
This Flyers bunch is a resilient one, though, one that recovered from an abysmal 1-7-0 stretch to start the season to nab the third spot in the Metropolitan Division and secure a berth in the playoffs.
The effort was there on Sunday, but the execution was off. Playing without injured defenseman
Nicklas Grossmann
didn't help matters, but that won't change. Flyers coach Craig Berube confirmed Grossman, who sustained a lower-body injury in Game 4, would not be available for Game 6, either.
And yet Berube sounded optimistic heading into a Game 6 that could decide the team's postseason fate.
There was nothing on par with Giroux's Game 4 guarantee, in which Giroux essentially promised the Flyers would tie the series up, but Berube's confidence in his team was similarly stubborn.
Berube, who took over the post after Peter Laviolette was axed just three games into the season, has seen his squad stare down plenty of challenges already. Each time, he's seen his players respond with both poise and pluck.
So, naturally, how does he see them responding to a do-or-die situation in Game 6?
"Like they've responded all year. I think we've had our backs against the wall pretty much all year, [they've had to] fight for the playoffs, fight for a lot of things," Berube said. "Our team will fight again in Game 6."
April, 24, 2014
Apr 24
4:30
PM ET
NEW YORK -- Veteran forward
Dominic Moore
was nominated as the
New York Rangers
' Masterton Trophy nominee for his "perseverance and dedication to hockey" -- and it's easy to see why.
The 33-year-old Moore returned for a second tour with the Rangers this season following the heartbreaking loss of his wife, Katie, to a rare form of liver cancer last January.
Moore has emerged as a key piece of the Rangers, centering an energetic fourth line that has emerged as one of the club's most consistent and effective this season. But beyond any of his accomplishments on the ice, Moore has had to overcome profound tragedy.
ESPN's E:60 documents his journey of love, loss and life in a special story that follows his 18-month absence from hockey and what inspired him to return. The episode will air tonight at 7 on ESPN.
March, 30, 2014
Mar 30
5:31
PM ET
Each year the New York chapter of the Professional Hockey Writers' Association votes on a nominee for the NHL's William Masterton Memorial Trophy, an award that honors the player that best exemplifies perseverance, sportsmanship and dedication to ice hockey.
This year, the choice was an absolute no-brainer.
Veteran
Dominic Moore
won our vote by a landslide, because the 33-year-old veteran forward is the very embodiment of those qualities.
As you may know, Moore returned to the NHL for his second tour with the Rangers after taking a year off following the tragic passing of his wife, Katie. Katie died of a rare form of liver cancer last January at the age of 32.
Though the Rangers expressed interest in Moore following the NHL lockout, he opted to take the remainder of the shortened 2013 season.
Moore then signed with New York as an unrestricted free agent in the summer of 2013 and has thrived as a pivotal player on the team's penalty-killing unit and fourth line. Most recently, Moore's line of hard-working forwards -- which includes
Brian Boyle
and
Derek Dorsett
-- has been the team's most consistent and effective.
Moore, a former standout at Harvard University who has spent time with nine different NHL teams, has six goals and 18 points this season.
Congrats to him on this well-deserved nomination. Very well-deserved.
November, 11, 2013
11/11/13
2:23
PM ET
GREENBURGH, N.Y. --
Rick Nash
skated for the third straight day, though he has yet to join the
New York Rangers
for a full practice.
The injured winger has been out since sustaining a head injury on a hit from
San Jose Sharks
defenseman
Brad Stuart
in a 9-2 loss on Oct. 8.
There is still no timetable for his return.
• • •
Dominic Moore
also appears to be making some positive progress on the injured front. The veteran center, who has been sidelined with an oblique strain, practiced with the team Monday at the Rangers' training center in Westchester.
Coach Alain Vigneault indicated that Moore, one of the team's key penalty-killers, will likely be available to play Saturday when the team is in Montreal to play the Canadiens.
• • •
Recently-retired goaltender
Martin Biron
will be joining MSG Network as a studio analyst, the network and team announced Monday morning.
Biron, who hung up the skates last month after being waived by the Rangers, will be in studio for select games this season. He will make his MSG debut Tuesday during the pregame, postgame and intermission segments of the network's broadcast of the Rangers-Devils game.
Goaltender
Henrik Lundqvist
said the affable Biron was a "good pick-up" for the network.
"He is very confident and comfortable in front of the camera," Lundqvist said.