New York Rangers:

John Tortorella
April, 1, 2014
4/01/14
10:24
AM ET
It's good to see that John Tortorella's sense of humor has remained intact.
Despite a disaster of a first season as head coach of the
Vancouver Canucks
, the former
New York Rangers
bench boss, was candid about his new team's struggles this season and the comparisons that have been drawn between him and his Broadway successor Alain Vigneault.
[+] Enlarge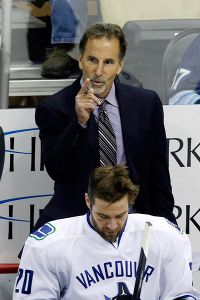 AP Photo/Gene J. PuskarJohn Tortorella is still fiery, but he has learned to temper his style to fit his new team.
The two coaches swapped jobs after both were dismissed from their respective clubs last summer. The difference? While Vigneault has the Rangers cruising along to an almost-assured playoff spot, the Canucks took a dramatic nosedive and remain on the brink of elimination.
"We're losing games so I'm the idiot, and he's winning games, so he's the smart guy. And rightfully so," Tortorella told reporters in Vancouver Monday. "When you lose games and you struggle, you're going to get scrutinized."
The two teams square off in Vancouver Tuesday night, the second of two meetings this season.
Vigneault, returning to the place where he coached for seven seasons, declined to compare the two teams. Or comment about his club, for that matter.
"I have no idea what's going on here," he said.
Whereas the Canucks came out of the gate strong, but fell off a cliff midway through the season, the Rangers recovered after an atrocious start to establish themselves as one of the better teams in the East. They are in second place in the Metropolitan Division with a two-point lead over the
Philadelphia Flyers
, though the Flyers have two games in hand.
"If you want to get into the playoffs and challenge, you've got to be one of those teams that progresses. And we've progressed."
Digressed may be the best way to describe the Canucks, who do not appear to have embraced Tortorella's hard-nosed, grinding style of play. The Canucks trail the last wild car playoff spot in the West by five points with six games remaining.
Speculation has been rampant that the fiery coach may even be dismissed following the season, despite the four years remaining in his contract.
What will happen when these two teams clash Tuesday night? Stay tuned ...
March, 12, 2014
3/12/14
3:00
PM ET
Well, that didn't take long.
It hasn't even been a year since John Tortorella was shown the door in New York and already it looks like he is on thin ice in Vancouver with the Cancucks amidst an absolute free fall.
Earlier this week, they were absolutely humiliated by the lowly
New York Islanders
, blowing a 3-0 lead as the Isles scored a whopping seven goals in the third period.
Asked about Tortorella's job security Wednesday at the GMs meetings in Boca Raton, FL Canucks GM Mike Gillis declined to comment about his head coach, chalking it up to "rumor and speculation." Conspicuously absent was a clear vote of confidence for Tortorella, who inked a five-year contract to become coach in Vancouver prior to this season.
ESPN.com's Craig Custance has more on the developing situation right
here.
November, 30, 2013
11/30/13
6:12
PM ET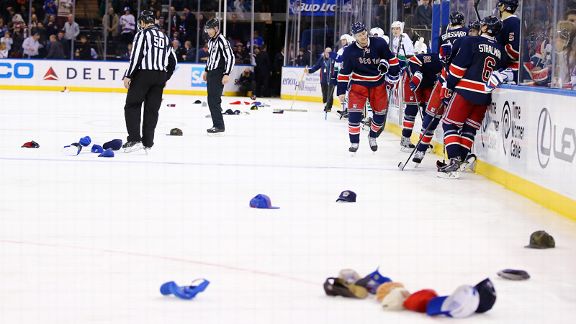 Al Bello/Getty ImagesIt was hats off to Chris Kreider at the Garden on Saturday afternoon.
NEW YORK -- It was an afternoon of redemption for the Rangers, and no one left Madison Square Garden happier than
Chris Kreider
.
The 22-year-old fumbled with the Broadway Hat after the game, feigning confusion over whether he should put it on or not when addressing the media following
his team's 5-2 win
against former coach John Tortorella and his visiting
Vancouver Canucks
. But it was a far cry from Kreider's decisive performance on the ice, where he recorded his first career hat trick against an ex-coach who never quite seemed to trust him or buy into his top-billed potential.
Gracious in victory, however, Kreider downplayed any strain between the coach and charge and said he didn't blame Tortorella for the numerous benchings and demotions to the AHL Kreider endured last season.
[+] Enlarge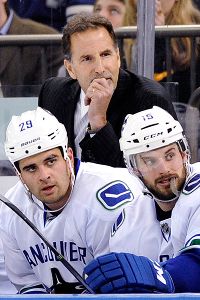 AP Photo/Bill KostrounAre there any hard feelings between ex-coach John Tortorella and Kreider? Not as far as the young Ranger is concerned.
"I'd struggle trusting me, too. I was playing through [an ankle] injury. No hard feelings," Kreider said.
So, what exactly was his relationship like with Tortorella?
"A pretty positive one," Kreider said. "He communicated what he expected from me, worked closely with me to help me get better as a player."
That work may not have paid off last season, when Kreider spent half the year in the minors and was limited to two goals and three points in 23 games with the big club after the lockout ended. But Kreider's heralded speed and skill was on full display Saturday as he recorded three goals against the Canucks as the Rangers improved to 14-13-0 and recovered from a pitiful loss to the Bruins one day prior.
Streaking to the net in open ice, Kreider tallied his first of the game at 12:37 of the first period, celebrating with what appeared to be a bit of extra exuberance after beating Canucks goaltender
Roberto Luongo
stick-side. Kreider scored once more in the first period to give the Rangers a 2-0 cushion headed into the first intermission, and nabbed the third with a wicked tip in front midway through final frame.
"This was not the same player we saw in the preseason," coach Alain Vigneault said of Kreider's dramatic improvement.
After all, Tortorella wasn't the only one to send Kreider to the team's AHL affiliate in Hartford, Conn., for more seasoning. Vigneault did the same back in September.
"There wasn't much going on there," Vigneault admitted of the former Boston College standout.
With his trio of goals Saturday, Kreider is now just one shy of the team lead. The outburst was a critical one for a Rangers squad that has struggled for offense in recent weeks.
With Kreider's hat trick and dynamic winger
Rick Nash
now rounding into form, the Rangers have scored 12 goals in the past three games.
Nash finished the night with two assists and a goal of his own -- his third in as many games and one that prompted Tortorella to yank Luongo from the net. The 29-year-old forward, who returned earlier this month after missing almost six weeks with a concussion, was both physically engaged and involved.
He took a big hit to connect with Kreider for the 22-year-old's first goal of the game, and Nash was diligent in finding a way to set Kreider up for his third.
The Rangers' power-play unit, a glaring deficiency during Tortorella's tenure in New York, was 2-for-3, and defenseman
Michael Del Zotto
responded to a two-game benching with one of those man-up markers.
His teammates were elated for him, surrounding him in celebration after he scored.
"I think that was the best feeling, seeing how excited they got that I scored, too," Del Zotto said.
The 23-year-old, whose time in Vigneault's doghouse this season has only heightened trade speculation, gave the Rangers a 4-0 lead in the second period.
All this was a boon for Vigneault, who was seething after his team's sub-par effort in Friday's 3-2 loss to the Bruins.
Vigneault blasted his club after the game, indicting several players for bringing a "B" performance against a league heavyweight such as the Bruins.
That message resonated within the Rangers' room, and served as motivation.
Not like the team needed any more.
"We see that passion and that's the kind of passion that they need to bring to the rink every day," Kreider said. "A lot of guys felt like that after the game and that's a good thing because you want that hurt and fire after a loss like that."