March, 2, 2015
Mar 2
11:03
PM ET
By
Danny Knobler
| ESPNNewYork.com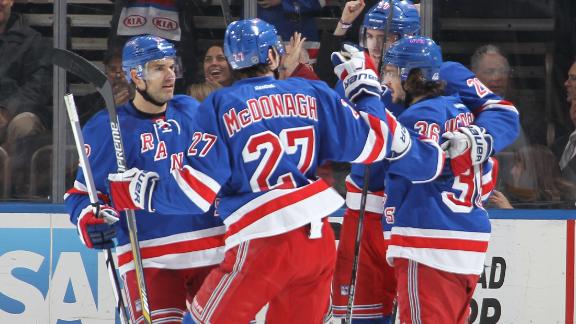 NEW YORK -- It wasn't the trade for
Keith Yandle
that convinced the
New York Rangers
they're good enough to win the Stanley Cup.
"I thought that before," defenseman
Marc Staal
said Monday night. "We're a very confident group. That was our expectation anyway."
It was then. It is now. And Monday's 4-1 win over the
Nashville Predators
, who came to Madison Square Garden with the most points in the NHL, certainly did nothing to change it.
In fact, for a management team that showed faith in this group of players and had a win-now approach at Monday's trade deadline, the Rangers' performance against the Predators a few hours after the deadline passed had to be a welcome sight.
"I thought, for our team, that was one of our more complete games in a while," coach Alain Vigneault said.
The Rangers have been winning regularly, with eight victories and a shootout loss in their last 10 games entering Monday. But not all of those wins were impressive.
This one was.
The Rangers were solid defensively, created plenty of scoring chances for themselves and got big saves from
Cam Talbot
when they needed them. They played with belief, or perhaps with some relief that was a natural reaction to the trade deadline passing.
"Every year, it doesn't matter what team you're on, the few days before [the deadline] you're thinking about it," Staal said. "When it's over, you get excited about the group you have in your dressing room, that you get to go to the end of the season and to the playoffs with."
The Rangers had reason to be doubly excited, first because all the key players were staying -- including
Mats Zuccarello
, whose name was floated in trade talk before he signed a four-year extension on Monday -- and also because the team added Yandle in a big Sunday trade with Arizona.
Yandle saw more ice time than any other Ranger in the first two periods Monday, and while it wasn't a perfect debut, Vigneault pronounced himself satisfied.
Zuccarello, meanwhile, had a strong game that included the first assist on each of the Rangers' first two goals.
"We need him to be on top of his game," Vigneault said. "Hopefully, his mind is clear."
It looked like it Monday, and it sounded like it afterward. Zuccarello took less money than he was asking for (he got $18 million for four years), but he didn't sound as if he had any regrets.
"I want to try to win with this team," he said.
It's a long way to the end of the regular season, let alone to the Stanley Cup finals. But what the Rangers did before Monday's deadline and in the game that followed were more proof that this team believes -- and has reason to believe -- it can get back there.
"We got to the rink [Monday] with a bit of a different vibe," Staal said.
The deadline moves -- and the ones that weren't made -- no doubt had something to do with that. Vigneault believed that the challenge of playing the Predators may have played a part too.
"It was a good test for us to see where we are against the No. 1 team in the NHL at this point," he said. "The guys knew they had a real strong challenge."
There will be bigger challenges ahead, but the Rangers fully believe they can handle them. They believed that before Sunday, and before Monday.
If anything, they believe it more now.