November, 17, 2014
Nov 17
2:31
PM ET
By
Danny Knobler
| ESPNNewYork.com
The date was circled on multiple calendars, from the day the NHL schedule came out. It was anticipated by many, from the moment the
New York Rangers
and
Tampa Bay Lightning
made their captain for captain trade of
Ryan Callahan
for
Martin St. Louis
.
[+] Enlarge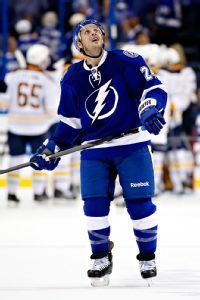 Mike Carlson/Getty ImagesAsked about his time playing at MSG, Callahan said, "It's a place I loved playing."
St. Louis played 13 seasons with the Lightning, and won a Stanley Cup there. Callahan played eight seasons with the Rangers, and many fans still wear his jersey to games at Madison Square Garden.
They were traded for each other last March 4, but meet for the first time since then when the Rangers play the Lightning Monday night at Madison Square Garden.
"It's a place I loved playing," Callahan said Monday, after the Lightning's morning skate.
Callahan returns with a Tampa Bay team that also features his former Ranger teammates
Brian Boyle
and
Anton Stralman
, who left as free agents in the summer after helping the Rangers to the Stanley Cup Finals last spring.
"I think this is Ryan Callahan night more than anything," Stralman said.
Either that, or it's Martin St. Louis night. St. Louis figures he'll be more emotional when the Rangers visit Tampa next week, but his teammates understand that the first meeting with his ex-team is a big deal, too.
"Knowing him, he's going to have his legs," Rangers center
Derick Brassard
said. "He's going to be fired up."
The captain for captain trade has worked out for both teams. St. Louis helped the Rangers on their best playoff run in 20 years. Callahan who was a free agent last summer, re-signed with the Lightning and now features on a team that has one of the NHL's best records (12-4-2, compared to the Rangers' 7-6-4).
Callahan never wanted to leave New York, but when negotiations on a contract extension broke down, the Rangers made the deal. Stralman and Boyle would also have liked to stay, but salary cap limits helped convince the Rangers to let them leave.
"I don't think you can regret anything," Callahan said. "As I've said all along, it's the nature of the business."
He had to watch from afar as the Rangers made their playoff run. Callahan has many close friends in the Rangers locker room -- he met up with several of them when the Lightning came to town Sunday -- so he says he was happy to see them get to the finals.
Now they're competitors in the Eastern Conference, and the Lightning represent a hockey challenge to the Rangers, even more than an emotional challenge.
"It'll be an emotional night," Brassard said. "But we need those two points."
The Duke returns, too: The Rangers will have 19-year-old
Anthony Duclair
back in the lineup Monday, after he was a healthy scratch for the last three games. Coach Alain Vigneault said he made the decision in part on the matchup with the Lightning.
The Rangers have been excited by Duclair's skills, but want him to learn to play better off the puck. They need to decide if they can get him enough playing time, but they know that if they send him back to his junior team in Quebec, they can't bring him back until the end of the season.
"I think it's better for me to stay up here, to be honest," Duclair said. "If I go back, I don't think I have much to prove in juniors."
Jesper Fast
will be the Rangers' healthy scratch Monday.
No to Kaberle:
The Rangers decided against signing veteran defenseman
Tomas Kaberle
, who played two games over the weekend with their Hartford affiliate in the AHL.
McDonagh returning?
Vigneault said that Rangers captain
Ryan McDonagh
, out since Nov. 1 with a separated left shoulder, should be able to resume skating this week. The Rangers initially estimated that McDonagh would miss 3-4 weeks.