New York Rangers:

Scott Hartnell
April, 20, 2014
Apr 20
4:31
PM ET
NEW YORK -- And we have ourselves a series, folks.
Following a 4-1 win over the
Philadelphia Flyers
in Game 1, the
New York Rangers
had the chance to secure a two-game lead at Madison Square Garden, siphon all confidence from the Flyers and send them back to Philadelphia with doubts about whether they could knock off their divisional foe in the best-of-seven set.
They didn't.
[+] Enlarge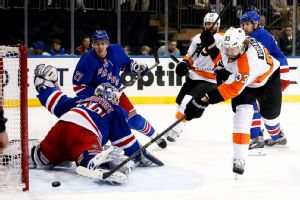 Paul Bereswill/Getty ImagesFour unanswered goals sunk the Rangers in Game 2.
Instead, the Rangers let a two-goal lead in the first period disappear as a resilient Flyers squad rattled off four unanswered goals to snap a nine-game losing streak at MSG with a 4-2 win Sunday afternoon. The two teams now head to Philly for Game 3 in what promises to be hostile territory for the Blueshirts at Wells Fargo Center on Tuesday.
"We knew they were going to come back and play a better game than last time. It's going to be a close race," said goaltender
Henrik Lundqvist
, who gave up three goals on 24 shots. "We didn't expect this to be easy."
And it won't be, if Sunday's matinee was any indication. Staring down a 2-0 hole after the Rangers exploited some wide-open passing lanes and took advantage of the Flyers' lack of discipline, Philadelphia surged back with the help of its first line.
Rendered ineffective for the most part on Thursday, the Flyers' top trio of
Scott Hartnell
,
Claude Giroux
and
Jakub Voracek
got the team on the board off the rush late in the first period and didn't look back. The Flyers' penalty kill was stellar, limiting the Rangers to just one man-up marker on six power-play attempts. Backup netminder
Ray Emery
, who was replacing injured starter
Steve Mason
, was solid in net, making 31 saves to record his first win of the 2014 Stanley Cup playoffs.
The Flyers raised their level of play, as the Rangers expected they would.
"This is a good team. By no means did we think this was going to be an easy series," said veteran forward
Martin St. Louis
, who scored his first playoff goal as a New York Ranger on a sharp-angle shot 4:08 into play. "We know we have to be better. We knew that they were going to be better after Game 1, and they were."
In recent years, the Rangers have shown difficulty in closing out a series quickly, even after taking Game 1. In the 2012 playoffs, the Eastern Conference-leading Rangers took the series opener of both their quarterfinal set against the
Ottawa Senators
and their semifinal matchup against the
Washington Capitals
. It took the Rangers seven games to win both series, raising the question of whether fatigue was a factor in the team's Eastern Conference finals loss to the
New Jersey Devils
that spring.
Last spring, the Rangers fell down 2-0 before edging the Capitals in seven games. They were then bounced in a matter of five in the second round, outclassed by the dominant
Boston Bruins
.
New York couldn't convert on the chances it had to close out Sunday's game, and the Flyers responded with that needed sense of opportunism.
How much did that hurt the team in the end?
"They were very big," alternate captain
Brad Richards
said of the team's missed opportunities. "We had some power plays tonight that we didn't get done. We had some point-blank chances that Emery made some big saves on. It could go either way in some of those situations. They seemed to be very opportunistic on their chances, and they won."
Buckle up. These teams may be in for a lengthy battle.
April, 20, 2014
Apr 20
3:02
PM ET
NEW YORK -- The
New York Rangers
squandered a 2-0 lead as the
Philadelphia Flyers
rallied from behind with four unanswered goals for a 4-2 win over the Blueshirts on Sunday that tied the series 1-1 and sends the two teams back to Philly for Game 3 at Wells Fargo Center.
An undisciplined and defensively porous Flyers team was exposed in the first period, but recovered in the second to become the aggressors in the latter half of the game.
Philly's penalty-killing effort was superb, limiting the Rangers to just one goal in six power-play opportunities for New York. Anchoring the Flyers in net, backup netminder
Ray Emery
delivered a fine 31-save performance to prove himself capable of handling the load with regular starter
Steve Mason
on the shelf with injury.
Mason, who has missed the first two games of the series, is hoping to make his return in Game 3, but Flyers coach Craig Berube may have a difficult decision on his hands once Mason returns to good health.
Redemption shot:
Flyers rookie forward
Jason Akeson
got a sweet taste of redemption Sunday afternoon, with his rebound goal on a gaping net to knot the score at 2 in the second period. Akeson had a rough night in his NHL playoff debut in Game 1 on Thursday, taking a double-minor high-sticking penalty on
Carl Hagelin
that resulted in a pair of power-play goals for the Rangers. Nonetheless, Flyers coach Craig Berube expressed faith in the youngster, going right back to him on Sunday. Akeson started the game with linemates
Matt Read
and center
Sean Couturier
and continued to receive power-play time as well. His power-play marker at 5:45 on Sunday was his second career goal in only his fourth NHL game.
Fast and loose:
The NHL's most penalized team through the regular season was, unsurprisingly, not very disciplined once again. The Flyers gave the Rangers' special teams plenty of work in the beginning of the game, putting them on the power play three times in the opening frame, twice on ill-advised offensive-zone penalties. The Blueshirts capitalized on only one of those man-up opportunities, when
Benoit Pouliot
's flubbed shot from the right circle beat Emery for a two-goal lead at 8:22. That goal highlighted another major problem area for the Flyers: They gave the Rangers entirely too much room on the ice to execute the type of cross-ice feeds that set up Pouliot and resulted in
Martin St. Louis
' first playoff goal of the series earlier in the period. The Flyers failed to clog up the passing lanes and paid for it dearly as the Blueshirts jumped out to a 2-0 lead.
There they are:
Largely ineffective in Game 1, the Flyers' first line came alive late in the first period with an expert rush that allowed them to cut the Rangers' lead in half at 2-1. Sprung by linemate
Scott Hartnell
, skilled winger
Jakub Voracek
blew past defenseman
Ryan McDonagh
(how rarely does that happen?) and beat Lundqvist for his third career playoff goal with 5:46 remaining in the first period. Voracek and first-line center
Claude Giroux
were both held without a shot in Game 1 on Thursday.
April, 16, 2014
Apr 16
6:30
PM ET
We've seen enough regular-season games between the
New York Rangers
and
Philadelphia Flyers
to have have a pretty good idea of what to expect from a best-of-seven playoff series -- animosity, bad blood and plenty of post-whistle extracurriculars.
Some rough stuff in front of the net? Count on it. A
Zac Rinaldo
-
Daniel Carcillo
meeting of the minds? A very good possibility.
Heck, Flyers forward
Scott Hartnell
casually dropped the H-bomb, and the series hasn't even started!
"I think there is a level of hatred by our players to their players, their fans to our fans just being so close and the history behind both franchises," he said to CSN Philly. "It's going to be a battle."
There won't be any need to manufacture a level of contempt between the Blueshirts and Broad Street Bullies. A playoff-esque level of nastiness has always been a staple of these games.
"It's perfect. It's what you want, right?" Flyers forward
Wayne Simmonds
said in an interview with CSN Philly. "It's a playoff series. It's going to be a battle. Even if you do go into a series without having bad blood with a team, I guarantee by Game 2 it's going to be boiling. That's the way hockey [is] supposed to play."
Regarded as one of the most compelling series the NHL has to offer in the first round of action, it has even gained some national attention as ESPN's Keith Olbermann named the Philadelphia Flyers' head of social media the Worst Person in the World in Sports, one of his daily segments of his late-night show.
The Flyers sent out a cheeky message via the team's official Twitter account, encouraging fans to do some "spring cleaning" with their Facebook accounts. The subsequent link provided fans a way to identify all the Rangers fans that popped up as "friends" on their account.
Fun stuff already, and the puck has yet to drop.
Stay tuned for what should be an entertaining Game 1 on Thursday night (7 ET) at Madison Square Garden.