New York Rangers:

Sean Avery
March, 27, 2014
3/27/14
3:23
PM ET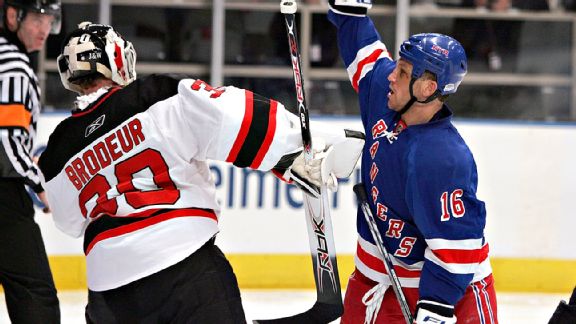 Jim McIsaac/Getty ImagesSean Avery and Martin Brodeur have a long standing rivalry.
Sean Avery
is no longer playing in the National Hockey League -- he famously declared he was throwing his skates in the Hudson River upon retirement in 2012 -- but that doesn't mean his epic battles with bitter enemy
Martin Brodeur
have ended.
The two traded barbs Thursday, when Brodeur mocked Avery's recent participation on the ABC reality television show, "Dancing With the Stars."
Asked about Avery's performance -- the former
New York Rangers
antagonist was unceremoniously sent home two weeks into this season -- Brodeur made a crack at his one-time foe.
"I didn't watch -- I don't watch those shows -- but I was watching NHL Network and they mentioned it," Brodeur told NJ.com
"What more could he do to embarrass himself?" Brodeur asked. "There it is."
Never one to be outdone, the notorious pest responded via his official Twitter account, calling the future Hall of Fame
New Jersey Devils
goaltender "fatso" in the process.
"Woke up beside a supermodel [referring to his fiancée, Hilary Rhoda] to hear news that Fatso made a comment..... @DancingABC equals Thousands of $ for charity."
Avery later deleted the tweet, but in case you thought he was done, well, there is more.
Avery showed no restraint in going after the 41-year-old netminder, bringing up Brodeur's well-documented affair with his ex-wife's sister-in-law, whom he later married.
"Embarrassing is when u [sic] sleep with the #Nanny and get caught :)" he tweeted.
Safe to say there is no love lost between these two.
The pair has a long history of nasty run-ins while Avery was playing for the Rangers. Most notably, a new NHL rule had to be effected when Avery screened Brodeur by waving his stick in his face during the 2008 Stanley Cup playoffs.
Ahhhh, memories.
March, 4, 2014
3/04/14
3:14
PM ET
By now you should know that
Sean Avery
never stays out of the headlines for long.
The former Rangers pest, who quit hockey altogether and said he threw his skates in the Hudson River, will be a contestant on season's installment of ABC's "Dancing With the Stars."
So basically, if you enjoyed Avery's antics on the ice, you'll be in for a treat as he tries to fox-trot and tango his way into the heart of the American viewers. The 33-year-old also has a keen sense of fashion -- he once interned at Vogue magazine during his playing days -- which could come in handy with all the ruffles and sequins in play during competition.
Avery won't be the only athlete to round out the competition; he'll be up against Olympic gold-medalists Meryl Davis and Charlie White, distance swimmer Diana Nyad and paralympic snowboarder Amy Purdy.