New York Rangers:

Sidney Crosby
May, 13, 2014
May 13
11:43
PM ET
PITTSBURGH -- The emotions following the
New York Rangers
' historic
2-1 victory
against the
Pittsburgh Penguins
could not be contained.
One by one, players left the ice, barreling into the dressing room in haste to celebrate, screaming in elation and hollering with the sort of exuberance one might expect following one of the most dramatic turnarounds in franchise history.
Even team owner James Dolan couldn't suppress his giddy grin as he was ushered down the victor's hallway following the series-ending win. He had plenty to smile about.
[+] Enlarge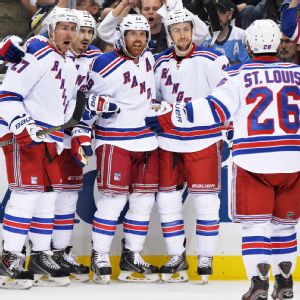 Jamie Sabau/Getty ImagesThe Ranger rallied around St. Louis and took this series from the Penguins.
For the first time since the club's inception, the Rangers rallied back from a 3-1 deficit to upset an opponent in Game 7. And for the second time in three years, the team is headed to the Eastern Conference finals.
"It's a pretty fun thing we've got going on right now," said
Brian Boyle
, who scored the first goal of the game following a beautiful passing sequence from his fourth-line teammates. "We don't want it to end."
More stunning than the Rangers' ability to avoid elimination in three straight games against superstars
Sidney Crosby
,
Evgeni Malkin
and the Pens was the club's utter transformation in wake of a tragedy that occurred between Games 4 and 5.
That, of course, was the turning point of the series, perhaps the most meaningful 24 hours in the team's whole season, when the Rangers banded together to support veteran forward
Martin St. Louis
, who found out upon arrival in Pittsburgh on Thursday that his mother had died from a heart attack.
His courageous and heartfelt return to the ice in Game 5, less than 24 hours after her death, inspired the Rangers, but that was just one game. The Rangers were able to carry over that raw emotion, that passion and purpose, into Game 6 is well, a win that became even more meaningful because St. Louis scored the all-important first goal and because the game fell on Mother's Day.
When it came down to Game 7, the Rangers did not need to manufacture any inspiration or energy. They had that in abundance and, unlike the pressure-burdened Penguins, they played with verve and joy and had a hell of a time in punching their ticket to the conference finals, in which they will meet the winner of Game 7 between the
Montreal Canadiens
and the
Boston Bruins
.
"The whole last seven days. I don't know if I've ever been with a group of guys that have been through what we've been through," veteran center
Brad Richards
said. "Nobody gave us a chance. Marty's situation falls upon us. It wasn't a good feeling after Game 4. To have this feeling, after all that, it shows how fun this group is to be around. Everyone's willing to do their part. It's unbelievable."
The daunting two-game series deficit was never treated as a non-starter for the Blueshirts. Led by veterans such as Richards and St. Louis, who won a Stanley Cup championship together in 2004 in Tampa, the situation was instead treated as a challenge.
The belief was there inside that room and the leadership was calm and steady in showing everyone else the way. Richards, as he has done all season but especially since the departure of former captain
Ryan Callahan
, stepped up in every situation, saying what needed to be said, even when it wasn't pleasant to say or easy to hear, and leading by example on the ice as well.
"I gotta say. We lost our captain. We brought in Marty [St. Louis], but other guys stepped to the front and assumed more in bigger roles, and bigger leadership," Vigneault said. "In this series, we had said we needed a lot of bus drivers and we had a lot of guys driving the bus."
The 34-year-old Richards, who has assumed the rule of de facto captain, scored the game-winner in the second-period, a critical man-up marker that quickly sieved the mounting pressure the Pens had built following
Jussi Jokinen
's tying goal less than four minutes prior.
It was just another clutch performance in a long list of special moments for the former Conn Smythe Trophy winner, and it kept his pristine record in Game 7s untarnished. The veteran center has won all seven in which he has played.
Suffice it to say that franchise goaltender
Henrik Lundqvist
was simply exceptional in continuing his dominance in elimination games as well, outplaying every other player on the ice.
In a series that came down to three veritable game-changers: Lundqvist vs. Crosby and Malkin, the former Vezina Trophy winner edged the Penguins' talented tandem by a country mile. Following up a 36-save effort in Game 6, Lundqvist finished Tuesday with 35. And of course he was at his absolute best with the Penguins bearing down in the final minutes of the game, even when he was flailing in the crease, trying to preserve a one-goal lead without his stick.
Crosby was held to just one goal all series. Malkin was more effective (three goals, four assists) but couldn't deliver the type of goal the Penguins needed most in a winner-takes-all Game 7 at home.
The Rangers entered the series as underdogs, but they emerged as winners because they were the better team. They exploited their balance and structure and heart to beat a team that has two of the best forwards in the world.
Now, they move on to the next round -- a remarkable feat.
Few people expected them to be here. Who knows what they are capable of now?
"We're in the final four now," Richards said. "I don't know of any teams in the history of the NHL that get this far that don't think they can win it."
May, 13, 2014
May 13
9:47
PM ET
PITTSBURGH -- The
New York Rangers
made history Tuesday night, rallying back from a 3-1 series hole to knock off the
Pittsburgh Penguins
in Game 7 with a 2-1 win that earned them a trip to the Eastern Conference finals.
It was the first time in franchise history the club had surmounted such a deficit, and in doing so, the Blueshirts punched their ticket for their second conference finals appearance in the past three seasons.


In a battle of the stars it was the Rangers who had the edge when all was said and done, with goaltender
Henrik Lundqvist
besting both
Sidney Crosby
and
Evgeni Malkin
. Despite constant pressure from a desperate Pens squad, Lundqvist was a wall in making 35 stops to secure yet another win for his Blueshirts while avoiding elimination. He didn't even surrender a goal in the final six minutes of the game when, despite being without his stick during a frenzied shift, he left the Penguins gobsmacked with frustration.
Crosby finished the series, and the 2014 playoffs, with just one goal.
Big-goal Brad:
Hard to imagine that at this point last spring, veteran center
Brad Richards
was watching games from the press box as a healthy scratch. The former Conn Smythe winner added to his already-lengthy list of clutch goals with a key power-play marker in the second that stalled a threatening Penguins push and allowed the Rangers to reclaim a one-goal lead. Richards was set up for the goal by a brilliant, no-look feed from good friend and teammate
Martin St. Louis
, who was the hero of Game 6. Richards' goal snuffed out a ton of momentum that the Penguins had wrangled following
Jussi Jokinen
's game-tying rebound goal less than four minutes prior. Richards, one of the team's most vocal and experienced leaders, entered Tuesday's action with an untarnished 6-0 record in Game 7's during his career.
First-goal foreshadow:
Before the game, Rangers coach Alain Vigneault was asked about the significance of a strong start and the game's first goal. Considering the team that scored first won each of the first six games of the series, Vigneault answered: "It seems to be an important trend in this series." Well, the Rangers fourth-line got them on the board to deflate a Penguins crowd that was raucous to start. A beautiful little passing sequence resulted in
Brian Boyle
's goal at 5:25 of the first. Granted, the Penguins gave up an odd-man rush, but that was the sort of shot that
Marc-Andre Fleury
really should have been able to stop. The Penguins picked up their pace, controlling play for much of the remainder of the first frame but Lundqvist yielded nothing, turning away all 10 shots faced in the period.
Changes coming?
Considering the team's embarrassing collapse from a two-game series lead, it seems fairly certain that change may be coming for a Penguins team that has underachieved yet again. Both coach
Dan Bylsma
and general manager Ray Shero are likely to endure quite a bit of scrutiny in the coming days as the future direction of the team, and its leadership, is assessed.
February, 7, 2014
Feb 7
10:34
AM ET


At a glance:
With the Rangers' four-game winning streak brought to a sudden halt in Thursday's 2-1 loss to the
Edmonton Oilers
, the Blueshirts hope to bounce back against the Eastern Conference-leading
Pittsburgh Penguins
in their final game before the Olympic break. With 11 wins in their last 15 games, the Pens continue to dominate the Metropolitan Division, where they enjoy a whopping 17-point lead on the second-place Rangers.
Sochi-bound:
With the opening ceremony for the 2014 Olympic Games in Sochi, Russia taking place Friday, it might take a little extra focus for those players headed to compete in the much-anticipated tournament. The Rangers will send seven players to the Games (USA-
Ryan Callahan
,
Derek Stepan
, and
Ryan McDonagh
; Sweden-
Henrik Lundqvist
,
Carl Hagelin
; Canada-
Rick Nash
; Norway-
Mats Zuccarello
), while the Penguins will send seven as well (USA –
Paul Martin
,
Brooks Orpik
; Canada-
Sidney Crosby
,
Chris Kunitz
; Finland-
Jussi Jokinen
,
Olli Maatta
; Russia-
Evgeni Malkin
).
Trade talk:
Prior to Friday night's puck drop, the Olympic roster freeze will go into effect at 3 p.m. ET meaning no team can trade a player until the freeze is lifted. That may prompt some activity throughout the league, though there has been little movement so far.
One player that has dealt with rampant trade speculation over the last week is Rangers captain Ryan Callahan. The 28-year-old winger is locked in a contract stalemate with the club, which has led GM Glen Sather to explore the trade market for the pending unrestricted free agent. There has been no significant progress towards an extension for Callahan, multiple sources told ESPNNewYork.com Thursday night, which means the situation is likely to go unresolved into the Olympic break.
Mystery illness:
The Penguins are expected to reveal a diagnosis for defenseman
Kris Letang
, who has been out since January 30 with an unspecified illness that may threaten to end his season or sideline him from action for a significant period of time.
Back in net:
Starter Henrik Lundqvist is expected back in goal after backing up
Cam Talbot
Thursday night. Talbot made 29 saves against a high-octane Oilers offense but was saddled with his second straight loss after a breakdown in the defensive zone led to Nail Yakupov's game-winner with 1:38 remaining in regulation. Lundqvist, who will lead Team Sweden in Sochi, is 4-0-0 with a 1.50 goals against average and .950 save percentage in his last four games. He has held opponents to two goals or less in ten of his last 11 starts.
January, 3, 2014
Jan 3
12:10
PM ET
At a glance:
Captain
Ryan Callahan
will return for the Rangers against the
Pittsburgh Penguins
as they look to record their third straight win Friday night. After securing a pair of wins in the Sunshine State with starting goaltender
Henrik Lundqvist
back in net, the Rangers are feeling good about what's to come in 2014.


The Eastern Conference-leading Pittsburgh Penguins will be the Rangers' toughest test of their four-game road trip. Superstar
Sidney Crosby
and his Pens are still rolling along with a 29-12-1 record despite a lineup absolutely ravaged by injury.
Back in Blue:
After missing nine games with a sprained right knee suffered in the team's 4-1 loss to Nashville on Dec. 10, Callahan returns to the Rangers lineup to lead his Blueshirts squad. The 28-year-old winger, who has been hampered by numerous injuries already this season, might have some extra spring in his stride, too. The Rochester, N.Y., native was named to the 2014 U.S. men's hockey team headed to the Olympics in Sochi, Russia. He'll be joined by fellow American-born Rangers
Derek Stepan
and
Ryan McDonagh
.
Familiar face:
Just two days after waiving 33-year-old forward
Taylor Pyatt
, the Rangers will face him Friday while he dons a Penguins sweater. The Penguins claimed Pyatt off waivers, adding some size and experience to their lineup. According to reporters at the morning skate, Pyatt is skating on a line with
Joe Vitale
and
Craig Adams
. Not a bad change of scenery for Pyatt, especially considering he was a consistent scratch for the Rangers who had not played since Dec. 12.
Managing just fine:
No one in the conference feels sorry for the Penguins, despite the whopping eight players they have on injured reserve. Missing top defensemen
Paul Martin
and
Kris Letang
, the Pens have received a big boost from
Matt Niskanen
on their back end. And though they are without one of their top offensive talents in
Evgeni Malkin
, Pittsburgh boasts a healthy Crosby, who is pacing his competition with a league-leading 59 points (22 goals, 37 assists).
December, 19, 2013
12/19/13
12:53
AM ET
NEW YORK -- Though the
New York Rangers
showed some spark against the
Pittsburgh Penguins
-- erasing a two-goal deficit to push the Eastern Conference-leading Penguins to overtime -- the Blueshirts still surrendered their fifth loss in the past six games Wednesday night,
falling 4-3 in the shootout
at Madison Square Garden.
The Rangers whittled a 3-1 deficit in the third period to secure a point but lost as Pittsburgh's
Brandon Sutter
notched the game winner in the fifth round of the shootout. It was the second straight game that went to the skills competition for the Blueshirts.
Both
Mats Zuccarello
and
Derick Brassard
notched a goal in the final frame, but the injury-plagued Penguins rattled off their fifth straight win and 10th victory in the past 11 games despite a battered blue line comprised with youngsters and AHL call-ups.
It's hard to take a completely rose-tinted view of the comeback, especially when the Penguins are limping along without five of their top six defensemen and 10 regular roster players missing from Wednesday's lineup.
No one sees them searching for the silver lining.
"It was a huge third period for us after what happened. We would've liked the two points," veteran center
Brad Richards
said. "You can't judge your team on shootout wins and losses sometimes. It's great when you win them, but when you lose them you've got to move past it and realize the good things you did."
Chris Kunitz
finished with a goal and an assist, and league-leading scorer
Sidney Crosby
picked up a pair of helpers as he extended his season-high point streak to eight games -- a span in which he has six goals and seven assists.
The Rangers fumbled on a critical 4-on-3 power-play opportunity in overtime -- when Kunitz plowed into
Henrik Lundqvist
14 seconds into play -- but were nonetheless heartened by the life shown in the third period.
The most positive takeaway from the game may have been that Lundqvist appeared to escape unscathed.
The 2012 Vezina Trophy winner, who made his season-high seventh straight start Wednesday, was face down on the ice for extended time after the collision. After several minutes being attended to by head trainer Jim Ramsay, Lundqvist decided to remain in the game.
He didn't feel great afterward but did not indicate that anything was seriously amiss.
"Stiff neck. I expect it to be pretty sore and stiff tomorrow, but I'm just happy that it wasn't worse than that," Lundqvist said.
With Kunitz charging to the net on the first shift of overtime, Lundqvist was caught seemingly unaware as he slid to his left. He was knocked to the ice by Kunitz, igniting a heated scrum behind the Rangers net.
"I didn't see him coming at all," Lundqvist said.
Lundqvist was not immediately sold on staying in his game, he explained, but after several minutes, he returned to the crease, where he stayed for the remainder of the game.
"At first I wasn't sure. It was hard to focus," he said. "Personally, I had to regroup a little bit."
Alain Vigneault seemed please with his club, who played what he said was a "real strong first period, our best period in a long time." He was also happy with the response he saw from his team in the third. The team also mounted a late-game comeback Sunday in their 4-3 shootout win over the
Calgary Flames
.
"We haven't come back in very many situations this year, and in the third, we came back from a two-goal deficit," Vigneault said.
The Rangers might actually gain some ground in the standings, though, if they could establish leads rather than forcing themselves to fight their way back each game.
Said defenseman
Dan Girardi
:
"It'd be nice to grab a lead and play with a lead."
December, 18, 2013
12/18/13
11:54
AM ET
At a glance:
After snapping a four-game skid in a 4-3 shootout win over the
Calgary Flames
on Sunday night, the Rangers host the Eastern Conference-leading
Pittsburgh Penguins
on Wednesday in a rivalry night matchup at Madison Square Garden. The Rangers have a daunting task ahead in the sixth game of a nine-game homestand at MSG; Pittsburgh enters the match with nine wins in their past 10 games and four consecutive victories. What's even more impressive? The Penguins have been able to withstand a dizzying number of injuries, particularly to their back end.


Banged-up:
The Penguins, who enter the game with a total of 170 man-games lost through the first 35 games of the season, are absolutely decimated on defense. They are relying heavily on the likes of
Matt Niskanen
and rookie
Olli Maatta
with their top four --
Kris Letang
(upper body),
Paul Martin
(broken tibia),
Brooks Orpik
(concussion) and
Rob Scuderi
(broken ankle) -- sidelined with injury. Beyond their blue line, the Penguins are missing an additional seven regular roster players, including
Evgeni Malkin
(lower body) and
James Neal
(suspension).
Still have Sid:
So, how exactly have the Penguins been able to pace the rest of the pack despite the rash of injuries? Well, having the world's best player doesn't hurt.
Sidney Crosby
, who tallied the game winner in the Pens' 3-1 win over the Maple Leafs on Monday night, is leading the league with 47 points (19 goals, 28 assists). No. 87 enters Wednesday's game on a seven-game point streak. He has six goals and five assists during that span.
Missing in action:
The Rangers are not without their own costly absences. During the homestand, the Blueshirts lost captain
Ryan Callahan
to a knee injury that is expected to sideline him for at least another three to five weeks. They are also without defenseman
Marc Staal
, who is out indefinitely with a concussion.
Scratched:
After playing the first two games of his NHL debut, defensive prospect
Dylan McIlrath
will be a healthy scratch Wednesday. Rugged veteran
Arron Asham
returns to the lineup.
December, 17, 2013
12/17/13
2:26
PM ET
GREENBURGH, N.Y. -- There won't be quite the same level of enmity between the Rangers and Penguins benches Wednesday night.
At least not as far as Rangers assistant
Ulf Samuelsson
is concerned.
Samuelsson did some scouting of the Penguins-Maple Leafs game Monday night at Consol Energy Center, but he wasn't there in a coaching capacity but rather as a proud father.
He flew in for Monday's match for Samuelsson's son Philip's NHL debut. Philip, a 22-year-old defenseman, was recently recalled from the AHL's Wilkes-Barre Scranton Penguins in wake of Pittsburgh's crippling list of injuries to its back end.
The young blueliner played 15:43 in the Penguins' fourth consecutive win -- a 3-1 victory over Toronto.
"He's a modernized version of what I was," Ulf Samuelsson said. "He's a modern-day, good defenseman, but I think he's a better passer than I was."
While watching his son make his professional debut, he took note of the Rangers' next opponent, a club that has rattled off nine wins in the last 10 games despite an alarming amount of man games lost.
The Penguins are currently without their top four defensemen --
Brooks Orpik
,
Paul Martin
,
Rob Scuderi
and
Kris Letang
-- and 10 regular players total. That includes
Evgeni Malkin
, who has a lower-body injury, and
James Neal
, who is serving a five-game suspension.
His observations?
"Their big boys played big," coach Alain Vigneault recalled of Samuelsson's scouting report.
Amid the ridiculous rash of injuries, superstar
Sidney Crosby
's line of Crosby,
Chris Kunitz
and
Pascal Dupuis
has remained intact.
Crosby notched the game winner in Monday's match and leads the NHL in scoring with 47 points.
"You still have the world's best player on the ice," said center
Derick Brassard
of the challenge Wednesday. "We're not saying 'Oh, they're missing those guys.'"
The Rangers recently snapped a four-game losing streak with Sunday's 4-3 shootout win against the
Calgary Flames
. The Blueshirts are in 10th place in the East, 16 points behind the conference-leading Penguins.
"We're not in a situation where we can take teams easily," Brassard said.
Vigneault said the Penguins' winning streak is evidence that this is not a club to be taken lightly.
"It tells me that they've got a lot of depth on that team," he said.
Even if "that team" looks more and more like the Wilkes-Barre Scranton Penguins each day.
Philip's promotion offers a unique father-son element to what was already an intriguing matchup. Ulf Samuelsson admitted he was a little nervous watching his son play Monday night.
He might give an occasional glimpse down the Penguins' bench Wednesday, but that's it.
"Nerves are something you're used to in our business," Samuelsson said. "That's something you can put to the side."
November, 6, 2013
11/06/13
12:44
PM ET
At a glance:
After coming up short against the league-leading
Anaheim Ducks
Monday night, the
New York Rangers
face another big test Wednesday when they host
Sidney Crosby
and the
Pittsburgh Penguins
at Madison Square Garden. The Penguins enter Wednesday's match with a four-game winning streak that has them perched in first place of the Eastern Conference.
First look:
Having previously coached in the Western Conference, Alain Vigneault hasn't seen Crosby and
Evgeni Malkin
in action much in recent years. He admitted he was excited about the challenge facing his team: "I think everybody's going to be ready for tonight."


Hometown boy:
Rangers forward
J.T. Miller
returns to the lineup after being scratched Monday night to face his hometown Pittsburgh Penguins. The Pittsburgh-area native is trying to make a strong impression while the Rangers organization determines what is best for the young winger: send him to the AHL to play top minutes or keep him in a more limited role with the big club. Making room for Miller's return to the lineup is hulking forward
Brandon Mashinter
, who will sit out along with depth defenseman
Justin Falk
.
Leading the way:
Crosby leads the league with 23 points through the first 15 games of the season. His dominant offensive production has been vital considering the team has suffered some significant injuries up front. The Pens are without
James Neal
and
Beau Bennett
, though Neal joined the Penguins for the morning skate for the first time since suffering an upper-body injury last month.
Nothing on Nash:
Speaking of injuries, the Rangers still say there is nothing to report on injured winger
Rick Nash
, who suffered a concussion last month. The star forward will not be available when the Rangers travel to Columbus for the first time since acquiring Nash in a blockbuster deal with the Blue Jackets during the offseason of 2012.