New York Rangers:

Stanley Cup finals
June, 14, 2014
6/14/14
2:37
AM ET
LOS ANGELES -- This is what heartbreak looks like: a stunned
Derek Stepan
with his stare fixed on the ground, arms folded on his knees, shoulders sagging in the moments after defeat.
Henrik Lundqvist
clasping his tape-laced fingers behind his neck, bowing his head in a locker room that was staggeringly silent.
Dan Girardi
, unmoving in his stall, sitting stoically in his sweat-soaked jersey.
"I have nowhere to go. No hurry now," Girardi said. "Just kept it on. No reason. I just -- just hanging onto it, I guess. Hanging onto the last moments here."
There were so many poignant moments to remember for the
New York Rangers
throughout what was a remarkable postseason run. So much to be proud of, yet all those fond memories were difficult to summon in the wake of the team's season-ending loss to the
Los Angeles Kings
in Game 5 of the Stanley Cup finals on Friday night.
[+] Enlarge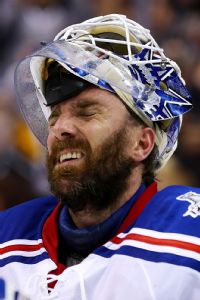 Bruce Bennett/Getty ImagesThe Rangers' playoff run ended with a Game 5, double-overtime loss to the Kings.
Those moments will be recalled in a few days' time. They'll probably be rehashed many times throughout what will feel like a long, endless summer. Down the road, years from now, those memories will be shared over beers, laughs, maybe even some tears, too. There will be a sense of pride.
But not now.
"There will be. Not tonight, but there will be," said veteran
Brad Richards
, the Rangers' de facto captain. "Tonight's not a night to reminisce, but there will be a time this summer when you look back at what an amazing run it was. Has to be amazing to get this far. Things have to come together. No one will ever know, except for us, how fun it was and how we came together. You lose three overtime games in the final. It's hard to explain."
It was already tough for the Rangers to articulate, to put into words just how exactly they were feeling physically, mentally and emotionally after a beautifully chaotic and drama-filled double-overtime game that ended with
Alec Martinez
's game winner.
Some tried to explain what it was like.
"Empty," said defenseman
Anton Stralman
, who had a particularly strong postseason. "Emptiness, I think."
Marc Staal
, as steady as any player in that room, both on or off the ice, made no effort to conceal his anguish.
"It's the worst feeling you can have as a hockey player," said Staal, which is not hollow hyperbole coming from a player who has suffered through a pair of frightening, career-threatening injuries in recent years.
Maybe the worst part for all of those involved is that the group will never again get a chance with the team constituted as it currently stands. Richards has likely played his last game as a Ranger, with a potential buyout looming.
Rick Nash
, with another disappointing postseason performance, might not be long for Broadway. The team has six impending unrestricted free agents and several key restricted free agents to get under contract as well.
It will not be the same group of players come training camp this fall.
"Who knows if we're going to have another crack at this? We might not get another crack at this opportunity," Girardi said, almost unbelieving. "That's why it hurts, I think, that much more."
It will also sting, for some time, for the Rangers to look back on a series that went five games but was riddled with squandered leads, missed opportunities and some odd outcomes.
The Rangers played better in the games they lost than in their sole victory in Game 4. The Kings erased leads, rallied back, showed resilience. The Rangers never even really felt like they settled into their game. They dropped the first three games and seemed shell-shocked by their position.
"It felt like we closed our eyes and opened them and we were down three-nothing [in the series]," Staal said.
But the Rangers salvaged pride in Game 4, avoiding a sweep on home ice at Madison Square Garden, and they should have left the handshake line with their heads held high as well.
They left every ounce of effort on that Staples Center ice Friday night in what was maybe the most riveting stretch of playoff hockey this spring, maybe ever. There was not a single moment to mentally adjust, no time to take a deep breath. Just end-to-end, do-or-die hockey in its purest form. It was wildly entertaining, captivating and absolutely mesmerizing.
Both teams had their chances, great chances, to end the game in each overtime period. There was
Ryan McDonagh
's shot off the post and
Tyler Toffoli
's crossbar shot in the first period. There was Nash's shot directed at an open net, foiled only by a sliver of shaft of Kings defenseman
Slava Voynov
's stick in the next. Lundqvist was superb the whole way through, denying every Grade-A chance that passed his crease for his second outing of 40 saves or more, but it was just one juicy rebound surrendered that ended up in the back of their net.
Martinez buried the chance, a play that seemed to unfold in slow motion, if only because it signaled the end to a game that many hoped would just keep going. It was that good.
Coach Alain Vigneault, talking to just a smattering of reporters with the muffled sounds of victory music lingering in the background, lauded his club for its heart.
"You go into this hoping you don't regret anything," Vigneault said. "We put it out there. We gave our best shot, our best effort. Three games here all went to OT. What can I say?"
There was not much to say, after all. But there will be time to think and reflect.
Defenseman
John Moore
, finally showered and dressed in his suit, paused on his way out of the dressing room. There was a television monitor in the barren hallway, and he took a brief glance at the Kings celebrating their Stanley Cup win with friends and family on the ice.
He looked away and kept walking.
It's too painful in the immediate aftermath, but they will remember this run -- the team's first Stanley Cup appearance in 20 years.
It was special, even in defeat.
"It's definitely worth it. Worth every second, these two months," Richards said. "Right now, you're just sort of speechless."
June, 11, 2014
6/11/14
2:28
PM ET
NEW YORK -- The Stanley Cup will be inside Madison Square Garden on Wednesday night.
The
Los Angeles Kings
will be able to hoist it with a victory in Game 4.
"I think it's fair to say anybody who is not thinking about that going into the next game is not being honest," Kings captain
Dustin Brown
said Tuesday. "At the same time, we've had the ability not to look too far ahead.
[+] Enlarge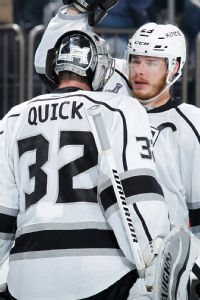 Scott Levy/NHLI/Getty ImagesDustin Brown says it's natural to think about lifting the Stanley Cup at this stage.
"We've also had the experience of being through this same exact situation, being up 3-0, so we need to lean on each other and that experience and be focused and ready to go."
No team has completed a Stanley Cup finals sweep since 1998.
"Everyone's talking about a 3-0 lead, but you need four," center
Jarret Stoll
told reporters Wednesday. "That's what it's all about and it's always the hardest to get, so we gotta make sure we're ready to go tonight.
"Guys are in a good place. Everybody's confident. We just gotta make sure we're playing our game, our style, our way. We gotta play a good game to beat these guys. They're gonna have their best game tonight, and we have to have ours to be in it and go where we wanna go."
The Kings, who became the fourth team in NHL history to overcome a 3-0 deficit to win a playoff series in the first round against the
San Jose Sharks
, want to eliminate the Rangers on Wednesday night.
"You don't want to give them any confidence whatsoever," defenseman
Willie Mitchell
said.
The Kings have plenty of Conn Smythe candidates, including center
Anze Kopitar
(5 goals, 21 assists in the playoffs), center
Jeff Carter
(10-14), right winger
Justin Williams
(8-16), right winger
Marian Gaborik
(13-8) and defenseman
Drew Doughty
(5-12).
"That's an award that a lot of NHLers obviously aspire to have," Williams said Tuesday. "But at the same time, when you're presented with it, I think a lot of guys just want to put it aside and look to the big jug. That's pretty much how I can explain it.
"To be even mentioned with these big guys in that conversation is awesome. But, hey, the big one is what matters. God, I want to taste it again."
June, 10, 2014
6/10/14
3:30
PM ET
NEW YORK -- Maybe it was to serve as a reminder of what they are still playing for heading into Game 4. Maybe it was simply an oversight, a function of a bleary-eyed staff misplacing a rug in the aftermath of yet another demoralizing loss.
The New York Rangers' logo was left uncovered Tuesday, spanning a wide swath of their immaculate dressing room floor.
And when people began trampling over the pristine patch of carpet -- a forbidden act among hockey purists -- there wasn't even a forceful, threatening warning to stay off (this is the norm), just one respectful plea.
Is this the way the Rangers will go out? Without putting up a fight?
[+] Enlarge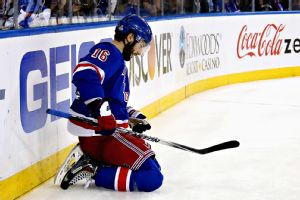 Bruce Bennett/Getty ImagesThe Rangers must get back on their feet after a demoralizing Game 3 loss Monday.
When players dutifully faced the media Tuesday afternoon in the wake of a 3-0 shutout loss in Game 3 the night before -- a defeat that leaves them trailing 3-0 in their Stanley Cup finals series against the
Los Angeles Kings
-- optimism was in short supply.
Sure, players talked about the belief that remains, the adversity already vanquished in what has been an emotional spring. But platitudes and clichés aside, it wasn't hard to discern how the Rangers were feeling.
It was evident on their faces, their measured words, their slightly slumping shoulders. Despondent. Sullen. Defeated.
"I'm not going to lie to you," de facto captain
Brad Richards
said. "It's pretty much impossible to be upbeat."
Richards was only saying what was abundantly clear. The sense of regret, frustration, anger even, was hanging thick in the air Tuesday. The team is tired, frustrated and staring at a daunting task ahead. They are in no mood for positivity and they will make no apologies about that.
"We're down 3-0. We're all lacking sleep. This is tough," said an agitated coach Alain Vigneault. "Excuse us if today we're not real cheery. But tomorrow, I can tell you we're going to show up."
No griping about puck luck or bad bounces. No excuses, period.
Henrik Lundqvist
has to play lights-out.
Rick Nash
has to finish. Richards has to lead, not just off the ice, but on it as well.
The Rangers will have to show up and more Wednesday against a Kings team waiting and willing to pounce, ready to shove their second Stanley Cup championship in three years down the Blueshirts' throats. No doubt the Kings can sense the fragility in the opposing dressing room. They can understand it, too, considering seven weeks ago the Kings were in the same position, trailing the
San Jose Sharks
3-0 in their first-round series.
So they will show no mercy to the battered Blueshirts, and the Rangers have to be similarly unwilling to budge.
"We don't want to end our season losing a game at home and give the Stanley Cup to their team," defenseman
Marc Staal
said. "It's not going to happen that way."
The Rangers will have to remember that logo, what it means and what it represents, when they don the sweater in Game 4 and try to avoid a sweep at the Kings' hands on home ice. No matter how surprising and successful this run has been for the team, a sweep carries both stigma and shame. It would cast a dark shadow over what has otherwise been a sensational, inspiring postseason.
Now, it must come down to nothing more than pride. Pride in the logo, pride in their performance, pride in one another.
"We definitely don't want to get swept in the Stanley Cup finals, and we don't want to lose in front of our home fans, either," said defenseman
Dan Girardi
. "That's not the way we want to go out."
June, 8, 2014
6/08/14
3:01
PM ET
LOS ANGELES --
Brian Boyle
did not hold back in the wake of the New York Rangers' 5-4 double-overtime loss to the
Los Angeles Kings
in Game 2 of the Stanley Cup finals Saturday night, lashing out at the notion that the Rangers are underdogs in a series that is now 2-0 in favor of L.A. with the series shifting back to New York.
"I don't give a s--- about underdogs. That's ridiculous. Give me a break," the rugged fourth-line forward said after the game, seething. "We're not. We're here, too. We're a good team. And we can't take any solace [in having played two close games], because we lost."
Though the Kings entered the finals as heavy favorites, champions of what many feel to be a superior Western Conference, they have not held a lead for a single moment throughout the first two games of the series. And yet they lead 2-0 heading into Game 3 at Madison Square Garden on Monday night.
The Rangers didn't make it this far to simply feel satisfied with being there for the spectacle of it all. They harbor the belief that they can compete with the big, physical Kings, and the first two games have shown just that. The Rangers have dominated stretches of play, building 2-0 leads in consecutive games, though their inability to close out their opponent has them in a daunting hole as they head back to the East Coast to defend home ice.
"We came here to win games. It doesn't matter how the hell we do it, we have to win the game," Boyle said. "If you don't win the game, you didn't do what you came to do, and that's the worst feeling there is."
Unlike Game 1, in which the Rangers unraveled after the Kings erased a two-goal deficit, the Blueshirts played a hard, purposeful hockey game Saturday night.
Mats Zuccarello
was buzzing,
Rick Nash
played with passion and physicality.
Chris Kreider
had a pair of glorious chances in overtime.
Still, they have nothing to show for it.
Part of that is a testament to the plucky Kings, who have outlasted their opponents in three consecutive seven-game series en route to their second Stanley Cup finals appearance in three years. The Kings have experience in abundance when it comes to this time of year. That has shown in their resolve.
Rallying to recover from deficits of 2-0, 3-1 and 4-2, the Kings became the first team in NHL history to win three straight playoff games when trailing by two goals.
"They've been in three Game 7s and come out on top. They were Stanley Cup champions a couple years ago. They know what it takes to win," defenseman
Dan Girardi
said after the game. "They're getting those good bounces, those good plays in front. We're just going to have to find a way to, when we have the lead, to hold on to it, especially against a team like this. We know they're going to be coming. They have all that experience over there, and we need to be ready for that."
Now, it's up to the Rangers to be the comeback kids. They made a stunning turnaround in their second-round series to surmount a 3-1 series deficit and knock off the favored
Pittsburgh Penguins
. Can they forget the past two games and muster that magic again?
"You don't have a choice," goaltender
Henrik Lundqvist
said. "You have to move on."
June, 7, 2014
6/07/14
2:35
PM ET
LOS ANGELES -- The
Los Angeles Kings
took Game 1 of the Stanley Cup finals, beating the
New York Rangers
in a thrilling 3-2 overtime victory sealed by clutch performer
Justin Williams
' winning goal Wednesday night at Staples Center. Now, with two days to bask in their series-opening victory, the Kings aim to hold off a Blueshirts squad that came out buzzing in the first period. Meanwhile, the Rangers hope to tie the series 1-1 and give the hometown Kings all they can handle Saturday night before the best-of-seven set shifts back to New York. If there was a game for the Rangers to steal, Wednesday night seemed like the perfect opportunity. They'll anticipate an even sharper Kings team in Game 2 after L.A. vowed to clean up some aspects in their game, despite their Game 1 win.


Marquee matchup:
Rangers coach Alain Vigneault called the Kings the best opponent the Rangers have faced thus far, and it was evident Wednesday night that they have earned that top billing. Despite a sloppy opening frame, in which they were reckless with the puck and fell behind 2-0, the Kings recovered in the final 40 minutes, exploiting their speed, size and skill to rally for the victory. The Kings will certainly put a point of emphasis on limiting turnovers in Game 2, while the Rangers need to step up their play in pretty much every facet. In fact, Vigneault called out his team in the wake of Wednesday's loss and challenged them to bring their "A" game Saturday night. Goaltender
Henrik Lundqvist
, who made 40 saves even though he was saddled with the loss, put his best on display in Game 1. Will his teammates heed that message and follow suit in Game 2?
Robyn returns:
Veteran defenseman
Robyn Regehr
, who has missed more than a month sitting out with a knee injury, is expected to return to the lineup for the Kings on Saturday night. The 34-year-old blueliner, who suffered the injury during the team's second-round series against the
Anaheim Ducks
, was medically cleared to play before Game 1, but Kings coach Darryl Sutter erred on the side of caution in reinserting him into the lineup. Regehr told reporters Friday he feels ready to play, but that it will be a coach's decision.
Back from ban:
With Regehr returning to reinforce the Kings' blue line, 23-year-old defenseman
John Moore
is expected to draw back into the Rangers' lineup after serving a two-game suspension for his hit on
Dale Weise
in Game 5 of the Eastern Conference finals against the
Montreal Canadiens
. Moore had a tough time watching the last pair of games from the press box and said he is "pumped" for the chance to play in the finals, a dream he has harbored since he was a young kid. Speaking of youngsters, 21-year-old
J.T. Miller
, who suffered a shoulder injury in Game 3 against the Habs, is now available should Vigneault choose to use him, though no immediate lineup changes at forward are anticipated for Game 2.
June, 6, 2014
6/06/14
8:05
PM ET
LOS ANGELES -- A lot of time has been devoted to dissecting how defenseman
Dan Girardi
felt in the wake of the
New York Rangers
' overtime loss to the
Los Angeles Kings
in Game 1: He was devastated, obviously, because of his costly mistake that led to
Justin Williams
' game-winning goal.
But there was someone else on his team feeling pretty awful himself, and for an entirely different reason.
Serving the last game of his two-game suspension for his hit against
Montreal Canadiens
forward
Dale Weise
in Game 5 of the Eastern Conference finals, defenseman
John Moore
had to witness his team drop the series opener while feeling completely helpless.
"It was tough to watch up there. It was really hard," Moore said after the Rangers' practice Friday at Staples Center. "We had our chances. Unfortunately, the bounces went the other way, but we were right there. It could've gone either way."
[+] Enlarge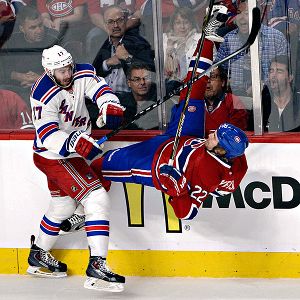 Eric Bolte/USA TODAY SportsBack from suspension after this hit on Dale Weise, John Moore is eager to get his first crack at Stanley Cup finals hockey.
You could hear the eagerness right in his voice, the 23-year-old earnestly wishing there was something he could've done to tip the balance in the other direction. He'll get that chance on Saturday, when he is expected to draw into the lineup for Game 2.
Moore practiced with partner
Kevin Klein
on the third defensive pairing Friday, with depth defenseman
Raphael Diaz
skating again with regular scratch
Justin Falk
. Both are pretty good signs that Moore will jump right back into his regular spot.
"I'm sure [the nerves are] going to be bumping right up until puck drop, but it's the Stanley Cup, you dream about this your whole life," Moore said. "If you can't have fun with this, you're in the wrong spot. I've been dreaming about this since I was a kid and now I get the chance to do it."
Though Rangers coach Alain Vigneault has been cagey about lineup decisions all throughout the playoffs, he indicated that he is planning to insert Moore back into the lineup. And considering he missed only a pair of games, conditioning is not a concern for the club in throwing him back into action.
"As far as him being ready, I know that if we need him, he will be. He works extremely hard. He's only missed two games," Vigneault said. "How he's going to respond after being suspended, that question goes to him. I think he'll be fine. He's given us some real important minutes this year and I think he'll be fine."
For the record, Moore doesn't anticipate changing anything in his game just because of the two-game ban he incurred for his hit on Weise. The first-time offender does not have the reputation as a head-hunter or a dirty player, and he sees no reason to adapt his approach because of that isolated incident.
"I think all that other stuff, it happened, and I certainly don't see that affecting the way I play. It's unfortunate what happened, but it's hockey first and foremost. I've played it my whole life. I don't see what happened changing my style," he said.
Just as they rallied around Girardi following the unfortunate bounce on Wednesday night, Moore's teammates stood behind him as well after he was hit with the suspension. Knowing Moore is the type of player with a sensitive disposition, they wanted to assure him that he'll move past the incident.
"John, he's a very good person. Not that other guys aren't, but he's the type of guy that it would affect, being suspended," de facto captain
Brad Richards
explained. "But that's over with. He's excited now, that the suspension is over. But we talked about it briefly. That stuff happens. It's a play in hockey that he probably would have done something different in hindsight. He's able to play now. We'll move on. Hopefully he can come in and help."
And if there was any positive to take from having been forced to watch from the press box as Williams sealed Game 1 with his overtime game winner, Moore came away, at the very least, with a nuanced scouting report on what the Kings bring to the table as an elite opponent.
"There wasn't a lot of open ice out there, that's for sure. They play really strong as a five-man unit. They came as advertised. The ice was hard to come by, the biggest thing with [the Kings] was, without the puck, you've got to work to be there, support the puck carrier. That's certainly something I'm going to work on here," he said.
But the tactics are secondary. The Stanley Cup finals are all about heart and energy and emotion. And Moore can't wait to take part.
"I think at this time of year, the X's and O's are always important, but you're playing for the Cup and it's all coming from inside now. Sitting out and watching the game, it sucks," Moore said. "You're motivated. It's really just a battle of will this time of year. I'm pumped to hopefully get the chance."
June, 5, 2014
6/05/14
4:11
PM ET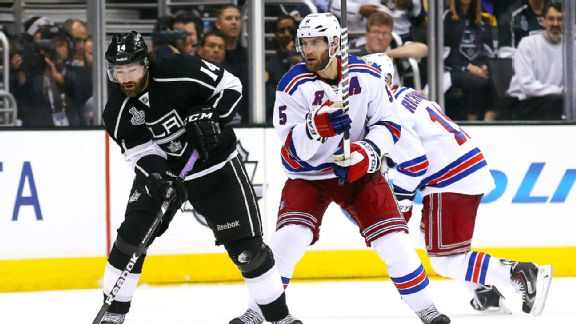 Bruce Bennett/Getty ImagesThe good news for Girardi: He's likely to play better in Game 2.
LOS ANGELES -- With the
New York Rangers
posted up at a posh hotel right along the Pacific Ocean just a stone's throw from the Santa Monica Pier, the players shouldn't find it too hard to put some distance between themselves and a dispiriting loss in Game 1 of the Stanley Cup finals.
The sun and sand should offer at least a brief respite from the disappointment of a 3-2 overtime loss to the
Los Angeles Kings
that was very much the Rangers' game to steal.
But defenseman
Dan Girardi
might have a harder time than most forgetting the final play that ultimately cost the Rangers in the series opener at Staples Center on Wednesday night.
It was just a simple bounce, the type that happens so many times throughout the course of a game. But this one came at the most inopportune moment possible. Game tied at 2. The Kings forechecking hard. Just a hop over Girardi's stick that bungled what should have been a routine clearing attempt but instead forced him into scramble mode.
With the Kings bearing down and Girardi under duress, down on one knee even, he fired the puck toward
Benoit Pouliot
, but the winger had already taken off. Instead, Girardi fed it right to L.A.'s
Mike Richards
, who dished to
Justin Williams
in the slot.
Game over.
How many times will Girardi turn that one over in his head?
His teammates can empathize with what must be a torturous few days that lie ahead until the Rangers get back at it Saturday for Game 2.
In fact, Girardi's defensive partner,
Ryan McDonagh
, remembers the feeling well, having endured a similarly devastating sequence in the playoffs last spring. During Game 2 of the Eastern Conference quarterfinals, McDonagh drew a delay of game penalty by sailing the puck over the glass, and the Capitals scored the winning goal on the ensuing power play.
McDonagh was despondent after that game, answering questions after the game dutifully but with tears in his eyes. His teammates rallied around him then. And they will do the same for Girardi.
"Our group believes so strongly in each other. We understand that wasn't the deciding factor in the game, ultimately. We could have done a lot more to help our chances," McDonagh said during Thursday's media availability at the team hotel in Santa Monica. "It's unfortunate that it happens to us at that point in the game. But he's a guy that has been through so many ups and downs in his career. We know he's going to bounce back and be a huge part of our Game 2 here."
And one costly mistake will not mitigate Girardi's critical importance to the Rangers' team. The 30-year-old comprises the Rangers' top defensive pairing with McDonagh, and he finished Wednesday's match with a whopping 27:25 in ice time and a team-leading seven hits. His sound, steady defensive play has been vital as the team has neutralized some of the top lines from opponents all spring.
Claude Giroux
and his linemates in Round 1.
Sidney Crosby
& Co. in Round 2.
Max Pacioretty
's trio in Round 3.
For the Rangers to beat the Kings, or even to have a chance in this series, Girardi has to be resilient. Especially considering L.A.'s considerable depth down the middle.
"Dan is a huge part of our hockey club. I know that he's probably moved way past it and he's getting himself ready to play the next game," center
Derek Stepan
said. "We've all been there, like Mac said. If there's a professional that can move away from it, it is Dan."
McDonagh said he made sure to talk to Girardi right after the play after the game to reinforce that the loss wasn't on him.
Coach Alain Vigneault didn't sound particularly compelled to comfort Girardi. He knows that others are surrounding him with support and bolstering his morale.
"I haven't talked to him yet personally. I do know a couple of my assistants have. I do know that Dan's got great teammates. I'm sure that they've all talked to him," Vigneault said. "It was a bounce. It was a bounce that unfortunately didn't work out. He couldn't put the handle on it. Stuff like that happens. You got to turn the page and move on."
June, 5, 2014
6/05/14
3:29
PM ET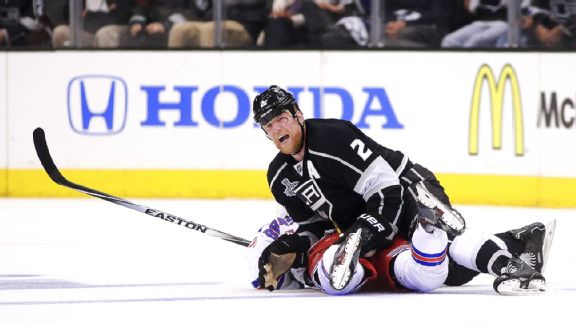 AP Photo/Jae C. HongThe Rangers are down but not out after letting Game 1 get away.
LOS ANGELES -- With his team now trailing 1-0 in the Stanley Cup finals,
New York Rangers
coach Alain Vigneault issued a clear, unwavering message to his squad, perceived by many as the underdogs against the
Los Angeles Kings
.
What he saw Wednesday night was not good enough. Not even close.
"One thing that's real evident to me, and it should be to our whole group, is we're not going to beat this team if we do not all bring our A-game. It is that strong of an opponent that we're playing against," Vigneault said in his press briefing Thursday from the team's hotel in Santa Monica.
Vigneault lauded the 40-save performance by goaltender
Henrik Lundqvist
, but didn't sound too enthused about the collective effort.
"We had [Lundqvist] that brought his A-game last night. We had a couple guys. I don't want to name who I think brought their A-game. But our B-game won't do it," Vigneault said. "We're not going to win if we bring our B-game to the table."
[+] Enlarge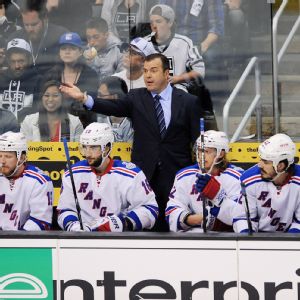 Juan Ocampo/NHLI/Getty ImagesVigneault watched in disbelief as the Rangers blew Game 1.
Though the Rangers had a strong first period on the road, the team's dominant play tapered off as the game went on, with the third period a particularly glaring display of lopsided action.
With the game tied at 2, the Kings controlled the period, outshooting the Rangers 20-3 and holding New York without a shot for the first 11:43 of play.
"They had great gap in the third, really took away a lot of our options, forced us to spend time in our zone, forced us to change when we actually got the puck out as opposed to being able to go on the forecheck and make them change," said defenseman
Ryan McDonagh
, who played a team-leading 31:12 in the series opener.
The Rangers seemed to surprise the Kings with their speed -- in fact, Game 1 hero
Justin Williams
admitted as much in his postgame interviews -- as both
Carl Hagelin
and
Benoit Pouliot
raced in on breakaways to score on Kings netminder
Jonathan Quick
to jump out to a 2-0 lead, but they were caught chasing the play far too much in the final 20 minutes.
"I think in the first period we did a great job of using our speed, getting pucks deep, also getting pucks at the net, which gave us some offensive time, a couple faceoffs in the offensive zone," Hagelin said. "In the third we had way too many turnovers, didn't get deep enough in their zone. They're a good team. If you give them time to skate with the puck, time to spend a lot of time in our end, they're going to do a good job."
The Rangers got a taste of the Kings' unrelenting, physical game even if it took a while for L.A. to get going. Nothing about that came as a surprise, Vigneault insisted. The Rangers were anticipating having their hands full.
"Everything that I expected, everything that we had talked to our players about, about what to expect, they did it down to a T," Vigneault said. "They keep doing it. They stay with it. They don't deviate. It's tough to exploit any areas because they're that good."
In fact, Vigneault singled out the Kings as superior to any other team the Rangers have faced this postseason, which included the likes of the
Philadelphia Flyers
, the
Pittsburgh Penguins
and the
Montreal Canadiens
.
Each of those three clubs offered something a little different. The Flyers were physical. The Penguins were skilled. The Habs were extremely structured.
The Kings, it seems, have it all.
"They're one of the best teams I've seen in a long time," Vigneault said. "Areas to exploit, they don't jump out at you. We're going to have to be better than we were."
June, 2, 2014
6/02/14
7:37
AM ET
2014 STANLEY CUP FINALS
All games on ESPN NY 98.7 FM and ESPNNY.com

Game 1: at Kings, Wednesday, June 4, 8 p.m., NBC
Game 2: at Kings, Saturday, June 7, 7 p.m., NBC
Game 3: at Rangers, Monday, June 9, 8 p.m., NBCSN
Game 4: at Rangers, Wednesday, June 11, 8 p.m., NBCSN
Game 5*: at Kings, Friday, June 13, 8 p.m., NBC
Game 6*: at Rangers, Monday, June 16, 8 p.m., NBC
Game 7*: at Kings, Wednesday, June 18, 8 p.m., NBC

*if necessary



June, 1, 2014
6/01/14
11:44
PM ET
To Los Angeles they go.
The
New York Rangers
will face the
Los Angeles Kings
in the 2014 Stanley Cup finals.
It took a thrilling, white-knuckled overtime stretch for the Blueshirts' fourth-round foe to be determined, but really could it have ended any other way in the wild, wild West?

Two elite teams, the Kings and the
Chicago Blackhawks
, slugging it out to the delight of hockey fans everywhere, until L.A. snapped a 4-4 draw to knock off the defending champs in what was a riveting, over-the-top entertaining series in the Western Conference finals.
Now, how does this bode for New York?
Well, they had to be all smiles that this one required extra time to decide. Better to siphon all that emotion and energy while the Rangers continue to rest and regroup in advance of Game 1 on Wednesday at Staples Center in Los Angeles.
The Kings have experience on their side, true, but they also enter the final having played three straight seven-game series. Do not discount the fatigue factor.
And though the Rangers likely will still enter the series as underdogs, they may be gaining a bit more traction as a dark-horse contender.
Why?
Goaltending. No one will doubt the King's resilience or skill. But
Jonathan Quick
does not look like the same guy who led the Kings to the Stanley Cup championship in 2012. Both he and his Chicago counterpart
Corey Crawford
gave up some extremely suspect goals this spring.
Henrik Lundqvist
gives the Rangers the irrefutable edge in net.
After that, things get dicey for the Blueshirts.
The Kings boast arguably the best defenseman and top playoff performer in the NHL, 24-year-old
Drew Doughty
, one of the best two-way centers in the league, Selke finalist
Anze Kopitar
, and one of the biggest game-breakers out there in
Marian Gaborik
.
Remember him? Yup, good old Gabby, who was traded by the Rangers at the deadline last season, is leading the league with a dazzling 12 goals this spring.
Should be an interesting series with the Rangers battling it out against one of their old teammates. L.A. has star power aplenty with names such as
Jeff Carter
,
Mike Richards
and Mr. Game 7 himself,
Justin Williams
, added to the mix.
How will the likes of Lundqvist,
Rick Nash
,
Martin St. Louis
,
Brad Richards
and the rest of the Blueshirts match up?
For a closer look at the series breakdown, check out ESPN.com's Pierre LeBrun's
series preview
.
June, 1, 2014
6/01/14
2:56
PM ET
GREENBURGH, N.Y. -- If the
New York Rangers
do have a rooting interest in Sunday night's Game 7 of the Western Conference finals between the
Los Angeles Kings
and the
Chicago Blackhawks
, they are not tipping their hand.
Both potential opponents, the winner of which will face the Blueshirts in the 2014 Stanley Cup finals, present their own set of star players and stiff competition.
Both potential foes have experience, too. The defending champion Hawks look to pull out a third straight victory against the Kings on Sunday in order to restore hope of securing back-to-back titles.
Los Angeles beat the
New Jersey Devils
for the Cup two years ago.
As Rangers defenseman
Marc Staal
said Sunday: "Pick your poison."
"Both sides, obviously, they've been scoring a lot of goals. They've both been creating a lot of offense. Both have great goaltenders that are capable of stealing games. It's two tough teams," Staal added. "Whoever it is, tomorrow we'll take a look at them."
Whereas the Kings are noted as playing a more physical, heavy game and the Hawks are noted for their impressive forward depth, both clubs come with their own challenges. Though the Rangers had a vigorous practice Sunday, a luxury this time of year, they did not have the benefit of game planning for which team they'll face. Vigneault said the team's approach will be adjusted based on who wins Sunday.
Either way, they are in for a daunting test of will.
"They're battle-tested. They've both played on the big stage and won. Different styles," Vigneault said. "Obviously, L.A. is a little bigger, but both teams have a puck possession game that makes it real hard to get it back. Different challenge, but two good teams."
Though the Kings have been characterized by some as the most dangerous team in hockey with arguably the top playoff performer in stud 24-year-old defenseman
Drew Doughty
, L.A. has surrendered two straight to Chicago. Now, the Hawks have their own building behind them as they try to punch their ticket for the next round.
Should L.A. advance, however, they will have played three grueling seven-game series heading into the finals.
The Rangers, meanwhile, have a lengthy respite after finishing off the
Montreal Canadiens
in six games.
"I don't know if it's -- put it this way: I don't know if we get an advantage over the other team, but we are welcoming the rest and regrouping. We've played a lot of hockey since March 1," said de facto Rangers captain
Brad Richards
. "Whether it's an advantage I don't know. But we'd rather go in with a little more rest and preparation than not, and that's basically what it comes down to."
Whether the Rangers are willing to admit as much, they will also enter the next round as underdogs among media types and fans around the league.
While the caliber and quality of play out West has been impressive, with both the Kings and Hawks battling in a great series, with Games 5 and 6 being particularly riveting, high-octane and dramatic slug-fests, the Eastern Conference play has not received quite the same billing.
"That's a tough question. We believe in ourselves in here. No matter who we play, they're a great team. They've [each] won the Cup [once] in the past two years," said winger
Rick Nash
, who is coming off a pair of impressive outings in Games 5 and 6 against the Habs. "Either way, we're going to have our hands full and we definitely don't have the experience besides three guys in this dressing room that they have in theirs."
Those guys who have won a Cup before are Richards, veteran forward
Martin St. Louis
, and
Daniel Carcillo
, who is serving a 10-game suspension incurred in the last round.
But lack of experience, or lack of belief from the outside world, doesn't change how the Rangers feel about their chances. They are here. They have a shot. And they believe.
Said rugged fourth-line forward
Brian Boyle
, with emphasis: "We need no outside motivation."