New York Rangers:

Steve Mason
April, 30, 2014
4/30/14
11:50
PM ET
NEW YORK -- Of course this series between the
New York Rangers
and
Philadelphia Flyers
was going to go to Game 7. And of course this was going to be a winner-take-all match that went right down to the wire, with both teams' respective seasons hanging in the balance as time wound down in the third period.
It was a final frame that seemed interminable for the Rangers, desperately clutching a one-goal lead and feeling each tick of the clock as if it were an eternity.
But at the end of regulation, the better team was left standing as the Rangers held on to knock off the Flyers 2-1 in Game 7 to advance to the next round of the Stanley Cup playoffs, where they will face the
Pittsburgh Penguins
.
[+] Enlarge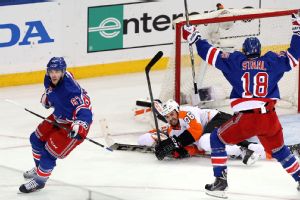 Adam Hunger/USA TODAY SportsThe Rangers prevailed in yet another Game 7 at the Garden.
"It's a sense of relief," said winger
Rick Nash
, whose goal drought continued Wednesday night despite a team-leading five shots. "You have two chances at it and we couldn't get the job done on the first chance, so it's a moment of relief and excitement."
Nash is of course referring to the Rangers' inability to close out the series Tuesday night in Game 6 and that nagging stat that the Rangers just can't quite seem to shake: 12 consecutive losses when leading in a playoff series.
But the Blueshirts began anew Wednesday night in a game that provided the type of pace and intensity that the series otherwise lacked. Both teams came out strong, but it was Flyers goaltender
Steve Mason
who was dazzling from the drop of the puck.
Mason was absolutely sensational in his third start of the series for the Flyers, even when the Rangers began to surge in the second period. It was former Flyer
Daniel Carcillo
who first got the Rangers on the board against his old club, notching his second goal of the series after replacing
J.T. Miller
in the lineup following a pair of games as a healthy scratch.
Mats Zuccarello
enabled Carcillo with a jaw-dropping backhanded pass laced through two different Flyers defenders.
Still, with the Flyers down 1-0 Mason was doing his part to steal the show. But despite several sequences of stunning saves from the 25-year-old netminder, who missed the first three games of the series with what he has subsequently revealed to be a concussion, the Rangers solved him again with
Benoit Pouliot
's marker later in the period.
It wasn't the stars who ended up on the score sheet for the Rangers, but that was only fitting for a team that has received well-balanced contributions from throughout the lineup all season long.
"That's the great thing about our team. Different guys have been different heroes all through the year or throughout this series, as you can see. Every night, every win we've had we've had different guys step up," said veteran center
Brad Richards
. "That's a good sign for our team."
As is the continued steadiness of goaltender
Henrik Lundqvist
, who was rock solid when necessary as the Flyers came buzzing back in the third period, a clear statement that they would not go quietly.
Rookie forward
Jason Akeson
cut the Rangers' lead in half, 2-1, and New York played much of the period on its heels, but Lundqvist was composed between the pipes as the Rangers white-knuckled their way to the buzzer.
Lundqvist did not have the same sort of outstanding performance as Mason, who was saddled with the loss despite making 31 saves, but he recorded a win and that was the only important statistic that means anything to the former Vezina Trophy winner.
"We knew they were going to push in the third and they came pretty hard, but the puck management was really good," said Lundqvist. "it's just exciting, that last minute is so intense and you're nervous but at the same time you just want to see what's going to happen next. The final second, that's probably the best feeling."
According to Elias Sports Bureau, Lundqvist has tied an NHL record with four consecutive Game 7 wins, tying
Cam Ward
,
Ed Belfour
and
Patrick Roy
.
"It's almost a thing that's out of your mind," said defenseman
Marc Staal
, who finished the game with a team-leading 24:28 in ice time. "You never have to think what will be back there because you know he's going to be there."
Now, the Rangers can finally put the Flyers out of their mind, too, after seesawing with their division rivals all series. There will be at least one night to relish a series victory before planning and preparation begin for Round 2.
"A good sense of accomplishment," defenseman
Ryan McDonagh
said when asked about the feeling in the room following the win. "But we know there's a long road [ahead]; we're trying to accomplish something even bigger."
That begins, of course, with the Pittsburgh Penguins, who knocked off the
Columbus Blue Jackets
in a bitter, physical and wildly entertaining first-round series that ended with a decisive Pens victory Monday night. While the Penguins have had a few days to rest while awaiting their second-round foe, the Rangers won't have that same luxury of recovery.
Instead, they'll make a quick turnaround, jumping on a plane to Pittsburgh on Thursday to prepare for what will be their third game in four nights.
That may not be the worst thing, however.
"No thinking. Right back to work. Right back to what we're doing here," Richards said. "Now you're in it and it's fun, so why not start right away?"
April, 30, 2014
4/30/14
9:49
PM ET
NEW YORK -- The
New York Rangers
haven't made it easy on themselves all series, so there's no reason to think that Game 7 should've been any different. Regardless, the Blueshirts held on to knock off the
Philadelphia Flyers
2-1 Wednesday night at Madison Square Garden to punch their ticket for a second-round matchup against the
Pittsburgh Penguins
in the Eastern Conference semifinals.
The Rangers had to white-knuckle their way through a tense third period, in which they were outplayed by the Flyers. Rookie
Jason Akeson
cut a two-goal lead in half, but New York was able to hold on for the victory. Philly surged in the final frame but couldn't find the equalizer with their season hanging in the balance.


And to think, it wasn't even Philly's goaltending that let it down. In fact, Flyers netminder
Steve Mason
was downright phenomenal in his third start of the series, making 31 saves in a spectacular performance that deserved much, much better. Mason even outplayed Rangers goaltender
Henrik Lundqvist
, but Lundqvist left the ice with the only thing that mattered Wednesday night: a win.
A look ahead:
The Rangers are likely facing a quick turnaround with the start of their second-round series against the
Pittsburgh Penguins
reportedly slated for Friday, making it a possibility that they could play five games in eight nights. Meanwhile, the Pens have had some time to rest following a series-ending victory against the
Columbus Blue Jackets
in Game 6 on Monday night, and that recovery time might be a blessing for a Pittsburgh team that got quite a scare from the Blue Jackets in an unpredictable and gritty first-round series.
Though
Evgeni Malkin
came to life for the Penguins with a hat trick in Game 6, superstar captain
Sidney Crosby
was held without a goal for the entire series as former Rangers
Brandon Dubinsky
made him work for every inch of ice.
Strong second:
After a high-paced, evenly-matched first period that was scoreless after 20 minutes, the Rangers took over the game despite Mason's heroics in the Flyers' net. Mason was far and away the Flyers' best player on the ice through two periods, making save after spectacular save, but he didn't get much help in front as the Rangers built a two-goal lead in the second period.
After
Daniel Carcillo
's goal early in the frame,
Benoit Pouliot
gave the Rangers a 2-0 advantage, converting a deft feed from beneath the goal line for a scoring sequence on which Mason had virtually had no chance.
Earlier in the period, Pouliot went to the penalty box for a questionable goaltender-interference call, making that the fourth offensive-zone penalty he has taken this series. A huge penalty kill, replete with a superior shot-blocking sequence, gave the Rangers a lift, and Pouliot was able to capitalize on the other end.
Grit factor:
Rangers coach Alain Vigneault would not tip his hand about any potential lineup changes prior to Game 7, but he opted for some physicality and snarl when he inserted Carcillo into the lineup instead of 21-year-old center
J.T. Miller
, who played in Games 5 and 6. Using Carcillo, who scored a big goal against his former team in Game 3 in Philadelphia, proved to be a wise decision as the master antagonist gave the Rangers a 1-0 lead after notching his second of the series early in the second period. Carcillo cashed in on an excellent backhanded feed from
Mats Zuccarello
-- laced through two Flyers defenders -- following an impressive pair of saves by Mason earlier in the sequence.
April, 22, 2014
4/22/14
10:47
PM ET
PHILADELPHIA -- The
New York Rangers
took a 2-1 series lead with a 4-1 win over the
Philadelphia Flyers
Tuesday night at Wells Fargo Center.
Former Flyer
Daniel Carcillo
made his first appearance of the series and it was a memorable one, as he recovered from both a head shot and a questionable penalty call to deliver the dagger against his old club, scoring to give the Rangers a three-goal cushion in the third period.


Flyers goaltender
Steve Mason
, playing for the first time since suffering an upper-body injury on April 12, replaced
Ray Emery
in the third period after the 31-year-old gave up his fourth goal of the night.
Flyers captain
Claude Giroux
managed to register his first shot on goal of the series, but was again held off the scoresheet as Philly's first line was effectively contained.
Change coming?:
Emery, making his third consecutive start this series in place of injured starter Steve Mason, did not have his best outing Tuesday night. He was solid in the first two games, but gave up at least a few in Game 3 that he'd like to have back.
Considering Mason's surprising appearance -- he dressed as a back-up, even though he was initially reported to be unavailable, and entered the game to replace Emery in the third -- he could be primed to make his first start for the Flyers in Game 4 in Philadelphia on Friday.
Big goal:
The Flyers carried momentum into the second period after cutting the Rangers' lead in half with defenseman
Mark Streit
's goal at the end of the first, but they failed to capitalize on the emotional swing. Instead, Rangers' blueliner
Dan Girardi
tallied the Blueshirts' biggest goal to date of the playoffs, beating Emery with a deep slapshot to reclaim a two-goal lead at 5:17.
Lose your cool:
Flyers coach
Craig Berube
stressed in his pregame press briefing the importance of discipline after his club spent a solid chunk of Sunday's 4-2 win down a man on the penalty kill. Apparently, the players did not heed his message, because there was plenty of sloppy, undisciplined hockey right from puck drop. The Flyers took three separate penalties in the first period and the Rangers were almost as bad. For the Blueshirts,
Benoit Pouliot
was the main offender, taking two ill-advised penalties, the latter of which negated a Rangers power play.
Unlikely duo:
Raise your hand if you had
Jakub Voracek
and
Carl Hagelin
as the first two players to drop their mitts in this black-and-blue series. Exactly. The two skill players squared off in the second period and Voracek ended it quickly in a lopsided bout, pummeling Hagelin before the Swedish winger could even land a punch. The crowd approved, erupting in a raucous roar, but again the Flyers failed to channel the surge. A stingy Rangers penalty-killing unit was the unsung hero for New York in the middle frame, snuffing both man-up opportunities for the Flyers in the period.
April, 15, 2014
4/15/14
3:31
PM ET
GREENBURGH, N.Y. -- The
New York Rangers
can breathe easy knowing they will have defenseman
Ryan McDonagh
back in the lineup when their first-round series against the
Philadelphia Flyers
begins. But the first day of practice leading up to Game 1 finished with questions about one of the team's key forwards.
Top-six center
Derick Brassard
left the ice Tuesday in apparent pain while the team was doing special-teams work at its practice facility and did not return. Coach Alain Vigneault did not provide an update on the 26-year-old's status.
[+] Enlarge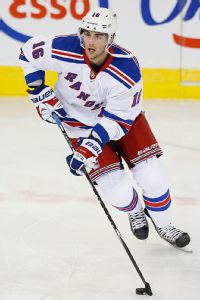 Perry Nelson/USA TODAY SportsDerick Brassard appeared to hurt himself during Tuesday's practice.
He did seem optimistic, however, that Brassard will be available when the puck drops to begin the Eastern Conference quarterfinals Thursday night at Madison Square Garden.
"I would say yes," Vigneault said.
Brassard has been a critical component of one of the Rangers' most productive lines, a trio that also includes
Benoit Pouliot
and
Mats Zuccarello
. The three players have combined for nine points in the last four games heading into the postseason. The Rangers are already without one of their top-six forwards with Chris Kreider sidelined indefinitely with a left hand injury.
Balance up front will be absolutely vital against a Flyers team heralded for its forward depth. Philadelphia boasts one of the most dangerous top lines in the NHL with
Claude Giroux
,
Jakub Voracek
and
Scott Hartnell
, and also has the likes of
Wayne Simmonds
,
Matt Read
and
Vincent Lecavalier
. The Flyers have seven players with 20 or more goals.
But Philadelphia has an injury concern of its own, with starting goaltender
Steve Mason
's status for Game 1 unknown. Mason left the Flyers' 4-3 overtime win against the
Pittsburgh Penguins
on Saturday with an upper-body injury after a second-period collision and did not return to the game. Though Flyers head coach Craig Berube sounded confident immediately afterward that Mason would be ready to go by Thursday, that optimism has waned in recent days.
Mason did spend a limited amount of time on the ice with the Flyers on Tuesday but did not speak to the media. Berube told reporters in Philadelphia that he's not sure if Mason will play.
With the Rangers already enjoying an overwhelming edge in the goaltending department with former Vezina Trophy winner
Henrik Lundqvist
in net, Mason's potential absence could have significant ramifications. However, backup
Ray Emery
has done quite well against the Blueshirts in the past, with a 7-2-0 record and two shutouts in 10 career appearances against New York.
Regardless of who is in the lineup for both teams, this series is guaranteed to deliver the type of saltiness and snarl that makes playoff hockey so compelling.
The Rangers and Flyers split their four games in the regular season. And given the teams' prior history -- no playoff meetings since 1997, but an abundance of high-intensity, hate-filled regular-season games -- that will only make the intensity more palpable.
"A team you don't see all that often, sometimes it takes a little longer to build the animosity," Rangers defenseman
Marc Staal
said. "We're very familiar with each other. I don't think we need to build any of that up. It should be a good start."
The Flyers possess one of the better power plays in the league, a unit that ranks first in the NHL with a 25.2 percent success rate. So no matter how often frustrations escalate, the Rangers must focus on trying to keep their reactions in check.
"I think discipline is going to be key, because they have a really good power play," said veteran center
Brad Richards
, who won a Stanley Cup with Tampa Bay in 2004. "I think our power play can be dangerous also, so I think both teams are going to want to keep those power plays on the bench.
"After that, it's a matter of how high you want to raise your level with every game," Richards said. "We've learned that in the past here, and for guys that have been to the playoffs, they know that. Every game gets faster. Every game gets harder. Hopefully we can ride that momentum and get better as the series goes on."
March, 1, 2014
3/01/14
5:23
PM ET
PHILADELPHIA -- The
Rangers
fumbled a prime opportunity to pull away from the
Philadelphia Flyers
in the Metropolitan Division standings, surrendering a 4-2 loss to their longstanding rivals at Wells Fargo Center on Saturday.
The Blueshirts, riding high after a 2-1 win over the defending Stanley Cup Champion
Chicago Blackhawks
on Thursday, also wasted a chance to jump on the Flyers early with two power-play chances in the first five minutes of play, instead allowing the Flyers to build a 2-0 first-period lead.
Ultimately, the Flyers were able to gain traction in the divisional standings, in which they trail the Rangers by a mere point with 21 games remaining in the regular season.
"The power play could have given us a lead, but their goaltender made some good saves. They made us pay on a couple of opportunities after that," coach Alain Vigneault said. "We battled back hard, won the second period, and in the third just didn't get enough looks."
Goaltender
Henrik Lundqvist
's return to net was spoiled 7:04 into play as
Anton Stralman
's stick directed a puck past him in a flukey first goal that put the Rangers on their heels. Lundqvist was deked and beaten by
Sean Couturier
just 66 seconds later, putting the Rangers into an uncomfortable 2-0 hole.
The Rangers responded in the second, however, with a strong surge that allowed them to tie the game at two with
Derick Brassard
's power-play marker at 11:42. But, despite a strong effort, the Rangers fell behind again on a couple of critical breakdowns that allowed
Wayne Simmonds
to spin and shoot from the left circle for a go-ahead goal on the man advantage.
The Rangers bungled a couple of Grade-A opportunities in the middle frame -- both
Chris Kreider
and
J.T. Miller
whiffed on what would have been gimmies -- and couldn't solve Flyers netminder
Steve Mason
in the third, either.
Mason, who was terrific in the first period, finished with 33 saves in his star performance, a critical one in helping the Flyers bounce back from Thursday's 7-3 drubbing received from the
San Jose Sharks
.
"We were having success in the second,"
Ryan Callahan
said. "For whatever reason, if it was them or us, we didn't generate enough of that in the third."
Derek Dorsett
returned to the lineup for the first time since Jan. 3. The gritty winger, who missed almost two months with a broken leg, was used on the fourth line with
Brian Boyle
and
Daniel Carcillo
.
Before the game, Vigneault said he wanted to see both Dorsett and Carcillo together, but Saturday's game, in which Carcillo spent the majority of the second period in the penalty box, made evaluating that trio a difficult task.
"We did a lot of good things," Lundqvist said, "But it wasn't enough tonight."