New York Soccer:

2010 World Cup
July, 6, 2010
7/06/10
3:23
AM ET
By
Ian Begley
| ESPNNewYork.com
Jozy Altidore was surprised to hear this unseemly stat: U.S. strikers haven't scored a goal in the past two World Cups.

Altidore, on hand to watch Monday night's Mets-Reds game, said it was "pretty disappointing" that neither he nor any of his fellow front-liners could score in the United States' four World Cup games.

"I had no idea that was the case. At the end of the day, I think that was something that was pretty disappointing," Altidore said. "I know, for myself, I thought I did do a lot of things right. Usually I get goals, so for me not to get a goal in this one was pretty surprising.

"But, you know, these things happen…. Now, that's in the past and I just have to look forward."

Altidore said the U.S. was "unlucky" against Ghana, predicting "the score would be different" if the two teams played again.

He also said he was in favor of putting more officials on the pitch for games after seeing so many blown calls in the World Cup.

"I just think they need more eyes definitely," Altidore said. "There's 22 players on the field and three people can't see everything that's going on."
June, 23, 2010
6/23/10
7:31
PM ET
June, 23, 2010
6/23/10
9:49
AM ET
By
Ian Begley
| ESPNNewYork.com
U.S. 1, Algeria 0 »
Where to watch in New York »
Ian Begley was on the scene at Baker Street Pub on 63rd and 1st as the U.S. met Algeria with its World Cup life on the line.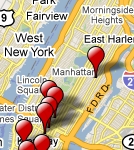 12:02 p.m.:
Rob lost his voice after the final two minutes, but he manages to tell me that "this place was just as good as Nevada Smiths. I can't describe what it felt like in here in the final minutes." His friend Mike calls this morning's action, "the best sporting event I've ever been a part of." Can't argue with him after the incredible atmosphere at Baker Street. Check back for video from the pub a bit later on.
11:58 a.m.:
Wild cheers for Landon Donovan, who's in tears after scoring one of the biggest goals in this nation's history.
11:52 a.m.:
They're delirious here at Baker Street after the final whistle blows. U.S. 1, Algeria 0. We're going to the knockout round!
11:50 a.m.:
USA! USA! The crowd goes bonkers after that Donovan game-winner. USA! USA! That vuvuzela never sounded so sweet.
11:48 a.m.:
A yellow there on Beasley drives this crowd crazy. Four minutes of added time to score or go home for the U.S.
11:45 a.m.:
Desperation time. U.S. fans rue Slovenia's missed chance. Slovenia needs to score in the final two minutes if the U.S. can't get a goal.
11:42 a.m.:
Dempsey's free kick sails high. Things are tightening up at Baker Street in the 84th minute.
11:40 a.m.:
A few fans calling for a red card on that dirty tackle of Altidore. Ref issues a yellow.
11:38 a.m.:
Great shot by Bradley. Even better save by the Algerian goalie. Dejection on faces of some U.S. fans.
11:36 a.m.:
Nice job by Dempsey to draw that foul.
11:35 a.m.:
Tired of watching the U.S. miss opportunity after opportunity, one U.S. fan is rooting for the next option. "Let's go Slovenia!" she says with a sheepish smile.
11:32 a.m.:
Bob Bradley's reaction says it all after another missed opportunity on that free kick in the 74th minute. If it ends like this, we're on the outside looking in.
11:35 a.m.:
Big cheers after the foul call on Altidore.
11:30 a.m.:
One U.S. fan puts things in perspective after that last near-miss. "Look at the history. When haven't we been (bleeped) in the World Cup?"
11:28 a.m.:
You can not be serious! Buddle really should have converted on that header.
11:26 a.m.:
Slovenia nearly ties it and seconds later the U.S. nearly converts a corner. Crowd cries out after both plays. This is a sports fan's dream.
11:25 a.m.
: Cheers for the local guy, Edson Buddle, who was raised in New Rochelle.
11:20 a.m.:
Standing between one TV featuring the England game and one playing the U.S. game is like soccer sensory overload for me, but Pat, a Baker Street regular, loves it. "A great sports bar," he says. On the blown opportunities for the U.S. so far, Pat says they are "part of the game." This guy is way too levelheaded to be a U.S. fan.
11:18 a.m.:
Oh, the agony. Bradley with a great chance off the post. Torture for the crowd here.
11:10 a.m.:
Just talked to Steve, the guy with the vuvuzela. He says he got the world's most controversial horn while in South Africa. He just returned from the host country after watching the the USA's first two games. He and his wife blow the blue horn wherever they go, including the workplace. Must be a popular couple.
11:05 a.m.:
Huge sense of relief from American fans after refs rule England offside after what would have been their second goal.
10:56 a.m.:
Steve, a diehard England fan, says he isn't paying attention to the U.S. game blaring in the background. "I don't care what happens over there. If we win, we advance."
10:50 a.m.:
Scott lives right around the corner from Baker Street and says the atmosphere here today with the England and U.S. games on at the same time is ''intense." That goal-negating offside call? "Unfortunate," he says. It's 0-0 at the end of the first half.
10:45 a.m.:
Sigh of relief after that Algeria shot sails over the crossbar.
10:40 a.m.:
Finally, an offside call that goes our way.
10:41 a.m.:
Nice stop by Tim Howard in the 37th minute.
10:38 a.m.:
Either Donovan or Altidore should have buried that one.
10:36 a.m.:
Another missed opportunity for Dempsey. It's early, but you can already feel the tension among U.S. fans with England up 1-0.
10:35 a.m.:
If this holds up and the U.S. loses on another blown call (the first was by ref Koman Coulibaly, who took away Maurice Edu's goal against Slovenia), I hope Bud Selig calls for instant replay at the World Cup.
10:32 a.m.:
England wastes two prime opportunities to go up 2-0 on Slovenia. Screaming England fans are outraged.
10:30 a.m.:
Salim agrees with the announcers, who say that offside call was terrible. "That was the wrong call," said Salim. "I'm a fan of good football, not bad refereeing. That's the second time that's happened."
10:25 a.m.:
And half the crowd goes crazy as Defoe scores for England. That goal gives England a 1-0 lead and cuts the goal differential between the two countries to one.
10:24 a.m.:
Not sure who was more upset by that offside call that took a goal off the board for the U.S., Bob Bradley or the guy blowing the vuvuzela.
10:20 a.m.:
The staff here has decided to help any patrons confused by the simultaneous games by taping "USA" and "England" labels to each television.
10:15 a.m.:
Constantino, a writer for the Daily Beast website, says Baker Street is a great atmosphere for soccer, "especially at 10 a.m. on a Wednesday." The bar's ceiling is lined with flags, soccer jerseys and club team scarves.
10:11 a.m.:
Altidore draws a yellow, which draws a polite applause from the U.S. fans.
10:10 a.m.:
Hercules comes back with a nice shot on goal and Dempsey's free kick sails high over the crossbar a minute later. Scoreless tie in the ninth minute.
10:05 a.m.:
Wow. DeMeritt is lucky that shot hit the crossbar. This crowd nearly hyperventilated after that shot.
10:00 a.m.:
They're not playing favorites here. The U.S. game is on four screens and the England game is on four screens. The dueling vuvuzelas from both crowds are in perfect harmony.
9:58 a.m.:
Dan, a surgeon at New York Presbyterian, is here dressed in his scrubs. He's slated to go into surgery right after the game. Hope the U.S. wins for his patient's sake.
9:55 a.m.:
Someone just blew a blue vuvuzela. No one was happy about it. Someone asked him politely to take his vuvuzela and shove it.
9:50 a.m.:
Just saw Nick, an England fan who I bumped into at Nevada Smiths for the U.S.-England game last Saturday. He's hoping for a more relaxed atmosphere here than we had at Smiths, which was packed wall-to-wall with 500 people hours before the game. So far, there's plenty of room to walk around at Baker St., so Nick is happy.
9:40 a.m.:
Baker Street Pub
on 63rd and 1st is about half-full 20 minutes before U.S.-Algeria. The Americans advance with a win or a tie AND an England loss against Slovenia OR a tie AND an England tie, as long as they maintain goal differential. England plays Slovenia at the same time as U.S.-Algeria.
June, 21, 2010
6/21/10
2:04
PM ET
By
Ian Begley
| ESPNNewYork.com


Ian Begley is live at La Nacional Tapas Bar on W. 14th Street.

4:25 p.m.: A quick Ole' chant and a few high fives exchanged as the crowd files out after Spain's 2-0 win. I'm off to download some video. See you Wednesday for the U.S.-Algeria game.

4:20 p.m.: One fan booed loudly when the camera panned to coach Vincente del Bosque. The federation president had to guarantee that coach Vincente del Bosque's job is safe after the loss to Switzerland. The coach's job was on the line today. It's like Steinbrenner is running the show.

4:15 p.m.:No longer screaming after every miss, the Spain fans seem to be content with their team up, 2-0.

4:15 p.m.: Manager Robert is kind enough to offer me a nice cold Estrella, which seems to be the beer of choice here. He looks at me like I have two heads when I tell him I can't accept.

4:05 p.m.: Polite applause for Real Madrid's Sergio Ramos, who comes off with Spain up, 2-0.

3:45 p.m. : Alfredo just showed up upstairs here in an Italy jersey. Why would an Italian fan come to a Spanish restuarant to root for a rival? "I hate Brazil and I want Spain to beat Brazil in the next round." I guess Dunga's boys inspire hate across the globe.

3:40 p.m.: "Villa, Villa, Villa, Villa Mara Villa!!!" is all you could hear here after Villa's second goal.

3:30 p.m.: Just talked to the camera guy from Telemundo. Even he is downtrodden after the first half. He says the network has been here for any big Spain games becuase this is a known hangout for fans of La Furija.

3:20 p.m.: Alex is one of the few guys here in a shirt and tie. Frankly, he's one of the few white guys here. He says he's married to a Spanish family and came to La Nacional today to be with his "compatriotas."

3:15 p.m.: I haven't heard any Spanish cheers thus far, just fits of shouts and groans from the fans here. Who can blame them? Spain's attack has mostly been a big tease, the soccer equivalent of striking out with men on base.

3:00 p.m.: I must be in the right place -- a crew from Telemundo just showed up.

2:55 p.m.: This crowd sees all of Spain's chances early on and smells blood. Some guy in a Torres shirt nearly lost his sangria after that missed header moments ago.

2:50 p.m.: Spain's loss to Switzerland last week was its first defeat in 23 games and just the second in its last 49. So that beautiful Villa goal brought a mixed reaction of joy and relief from La Nacional patrons.

2:45 p.m.: Near miss on a Ramos header brought a pained look to my buddy Dave's face. His allegiance is split between the U.S. and Spain. He decided to come here for the cultural experience. Good call, because it feels like a mini Madrid right here in Manhattan right now.

2:40 p.m.: This place was ready to explode when Villa's shot hit the cross bar in the sixth minute.

2:35 p.m.: Big cheers from the crowd upstairs as we get going. If there's a Honduras fan here, I haven't found him or her yet. It's a sea of Roja.

2:25 p.m.: There are two levels at La Nacional. Downstairs features a bar and restaurant and upstairs there is an open space with chairs, tables and a large projection screen. Plenty of Estrella Galicia flowing in the second-floor hangout.

2:25 p.m.: La Nacional Tapas manager Robert says the restaurant didn't draw a big crowd for the Spain-Switzerland game because "it was at 10 a.m. and the Spanish people don't get up that early." But he's expecting more today and said there were 200 people waiting outside for the UEFA Championship game.

2:10 p.m.: La Nacional Tapas has been around since the 1860s. It served as headquarters for the Spanish Benevolent Society. The SRO crowd here won't be happy if Spain doesn't bounce back from a dissapointing loss to Switzerland with anything less than a win.
June, 18, 2010
6/18/10
9:28
AM ET
USA 2, Slovenia 2 »
Where to watch in New York »
Michael Woods takes in the scene at Nevada Smiths as the U.S. battles Slovenia.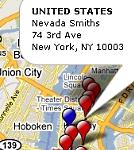 11:58 a.m.:
Michael Woods signing off from Nevada Smiths "where futbal is religion". And some prayers were answered for the United States. Check back a little later for video of my Slovenian pals who slunk out, saying they had to "catch a bus." Lol.
U.S.A., U.S.A.
11:52 a.m.:
Well, a 2-2 tie. USA came back. Fans have to be happy. It could be a lot worse.
11:48 a.m.:
If U.S. gets a tie it's like a win, right? Like a fighter that only wakes up after he gets hurt. The Americans are finally fighting off the ropes.
11:35 a.m.:
Yes. U.S.A., U.S.A. We're only down 2-1 with plenty of time.
11:30 a.m.:
Cell phones with lyric cheat sheets are good for those singing "God Bless America".
11:25 a.m.:
We need a goal to keep advancement hopes alive.
11:20 a.m:
Right now Nevada Smiths, "Where Futball is religion" is a little quiet. There are a lot of hands clasped in prayer for sure. The U.S. fans look a bit worried.
11:16 a.m.:
Crowd disliked non-call on Alti.
11:08 a.m.:
The dude dressed like Uncle Sam either went to the bathroom or went home to put on his Slovenian gear.
11:06 a.m.:
Goalie flinched, didn't he?
11:05 a.m.:
Goal!!!!!! Donovan. My eardrums hurt. Place is going wild.
11:03 a.m.:
Game on for second half. Most people here are just hoping for a tie.
11:01 a.m.:
Uncle Sam says "draw is highly likely. Win is a stretch."
11:00 a.m.:
Chatting with Uncle Same guy now. Says he is 28 and lives in Jersey. He's got the flag cap, Mardia Gras beads. Says beads cost $3.99 from a dollar store. Hat is from the same place. He's here with a cousin and co-workers. "Our buildup is awesome. Our defense is not coming through I think we underestimated Slovenia. Our defense is usually our strongest suit."
10:59 a.m.:
Haven't seen the agoraphobic lady in awhile.
10:56 a.m.:
Mija predicted a 2-0 Slovenian win. He says the team manager is excellent and put a together a good team. He doesn't think U.S. was overconfident.
10:54 a.m.:
Tim says U.S. has to tighten up defense and score goals. Obvious stuff. A patron yelled out that U.S. should get LeBron.
10:51 a.m.:
Kristin is throwing F-bombs like crazy. "We lost our nerve. The best we can hope for is a draw." She is wearing the U.S. jersey. Says she likes the vibe in Nevada Smiths. "I'm a Jets fan. I'm used to losing, it's not about winning."
10:50 a.m.:
It's clear by now the Slovenians have speed edge on America.
10:45 a.m.:
The Slovenian three at Nevada Smiths are amped.
10:42 a.m.:
OMG. Slovenian goal.
10:38 a.m.:
Hmm. Momentum shift now? Torres free kick was a powerful drive.
10:40 am:
Ref needs lasik surgery. Ball clearly hit Findley in the shoulder.
10:37 a.m.:
Gonna get analysis from this dude here in all the Uncle Sam gear at the half. His outfit tells me he knows his stuff.
10:34 a.m.:
Prospects for America seem dim here in East Village. Can coach Bradley retool, tweak alignments or personnel at half to change momentum? Something has to happen.
10:29 a.m.:
Vibe at Nevada Smiths is deflated. U.S.A., U.S.A. chant starts. Peters out after five seconds.
10:10 a.m.:
I asked Kristin for a piece of gum. We can't have folks thinking ESPNNewYork people have vicious coffee breath.
10:19 a.m.:
Tepid "Ole" chant doesn't get off the ground.
10:15 a.m.:
Birsa with the burst off the left foot.
10:14 a.m.:
Media are like flys. They all congregate at obvious targets. Oh my, Slovenian goal. The three Slovenians are going ballistic.
10:12 a.m.:
25th ranked Slovenia outplaying 14th ranked America to this point. Beware of the stones of this "David".
10:07 a.m.:
Chant of "Saints Go Marching In" is starting in here. One of three chants on recycle.
10:06 a.m.:
The agoraphobic lady is sitting underneath the counter now.
10:04: I bought Mija a beer. On ESPN. Is that legal? Anyway. Game on!
10:02 a.m.:
Slovenian Prime Minister shined teams cleats after they beat Russia. Not gonna happen here.
9:59 a.m.:
A young lady who seems agoraphobic is periodically crouching in a corner. I asked her if she's ok. She said she's hot. Not sure why she's here.
9:56 a.m.:
My Slovenian pals sang their National Anthem. Only ones in here who know the words.
9:55 a.m.
Kristin is pissed at me. Or her mom is. Mom texted her and said ESPN just showed footage from a bar in Chicago. I told her I am pissed at me too! I am on the horn to Bristol as we speak, to rectify!
9:50 a.m.:
There is still room here if you want to come down. Line outside is five people. No shortage of places showing the game today.
9:47 a.m.:
Hoping President Obama convenes a blue-ribbon panel to come up with better chants for America before next World Cup. Here in New York we lack in this department. Chanting "Red Sox suck" may be fun, but it is off topic.
9:42 a.m.:
Chatting with Miha. He's 25 and from Slovenia. A placed named Puj. Says he's on vacation for 14 days. He works in finance. Heard about Nevada Smiths on TV. He thinks he and his two galpals will be the only three Slovenian fans here.
9:40 a.m.:
U.S. is 1-9-3 vs European teams in the last five World Cups. Sorry for ominous stat. Just trying to keep it real. Sometimes we Americans fall prey to a mindset of "American exceptionalism". You know ... overconfidence.
9:38 a.m.:
U.S. best not overlook this little "David" team. They are all armed with slingshots.
9:36 a.m.:
Kristin told me she got her cousin a subscription to
ESPN The Magazine
for Christmas. Secret Santa gift and it was specifically for soccer coverage. "He loved it. I don't like Sports Illustrated.
ESPN The Magazine's
larger size is good for images and graphics, which is what I do". Plug alert!
9:34 a.m.:
Slogan of Nevad Smiths is: "Where Futbol is religion". That's hardcore and I'm glad I'm here.
9:32 a.m.:
Chatting with Kristin Ertel from Brooklyn Heights. "I wanted a packed bar" she says. The print broker adds, "I took the day off for soccer and a meeting with my dad. He's meeting his doctor and finding out if he's cancer free after chemo. We will win and he's gonna win too."
9:29 a.m.:
Chatting with Tim McGlinn. He's 41 and lives in New Jersey. Who will win I ask him? "The United States. Really, I'm not sure. Not sure it will be resounding, but we will win." He's in investments. But can't say who he works with right now. He says he has a couple hours off today. Probably told his boss he's meeting with a whale investor, Mike Woods.
9:27 a.m.:
Raucous atmosphere at Nevada Smith's here in New York City. "Bleep the Red Sox" they are chanting. Why? Beer at 9 a.m. maybe?
June, 14, 2010
6/14/10
11:03
PM ET
Voce gosta de futebol?
Ian Begley's live blog from Little Brazil for Brazil-North Korea.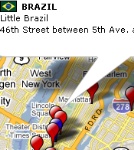 5:00 p.m.:
Brazil's win was overshadowed at Emporium by an appearance by Ana Maria Braga -- the Martha Stewart of Brazil -- who stopped by to watch the game and stayed after to sign autographs and take pictures with the crowd. "Beautiful game and a beautfiul restaurant," said Braga, who hosts a popular daytime show on the Brazilian network Globo. I asked her for a recipe, but she told me I had to watch the show.
4:50 p.m.:
Some fans hanging out on 46th St. weren't very satisfied with Brazil's play today. "Kaka, Robhino, they didn't show their talent," a fan in a Kaka jersey said outside of Via Brasil. "North Korea is not a good team. The big boys would have beaten them today."
4:20 p.m.
Andre o Belem and his parents are in town from Sao Paolo and it looks like they felt right at home in Emporium, waving the Brazilian flag and cheering before they file out of the restaurant after Brazil's decisive 2-1 win.
4:15 p.m.:
And North Korea strikes back on Ji's goal in the 89th minute, which was met with a stunned silence from the partisan Emporium crowd.
4:10 p.m.:
I guess it took a few Palma Louca's (Brazilian beer that is pretty popular here) to get this crowd going. But they're alive and well in the 86th minute, screaming with every Brazilian rush.
4:00 p.m.:
And the party's on after Elano's goal gives Brazil a 2-0 lead. Dunga's "conservative" approach is certainly entertaining this crowd.
3:55 p.m.:
With apologies to North Korean leader Kim Jong Il, coach Kim Jong-Hun looks like he wants to go nuclear on the sideline right now.
3:50 p.m.:
I just saw a Brazil fan blow his nose into the flag. Twice.
3:40 p.m.:
Maicon's goal in the 56th minute brought this crowd to life. Flags were flown and air horns blown after the goal gave Brazil a 1-0 lead.
3:40 p.m.:
I'm standing next to the kitchen door and the sight and smell of fish stew, Okra pasta and sauteed beef is making my stomach growl.
3:35 p.m.:
The scoreless tie between Brazil and N. Korea hasn't stemmed the blaring of the corneta, a yeelow plastic horn the wait staff takes turns blowing like playing they're dueling banjos.
3:20 p.m.:
Barbara, a red-headed Irish woman, has a Brazilian flag tatooed on her shoulder, a flag in her hair and Brazilian flag earrings. She saw her first Brazil game at Maracana Stadium in 2008 and "became hooked." She took off work today to watch at Emporium. "If you can't be in Brazil, this is the next best place."
3:15 p.m.:
From streamers hanging from the ceiling, to Brazilian flags on the wall, Emporium is awash in yellow and green. North Korea, making its first World Cup appearance, has no support here.
2:45 p.m.:
A rousing applause here in the ninth minute. Nothing to do with soocer, though. They just turned the sound on and switched to the Spanish broadcast.
2:30 p.m.:
We're live from Emporium Brasil Restaurant in the Little Brazil section of Manhattan for the Brazil-North Korea game. No empty seats in this place -- the manager locked the door ten minutes before the game. It's certainly lively in here. One staffer's been blowing an air horn to get the crowd going. Plenty of patrons have noisemakers as well. It's pretty loud, but anything's better than the vuvuzela.
June, 12, 2010
6/12/10
9:24
AM ET
By
Ian Begley
| ESPNNewYork.com
USA 1, England 1 »
Where to watch in New York »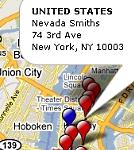 World Cup updates filed from Nevada Smiths in Manhattan -- and you gotta get up real early to get in the door for the World Cup:
4:30 p.m.:
Outstanding job by Tim Howard in the 1-1 draw. Strange ending at the bar. Fans of both sides are high-fiving and hugging after the final whistle. Benedict Arnold would be turning in his grave. Either way, great job by the U.S. today. A tie seemed like a win to the crowd Nevada Smiths.
4:15 p.m.:
Some hearty "USA!" chants here as we enter extra time. These fans are making a final push along with the boys in blue.
4:10 p.m.:
Plenty of tension in the air as we enter the 80th minute. Tim Howard is everyone's hero right now. But that can change quickly if he allows a bad goal.
4:05 p.m.:
Big cheers for the entry of New Rochelle's Edson Buddle.
3:55 p.m.:
Ohhh, Jozy!! Have to wonder about the health of Altidore's ankle after that missed opportunity.
3:50 p.m.:
Quick reminder before crunch time: Soccer may have been invented by Great Britian, but the U.S. holds a 1-0 edge over England in the World Cup thanks to a huge upset in 1950.
3:45 p.m.:
You can hear the "Tim-my How-ard!" chants from here to his hometown of North Brunswick, N.J., after that
huge
stop.
3:40 p.m.:
I think three more England fans just walked in. Anyone know a good dentist?
3:18 p.m.:
"USA!" chants and "God Bless America" are the only things you can hear at the bar right now. Unreal atmosphere.
3:15 p.m.:
The doors almost blew off this place after Clint Dempsey's equalizer. Take that, Margaret Thatcher!
3:10 p.m.:
The Tim Howard injury caused a stir, but it was tame compared to the venom heard after the David Beckham spotting.
2:46 p.m.:
Boisterous British fans telling us to "shove that Dunkin' Donuts up your ..." Why can't it just be about soccer with these people?
2:45 p.m.:
Paul Revere was right: The British are coming, the British are coming! It's 1-0 England on Steven Gerrard's goal.
2:25 p.m.:
A friend just texted me and said, "Regardless of the outcome, we'll always have 1776. Tell that to those blokes cheering for the enemy."
2:15 p.m.:
There's a line stretching down the block on 3rd Avenue to get into Nevada Smiths. And it looks like they'll be waiting awhile. We're shoulder to shoulder in the main bar with an unofficial head count of at least 350 upstairs. Who knows how many people are downstairs. If you planned on coming, stay home. I do, however, have good news for the next person in line. We've had our first ejection. I think it was an England fan, so there's room for one more.
1:45 p.m.:
I'm perched on a credit card-thin wooden ledge, trying to get decent lighting for video in this bat cave. If I take a spill into the garbage can below, please note that it was for the most patriotic of causes.
1:40 p.m.:
People on both sides of the pond have been talking about this matchup since last December. We're now less than an hour away from the game and this bar is full of flag-waving, anthem-singing soccer fiends waiting for their fix. Can't think of anywhere else outside of South Africa I'd rather be.
1:15 p.m.:
The majority of U.S. jerseys I've seen today are Landon Donovan replicas. There are plenty of Lionel Messis and more than a few Wayne "Looney" Rooneys. What, no love for my man Edson Buddle?
12:55 p.m.:
I'd love to tell you about all of the jerseys hanging on the walls, but it's tough to move around to get a closer look. I'm pinned against a red North Korea jersey on the back wall, trying my best not to bump into the guy two inches in front of me. He's already upset that I knocked into him while blogging. One more bump and I think he's going to pull a Zidane on me.
12:40 p.m.:
Not sure if it's emanating from me or the rest of these hooligans, but it's starting to smell worse than three-day-old fish and chips in here.
12:25 p.m.:
If felt like things had calmed down for a moment --then a spontaneous "[Bleep] BP" chant broke out. Good stuff from the Yanks. All the Brits could come back with was another lame version of "God Save the Queen." Zzzzzzz ...
12:15 p.m.:
I've talked to more than a few Nevada Smiths regulars and they say the American turnout today is much stronger than it was for the 2006 World Cup. John from England, who declined to give his last name (bright lad) said Brits routinely outnumbered Yanks here in years past. Clearly, it's a new era at Nevada Smiths.
11:55 a.m.:
Huge "USA! USA!" chant after the final whistle of Argentina's win over Nigeria. This place is teeming for a War of 1812 rematch.
11:45 a.m.:
Stars and Stripes supporters broke out into an impromptu rendition of the Star Spangled Banner a few minutes ago. Some beautiful voices among this crowd. They put Roseanne Barr's and Carl Lewis' versions to shame.
11:15 a.m.:
Just checked in with the bartender. By his count, Bud Lights and Sam Adams have been the hottest sellers this morning. Ford and GM may be struggling, but this crowd clearly supports domestic products.
10:45 a.m.:
Plenty of love in this packed house for Lionel Messi. They're moaning after Messi's misses; this place will explode if he puts one on the board.
10:15 a.m.:
This place is packed like a rush-hour 4 train. Bouncers shut the door 20 minutes ago with about 20 people waiting outside.
9:50 a.m.:
Mixed reaction from the crowd for Argentina coach and legend Diego Maradona. The Argentina fans cheered him like a deity; others shouted references to his past drug use.
9 a.m.:
Small but vocal South Korean contingent here has plenty to cheer about with its team up 2-0 on Greece in the 76th minute.
7:25 a.m.:
The main floor is near capacity with Sout Korea and Greece just under way. It's not even 8 a.m. and this place already has the feel of a frat party.
6:45 a.m.:
A bar staffer unfurls a huge England flag on the back wall. Severe booing ensues. One USA fan is inspired to sing this chant: "England, England, whatever you'll be, don't leave your wife with John Ter-ry."
Ouch.
6:25 a.m.:
And we're in the door. Close to 100 fans in here and live soccer is still an hour away. "Wait until about 7:30 and this place will be absolutely slammed," owner Jack Keane says from behind the bar. A few brave souls are sipping beer, but the majority seem to be drinking coffee. Something tells me that will change as the day progresses.
5:50 a.m.:
And our first Greece fan shows up. He's draped in a Greek flag and "Greece Lightning" shirt. He pulls out a cigarette and lights up as the line cheers him on. It's a Parlaiment -- the breakfast of champions.
5:30 a.m.:
Bolling and Stewart are draped in American flags and the line has grown to 15. Only 90 minutes before the doors open, 600 minutes until kickoff for USA-England. "I can't believe I'm outnumbered 14-1," says Nick Green, the first English fan to show up.
4:10 a.m.:
Michael Bolling, Ashley Stewart and Adam Mizrachi set up shop outside of Nevada Smiths at 4:10 a.m., wearing Team USA jerseys and red, white and blue face paint. They're the first first fans in line at the famous soccer bar for Saturday's USA-England showdown. Owner Jack Keane told patrons to show up at 4 a.m. -- 2½ hours before the bar opens -- to ensure that they'd get in for the game. Keane said he'd only be allowed to let in the first 500 fans before shutting his doors for the day. So Mizrachi & Co. showed up early and plotted out where to sit at the bar. "We wanted to be here at the mecca of soccer," Mizrachi said.
June, 11, 2010
6/11/10
10:03
AM ET
South Africa 1, Mexico 1 »
Where to watch in New York »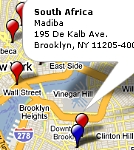 World Cup updates filed from Madiba, a South African restaurant in Fort Greene, Brooklyn:
12:07 p.m.:
Optimism still reigns at Madiba; they are dancing on the sidewalk in Fort Greene, Brooklyn. Imagine if and when RSA wins a game? Michael Woods, signing off from Madiba. Bafana Bafana!
11:56:
All in all, fans here are happy with the 1-1 tie.
11:55 a.m.:
Added time now.
11:53 a.m.:
Katlego Mphela hits the post in the 89th minute.
11:49 a.m.:
No OT, so someone's gotta score.
11:44 a.m.:
Fans grousing that Mexico was offsides, but not as much as announcers are.
11:41 a.m.:
Deflation. Mexico goal.
11:38 a.m.:
Standing next to South Africa fan Mathata Mpela, age 39, from Bed-Stuy. "Do or die," he says. "The first goal was for Mandela, what he gets for choosing love and peace. The next goal is for the rest of the nation." Mathata left South Africa in 1982. He goes back to see family every two or three years. "I just want us to be good hosts and play our best. Winning comes from how we treat people. There is bigger winning than goals. World has to see Africa."
11:21 a.m.:
World's 83rd-ranked nation ahead of the 17th-ranked. Glee in the air at Madiba.
11:17 a.m.:
Goaaalllllllll ... for South Africa! Great finish by Siphiwe Tshabalala. "Tshaba-la-la-la" they sing.
11:16 a.m.:
Some people's deoderant is wearing off.
11:15 a.m.:
Christine might be wrecking her voice for the show later with her "Bafana Bafana" chants. Her pal Michelle doesn't have to worry about coddling her vocal chords. Michelle is a little bummed there isn't more rampant raucousness.
11:08 a.m.:
Second half starts.
11:03 a.m.:
More horns have been brought up from basement. Good for fans, bad for Woods' eardrums.
10:56 a.m.:
Holy smokes, what kind of reporter am I? (Don't answer that.) There is a connected room, three times as large!
10:54 a.m.:
Scoreless at halftime. South Africa could be down 2-0.
10:53 a.m.:
Co-owner Mark Henegan is next to me. He opened Madiba 11 years ago. He is blowing his horn now as he watches the door.
10:44 a.m.:
Goal for mexico. No! Offsides! We swing from sadness to glee.
10:42 a.m.:
New York Times lady has left.
10:40 a.m.:
Standing next to Christine Vaindirlis, a singer. She's performing a jazz-funk-South African set at Madiba tonight, 7:30. Michelle is the liveliest person in da house.
10:28 a.m.:
Fans are outside the entrance door, peering in. I might go for the sofa myself, but people seem to dig the communal vibe.
10:23 a.m.:
Standing next Michelle Ackermann, resident of Jersey, age 26, a mad Red Bull fan. She has Red Bulls blog, porelamordeljuego.blogspot.com. Check it out. She left Praetoria in 2005. She is blowing vuvuzela now. Her boss gave her the day off. She is a nanny and interns for Sen. Robert Menendez of New Jersey.
10:19 a.m.:
They chant "Bafana Bafana," which means "The Boys," here at Madiba. Atmosphere is muted here as Mexico controls the tempo.
10:15 a.m.:
I believe the international GDP will plummet during the World Cup. How many folks are skipping work? Don't ask, don't tell ... LOL.
10:04 a.m.:
Optimism reigns in here with tinge of sadness present with word that Nelson Mandela's great-granddaughter died. ... Little Savannah Frizzell, 10½ months, is watching with her mom, who pauses to sing the anthem. Mom is crying. Mom is Chantel; she lives in East Williamsburg, is a stay-at-home mom, age 22. Why cry? Hasn't heard anthem since she left South Africa four years ago
9:58 a.m.:
There is a middle-aged lady sitting on a chair, reading the New York Times. Does not look to be a soccer fan. Not looking at the big screen. What is she doing here?
9:56 a.m.:
At Madiba, a restaurant in Fort Greene, Brooklyn. It is jammed! Don't send the fire marshal! This is a South African restaurant so guess who's in the house? Vuvuzelas, horns, are assaulting my eardrums!