France vs. Mexico » Where to watch in New York »
Michael Woods set up at Soho bar Felix to provide updates from the fans watching the France-Mexico match.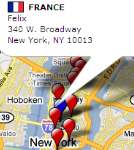 4:27 p.m.: Thanks for hanging out with me, virtually, people. Gonna get some postgame video and head home to put it up. Signing off from French bar Felix located in Soho. France may have lost, but the bar is rockin, despite their World Cup hopes being in the dumper. Au revoir, mes amis!
4:25 p.m.: Yvette, my new best friend, is using me as shield as bartenders spray crowd with seltzer.
4:24 p.m.: Time ticking down for France and coach. It's over. Jubilation in Felix, a "French" bar. Lol. People like excuses to party, win or lose. I've been offered tequila shot. Turned down. Thanks much. The song "Tequila" is blaring
4:22 p.m.: There is coach Raymond, calmly contemplating imminent dismissal. Just sprayed by tenders with stream of club soda. They wrecked my iPad, iPod, and blackberry! Will the company buy me new ones?
4:06 p.m.: Goal!!! Mexico up 2-0. Didn't miss first goal. Engrossed in conversation.
3:45 p.m.: Bartender is waving yellow card at patrons who tip him poorly ... Just kidding.
3:44 p.m.: Someone is selling World Cup flip flops from a van outside Felix. Why didn't I think of that?
3:41 p.m.: He's in real estate. Showed an apartment. Then no more apartments for the day. Wanted to check out soccer.
3:38 p.m.: Chatting with Frank. Age 46. Lives in Columbus Circle. Mexico fan. He's from Germany. Says he's not rooting against France because Germans dislike the French. "I like all the South American teams. I like Mexico more."
3:34 p.m.: Jimmy is a fan of the Mexican team. Asked him outside why he is at a French bar. "Me and my friends watch all Mexican games here. It's about seventy percent Mexican fans."