USA 2, Slovenia 2 » Where to watch in New York »
Michael Woods takes in the scene at Nevada Smiths as the U.S. battles Slovenia.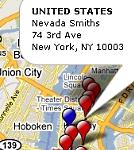 11:58 a.m.: Michael Woods signing off from Nevada Smiths "where futbal is religion". And some prayers were answered for the United States. Check back a little later for video of my Slovenian pals who slunk out, saying they had to "catch a bus." Lol.
U.S.A., U.S.A.
11:52 a.m.: Well, a 2-2 tie. USA came back. Fans have to be happy. It could be a lot worse.
11:48 a.m.: If U.S. gets a tie it's like a win, right? Like a fighter that only wakes up after he gets hurt. The Americans are finally fighting off the ropes.
11:35 a.m.: Yes. U.S.A., U.S.A. We're only down 2-1 with plenty of time.
11:30 a.m.: Cell phones with lyric cheat sheets are good for those singing "God Bless America".
11:25 a.m.: We need a goal to keep advancement hopes alive.
11:20 a.m: Right now Nevada Smiths, "Where Futball is religion" is a little quiet. There are a lot of hands clasped in prayer for sure. The U.S. fans look a bit worried.
11:16 a.m.:Crowd disliked non-call on Alti.
11:08 a.m.: The dude dressed like Uncle Sam either went to the bathroom or went home to put on his Slovenian gear.
11:06 a.m.: Goalie flinched, didn't he?
11:05 a.m.: Goal!!!!!! Donovan. My eardrums hurt. Place is going wild.
11:03 a.m.: Game on for second half. Most people here are just hoping for a tie.
11:01 a.m.: Uncle Sam says "draw is highly likely. Win is a stretch."
11:00 a.m.:Chatting with Uncle Same guy now. Says he is 28 and lives in Jersey. He's got the flag cap, Mardia Gras beads. Says beads cost $3.99 from a dollar store. Hat is from the same place. He's here with a cousin and co-workers. "Our buildup is awesome. Our defense is not coming through I think we underestimated Slovenia. Our defense is usually our strongest suit."
10:59 a.m.: Haven't seen the agoraphobic lady in awhile.
10:56 a.m.: Mija predicted a 2-0 Slovenian win. He says the team manager is excellent and put a together a good team. He doesn't think U.S. was overconfident.
10:54 a.m.: Tim says U.S. has to tighten up defense and score goals. Obvious stuff. A patron yelled out that U.S. should get LeBron.
10:51 a.m.: Kristin is throwing F-bombs like crazy. "We lost our nerve. The best we can hope for is a draw." She is wearing the U.S. jersey. Says she likes the vibe in Nevada Smiths. "I'm a Jets fan. I'm used to losing, it's not about winning."
10:50 a.m.: It's clear by now the Slovenians have speed edge on America.
10:45 a.m.: The Slovenian three at Nevada Smiths are amped.
10:42 a.m.: OMG. Slovenian goal.
10:38 a.m.:Hmm. Momentum shift now? Torres free kick was a powerful drive.
10:40 am: Ref needs lasik surgery. Ball clearly hit Findley in the shoulder.
10:37 a.m.: Gonna get analysis from this dude here in all the Uncle Sam gear at the half. His outfit tells me he knows his stuff.
10:34 a.m.: Prospects for America seem dim here in East Village. Can coach Bradley retool, tweak alignments or personnel at half to change momentum? Something has to happen.
10:29 a.m.: Vibe at Nevada Smiths is deflated. U.S.A., U.S.A. chant starts. Peters out after five seconds.
10:10 a.m.: I asked Kristin for a piece of gum. We can't have folks thinking ESPNNewYork people have vicious coffee breath.
10:19 a.m.:Tepid "Ole" chant doesn't get off the ground.
10:15 a.m.:Birsa with the burst off the left foot.
10:14 a.m.: Media are like flys. They all congregate at obvious targets. Oh my, Slovenian goal. The three Slovenians are going ballistic.
10:12 a.m.:25th ranked Slovenia outplaying 14th ranked America to this point. Beware of the stones of this "David".
10:07 a.m.: Chant of "Saints Go Marching In" is starting in here. One of three chants on recycle.
10:06 a.m.: The agoraphobic lady is sitting underneath the counter now.
10:04: I bought Mija a beer. On ESPN. Is that legal? Anyway. Game on!
10:02 a.m.: Slovenian Prime Minister shined teams cleats after they beat Russia. Not gonna happen here.
9:59 a.m.: A young lady who seems agoraphobic is periodically crouching in a corner. I asked her if she's ok. She said she's hot. Not sure why she's here.
9:56 a.m.: My Slovenian pals sang their National Anthem. Only ones in here who know the words.
9:55 a.m. Kristin is pissed at me. Or her mom is. Mom texted her and said ESPN just showed footage from a bar in Chicago. I told her I am pissed at me too! I am on the horn to Bristol as we speak, to rectify!
9:50 a.m.: There is still room here if you want to come down. Line outside is five people. No shortage of places showing the game today.
9:47 a.m.: Hoping President Obama convenes a blue-ribbon panel to come up with better chants for America before next World Cup. Here in New York we lack in this department. Chanting "Red Sox suck" may be fun, but it is off topic.
9:42 a.m.: Chatting with Miha. He's 25 and from Slovenia. A placed named Puj. Says he's on vacation for 14 days. He works in finance. Heard about Nevada Smiths on TV. He thinks he and his two galpals will be the only three Slovenian fans here.
9:40 a.m.: U.S. is 1-9-3 vs European teams in the last five World Cups. Sorry for ominous stat. Just trying to keep it real. Sometimes we Americans fall prey to a mindset of "American exceptionalism". You know ... overconfidence.
9:38 a.m.: U.S. best not overlook this little "David" team. They are all armed with slingshots.
9:36 a.m.: Kristin told me she got her cousin a subscription to ESPN The Magazine for Christmas. Secret Santa gift and it was specifically for soccer coverage. "He loved it. I don't like Sports Illustrated. ESPN The Magazine's larger size is good for images and graphics, which is what I do". Plug alert!
9:34 a.m.: Slogan of Nevad Smiths is: "Where Futbol is religion". That's hardcore and I'm glad I'm here.
9:32 a.m.: Chatting with Kristin Ertel from Brooklyn Heights. "I wanted a packed bar" she says. The print broker adds, "I took the day off for soccer and a meeting with my dad. He's meeting his doctor and finding out if he's cancer free after chemo. We will win and he's gonna win too."
9:29 a.m.: Chatting with Tim McGlinn. He's 41 and lives in New Jersey. Who will win I ask him? "The United States. Really, I'm not sure. Not sure it will be resounding, but we will win." He's in investments. But can't say who he works with right now. He says he has a couple hours off today. Probably told his boss he's meeting with a whale investor, Mike Woods.
9:27 a.m.: Raucous atmosphere at Nevada Smith's here in New York City. "Bleep the Red Sox" they are chanting. Why? Beer at 9 a.m. maybe?