Earthquakes 3, Red Bulls 1 » Box score »
HARRISON, N.J. -- Red Bulls manager Hans Backe was reluctant to insert Thierry Henry into the lineup.
But with his team trailing 3-2 aggregate late in the second half of Thursday night's East Conference Semifinals match against the San Jose Earthquakes, Backe had nowhere else to turn.
He was desperate -- as was his team.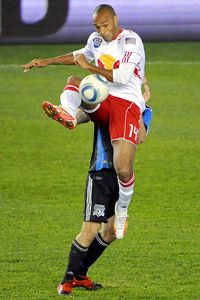 AP Photo/Bill Kostroun
Thierry Henry couldn't lend any late heroics to the Red Bulls' season-ending loss.
It was time.
Backe finally called on his injured star striker in the 84th minute, approximately 11 minutes after the Red Bulls' playoff record contingent of 22,839 had chanted "Henry! Henry! Henry!" in unison.
The crowd began to roar, urging the 33-year-old, who was once the most decorated finisher in the world, to deliver and send the match into extra time.
"I heard them," Henry said. "But I was just focused and what we were doing and trying to see if we could score."
Henry's impact upon entering, though, was minimal. In fact, if not for a header he twisted wide in the 88th minute, it would've been none at all.
The Red Bulls ended up losing Thursday night's game 3-1 and the two-leg series by that same 3-2 aggregate margin.
Now, their season -- as well as Henry's -- is over. And they will have the entire offseason to contemplate what could've been had he been healthy and not missed all but six minutes of the final four matches.
"You don't win a game in the last five minutes of a game," Henry said. "180 minutes, we started to play in the last 25 minutes of the game. It was not enough."
Henry, who finished his inaugural MLS season with two goals and two assists in 12 matches, it seemed, was appalled by his lack of playing time.
"I don't know what was going through [Han's] mind, you gotta ask him," said Henry, who sported an ice warp around his right knee. "I warmed up my knee pre-game. It was the coach's decision."
Backe, however, didn't believe Henry's fitness level was where it needed to be.
"We thought we could wait [to play him]," Backe said, "because if it were going into extra time, we were thinking about 20-25 [minutes] maximum for him. His knee is not 100 percent. I think he could have helped us perhaps, but he can't finish. He has pain all the time in his right knee, so it was kind of a panic move to use him."
Henry was upset with how his tumultuous first season ended, though he's optimistic as to what his future with the Red Bulls will hold.
"After I don't even remember how many games I played, not being fresh or ready sometimes, and injured also, we thought we could have done something better this season. We didn't," Henry said. "But I still have four years here so hopefully we can eventually win something here."
After investing millions of dollars in Henry, the Red Bulls certainly hope so.