July, 27, 2011
7/27/11
9:00
AM ET
By
Matthew Artus
| ESPNNewYork.com
Wednesday's star-studded soccer spectacular will grab the attention of association football fanatics everywhere, but it's hardly the first time that such a grand display will take place in the Garden State.

Or the second.

In fact, the 2011 edition of the MLS All-Star Game (8:30 p.m. ET, ESPN2, ESPN3) represents the third tour of duty for the best of MLS in New Jersey. This trip comes with a mandate for Red Bulls and MLS All-Stars head coach Hans Backe to field a competitive squad against legendary English Premier League side Manchester United at Red Bull Arena, but even an expectation of making a game of the midsummer showcase is a fairly new phenomenon that was far beyond anyone's comprehension in the inaugural MLS All-Star Game in 1996 at the Meadowlands.

15 years ago, Major League Soccer came into being with the simple aspiration of avoiding the mistakes of past American soccer leagues such as the NASL to build a bigger, better, stronger domestic soccer presence. Early MLS officials included the peculiar move to add an All-Star Game on the debut season schedule to put a spotlight on the league's superstars.

Considering no domestic sports league hosted its first All-Star Game until at least five years following the league's inception, who knew what that decision would even mean for the so-called MLS All-Stars?

"Since it was the first one, none of us had really been in an All-Star Game," said inaugural MLS All-Star and current ESPN analyst Alexi Lalas. "We associated everything with other sports. It's a very American type of situation. So, we looked at not knowing, from a competitive side, how to approach and play the game."

MLS hedged their bets on drawing interest in its summer showcase with a trick the league often used to pad the attendance numbers in its formative years – a doubleheader with a marquee hook. The East and West All-Stars would face off for the captive audience on the undercard at the Meadowlands, with an amalgamation of FIFA World Stars kicking off against a Brazil side preparing for the Summer Olympics in the main event.

It worked -- 78,416 fans showed up to Giants Stadium in what, at the time, was the second highest-attended event in Meadowlands history following the Pope's visit in the preceding year. With MLS doing the dirty work of filling the seats by any means necessary, that left the onus on the players to make the most of its first true step into the national spotlight.

"Even though we recognized a lot of people were there for Brazil-World Stars game, there was a collective understanding that this was celebrating a year into our little project," said Lalas. "I don't think any of us ever got the feeling that it wasn't still about MLS even with the incredible draw of that second game."

That understanding translated into a wide-open affair which delivered five goals by five different players and didn't die down until Tampa Bay Mutiny defender Steve Pittman netted the 88th minute game winner for the East All-Stars in a 3-2 victory. MetroStars midfielder Tab Ramos, who split his formative years just a chip shot away from the Meadowlands in nearby Harrison and Kearny, scored the first goal in MLS All-Star Game history by tucking a shot in the upper 90 past Western Conference and Los Angeles Galaxy 'keeper Jorge Campos.

The memories of that first All-Star Game have faded a bit with the passage of time, save the scorching heat of a July Sunday at the Meadowlands. And what transpired in Giants Stadium will hardly resemble what MLS will present to the world from Red Bull Arena on Wednesday. Does that leave the inaugural MLS All-Star Game with any lasting value in the league's short history?

"Absolutely," said Chivas USA coach Robin Fraser, who also started for the inaugural West All-Star side. "It was the first year of the league and everything was new to us. To see the kind of fans there surrounding soccer was great. For those of us who'd been around and been in smaller leagues and been on national teams, we were definitely waiting for the day when soccer would be embraced like that."

Such an embrace came from a venue that was as close to a sporting cathedral as the American soccer scene had ever known this side of the Rose Bowl. MLS chose the Meadowlands for its All-Star kick off to put the league's premier event just a short drive from New York City, but moreso to awaken the ghosts of the dearly-departed (and only recently reincarnated) New York Cosmos and the legacy of the 1994 FIFA World Cup tourney that ultimately fueled the league's creation.

"Sometimes you get lucky and things like that happen in the place that's close to you," said inaugural East All-Star 'keeper Tony Meola, who could also call nearby Kearny his old stomping grounds. "I was lucky not only to be part of it and playing in it, but also that it was here and my family could enjoy it and we could show off to the locals here what the league was about."

Even as the final whistle blew on the 1996 MLS All-Star Game, the stars didn't stop shining after Carlos Valderrama was named the first MLS All-Star MVP. Campos played both matches, appearing in the first half for the FIFA World Stars.

John Harkes, another Kearny native, had the opportunity to follow Campos's lead in being picked as an MLS All-Star and FIFA World Star but ultimately deferred to being the only American to play in the second match as he recovered from a hamstring injury that befell him in the days leading up to the doubleheader.

Harkes, now an ESPN analyst, knew something special was simmering under that July sunshine in the stadium a mere 20 minutes from where he grew up.

"I left to go overseas because there was nothing here that was compatible to the growth and development and playing at such a high level (internationally)," said Harkes. "To come back and actually see (that day) come to fruition with people and family and friends who knew what that area is all about made it all the better."

Brazil bettered the FIFA World Stars in the second leg with a surprise shot by Roberto Carlos, but that 2-1 result is as outdated as the format that made the doubleheader necessary. MLS let the best of the East and West go it alone in a rain-soaked encore at the Meadowlands in 1997, only to render that template obsolete five years later by letting the best of MLS kick off without a coastal bias against the U.S. Men's National Team in 2002 and Mexican side Chivas de Guadalajara in 2003.

Now Backe will choose his best XI to try and knock off the defending EPL champs in an All-Star format whose ultimate success will result in the extinction of the status quo. As long as MLS needs an All-Star side to run with the best soccer clubs in the world, they'll always be a step behind. When the level of talent at the MLS club level can regularly compete with the Manchester Uniteds and Barcelonas, the All-Star XI versus the world format will itself become irrelevant.

Should that day come, it will again reveal a significant trait of the MLS All-Star Game that was as true in 1996 as it is today. It will give you a taste of the possibilities of the beautiful game on American soil before leaving you in suspense for what comes next.

They didn't know what would follow in 1996. They still don't quite know now.

But then as now, aren't you the least bit curious to find out?
June, 14, 2010
6/14/10
11:03
PM ET
Voce gosta de futebol?
Ian Begley's live blog from Little Brazil for Brazil-North Korea.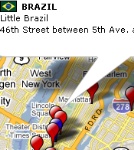 5:00 p.m.:
Brazil's win was overshadowed at Emporium by an appearance by Ana Maria Braga -- the Martha Stewart of Brazil -- who stopped by to watch the game and stayed after to sign autographs and take pictures with the crowd. "Beautiful game and a beautfiul restaurant," said Braga, who hosts a popular daytime show on the Brazilian network Globo. I asked her for a recipe, but she told me I had to watch the show.
4:50 p.m.:
Some fans hanging out on 46th St. weren't very satisfied with Brazil's play today. "Kaka, Robhino, they didn't show their talent," a fan in a Kaka jersey said outside of Via Brasil. "North Korea is not a good team. The big boys would have beaten them today."
4:20 p.m.
Andre o Belem and his parents are in town from Sao Paolo and it looks like they felt right at home in Emporium, waving the Brazilian flag and cheering before they file out of the restaurant after Brazil's decisive 2-1 win.
4:15 p.m.:
And North Korea strikes back on Ji's goal in the 89th minute, which was met with a stunned silence from the partisan Emporium crowd.
4:10 p.m.:
I guess it took a few Palma Louca's (Brazilian beer that is pretty popular here) to get this crowd going. But they're alive and well in the 86th minute, screaming with every Brazilian rush.
4:00 p.m.:
And the party's on after Elano's goal gives Brazil a 2-0 lead. Dunga's "conservative" approach is certainly entertaining this crowd.
3:55 p.m.:
With apologies to North Korean leader Kim Jong Il, coach Kim Jong-Hun looks like he wants to go nuclear on the sideline right now.
3:50 p.m.:
I just saw a Brazil fan blow his nose into the flag. Twice.
3:40 p.m.:
Maicon's goal in the 56th minute brought this crowd to life. Flags were flown and air horns blown after the goal gave Brazil a 1-0 lead.
3:40 p.m.:
I'm standing next to the kitchen door and the sight and smell of fish stew, Okra pasta and sauteed beef is making my stomach growl.
3:35 p.m.:
The scoreless tie between Brazil and N. Korea hasn't stemmed the blaring of the corneta, a yeelow plastic horn the wait staff takes turns blowing like playing they're dueling banjos.
3:20 p.m.:
Barbara, a red-headed Irish woman, has a Brazilian flag tatooed on her shoulder, a flag in her hair and Brazilian flag earrings. She saw her first Brazil game at Maracana Stadium in 2008 and "became hooked." She took off work today to watch at Emporium. "If you can't be in Brazil, this is the next best place."
3:15 p.m.:
From streamers hanging from the ceiling, to Brazilian flags on the wall, Emporium is awash in yellow and green. North Korea, making its first World Cup appearance, has no support here.
2:45 p.m.:
A rousing applause here in the ninth minute. Nothing to do with soocer, though. They just turned the sound on and switched to the Spanish broadcast.
2:30 p.m.:
We're live from Emporium Brasil Restaurant in the Little Brazil section of Manhattan for the Brazil-North Korea game. No empty seats in this place -- the manager locked the door ten minutes before the game. It's certainly lively in here. One staffer's been blowing an air horn to get the crowd going. Plenty of patrons have noisemakers as well. It's pretty loud, but anything's better than the vuvuzela.