New York Soccer:

friendly
June, 8, 2011
6/08/11
3:46
PM ET
By
Matthew Artus
| ESPNNewYork.com
After Tuesday evening's
successful debut on the international scene
, Citi Field is ready to embrace soccer.
According to the Associated Press, Italian powerhouse Juventus will play an exhibition friendly against Mexican side Club America on Tuesday, July 26. A story on the official Juventus website corroborated the AP account while
announcing a US tour earlier today that includes a stop in Philadelphia before the Citi Field match
.
From the Juventus website:
Juventus will travel to the United States as part of their preseason preparations. The Bianconeri will be on tour between 19th July and 1st August. Their base will be in Philadelphia. From Pennsylvania the team will travel to play three friendly games, one of which will be played at the Field Stadium in Flushing, New York on 26th July.
Their opponents for this encounter have been confirmed as the Mexican side Club America, one of the most prestigious and renowned teams of the continent.
The upcoming Bianconeri visit follows on the heels of the first professional soccer match in the history of Citi Field and the first pro match in Queens since 2003. 39,656 supporters cheered on the Greece and Ecuador National teams in a 1-1 draw, making Tuesday's match the second-highest attended event at Citi Field this year -- just behind the 41,075 fans that attended the Mets' home opener.
A formal announcement by the Mets is expected in the next few days, but Dave Howard, Mets Executive VP of Business Operations,
confirmed to MLB.com earlier this week
that the team is "in discussions now about a professional exhibition between a high-profile club European team and a Mexican team for late July."
June, 7, 2011
6/07/11
10:12
PM ET
By
Matthew Artus
| ESPNNewYork.com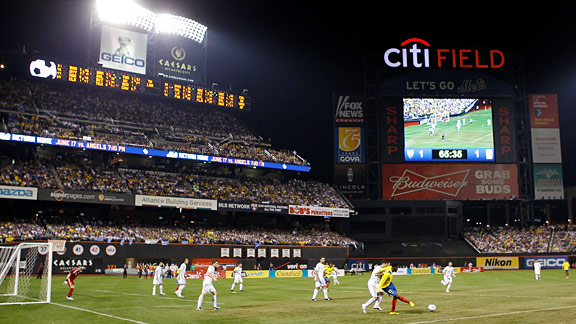 Mike Stobe/Getty Images
They built this Citi for ... Greece vs. Ecuador?
Ecuador and Greece supporters left with a measure of respect on Tuesday night as their national teams finished with a 1-1 draw in the first-ever soccer match held at Citi Field. Ecuador answered an early strike by Greece forward
Alexandros
Tziolis
with a strong finish from the right side of the penalty area in the 58' minute by Ecuadorian center back
Fricson Erazo
.
A near-sellout crowd remained largely cordial and in their seats from kick off to the final whistle for an exhibition littered with yellow cards by the Galanolefki side being ready for a summer break and an Ecuadorian club in preparation mode for the upcoming Copa America tournament.
Play of the Game: Tziolis's Goal
. While Tuesday's international friendly lacked the polish of a tournament match, it did not lack for sparks of brilliance throughout the evening.
Alexandros Tzolis provided the flash early. The Racing Santander forward headed a pinpoint cross deep in the penalty area past Ecuadorian 'keeper
Maximo Banguera
for a 1-0 Greece lead in the 16' minute. The goal answered early pressure by the Ecuador attack and aroused the Greek supporters looking for a reason to join the fracas.
Covering All the Bases
. To allow a full playing surface for Tuesday's friendly, the grounds crew at Citi Field needed to cover all of the infield dirt from halfway between second and third base to halfway between third and home as well as removing and covering up the pitcher's mound. The playing surface largely held firm, with only a few sprinting Ecuadorian playmakers losing their footing in a loose patch of replacement grass.
While the Mets will not return home until June 17, Citi Field will host a graduation ceremony three days earlier. It should give the grounds crew ample time to bring the field back up to baseball speed, but it will be worth noting how the infield plays during the Mets' initial homestand against the Los Angeles Angels of Anaheim.
Ready for More
? Make no mistake -- a sea of yellow Ecuadorian jerseys may have swarmed over Citi Field on Tuesday, but both the Greek and Ecuadorian supporters cheered on their sides until the final whistle blew. Concourses and concessions stands remained empty while the respective clubs maintained the run of play and swamped the Citi Field amenities during half time.
The Mets will need to work out a few kinks on presenting another match on their home turf -- but this effort will be judged a success barring any infield restoration issues. Another rumored match in the summer is doubly likely following Tuesday's efforts, while
Fred Wilpon
's undying interest in bringing soccer to New York took a giant leap forward.
June, 5, 2011
6/05/11
10:13
AM ET
By
Matthew Artus
| ESPNNewYork.com
On Sunday, New Jersey will help redefine home-field advantage for a small subset of a US Women's National Team preparing for the global stage.

The US will kick off on Sunday afternoon (2:30 p.m. ET, ESPN 2) against Mexico at Red Bull Arena for the club's sendoff match preceding its participation in the FIFA Women's World Cup tournament in Germany later this month. Of the 21 players selected to represent the US, five players -- defender and team captain Christie Rampone, back-up goalkeeper Jill Loyden, and midfielders Carli Lloyd, Heather O'Reilly, and Tobin Heath -- hail from the Garden State.

Though Lloyd, a Delran, N.J. native and Rutgers alum, can boast international achievements such as scoring the golden goal in overtime that clinched a gold medal for the US at the 2008 Olympics in Beijing, she still freely admits receiving an extra boost from participating in the USWNT's sendoff match near her old stomping grounds.

"I'm excited to be back home in Jersey playing in front of the the home crowd," said Lloyd. "It's sentimental to play the last game in Jersey, my home state. I've got friends and family coming to the game, so that will be fun. Jersey's a great state for soccer."

Lloyd also admits an ongoing friendly rivalry between the New Jersey quintet fueled by each player's hometown, which fall as far north as Basking Ridge and as far south as Vineland.

"We produced good players – north and south," said Lloyd. "I'm more from the south, but it's a great environment. I always think the south's a bit better than the north, but I also went to Rutgers as well. At the end of the day, we're all one. But we all joke around on the team bus with each other."

While the Jersey quintet keeps things cordial in debating north-south dominance, they will likely leave that aside for the club's rematch against Mexico on Sunday. All five players were among the US side that lost to Mexico in last year's CONCACAF Gold Cup semifinal round. That loss forced the US to qualify for the Women's World Cup with the final at-large bid received through a home-and-home series against Italy.

"Every time we step on the field, we want to win," said Lloyd. "It's embedded in the culture. And we play to compete and we're gonna go out there and try to win on Sunday. But we're also looking at it as our last preparation before we head over to Germany. It's very important that we stay together. We work on the things we've been working on."

USWNT head coach Pia Sundhage admitted during Friday's practice that she intends to focus on establishing the club's rhythm against Mexico in hopes of heading to Germany at full strength.

"Soccer is feelings and about making decisions every single second," said Sundhage. "If you make the right decisions, we're on the same page. Sometimes slow down the game, sometimes speed up the game. If you add that to everything that makes this team so successful with attitude, run of people, being physical -- that's a good mix. We worked on that for four years and hopefully it pays off."

Most importantly, the US will need to keep Sunday's friendly in perspective and not allow the specter of last year's Gold Cup loss to creep in against a Mexico side also in preparation for this summer's World Cup festivities.

"This is the journey," said Lloyd. "This is what it's all about. The final prize is over in Germany. We just have to come together and enjoy it and have fun. I think that's one of the biggest things. And score some good goals."
May, 11, 2011
5/11/11
11:55
PM ET
By
Matthew Artus
| ESPNNewYork.com
Despite Red Bulls head coach Hans Backe's expectation of "more than just a friendly" against the NASL's Montreal Impact, New York failed to finish off the Canadian side in a 1-0 loss at Montreal's Saputo Stadium on Wednesday.

The RBNY regulars likely left their scoring touch at home as the starters missed multiple scoring opportunities in the first half. Dwayne De Rosario hit the right goal post in the 25th minute after picking up a loose ball in the penalty area. Thierry Henry saw a goal rescinded 10 minutes later after the sideline official called the French striker offsides.

Shortly after Henry's miss, Canadian forward Ali Gerba headed a cross from the right flank by Impact defender Philippe Billy past Red Bulls goalkeeper Greg Sutton for the game's only goal.

New York made eight substitutions at halftime compared to Montreal's five, with neither set of changes providing a scoring spark in the second half.

The Gold Cup Runneth Over. Next month's CONCACAF Gold Cup competition could call as many as seven regular Red Bulls into international duty, including De Rosario and Sutton (Canada), Rafael Marquez (Mexico), Dane Richards (Jamaica), Roy Miller (Costa Rica), and Tim Ream and Juan Agudelo (USA). The match against Montreal will not factor into any standings or stats, but the experience accumulated by the reserves on Wednesday could help Backe uncover the players that will keep the Red Bulls afloat while the regulars are away.

Agudelo Hype Machine: Three Agudelos (Out of Five). Juan Agudelo played the full 90 minutes Wednesday night, giving Luke Rodgers the night off. He also offered up New York's best scoring chance of the night with a strong second-half shot that rattled Montreal 'keeper Evan Bush barely managed to block. He will remain the club's super sub when they return to MLS regular season action next week, but the teenage phenom can only benefit from a full game's worth of action.

'Keeper Conundrum. With Bouna Coundoul receiving a much needed night off, Sutton made the most of his chance to re-enter the Red Bulls' goalkeeper conversation. The Canadian goalie showed no ill effects from the concussion that sidelined him in March and regularly stepped up to make big saves against the Impact -- especially in the second half after Backe subbed out the majority of the starters. The job is still Coundoul's to lose at this point, but Sutton shed concerns about his readiness to step up if necessary.

The Red Bulls will now head back home and prepare for their next MLS regular season match against Chivas USA at Red Bull Arena on Sunday. First kick is scheduled for 7 p.m.