New York Soccer:

New York Mets
June, 8, 2011
6/08/11
3:46
PM ET
By
Matthew Artus
| ESPNNewYork.com
After Tuesday evening's
successful debut on the international scene
, Citi Field is ready to embrace soccer.
According to the Associated Press, Italian powerhouse Juventus will play an exhibition friendly against Mexican side Club America on Tuesday, July 26. A story on the official Juventus website corroborated the AP account while
announcing a US tour earlier today that includes a stop in Philadelphia before the Citi Field match
.
From the Juventus website:
Juventus will travel to the United States as part of their preseason preparations. The Bianconeri will be on tour between 19th July and 1st August. Their base will be in Philadelphia. From Pennsylvania the team will travel to play three friendly games, one of which will be played at the Field Stadium in Flushing, New York on 26th July.
Their opponents for this encounter have been confirmed as the Mexican side Club America, one of the most prestigious and renowned teams of the continent.
The upcoming Bianconeri visit follows on the heels of the first professional soccer match in the history of Citi Field and the first pro match in Queens since 2003. 39,656 supporters cheered on the Greece and Ecuador National teams in a 1-1 draw, making Tuesday's match the second-highest attended event at Citi Field this year -- just behind the 41,075 fans that attended the Mets' home opener.
A formal announcement by the Mets is expected in the next few days, but Dave Howard, Mets Executive VP of Business Operations,
confirmed to MLB.com earlier this week
that the team is "in discussions now about a professional exhibition between a high-profile club European team and a Mexican team for late July."
June, 7, 2011
6/07/11
10:12
PM ET
By
Matthew Artus
| ESPNNewYork.com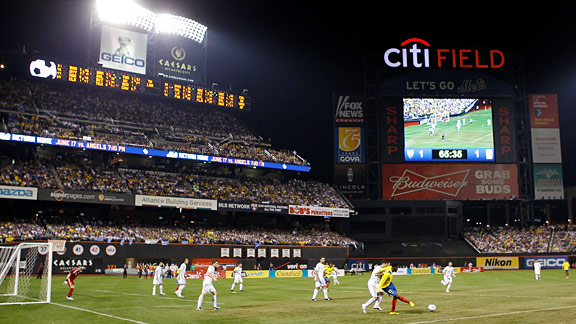 Mike Stobe/Getty Images
They built this Citi for ... Greece vs. Ecuador?
Ecuador and Greece supporters left with a measure of respect on Tuesday night as their national teams finished with a 1-1 draw in the first-ever soccer match held at Citi Field. Ecuador answered an early strike by Greece forward
Alexandros
Tziolis
with a strong finish from the right side of the penalty area in the 58' minute by Ecuadorian center back
Fricson Erazo
.
A near-sellout crowd remained largely cordial and in their seats from kick off to the final whistle for an exhibition littered with yellow cards by the Galanolefki side being ready for a summer break and an Ecuadorian club in preparation mode for the upcoming Copa America tournament.
Play of the Game: Tziolis's Goal
. While Tuesday's international friendly lacked the polish of a tournament match, it did not lack for sparks of brilliance throughout the evening.
Alexandros Tzolis provided the flash early. The Racing Santander forward headed a pinpoint cross deep in the penalty area past Ecuadorian 'keeper
Maximo Banguera
for a 1-0 Greece lead in the 16' minute. The goal answered early pressure by the Ecuador attack and aroused the Greek supporters looking for a reason to join the fracas.
Covering All the Bases
. To allow a full playing surface for Tuesday's friendly, the grounds crew at Citi Field needed to cover all of the infield dirt from halfway between second and third base to halfway between third and home as well as removing and covering up the pitcher's mound. The playing surface largely held firm, with only a few sprinting Ecuadorian playmakers losing their footing in a loose patch of replacement grass.
While the Mets will not return home until June 17, Citi Field will host a graduation ceremony three days earlier. It should give the grounds crew ample time to bring the field back up to baseball speed, but it will be worth noting how the infield plays during the Mets' initial homestand against the Los Angeles Angels of Anaheim.
Ready for More
? Make no mistake -- a sea of yellow Ecuadorian jerseys may have swarmed over Citi Field on Tuesday, but both the Greek and Ecuadorian supporters cheered on their sides until the final whistle blew. Concourses and concessions stands remained empty while the respective clubs maintained the run of play and swamped the Citi Field amenities during half time.
The Mets will need to work out a few kinks on presenting another match on their home turf -- but this effort will be judged a success barring any infield restoration issues. Another rumored match in the summer is doubly likely following Tuesday's efforts, while
Fred Wilpon
's undying interest in bringing soccer to New York took a giant leap forward.
June, 7, 2011
6/07/11
12:18
PM ET
By
Matthew Artus
| ESPNNewYork.com
Citi Field is now on friendly terms with the beautiful game.
The home of the New York Mets will become the home-away-from-home for the Ecuadorian and Greek National Teams on Tuesday evening as the two sides face off in an international friendly. This represents the first professional soccer match held in Flushing since Colombia and Slovakia finished with a 0-0 draw at Shea Stadium in August 2003.
Ranked 64th in the world by FIFA, Ecuador is preparing for their upcoming participation in the Copa America tournament later this summer. Monterrey defender and Ecuador team captain
Walter Ayoví
leads a largely domestic squad that also features Manchester United winger
Antonio Valencia
and Toronto FC forward
Joao Plata
.
Greece will look to follow up a successful effort in a 3-1 win over Malta last Saturday in a Euro 2012 qualifier. The Galanolefki benefitted from a youth movement against Malta, with Olympiacos midfielder
Giannis Fetfatzidis
-- who is commonly referred to as the Greek
Lionel Messi
-- and Schalke 04 defender
Kyriakos Papadopoulos
finishing strikes from an attack that favored the right wing.
First kick is schedule for 8 p.m.
Rectancular Peg in a Diamond Hole
. FIFA does not set one standard for pitch size in international competition, but the dimensions typically run at about 110 yards across and 70 yards wide.
In order to accommodate those dimensions in the peculiar layout of Citi Field, the groundskeepers commenced preparations on the pitch at 3 a.m. Monday with one goal placed near third base and the other in deep right field -- presumably in or near the divot carved out of the right field wall in front of the Mo's Zone seating area. To complete the playing area, two-thirds of the infield will be covered in sod.
That layout should lessen the disruption to the baseball diamond, which was a rule of thumb the Mets may have learned the hard way. The Mets dismantled the mound following the 1996 season in order to accommodate an offseason friendly between Colombia and Honduras. When they replaced the mound for the 1997 season,
they rebuilt it too high in a gaffe that may have disrupted Mark Clark's performance in the Mets' home opener
.
So if
Jose Reyes
's defense begins to suffer at home when the Mets return on June 17, take a long look at the new dirt under his feet.
Hosts with the Most (to Gain)
. While Shea Stadium's soccer roots stretch back to a nine-team club tournament in 1965 and once provided a pitch to
Pelé
and the New York Cosmos,
Fred Wilpon
picked up the pace in the 1990s as he opened negotiations to either renovate or replace Shea in earnest. Shea Stadium became a potential soccer site as part of the city's bid for the 2012 Olympics as well as a potential new or temporary home for the New York/New Jersey MetroStars (now the New York Red Bulls).
MLS has made no secret of their discussions about a potential expansion side being awarded to the Wilpons
. Meanwhile, Dave Howard, Mets Vice President of Business Operations, told the NY Daily News in May that
he expects Citi Field to host another soccer match later this summer
.
Ecuador and Greece will cater to a hungry fan base, but the Wilpons' larger designs for the future of soccer in Queens should kick off on Tuesday as well.
Are You Ready For Some Futbol
? A Mets press release issued on Monday outlawed the use of fireworks, which are a common sight at Greek soccer matches. However, it said nothing of the drums, banners, noisemakers, streamers, and flags that both Greek and Ecuadorian supporters call up to support their national side.
Queens boasts a large Ecuadorian population and the largest Greek community this side of the Atlantic Ocean. They may attend the match in a venue designed for baseball, but the supporters should create a very different and energetic atmosphere.
Rule 21 is Greek to Them
. Last weekend, the Greek FA indefinitely suspended all activities due to allegations of gambling and match-fixing. Greece has struggled with match-fixing bookies and ongoing fan violence that cripples the in-game action if not corrupting it outright. The referees may execute their duties on Tuesday under a bigger spotlight in light of Greece's latest troubles, as the stakes could be much higher than the empanadas and baklava being wagered by local politicians.
May, 11, 2011
5/11/11
9:45
AM ET
By
Matthew Artus
| ESPNNewYork.com
Tickets went on sale at 10 a.m. Tuesday morning for an exhibition match between Ecuador and Greece at Citi Field. While the friendly represents the first non-baseball professional sporting event in Citi Field's short lifetime, the implications of its success could impact the future of Major League Soccer in New York.
Or, more importantly, MLS's next expansion team. Next season, MLS will welcome the NASL's Montreal Impact as the league's 19th team. In order to keep an even number of teams in each conference, MLS commissioner
Don Garber
has indicated his intentions on several occasions to expand the league to 20 teams starting in 2013. Garber frequently couples those sentiments with his preference to award the next expansion club to New York.
In an interview with Sports Illustrated prior to MLS First Kick last March, Garber has said publicly that he has held several conversations with New York Mets owners
Fred
and
Jeff Wilpon
regarding that 20th team.
"We remain in discussions with them," Garber said to SI.com's
Grant Wahl
in March. "They continue to have interest in MLS, and they also have a pretty darn good stadium site."
Now, the home of the Mets -- which is privately owned by the Wilpons -- will host a friendly this summer. What a coincidence.
While the Wilpons' entanglement in the Madoff trustees lawsuit may limit their financial plans indefinitely, MLS may need to move soon to give a new ownership group time to bring a soccer franchise up to league speed.
However, Garber may wait until the last minute to award the franchise in hopes of a prominent and long-standing MLB ownership group sorting out its troubles and signing on to join the MLS fray.
"I have a lot of respect for Fred and Jeff Wilpon," said Garber last March. "And I think there's more to that story that's still to be told. I hope they're able to solve whatever their short-term issues are.
"I'm sure they'll get through their issues, and our decision here is going to be one for a generation. We've got to be sure we've got the right owner for the long term."
The last two expansion teams, the Portland Timbers and Vancouver Whitecaps, received their league invitations two years prior to each team's MLS debut last March. Both of those franchises had the benefit of a pre-existing organizational structure from its prior involvement with the NASL. The Impact possess the same luxury ahead of their 2012 MLS debut.
And the Wilpons? Their journey to bring an MLS franchise to Queens may need to begin with a first kick between Ecuador and Greece in June.
Adam Rubin has
the press release regarding the Ecuador-Greece friendly here
.