New York Soccer:

World Cup
October, 12, 2011
10/12/11
1:36
AM ET
By
Matthew Artus
| ESPNNewYork.com
The United States went into Jersey with momentum and out with a whimper.
The Stars and Stripes failed to build on
Jurgen Klinsmann
's first win as head coach as Ecuador claimed a 1-0 win over the U.S. Men's National Team in an international friendly at Red Bull Arena on Tuesday evening. Poor positioning by the arena's native son,
Tim Ream
, left Ecuadorian forward
Jaime Ayoví
clear to head home the match's only goal past a helpless Tim Howard in the 79th minute.
Chances came fast and furious for the US as they created five shots on target from 18 attempts on goal, including a flurry of shots in the first seven minutes that culminated with a
Tim Chandler
shot from the corner of the penalty box as well as
DeMarcus Beasley
's strike from distance in the 68th minute that landed perfectly in Ecuador 'keeper
Maximo Banguera
's midsection.
Another loss for the Yanks leaves Klinsmann with only one win in his five matches since replacing former coach
Bob Bradley
last summer. The U.S. have only two goals to show for that five-game effort, one of which came from the foot of
Clint Dempsey
in their win over Honduras at SunLife Stadium in Miami last Saturday.
Hot Hand
. Even though he came on as a substitute in the 60th minute, the Yanks knew better than to let Jaime Ayovi run free. Ayovi, cousin of Ecuador team captain
Walter Ayovi
, opened the scoring for Ecuador in the 14th minute in a 2-0 win over Venezuela during South American World Cup qualifers last Friday.
Play of the Game: Ream's Gaffe
. Ream, the young center back for the namesake club of the Yanks' home field on Tuesday, had waited a long time to redeem himself after his sloppy trip on Panama striker
Blas Perez
during the CONCACAF Gold Cup in June left him in the national doghouse. He's had to endure a coaching change and a public criticism of his form at the club level by Red Bulls teammate
Rafael Marquez
before finally getting a chance to make amends for his only transgression on the international stage.
Unfortunately for Ream, he'll need to wait a bit longer.
Klinsmann brought Ream on as a substitute in the 72nd minute for Yanks team captain and back line stalwart
Carlos Bocanegra
, only to see that decision be punished seven minutes later. Ream let Ayovi get a step ahead of him in the box as the Pachuca forward converted a cross from cousin Walter to head home what was far and away Ecuador's best (and some might argue only) scoring chance of the night.
"I was watching the man, and as I looked back I saw the ball coming," said Ream. "He was past me as soon as I took a step."
To Ream's credit, Klinsmann picked up where Bradley left off by inviting the 24-year-old defender into the international camps even if it hasn't affected the depth charts. If Ream is going to develop his form for the international stages, the U.S. coach admits feeling comfortable with giving his young defender the necessary experience.
"It's a learning moment for Tim Ream, that he has to be in front of that guy and unbalance him," said Klinsmann. "Tim needs these moments and he needs these minutes on this level in order to learn. There's nothing bad about it."
Don't Mess With Texas
. Even though the US didn't crack the score sheet, it wasn't for lack of trying on the part of Clint Dempsey. The Fulham midfielder and Texas native provided the spark for the Yanks' attack with prescient passing and a team-leading five shot attempts. His playmaking ability covered up for the absence of
Landon Donovan
and elevated his performance over his attacking partner in
Jozy Altidore
as well as second-half substitutes
Juan Agudelo
and
Edson Buddle
.
"I always put pressure on myself to perform," said Dempsey. "Whether I am a veteran or not, and I have always been that type of person. I go out and every game I try to make an impact and try to win it. So it doesn't matter if it is my first cap or my 80th cap, I have the same mentality."
The Other Red Bull
. Ream's name will adorn the headlines for all the wrong reasons on Wednesday, but he wasn't the only Red Bull to make an appearance against Ecuador. Klinsmann sent Juan Agudelo in for a beaten-down Altidore at halftime, though Agudelo didn't quite capture the creativity he displayed against Honduras and in flashes at the international and club level to date. That did not concern the head coach of the Stars and Stripes, who confessed some of his intentions for his teenage phenom following the match.
"We see in Juan a very special talent coming through the ranks," said Klinsmann. "He's 18 years old and has a long way to go, but he's a tremendous talent. We have two plans for him. One is for him to be here and learn from the other players in this squad and get used to a higher intensity training. Number two is he will be part of an Olympic team that tries to get to London next summer, and that could be his first big international tournament. Going forward he can only learn and only improve."
20,707
. That's the announced attendance for the US's debut at Red Bull Arena on Tuesday. And much
like the international friendly held at Citi Field in June
, the crowd gave sizable support to the visiting Ecuador side.
Red Bull Arena came under fire for not enticing enough supporters to show support for the national side in their first visit to the soccer-specific arena, though selling out a midweek October friendly against a FIFA mid-carder isn't exactly a recipe for a guaranteed sellout. Even if Ecuador and Greece nearly sold out the much-larger Citi Field in July, the change in seasons and sporting interests remain a battle that soccer continues to fight as it gains prominence in this country.
The question remains how long U.S. Soccer will hold this decent-but-underwhelming crowd against the home of the New York Red Bulls in favor of the much-larger MetLife Stadium in nearby East Rutherford. MLS continues to churn out new stadiums while international sides with bonafide stars demand much larger venues (and the accompanying revenues). It could be a long time before Red Bull Arena welcomes the Stars and Stripes home.
June, 14, 2010
6/14/10
11:03
PM ET
Voce gosta de futebol?
Ian Begley's live blog from Little Brazil for Brazil-North Korea.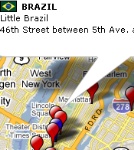 5:00 p.m.:
Brazil's win was overshadowed at Emporium by an appearance by Ana Maria Braga -- the Martha Stewart of Brazil -- who stopped by to watch the game and stayed after to sign autographs and take pictures with the crowd. "Beautiful game and a beautfiul restaurant," said Braga, who hosts a popular daytime show on the Brazilian network Globo. I asked her for a recipe, but she told me I had to watch the show.
4:50 p.m.:
Some fans hanging out on 46th St. weren't very satisfied with Brazil's play today. "Kaka, Robhino, they didn't show their talent," a fan in a Kaka jersey said outside of Via Brasil. "North Korea is not a good team. The big boys would have beaten them today."
4:20 p.m.
Andre o Belem and his parents are in town from Sao Paolo and it looks like they felt right at home in Emporium, waving the Brazilian flag and cheering before they file out of the restaurant after Brazil's decisive 2-1 win.
4:15 p.m.:
And North Korea strikes back on Ji's goal in the 89th minute, which was met with a stunned silence from the partisan Emporium crowd.
4:10 p.m.:
I guess it took a few Palma Louca's (Brazilian beer that is pretty popular here) to get this crowd going. But they're alive and well in the 86th minute, screaming with every Brazilian rush.
4:00 p.m.:
And the party's on after Elano's goal gives Brazil a 2-0 lead. Dunga's "conservative" approach is certainly entertaining this crowd.
3:55 p.m.:
With apologies to North Korean leader Kim Jong Il, coach Kim Jong-Hun looks like he wants to go nuclear on the sideline right now.
3:50 p.m.:
I just saw a Brazil fan blow his nose into the flag. Twice.
3:40 p.m.:
Maicon's goal in the 56th minute brought this crowd to life. Flags were flown and air horns blown after the goal gave Brazil a 1-0 lead.
3:40 p.m.:
I'm standing next to the kitchen door and the sight and smell of fish stew, Okra pasta and sauteed beef is making my stomach growl.
3:35 p.m.:
The scoreless tie between Brazil and N. Korea hasn't stemmed the blaring of the corneta, a yeelow plastic horn the wait staff takes turns blowing like playing they're dueling banjos.
3:20 p.m.:
Barbara, a red-headed Irish woman, has a Brazilian flag tatooed on her shoulder, a flag in her hair and Brazilian flag earrings. She saw her first Brazil game at Maracana Stadium in 2008 and "became hooked." She took off work today to watch at Emporium. "If you can't be in Brazil, this is the next best place."
3:15 p.m.:
From streamers hanging from the ceiling, to Brazilian flags on the wall, Emporium is awash in yellow and green. North Korea, making its first World Cup appearance, has no support here.
2:45 p.m.:
A rousing applause here in the ninth minute. Nothing to do with soocer, though. They just turned the sound on and switched to the Spanish broadcast.
2:30 p.m.:
We're live from Emporium Brasil Restaurant in the Little Brazil section of Manhattan for the Brazil-North Korea game. No empty seats in this place -- the manager locked the door ten minutes before the game. It's certainly lively in here. One staffer's been blowing an air horn to get the crowd going. Plenty of patrons have noisemakers as well. It's pretty loud, but anything's better than the vuvuzela.
June, 12, 2010
6/12/10
9:24
AM ET
By
Ian Begley
| ESPNNewYork.com
USA 1, England 1 »
Where to watch in New York »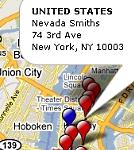 World Cup updates filed from Nevada Smiths in Manhattan -- and you gotta get up real early to get in the door for the World Cup:
4:30 p.m.:
Outstanding job by Tim Howard in the 1-1 draw. Strange ending at the bar. Fans of both sides are high-fiving and hugging after the final whistle. Benedict Arnold would be turning in his grave. Either way, great job by the U.S. today. A tie seemed like a win to the crowd Nevada Smiths.
4:15 p.m.:
Some hearty "USA!" chants here as we enter extra time. These fans are making a final push along with the boys in blue.
4:10 p.m.:
Plenty of tension in the air as we enter the 80th minute. Tim Howard is everyone's hero right now. But that can change quickly if he allows a bad goal.
4:05 p.m.:
Big cheers for the entry of New Rochelle's Edson Buddle.
3:55 p.m.:
Ohhh, Jozy!! Have to wonder about the health of Altidore's ankle after that missed opportunity.
3:50 p.m.:
Quick reminder before crunch time: Soccer may have been invented by Great Britian, but the U.S. holds a 1-0 edge over England in the World Cup thanks to a huge upset in 1950.
3:45 p.m.:
You can hear the "Tim-my How-ard!" chants from here to his hometown of North Brunswick, N.J., after that
huge
stop.
3:40 p.m.:
I think three more England fans just walked in. Anyone know a good dentist?
3:18 p.m.:
"USA!" chants and "God Bless America" are the only things you can hear at the bar right now. Unreal atmosphere.
3:15 p.m.:
The doors almost blew off this place after Clint Dempsey's equalizer. Take that, Margaret Thatcher!
3:10 p.m.:
The Tim Howard injury caused a stir, but it was tame compared to the venom heard after the David Beckham spotting.
2:46 p.m.:
Boisterous British fans telling us to "shove that Dunkin' Donuts up your ..." Why can't it just be about soccer with these people?
2:45 p.m.:
Paul Revere was right: The British are coming, the British are coming! It's 1-0 England on Steven Gerrard's goal.
2:25 p.m.:
A friend just texted me and said, "Regardless of the outcome, we'll always have 1776. Tell that to those blokes cheering for the enemy."
2:15 p.m.:
There's a line stretching down the block on 3rd Avenue to get into Nevada Smiths. And it looks like they'll be waiting awhile. We're shoulder to shoulder in the main bar with an unofficial head count of at least 350 upstairs. Who knows how many people are downstairs. If you planned on coming, stay home. I do, however, have good news for the next person in line. We've had our first ejection. I think it was an England fan, so there's room for one more.
1:45 p.m.:
I'm perched on a credit card-thin wooden ledge, trying to get decent lighting for video in this bat cave. If I take a spill into the garbage can below, please note that it was for the most patriotic of causes.
1:40 p.m.:
People on both sides of the pond have been talking about this matchup since last December. We're now less than an hour away from the game and this bar is full of flag-waving, anthem-singing soccer fiends waiting for their fix. Can't think of anywhere else outside of South Africa I'd rather be.
1:15 p.m.:
The majority of U.S. jerseys I've seen today are Landon Donovan replicas. There are plenty of Lionel Messis and more than a few Wayne "Looney" Rooneys. What, no love for my man Edson Buddle?
12:55 p.m.:
I'd love to tell you about all of the jerseys hanging on the walls, but it's tough to move around to get a closer look. I'm pinned against a red North Korea jersey on the back wall, trying my best not to bump into the guy two inches in front of me. He's already upset that I knocked into him while blogging. One more bump and I think he's going to pull a Zidane on me.
12:40 p.m.:
Not sure if it's emanating from me or the rest of these hooligans, but it's starting to smell worse than three-day-old fish and chips in here.
12:25 p.m.:
If felt like things had calmed down for a moment --then a spontaneous "[Bleep] BP" chant broke out. Good stuff from the Yanks. All the Brits could come back with was another lame version of "God Save the Queen." Zzzzzzz ...
12:15 p.m.:
I've talked to more than a few Nevada Smiths regulars and they say the American turnout today is much stronger than it was for the 2006 World Cup. John from England, who declined to give his last name (bright lad) said Brits routinely outnumbered Yanks here in years past. Clearly, it's a new era at Nevada Smiths.
11:55 a.m.:
Huge "USA! USA!" chant after the final whistle of Argentina's win over Nigeria. This place is teeming for a War of 1812 rematch.
11:45 a.m.:
Stars and Stripes supporters broke out into an impromptu rendition of the Star Spangled Banner a few minutes ago. Some beautiful voices among this crowd. They put Roseanne Barr's and Carl Lewis' versions to shame.
11:15 a.m.:
Just checked in with the bartender. By his count, Bud Lights and Sam Adams have been the hottest sellers this morning. Ford and GM may be struggling, but this crowd clearly supports domestic products.
10:45 a.m.:
Plenty of love in this packed house for Lionel Messi. They're moaning after Messi's misses; this place will explode if he puts one on the board.
10:15 a.m.:
This place is packed like a rush-hour 4 train. Bouncers shut the door 20 minutes ago with about 20 people waiting outside.
9:50 a.m.:
Mixed reaction from the crowd for Argentina coach and legend Diego Maradona. The Argentina fans cheered him like a deity; others shouted references to his past drug use.
9 a.m.:
Small but vocal South Korean contingent here has plenty to cheer about with its team up 2-0 on Greece in the 76th minute.
7:25 a.m.:
The main floor is near capacity with Sout Korea and Greece just under way. It's not even 8 a.m. and this place already has the feel of a frat party.
6:45 a.m.:
A bar staffer unfurls a huge England flag on the back wall. Severe booing ensues. One USA fan is inspired to sing this chant: "England, England, whatever you'll be, don't leave your wife with John Ter-ry."
Ouch.
6:25 a.m.:
And we're in the door. Close to 100 fans in here and live soccer is still an hour away. "Wait until about 7:30 and this place will be absolutely slammed," owner Jack Keane says from behind the bar. A few brave souls are sipping beer, but the majority seem to be drinking coffee. Something tells me that will change as the day progresses.
5:50 a.m.:
And our first Greece fan shows up. He's draped in a Greek flag and "Greece Lightning" shirt. He pulls out a cigarette and lights up as the line cheers him on. It's a Parlaiment -- the breakfast of champions.
5:30 a.m.:
Bolling and Stewart are draped in American flags and the line has grown to 15. Only 90 minutes before the doors open, 600 minutes until kickoff for USA-England. "I can't believe I'm outnumbered 14-1," says Nick Green, the first English fan to show up.
4:10 a.m.:
Michael Bolling, Ashley Stewart and Adam Mizrachi set up shop outside of Nevada Smiths at 4:10 a.m., wearing Team USA jerseys and red, white and blue face paint. They're the first first fans in line at the famous soccer bar for Saturday's USA-England showdown. Owner Jack Keane told patrons to show up at 4 a.m. -- 2½ hours before the bar opens -- to ensure that they'd get in for the game. Keane said he'd only be allowed to let in the first 500 fans before shutting his doors for the day. So Mizrachi & Co. showed up early and plotted out where to sit at the bar. "We wanted to be here at the mecca of soccer," Mizrachi said.