February, 4, 2014
Feb 4
3:33
PM ET


Super Bowl XLVIII is in the books, and ESPN New York has a few awards to give out to the best and the worst performances of the week.

Least Appropriate Name: "Mass Transit Super Bowl." Considering that the most reliable modes of transportation were private cars and chartered buses, this didn't work out so well. A special razzberry goes to host committee CEO Al Kelly, who called the transit plan an "unprecedented success" six days before the game.

Warmest Welcome: The host committee planned for a cold winter's night, and provided a gift bag full of warm items for every fan, plus heating lamps scattered everywhere in MetLife Stadium. Even as the ice sculptures melted in the warmer temps, the effort was appreciated.

Biggest Security Fail: Remember 9/11 truthers? One of them got a ton of publicity by sneaking into Super Bowl MVP Malcolm Smith's press conference. Bigger issue: How did a person with no ticket and no credential breach all that security?

Most Overblown Visual: Beneath the festive trappings, the toboggan run on "Super Bowl Boulevard" was just a big slide -- the kind you see at carnivals where you get the burlap sack to sit on -- plunked down in the middle of Times Square.

Best Musical Performance: Opera singer Renee Fleming took the National Anthem new heights. Her mastery over the difficult series of notes was impressive, and she didn't overdo it like some less accomplished singers. Perfection.

Best Quote: Sometimes you just have to call it like you see it, and Peyton Manning didn't like the wording of a question after his Broncos were thumped. "The word 'embarrassing' is an insulting word, to tell you the truth," Manning said.

Most Deserving MVP: Defensive players don't usually get the credit, but linebacker Malcolm Smith, a former seventh-round pick, was the right call.

Pine Barrens Award: Chris Christie. The New Jersey governor was a big part of the planning, but mostly got lost during Super Week. When the scandal-mired Christie did hit Super Bowl Boulevard, he was booed. Later, when train issues overwhelmed Secaucus, there were a lot of jokes about political payback.

Wardrobe Malfunction Award: The Red Hot Chili Peppers, who forgot to wear shirts. It was a much more gratuitous display of bare nipples than the fraction of a second that got Janet Jackson (but oddly, not Justin Timberlake) in so much trouble. The scandal should break any minute now, right?

That's all, folks. See you next year in Phoenix, unless there's a drought.



February, 3, 2014
Feb 3
4:16
PM ET
ESPN.com news services
NEW YORK -- For the fourth time in five years, the Super Bowl has set a record for the most-watched television event in U.S. history, drawing 111.5 million viewers even though the Seattle Seahawks' 43-8 victory over the Denver Broncos wasn't really competitive.
The ratings record is further evidence of how live events are becoming dependable and valuable properties for broadcast television at a time the audience is fragmenting and ratings for regular entertainment shows continue to fall.
"Big-event television is a great way for people to have a communal event, to talk about it socially and to talk about it as a group," said Bill Wanger, executive vice president for programming and research at Fox Sports. "You see that in the Super Bowl numbers of the past four or five years. They've just gone up to a different level."
The game also set standards for the most-streamed sports event online and, with 24.9 million tweets, the biggest U.S. live TV event on Twitter.
The Seattle victory eclipsed the 111.3 million viewers who watched the 2012 Super Bowl between the New York Giants and New England Patriots, according to the Nielsen company. Until last year's game dipped slightly to 108.7 million, the Super Bowl had set ratings records for the previous three years in a row.
February, 3, 2014
Feb 3
1:47
PM ET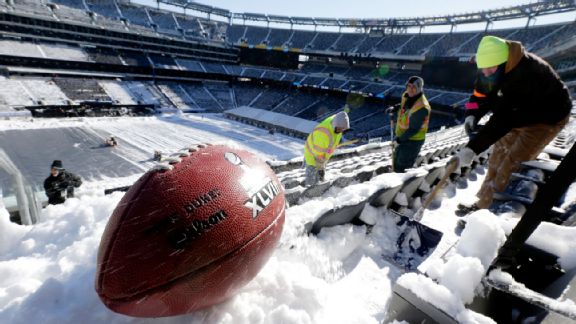 AP Photo/Julio CortezIf the Super Bowl were held just 12 hours later, there would be cold comfort for players and fans.
NEW YORK -- The NFL dodged a blizzard.
About eight hours after the
Seattle Seahawks
trounced the
Denver Broncos
in Super Bowl XLVIII, a storm warning for the New York and New Jersey region was in effect. It may not have been the textbook definition of a blizzard, but the snow fell quickly enough that by 8 a.m., city streets were a mess of slush and flights in and out of the three major airports began to be delayed or canceled.
Up to 10 inches are forecast in some places near MetLife Stadium, which had been a balmy 49 degrees at kickoff -- short of the record low for a Super Bowl by a full 10 degrees. It was literally the calm before the storm.
Fans who had celebrated with the Seahawks or commiserated with the Broncos are facing the prospect of an unexpectedly extended stay as travel plans were upended. NFL commissioner Roger Goodell acknowledged on Monday that the last leg of hosting this Super Bowl is to get people back home.
"Obviously our work continues today as we work to get our fans back out of town and back home," Goodell said at a morning news conference for Seattle coach Pete Carroll and Super Bowl MVP
Malcolm Smith
.
If this storm had happened a day earlier, it may not have canceled the game, but road traffic to the stadium could have been delayed. Even on Monday, spinouts and tow trucks peppered area highways. On Sunday those accidents would have caused significant problems for fans trying to get to and from MetLife.
But that didn't happen, and the truth is that things went pretty smoothly as long as you didn't opt to get to the game by train. New Jersey Transit riders faced huge bottlenecks at the Secaucus junction and at the stadium after the game, turning a short trip into a two-hour ordeal for some.
Ultimately, the NFL was prepared for a weather event that didn't happen -- at least not on Super Bowl Sunday. The New York/New Jersey host committee may even be drafting its next Super Bowl bid right now.
"New York is the center of the world as far as I'm concerned, and there's no reason we shouldn't be hosting these mega-events," committee co-chair and
New York Jets
owner Woody Johnson said in October. And
New York Giants
co-owner John Mara told ESPN New York's Ian O'Connor on Sunday that
he wants to do it all again
.
But that doesn't mean another cold weather Super Bowl is a good idea. An analogy sent my way went like this: You can ride around in a car without a seat belt and not get into an accident, but that doesn't mean it's smart.
At some point, the odds will catch up with you. In the Northeast, the odds are plenty good for snow in February, according to Bill Evans, a meteorologist with WABC-TV.
"These types of storms are common to the New York City area in February and timing is crucial," Evans said on Monday. "Sometimes we do not have the lead time that we did with this particular storm. All winter long this year we have these storms blowing up with great intensity with sometimes less than 48 hours notice on some of the models."
Two more snow events may be heading to the region later this week.
"The timing was very fortuitous for the Super Bowl," Evans said. "Mother Nature is obviously a football fan."
This time around, anyway.
Now be sure to check with your carrier, and good luck getting home.
February, 3, 2014
Feb 3
10:16
AM ET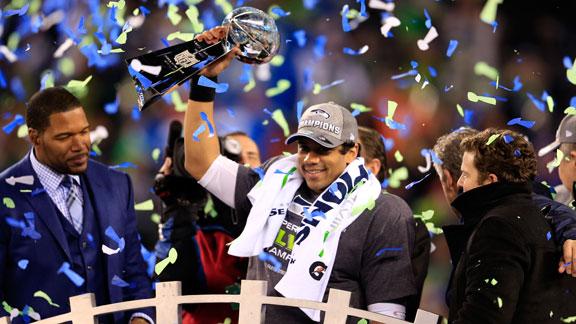 NEW YORK -- After all the anticipation of a mass transit Super Bowl, thousands of Super Bowl attendees were stuck waiting for New Jersey Transit trains hours after Sunday's game ended.
The New York/New Jersey Host Committee underestimated by half the number of riders who would use the train to get to the game, and those 28,000 strained capacity and set a record for single-day traffic on the line.
"We've got a couple of things that we will review and obviously try to improve on," NFL commissioner Roger Goodell said before he introduced Seattle Seahawks coach Pete Carroll at Monday morning's news conference.
NFL executive vice president Eric Grubman addressed specific questions after the news conference.
"When something is done for the first time, you don't really know what's going to happen," he said.
Grubman provided similar postgame comments after the blackout in New Orleans and a construction fiasco that meant seats weren't installed in Dallas.
"For the people who were inconvenienced and delayed, it was no doubt very frustrating," Grubman said. "Probably there was anxiety because people's dreams are to get to the Super Bowl when they want to get to the Super Bowl and how they want to get to the Super Bowl.
"But if you look at the big picture of the NY/NJ presentation, I think it is one part among a very big picture that was terrific."
Early last week, the host committee was asked about the Secaucus Junction. It has faced crowding before and after regular-season games, and double-decker buses were brought in to provide the extra capacity needed.
February, 3, 2014
Feb 3
2:06
AM ET
EAST RUTHERFORD, N.J. -- The Seattle Seahawks always talk about the power of 12 -- their fabled "12th man."
They took it to a new -- and quirky -- level in Super Bowl XLVIII. Check it out:
The Seahawks took a 2-0 lead on a safety that occurred only 12 seconds into the game, the fastest score in Super Bowl history.
With exactly 12 minutes remaining in the first half, running back Marshawn Lynch scored on a 1-yard run, making it 15-0.
Hold on, it gets better.
Percy Harvin opened the second half with an 87-yard touchdown on a kickoff return -- only 12 seconds into the quarter.
Informed of the statistical oddity, Seahawks coach Pete Carroll smiled and replied, "That's what I'm talking about!"
Carroll went on to praise the Seahawks' 12th man, crediting their loud fans with influencing the game -- specifically, the miscommunication by Peyton Manning and his center on the botched shotgun snap that resulted in the safety.
Oh, yeah, there's another "12" that Seahawks fans will enjoy.
It was Manning's 12th postseason loss -- a new NFL record.