NY Super Bowl:

New York Jets
February, 2, 2014
Feb 2
4:08
PM ET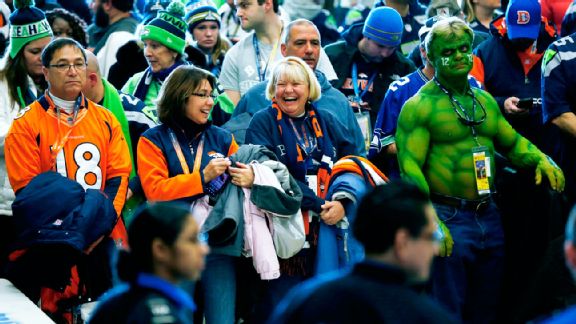 AP Photo/Matt RourkeFans wait to go through security at the Secaucus junction.
EAST RUTHERFORD, N.J. -- The Mass Transit Super Bowl is in the process of dealing with a mass delay.
The weather isn't the issue, but getting to the game doesn't appear to be going as smoothly as the New York/New Jersey Super Bowl Host Committee had hoped when it asked fans to arrive by bus or train if possible.
Reporter Matt Ehalt already encountered lines at the Secaucus junction at 1:30 in the afternoon, which was already a half-hour before fans would be let into the MetLife Stadium security perimeter. "Packed house right now," Ehalt said, although the trip to the stadium was short once he got onto the train.
In the hours since, more and more fans have been tweeting photos of growing lines and
complaining of heat in the crowded conditions
. Other outlets have reported that the wait for a train has been extended to an hour and a half.
There isn't an alternative. Fans aren't able to walk to the game, parking passes are sold out and the Fan Express bus has been sold out.
Last week, host committee CEO Al Kelly said they were prepared for some glitches.
"We believe we're ready and we've got good, solid plans in place all over the place," Kelly said. "We certainly expect along the way a little challenge, here or there, will pop us and I think we have enough contingency plans."
He said they had added to the scheduled services to accommodate the volume.
Fan Express buses seem to be arriving more regularly, although rider Kevin Jackson said there was some confusion to start the day when the Columbus Circle pickup spot was moved by a block.
In New York City, traffic along some routes, for example Ninth Avenue, was shut down in order to accommodate early media buses.
The train situation bears watching, and it's worth noting that all these fans have to get home via train, as well.
February, 2, 2014
Feb 2
8:00
AM ET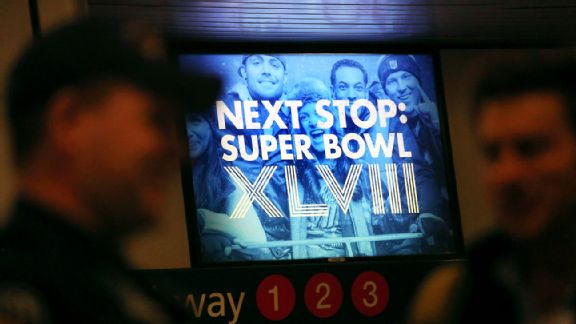 John Moore/Getty ImagesSuper Bowl XLVIII is here! We've got your last-minute guide to the game.
NEW YORK -- Finally, the Super Bowl hype ends and the game actually begins.
Super Bowl Boulevard might be closed, but there is a lot else happening in the region, so here's what you need to know:
Getting to the game
: Hopefully, everyone has figured this out by now. If you didn't make a reservation on the Fan Express bus or purchase a parking pass -- both are sold out -- you will need to allow more time to get to MetLife Stadium. Handicapped-accessible passes are still available through the Super Bowl's transportation webpage.
That leaves the train. Here is the host committee's
guide to getting around the region
, complete with PATH and New Jersey Transit maps. The basic idea is to figure out how to get to the Secaucus junction from where you are and then board one of the trains to the Meadowlands.
There might be private parking available along the NJ Transit or PATH lines. Check ParkWhiz if you want to reserve a parking spot at the last minute.
Security
: Be prepared to go through metal detectors to board your train or bus, and your car could be subject to scanning when you arrive at MetLife Stadium. There are seven security tents, large and easily identifiable, along the security perimeter. There, ticket holders will be subject to a patdown, asked to unzip their outer garments and again go through a metal detector. All bags will be inspected.
Anyone with medical items will have to go through a separate security entrance, so ask before you wait in line.
Remember, you will need a ticket to the Super Bowl in addition to your train ticket or bus reservation in order to get on a vehicle going to the MetLife Stadium. Also, you will not be able to bring any bags with you other than
those approved by the NFL
, so clear and tiny is the rule.
If you have other questions, such as "Where is MetLife Stadium?" and others, check
the NFL's remedial FAQ page
.
What to do before the game
: There are a few parties in the area even today -- if you aren't already spent from a week of them. Here are a few of the bigger ones, but bars and restaurants all over the region are having their "big-game" parties so as to avoid infringing on the NFL's trademark.
• The Super Bowl NFL Tailgate Party at the Meadowlands Racetrack is a pregame fest next door to MetLife Stadium, but you need a Super Bowl ticket in order to attend.
• The official league party, the NFL on Location, is at the Izod Center, also next door, but these tickets needed to be purchased with an NFL-sanctioned package.
• The Super Sunday Tailgate Party presented by Inside Sports and the Pro Football Hall of Fame with Jim Kelly and Warren Moon starts at 1 p.m. in Carlstadt, N.J., at Redd's Bar and Restaurant.
TV
: If you aren't able to make it to the game, you can watch it with the rest of the nation on Fox. Hopefully, someone brings plenty of guacamole.
The #Broncos' #SB48 locker room pic.twitter.com/GvQEzAP6tp

— Denver Broncos (@Broncos) February 1, 2014
Seahawks end zone unveiled. pic.twitter.com/4ndxA4DUEM

— Frank Supovitz (@SupEvents) February 1, 2014
February, 1, 2014
Feb 1
11:45
AM ET
Each day until Feb. 2, ESPNNewYork.com has been taking you inside the challenge of staging the most unpredictable NFL title game ever. There is 1 day until the Super Bowl.
NEW YORK -- When NFL commissioner Roger Goodell approached the podium Friday, he could have just as easily done a victory lap around the seats in the Rose Theater.
The weather Sunday is projected to be in the low 50s, so, even though the New York/New Jersey Super Bowl put a snowflake on the logo, it looks as if it won't be getting much of the real stuff.
The possibility of snow was real, but it won't hamper any of the MetLife Stadium festivities.
"There has been a tremendous amount of energy and excitement about this Super Bowl," Goodell said. "This is the No. 1 market and a great stage for this Super Bowl matchup, and the world will be watching."
This is a home game for the NFL, which has offices on Park Avenue, and many of the people who work at those headquarters are homegrown locals. Goodell himself went to Bronxville High School, in an exclusive Westchester suburb just north of the Bronx borough line.
There are still potential snags. The first Mass Transit Super Bowl still has to get 80,000 fans to and from the Super Bowl.
It hasn't been perfect. The cold earlier in the week put a damper on outdoor experiences such as Super Bowl Boulevard, and New York and New Jersey have not been equally happy about the amount of attention their states have gotten. Still, the NFL has pulled off Super Bowl week.
Now it just has to pull off the game.
Slurs and mascots:
On Friday, a reporter asked Goodell about the Washington nickname, asking whether he would call a Native American person a "redskin" to his face. Goodell said the Washington name honored Native Americans.
"But if you look at the numbers, including in Native American communities, in a Native American community poll, nine out of 10 supported the name. Eight out of 10 Americans in the general population would not like us to change the name."
The National Congress of American Indians
published a position paper in October on the brutal legacy of the name and has produced a powerful PSA (see above) that includes all the names used to honor the history of Native Americans on this land, and the one term that does not.
Taste of the NFL:
There will be a ton of parties Saturday night: the MVP Party, Sailgate, NFL Honors, DirecTV, Leather and Laces, etc., but the granddaddy of them all starts everything off when the Taste of the NFL hits Brooklyn. With glitz and names the focus of so many others, Taste of the NFL looks to raise $1 million Saturday night to alleviate hunger in NFL cities. Organizer Wayne Kostroski has turned this into a labor of love. Thirty-two chefs prepare 32 specialty dishes, plus there will be music at Brooklyn Cruise Terminal at Pier 12. Individual tickets might still be available at TasteoftheNFL.com.
Last Day for Super Bowl Boulevard:
Get out while you can to see this tribute to the NFL's over-the-top way of celebrating the New York/New Jersey Super Bowl. Could more have been in New Jersey? East Rutherford mayor James Cassella
was cutting in his remarks Friday
. "The NFL quite frankly probably doesn't know that we exist over here," Cassella said.
Super safety:
If anyone needed to be reminded that the Super Bowl is a target, Friday's delivery of white powder to local New Jersey hotels did it. Luckily, testing revealed that it was a harmless substance.
Have a nice day:
The NFL is getting the best possible day out of a Meadowlands winter tomorrow -- with AccuWeather reporting a high of 51 degrees and the possibility of an afternoon shower. The mystery here is whether kickoff will be below 39 degrees, the record low for a Super Bowl start.
Tickets:
StubHub.com still had 1,741 Super Bowl tickets available Saturday morning. The starting price was $1,725 for an upper bowl seat. At Seatgeek.com, tickets start at $1,425. Tickets for the Leather and Laces Party on Saturday night are starting at $3,000. The NFL's security team has warned that there are people selling fake tickets to all Super Bowl-related events, so be careful.
Come back daily for more on the issues, logistics and personalities surrounding Super Bowl XLVIII.
January, 31, 2014
Jan 31
4:00
PM ET


James Cassella, the mayor of East Rutherford, N.J., finally got a ticket to the Super Bowl, which will be held in his own city Sunday, and it came from an unlikely place.

Colts owner Jim Irsay gave Cassella the invitation to his suite for the Broncos-Seahawks game.

"I was quite surprised, being Indy is halfway across the country," Cassella told ESPN.com during a phone call, "and I would never expect something like that."

The incident points out the difference between the perceived haves in New York City and the have-nots in New Jersey, where the game is being held.

"This is not some sort of contest between New York and New Jersey," Cassella said, "but I thought New Jersey would be promoted more than it has been. New York by itself is a promotion, whereas New Jersey probably needed more promotion to get people to come here."

Many of the parties and events this week have been in Manhattan, in addition to Super Bowl Boulevard set along a stretch of Broadway in Midtown.

"I understood from the beginning when this was first announced that this was going to be a New York event," Cassella said. "It was here because of New York City and certainly I was not surprised how this all evolved."

He was asked if the NFL had reached out to him while all this was going on.

"I got zero response," Cassella said. "The NFL quite frankly probably doesn't know that we exist over here."

He said the Super Bowl isn't about true football fans anyway.

"All of a sudden it turned into this Hollywood production where you hear more about the halftime show, the commercials, than you do about the football game," Cassella said. "The NFL has created this, but this game is not for people that during the course of a season spend a lot of money on tickets, a lot of money on merchandise, the real football fans. And they're the ones that get shut out because of the price of the ticket, the availability of the ticket, so this game is not really for the football fan."
January, 31, 2014
Jan 31
3:30
PM ET


Sarah Spain, an espnW reporter in town for the Super Bowl, set out on a quest to find out what real New Yorkers think about having the Super Bowl in their backyard. As you might guess, they weren't pulling up the welcome wagon.

Random advice included gems like: don't clog up the sidewalk or you could get run over, to the classic -- go someplace else.

Take a look and be prepared to laugh.

January, 29, 2014
Jan 29
12:14
PM ET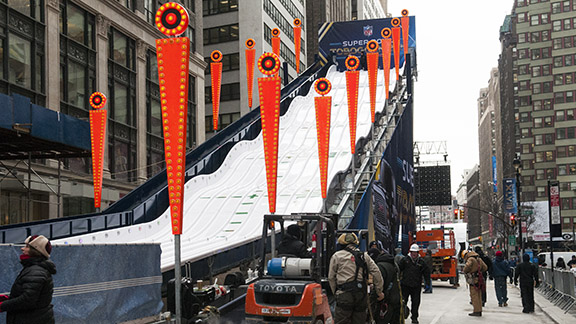 Jeff Skopin / ESPN New YorkHas anybody ever told you to take a flying leap in Times Square? Now you can!
Each day from now until Feb. 2, ESPNNewYork.com will take you inside the challenge of staging the most unpredictable NFL title game ever. There are 4 days until the Super Bowl.
NEW YORK -- Might this not even be the coldest Super Bowl on record?
Up 'til now, the chilliest temperature ever at kickoff was 39 degrees, at Tulane Stadium in New Orleans on Jan. 16, 1972. After weeks of deep freeze and snow in the New York metro area, it's looking as though the NFL is going to luck out.
Jonathan Erdman of The Weather Channel says a mild front could push the highs into the 40s on Feb. 2 for Super Bowl XLVIII, meaning game time will be comfortable. "Sunday will be fairly benign," Erdman said. "There will be a front that pushes through, but it won't have much bark to it."
Friday there could be a dusting of snow. The day to watch out for is Saturday, when low clouds could cause flight delays coming into local airports.
But come Sunday, the only thing happening weather-wise could be a little drizzle, Erdman said, and winds will be a low five to 10 miles per hour.
"As of right now, it doesn't look like weather will be much of an issue," Erdman said. "They really tempted fate, but we're in good shape here."
Mass-transit glitches:
In addition to last week's Metro North service interruption, 800 passengers on a stranded New Jersey Transit train
had to be rescued Wednesday morning
. The stall was apparently due to a power outage, which was the same problem that took out the whole slate of Metro North trains last week. This has been dubbed the "Mass Transit Super Bowl" by organizers, who have already declared it a victory. We'll see about that.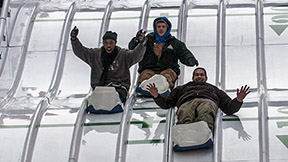 Jeff Skopin / ESPN New YorkThrill-seekers tested the toboggan on Tuesday in Times Square.
Super Bowl Boulevard opens:
Broadway between 47th and 34th has been closed for days, but at noon Wednesday, the toboggan ride, autograph station, and football-related games and activities will open to the public. This is the NFL's fan experience, originally slated to be in New Jersey but moved to Manhattan's midtown.
There are so many football-related happenings in the city this week, the following is just a smattering:
Madden Madness:
The Museum of the Moving Image in Astoria, Queens, has
an exhibit
, "Madden NFL: 25 Years and Running" up until Feb. 23. Did you have any idea the video game was so old?
Winter is coming:
Time Warner Cable has set up studio space on 14th Street at HighLine Studios and is offering customers a Super Bowl Week experience starting today. The exhibit includes costumes from Game of Thrones, in addition to the Iron Throne itself. You can get your tickets
here
.
Party with Namath and Simms:
The MVP Party, located at the Roseland Ballroom on Saturday at 7:30 p.m., is offering a chance to hang with Joe and Phil. Saturday night is full of more happenings, including the Foo Fighters at the Bud Light Hotel, the Taste of the NFL in Brooklyn and the DirecTV Party featuring Jay-Z (who should have been the halftime-show artist). The VH1 Super Bowl Blitz will feature Gavin DeGraw in Montclair, N.J.
Brunch with Tyree and Bart Starr:
Friday morning, the Marriott Marquis offers a meal with David Tyree and other current NFL stars such as Aaron Rodgers and Drew Brees. Individual tickets for Super Bowl Breakfast
start at $250
.
Rice at Pace:
New Rochelle's own Ray Rice will attend a Pace University event in Manhattan at 5:30 Wednesday. A discussion with memorabilia entrepreneur Brandon Steiner follows at 7 p.m. The event is open to the public, but you need to register on
the website
.
Don't forget the kids!
The Children's Museum of Manhattan and Liberty Science Center in Jersey City both have Super Bowl-related exhibits for children (and adults). Liberty is waiving the admission for those younger than 18 on Saturday.
Got a Super tip? Contact me at jane.mcmanus@espn.com or on Twitter @janesports.
Come back daily for more on the issues, logistics and personalities surrounding Super Bowl XLVIII.
January, 25, 2014
Jan 25
12:32
PM ET
Each day from now until Feb. 2, ESPNNewYork.com will take you inside the challenge of staging the most unpredictable NFL title game ever. There are eight days until the Super Bowl.
The price of Super Bowl tickets on the secondary market is already starting to drop fast a week before the Feb. 2 game at MetLife Stadium. And in New York City and around the region, there are plenty of hotel rooms still available.
StubHub.com lists 5,486 available tickets starting at $1,564, or about half off the price from two weeks ago. The secondary ticket seller SeatGeek.com found the price of a ticket dropped 27.1 percent in a 48-hour period late last week.

"This year's Super Bowl is no longer the most expensive we have on record and, given prevailing price trends, it's highly unlikely to attain that mark by the time the game comes to a close and all sales data is in," said SeatGeek spokesperson Connor Gregoire.
SeatGeek found that the price as of last Friday was the cheapest for a pregame Friday in the past three years. The most precipitously falling seats were those in the upper deck -- which notably do not have access to an indoor club.
Plenty of industry watchers
predicted this very trend
. The first outdoor, cold weather Super Bowl may not be as appealing to the high rollers and casual football fans who generally enjoy the game in warm-weather climates.
The slackening demand may also be applying to hotel rooms in the area.
In a typical Super Bowl market, hotels start to book up weeks in advance of the game. Using data from TripAdvisor.com, the website PriceofTravel.com surveyed hotels in major cities around the world and counted 667 hotel rooms in New York City. In terms of room inventory, that's right up there with tourism hubs like Las Vegas and Orlando.
Jacksonville, Fla., may have difficulty absorbing the projected 400,000 that would arrive for the week of the Super Bowl. But New York?
"The reality is, we have a lot of hotel rooms in New York and New Jersey," said Michael Fiorentino, a consultant for the New Yorker Hotel.
The New Yorker still has a few rooms available. Fiorentino said the New York/New Jersey Super Bowl Host Committee did a good job managing expectations, and that there was still plenty of economic benefit to the city even if some hotels weren't sold out.
Hotels.com still has midtown hotels available for the weekend at rates that aren't so far off normal weekend rates, in the $200-$300 range. Some hotels still had large blocks of rooms available to Super Bowl travelers, according to local bookers.
Fiorentino has attended Super Bowls in other cities, and said the reality is many visitors to Super Bowl cities won't have to travel for this one. "Truth is, many of the attendees are from the Tri-State area."
Come back daily for more on the issues, logistics and personalities surrounding Super Bowl XLVIII.
January, 24, 2014
Jan 24
12:35
PM ET
AP PhotoLegendary groundskeeper George Toma (under tarp) will celebrate his 85th birthday at SBNY.
Each day from now until Feb. 2, ESPNNewYork.com will take you inside the challenge of staging the most unpredictable NFL title game ever. There are nine days until the Super Bowl.
EAST RUTHERFORD, N.J. -- Last week, before the snow fell, veteran groundskeeper George Toma was inspecting the turf for Super Bowl XLVIII. It's something he has done since the very first Super Bowl, and he will celebrate his 85th birthday with 80,000 fans in East Rutherford on Feb. 2.
He's lucky to be here. On Aug. 5 he underwent open heart surgery, and there were complications. But after months of rehab, he's back on the field. Toma formally retired in 1999 but still comes back each year to help prepare for the Super Bowl. We caught up with him to talk about what he has learned in the past 48 years.
[+] Enlarge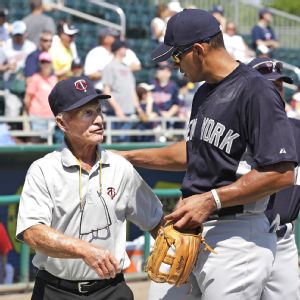 AP Photo/Charles KrupaToma is also beloved on the baseball diamond. Here, he's pictured with a vaguely familiar Yankee.
Q: What's the biggest change for you since Super Bowl I?
A: I think the biggest change that you would see is in those days I went by myself and we only had a three-by-four trunk of equipment but now we have three tractor-trailers full of equipment. The first Super Bowl we had one band and two people in jet suits and they flew up to the 50-yard line and shook hands. And that was the first one.
The halftime show is so big now and they have to get that stage done in so many minutes, and my heart goes to those people that have to get that stage done.
We would take duct tape and put it on our hands and we'd go on our hands and knees on the field to pick any lint or anything off it. It's the little extra that we do.
Q: Have they advanced the technology from duct tape?
A: They've got these lint things now, but duct tape works better.
Q: What's the weirdest halftime mishap over the years?
A: In New Orleans they had one of those steam-up, Southern paddleboats as a prop for the halftime show and they couldn't get it off because it couldn't fit under the goalpost. But we didn't waste any time, we had ladders and got to work.
Q: How did you get the paddleboat out?
A: We got the goalpost down and put it back up.
Q. Any other challenges?
A: In the early days we had streakers, you know? But we had blankets over the field so they couldn't get more than three feet away from us.
Come back daily for more on the issues, logistics and personalities surrounding Super Bowl XLVIII.
January, 23, 2014
Jan 23
5:25
PM ET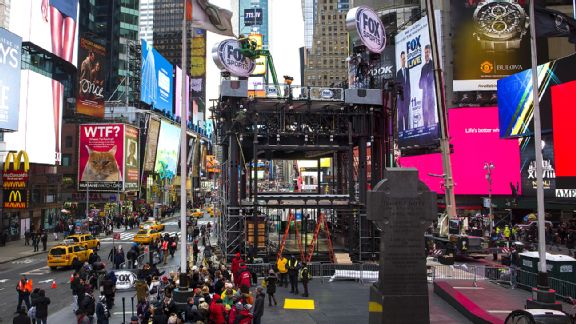 AP Photo/Craig RuttleThe invasion of Times Square has already begun.
Each day from now until Feb. 2, ESPNNewYork.com will take you inside the challenge of staging the most unpredictable NFL title game ever. There are 10 days until the Super Bowl.
NEW YORK -- For the better part of a year, Lonny Sweet has been walking by the corner of Eighth Avenue and 33rd Street and planning the space across from Penn Station that, in less than a week, will become the 50 Yard Lounge and The
New York Jets
House.
On Thursday, the poles that will hold up a large tent in the spaces between Lugo Caffe and Local Cafe were being driven into place. By Sunday, Sweet and his team will begin changing the existing spaces into one contiguous lounge and food area for football fans during the week leading up to Super Bowl XLVIII on Feb. 2.
"It's really just starting to come together," Sweet said. "I've been bringing people by this site for the last seven months and to see it come together is pretty magical."
[+] Enlarge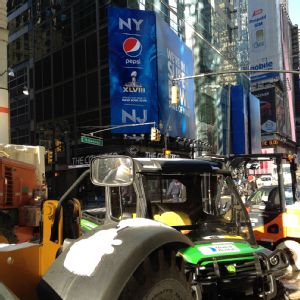 Jane McManus/ESPN New YorkThey've brought in the heavy equipment to set up Super Bowl Boulevard.
But that doesn't mean it's gone smoothly. Tuesday's foot of snow and the cold snap affected the pace of construction.
"These guys are pros," Sweet said. "If we have a snowstorm they're going to deal with it, but it doesn't make it easy."
The trucks, which had been scheduled to arrive Tuesday night, were delayed a day, and Sweet has moved heaters outdoors to keep his crew warmer.
All over midtown, Super Bowl-related projects are coming into place. Along Broadway in the 30's, where Super Bowl Boulevard will open next week, trucks have moved into place with their Super Bowl Boulevard parking passes on display.
FOX has built a studio in front of the TKTS booth in Times Square. The structure that will become the Bud Light Hotel concert venue is being constructed near Pier 88 on the West Side of Manhattan, and the Taste of the NFL is working on the space along the Brooklyn waterfront that will become the annual Saturday night gala.
It takes months of planning to produce the events and spaces that will exist in New York City and New Jersey for just one week.
The
50 Yard Lounge
is selling daily tickets for access to the Penn Station space, which will have former NFL players, celebrity chefs and media personalities mingling with guests. The $400 price tag includes all food and drink, with a choice of Jim Beam cocktails and 36 different lines of draft beer. Local musicians are also slated to perform at nights, when the venue transitions into a party space.
In an adjacent space, the Jets are transforming Lugo Caffe into Jets House, a place for Jets season ticket-holders and sponsors starting Wednesday Jan. 29. While the 50 Yard Lounge is geared to football fans, Jets House is all about the Jets, players and fans.
Got a Super tip? Contact me at jane.mcmanus@espn.com or on Twitter @janesports.
Come back daily for more on the issues, logistics and personalities surrounding Super Bowl XLVIII.
January, 22, 2014
Jan 22
3:00
PM ET


EAST RUTHERFORD, N.J. -- If a snowstorm like the one that just dumped a foot of snow on New York fell on Feb. 2, the NFL could consider moving the Super Bowl to Saturday or Monday.

Although NFL EVP Eric Grubman said he didn't want to speculate on what specifically would have happened if Feb. 2 had been Tuesday, when both New York and New Jersey declared states of emergency, he did say that contingency plans are in place.

"We need 24 hours to move game time," Grubman said Wednesday at MetLife Stadium. "We need 36 hours to move the day, we need 48 hours of notice or prep time, but we're actually going to start as far as 72 hours in advance of staging additional resources if there is a [weather-related] threat."

Although both states declared states of emergency, there was no travel restriction in New Jersey on Tuesday, according to New Jersey State Police public information officer Adam Grossman. Each storm is handled differently, and the last two haven't forced drivers off the road.

"It depends on the weather and depends on if Governor [Chris] Christie and his cabinet and the Office of Emergency management decide to put in a travel restriction," Grossman said.

About a foot of snow fell over New York and New Jersey, the region that will host Super Bowl XVLIII on Feb. 2. As the snow was falling, the NFL scheduled a Wednesday press conference to show how effectively the MetLife Stadium crews were able to remove all that snow.

"Our aim is to play it at 6:30 and we've got every available resource to do that as long as it's safe," Grubman said.

There were chutes attached to the upper bowl that could be used to push snow down toward the field, where it was incinerated by jet engine-powered snow melters. Outside, plows and shovels had cleared the parking lots and paths leading to the security pavilions that have already been erected.

The NFL plans to look through the timing of Tuesday's storm to get a sense of how it would play out on a hypothetical game day, but didn't do it on a day when state police were responding to accidents and weather-related emergencies.

"I did ask for people to gather that information so we could go back on a tabletop exercise and make some judgments," Grubman said.

Most arrangements have been in place for months, and the NFL has planned contingencies long before this winter's snow started falling.

January, 18, 2014
Jan 18
2:15
PM ET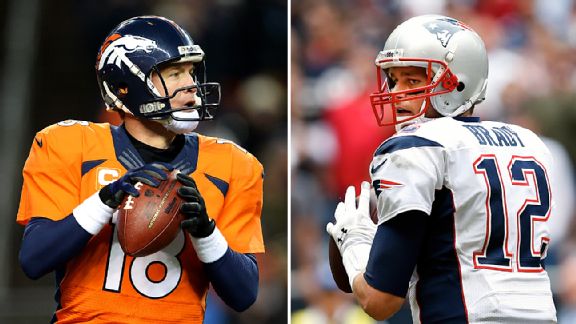 AP PhotoEither way, Eli Manning's older brother or the Jets' most hated rival will play in the MetLife Super Bowl.
Each day from now until Feb. 2, ESPNNewYork.com will take you inside the challenge of staging the most unpredictable NFL title game ever. There are 15 days until the Super Bowl.
It won't be long before the two Super Bowl teams are known, and on Monday, the grounds crew at MetLife Stadium will begin painting the team logos on the end zones of the field.

There's plenty of talk of parity in the NFL, but after Pittsburgh and Dallas and their eight Super Bowl appearances, the Patriots (seven), 49ers (six) and Broncos (six) are close behind. If the Super Bowl were a neighborhood diner, these teams would be regulars.
So what does it mean for New York and New Jersey? Let's take a look at how it would shape up for each of the four remaining teams to reach the first outdoor Super Bowl in a cold-weather venue.
AFC Championship
Broncos:
If
Peyton Manning
can lead the Broncos past the Patriots on Sunday, the elder Manning will be the toast of the town where his younger brother makes a living. Peyton led the league in passing yards during the regular season with 5,477, while
Eli Manning
led the league in interception with 27 for the Giants.
Wes Welker
, who was
Tom Brady
's most reliable receiver last season, is now working for Peyton.
Patriots:
This may be the most notorious possible Super Bowl team, since New England would practice all week at the Jets' facility. That's right, the arch-rival of Gang Green would track mud all through the pristine Florham Park halls, while the Jets haven't sniffed a championship since Super Bowl III. If the Patriots beat the Broncos on Sunday, it would be their eighth AFC title.
The Game:
The Broncos are the favorite here. Manning's passing numbers are too good, and the Friday injury report says everyone is healthy. That said, never dismiss Patriots coach Bill Belichick. And the Patriots did get the better of the Broncos in November, 34-31, in New England.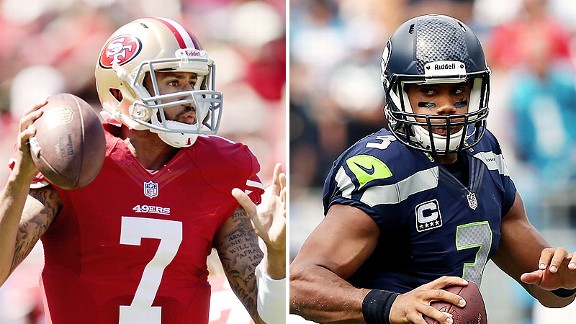 Getty ImagesWill Colin Kaepernick or Russell Wilson lead his respective team to East Rutherford?
NFC Championship
Seattle
: The passing game has waned in recent weeks, but the Seahawks have been winning thanks to the bulldozing rush of
Marshawn Lynch
. If the Seahawks reach the Super Bowl, it'll be coach Pete Carroll's return to New York after his one season with the Jets in 1994. Not that anyone really remembers that far back anymore.
San Francisco:
If you want to see how much last season's runner-up is gaining in confidence, look no further than the super-diss quarterback
Colin Kaepernick
sent to opponent
Cam Newton
before kissing his biceps after a touchdown run. Is it enough to get past the 12th man in Seattle? If the 49ers do prevail, coach Jim Harbaugh may have to look harder to find $8 khakis in New York City, but there is a Walmart near the NFC hotel in Jersey City.
The Game:
Russell Wilson
and Lynch are the favorites here, in large part because this game is in Seattle. If it weren't, the oddsmakers might give the edge to the surging 49ers. If Seattle does make the Super Bowl, Californians might be allowed to purchase tickets ... on the secondary market.
Come back daily for more on the issues, logistics and personalities surrounding Super Bowl XLVIII.