January, 27, 2014
Jan 27
3:41
PM ET
Each day from now until Feb. 2, ESPNNewYork.com will take you inside the challenge of staging the most unpredictable NFL title game ever. There are six days until the Super Bowl.
NEW YORK -- A congratulatory news conference started off Super Bowl week as Al Kelly, CEO of the New York/New Jersey Super Bowl Host Committee, declared the transportation plans for the game an "unprecedented success," with two-thirds of all attendees expected to get to MetLife Stadium via mass transit.
"Hopefully when we do all the tallying for the weeks to come," committee co-chairman Jonathan Tisch said, "the other 30 owners will say to themselves when there's a chance to do this again, 'Super Bowl XLVIII in New York and New Jersey was a huge success. Let's try to do this once every 10 years.'"
There is still almost a full week to get to that point. There are plenty of shuttle rides, train trips and potential snowflakes to fall, but the hopes of a future MetLife Super Bowl -- and likely the hopes of Chicago and other outdoor cold-weather venues -- rest on how smoothly things go this week.
"The Super Bowl award comes down to a vote of 32 owners," Giants co-owner John Mara said. "If they have a good experience and the game gets a positive review, does it open up the possibility the game could be played in other cold-weather cities? I think it does."
When the Super Bowl comes to MetLife Stadium on Sunday, it will have gone through upgrades and assessments to withstand any challenges when it comes to power. Last year in New Orleans, the Super Bowl was stopped during a blackout.
"This stadium as it stands today, in the preparations and check-ins and learnings from last year," NFL executive Eric Grubman said, "the stadium is in excellent position to have uninterrupted power."
New Jersey Gov. Chris Christie, tarred by a scandal involving traffic and retribution, missed Monday's news conference.
"We've gotten great cooperation from his administration," Mara said. "Fortunately, most of the work had already been done by the time that all broke. But even since then we've gotten great co-op from them."
Christie was scheduled to make a related appearance in Newark later in the day.
As for the weather, the forecast looks good enough -- mid-30s without much possible precipitation -- that the host committee didn't have to talk much about it.
"This whole Super Bowl XLVIII has been about a lot of firsts," Kelly said.
The committee started by embracing the cold and the outdoors and by asking fans to learn how to use the region's mass transit system.
Whether that means it's an unprecedented success, it's a little too soon to tell.
Got a Super tip? Contact me at jane.mcmanus@espn.com or on Twitter @janesports.
Come back daily for more on the issues, logistics and personalities surrounding Super Bowl XLVIII.
October, 30, 2013
10/30/13
12:27
PM ET
Each day from now until Feb. 2, ESPNNewYork.com will take you inside the challenge of staging the most unpredictable NFL title game ever. There are 95 days to the Super Bowl.
Questions and answers from Super Bowl Host Committee CEO Al Kelly:
Q. What part of the preparation are you focused on at this point?
A. We are now in an intense planning mode, creating very specific strategies for welcoming visitors, weather, transportation, security, volunteers, events and our charity legacy programs. We completed the background work, having collected all of the information to make informed decisions. We now have a laser beam-like focus on execution. In the weeks ahead, with the NFL, New York City officials, and the respective government organizations of New Jersey and New York, we will be sharing more of our plans.
Q. How many people do you expect the Super Bowl to bring to New York and New Jersey?
A. According to a study done at the time the bid was submitted, it was estimated that upwards of 250,000 to 300,000 visitors will come to the region. MetLife Stadium can only host about 80,000 visitors, but given that the Super Bowl is much more than a one-day event, we expect many more to come to town to experience the week-long events and all this great region has to offer.
Q. What advantage does this area have in hosting them?
[+] Enlarge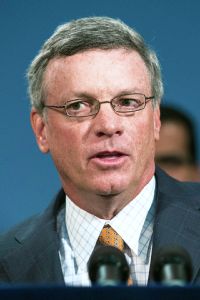 Andrew Burton/Getty ImagesAl Kelly
A. Both states -- New Jersey and New York -- provide their own unique advantages. To take a step back to the beginning, the region would not have secured the bid if not for the assets that both states bring to the table. New York has an array of popular entertainment, dining and top hotels, and New Jersey also has the similarly great assets, and very importantly is the home of MetLife Stadium and two incredible football training facilities. In addition, this area has received tremendous support from our corporate community located on both sides of the river, and these organizations have helped us raise the necessary funds to support host and legacy efforts to an unprecedented level.
Q. What's the biggest logistics challenge you have?
A. From the beginning, the region's large geographic footprint has posed a re-occurring logistical challenge. This broad challenge impacts plans on all levels -- including weather, transportation, and even community involvement. To address the issue of community involvement, we explored ways to reach all residents of the region's wide, diverse footprint, and were intrigued by the idea of bringing aspects of the game experience directly to the communities. The origin of our "Join the Huddle" mobile tour, the first mobile tour associated with a Super Bowl, came from this concept of touching as many people as possible. The tour will be making at least 48 stops in New York and New Jersey communities.
Q. Best moment/funniest anecdote so far?
A. The funniest moment -- or most ironic -- is likely from one of the first mobile tour events. I was out in the parking lot at the New Jersey Sports and Exposition Authority and one of our activities is a spot where you throw a football to test your aim. I threw a football about 30 times in a row. I'm now in physical therapy to repair a shoulder injury caused by this activity -- they promise me I will be fine by the game! I would say the best and most gratifying moments have been in announcing the support our Snowflake Youth Foundation is going to provide to after-school facilities for kids in the region. Knowing that for years to come children using these centers, including Boys and Girls Clubs, will be able to know that having the Super Bowl here made a real and lasting impact.
Come back daily for more on the issues, logistics and personalities surrounding Super Bowl XLVIII.